Al Pastor tacos don't have to be a daunting project. They're a delicious, and easy-to-make project for an eye-catching dinner, that is great on a smoker or Traeger pellet grill.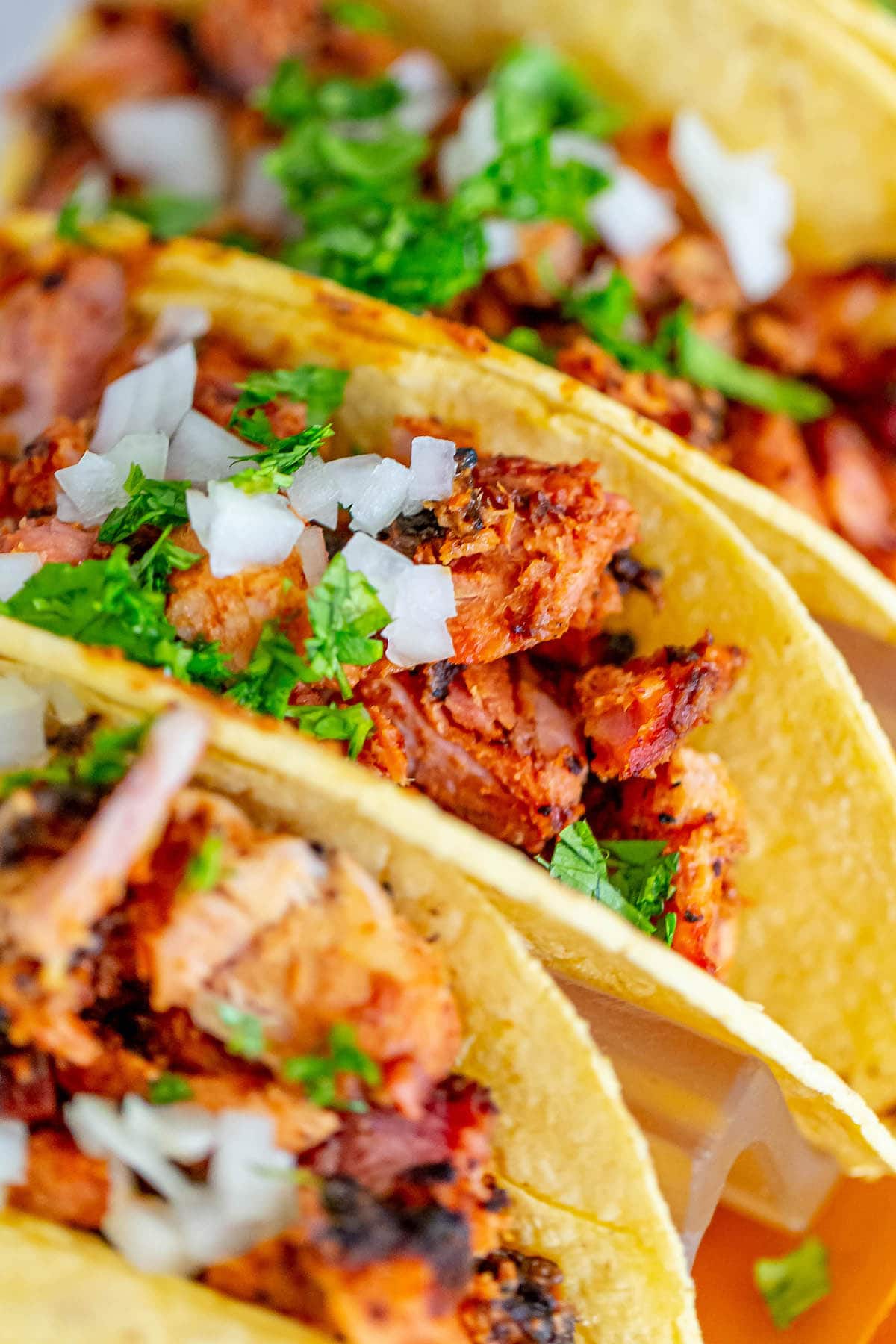 Don't want all the extras in a recipe post? We provide a skip to recipe button in the top left corner, as well as a clickable table of contents, just below, to help make this page easier to navigate.
Table of contents
Easy Pork Al Pastor
When you think of amazing taco fillings, al pastor is sure to make everyone's top five list, but they're seldom made at home.
This recipe is an easy, and cheap way to make pork al pastor at home! I cooked mine on our Kamado Joe charcoal grill, but you can make this on a gas grill over even in your oven.
Pork al pastor ("of the shepherds") is a dish with worldwide roots. It hails from Puebla, Mexico but the marinade-and-spit-roast method was brought to the region by Lebanese immigrants who gave lamb schwarma a local makeover.
Al pastor doesn't have to be daunting, this recipe doesn't require a fancy trompo vertical rotisserie. With this easy pork al pastor recipe, you can make a show-stopping meal for your friends and family!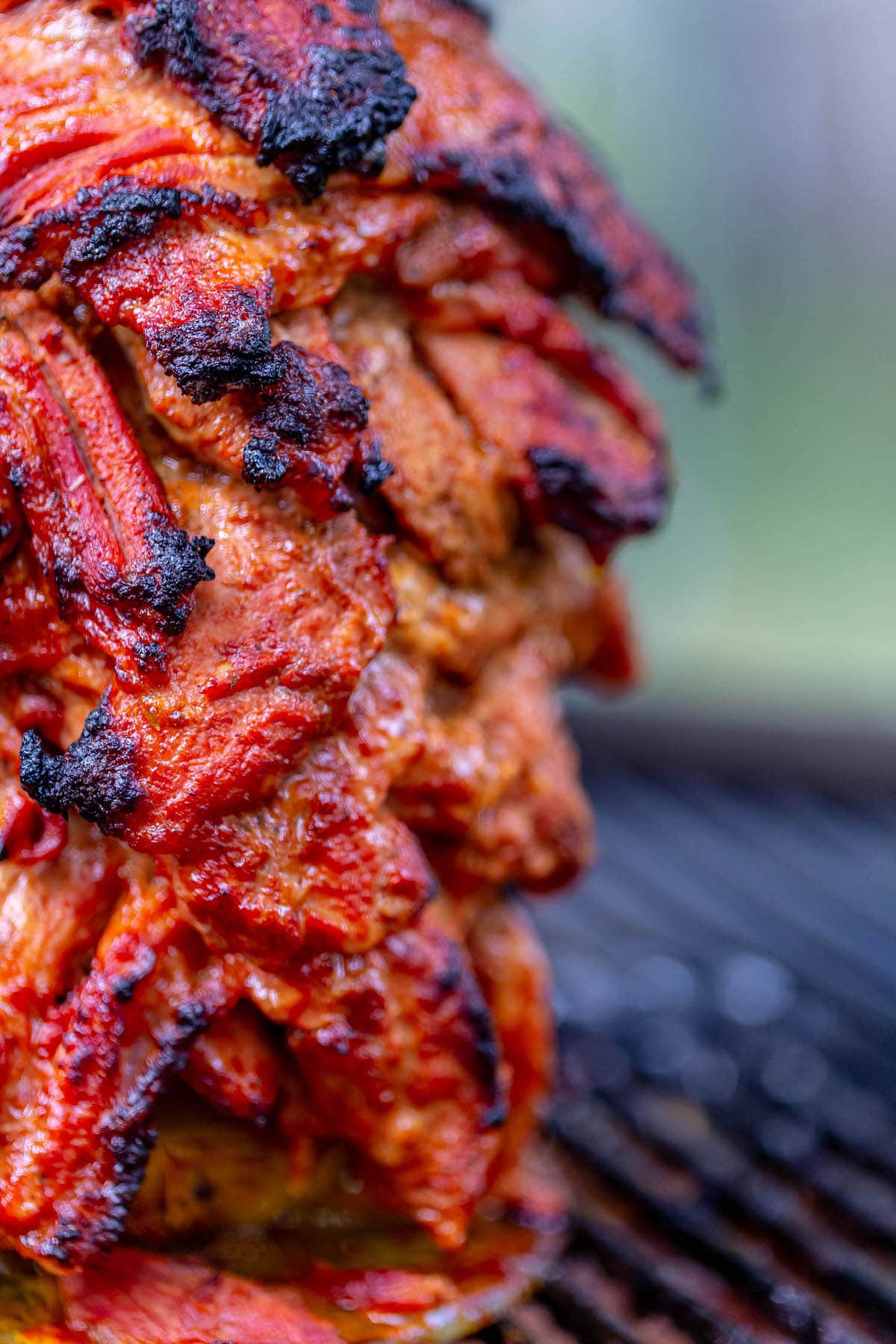 How to Make Smoked Pork Al Pastor
To make this recipe, you'll need:
Pork Shoulder – Pork shoulder is an inexpensive, but flavorful cut of pork. It is the traditional cut for tacos al pastor and is cut thin and marinaded to make it tender.
Pineapple Juice – Pineapple is another key ingredient in al pastor. An enzyme in the pineapple juice breaks down proteins and connective tissue, making it great for making the sometimes-tough pork shoulder melt in your mouth.
Whole Pineapple – Whole, raw pineapple rings are used when assembling your al pastor for cooking. It helps keep the meat moist as it cooks.
Achiote Paste – Achiote paste is a natural flavoring and food coloring that comes from the seeds of the achiote tree. It is commonly used in South American and Latin American food. It's even used in America to make mass-produced cheddar cheese orange in color.
Chili Powder – It is traditional to use guajillo chili powder, which is a fruitier, more mild chili. My local market didn't have any, so I used regular chili powder.
Garlic Powder – Garlic in powder form is a lot less "hot" or "spicy" on the palette. It has a rich umami flavor that brings depth to this marinade, and because it's in powder form it incorporates well into the liquid marinade.
Mexican Oregano – Mexican oregano has a slightly different flavor profile than its Mediterranean counterpart. Mexican oregano has a more lemon, citrus, and sometimes slight licorice notes.
Cumin – Cumin has an earthy and rich seasoning to the pork. It is one of my favorite seasonings for pork.
Salt and pepper – Salt enhances the flavor of the lamb and the other spices, while the pepper brings a mild heat that pairs well with the earthy and acid flavors of the other spices.
White Vinegar – The acid from the vinegar is important both for softening the meat, and also balancing out the sweetness from the pineapple juice.
Once you've gathered your ingredients, we will use the following method:
Prepare the pork. I bought a bone-in pork shoulder, which required me to remove the bone first before I cut it. Once the shoulder was de-boned I sliced it into thin pieces approximately ¼" wide. Essentially, cut it about the diameter of your pinky finger.
Mix the marinade. Combine all the ingredients except the raw pineapple in a large bowl and mix well to combine. Pour over the sliced pork and mix together well so all of the meat is covered. Cover and refrigerate for at least two hours to marinade.
Stack and roast the pork. When you're ready to cook, use a vertical skewer to stack your pork.  I used this one I got on Amazon. Start with a ring of raw pineapple with the skin removed and half an onion, then stack the pork, alternating the orientation so it seems like you're putting the pieces of pork on the skewer in the shape of an "X". Place another ring of raw pineapple on the top. Roast in your grill or oven at 350oF for an hour and a half until the outside of the pork is crispy and the internal temperature reaches 160oF. 
Shave the pork and enjoy.  After an hour of cooking, you can take a very sharp knife and begin to slice the crispy, cooked exterior of the meat onto a plate to eat. Once you've shaved off the crispy exterior parts, increase your heat to 400oF and regularly slice servings off the roast as the outside becomes crispy and brown. Serve on a corn tortilla with white onions and cilantro and a squeeze of lime juice. 
Tips and Tricks to Easy Smoked Al Pastor and FAQs:
Making tacos al pastor is really easy, but these are a few tips to make it even easier.
Substitute chicken for pork. Don't like pork? You can substitute chicken for pork easily in this al pastor recipe. Use a combination of boneless and skinless breasts and thighs to keep your meat moist.
Let the meat come to room temperature. Want your al pastor to be extra crispy on the outside? Be sure to set the marinaded meat out on the counter for 45 minutes to an hour before cooking. You can do this easily once you've assembled the al pastor. I would also recommend gently tamping the outside of the meat dry with a paper towel before cooking. The excess marinade on the outside of the meat will impair browning.
FAQ:
How do I know my pork al pastor is done?
Cook your pork until it reaches an internal temperature of 160oF. This will ensure doneness.
Is pork al pastor gluten-free?
This recipe for pork al pastor is gluten-free. You can pair it with gluten-free tortillas or gluten-free side dishes. 
What is the difference between pork al pastor and pork adobada?
The only difference between the two dishes is how they are cooked. Al pastor is slow-cooked on a vertical rotisserie spit called a trompo, and adobada is slow-cooked directly on the grill grates. 
What to serve with Easy Tacos Al Pastor
Pork tacos al pastor are traditionally served on corn tortillas with diced white onions and cilantro. A squeeze of lime and cotija cheese is sometimes added as well, but it's a taco, so add what you want: guacamole, sour cream, salsa, and go crazy.
This dish pairs well with dishes like my Spicy Garlicy Beans, Avocado Jalapeno Elotes, and my Easy Bacon Wrapped Jalapeno poppers. 
Having a selection of different salsas at your taco party is a great way to give your guests choices without making many different meat fillings. I think my deliciously addictive Knockoff Titos tacos salsa roja or easy corn pico de gallo is great with the easy pork al pastor. 
Easy Smoked Al Pastor Recipe
If you love this easy recipe please click the stars below to give it a five star rating and leave a comment! Please also help me share on facebook and pinterest!
CONNECT WITH SWEET C'S!
Be sure to follow me on social media, so you never miss a post!
Facebook | Twitter | Youtube | Pinterest | Instagram
Only have 30 minutes to get dinner on the table? Sign up for my 30 minute dinner plans direct to your inbox!
Find and shop my favorite products in my Amazon storefront here!
Yield:

10 servings
Easy Smoked Al Pastor
Cook Time:
2 hours
2 seconds
Total Time:
4 hours
2 seconds
Delicious smoked pork marinated in a spicy pineapple and chili sauce and smoked to tender, juicy perfection!
Ingredients
5 lb boneless pork shoulder
3 tablespoons achiote paste
2 tablespoons guajillo chili powder
1 tablespoon garlic powder
1 tablespoon dried oregano
1 tablespoon cumin
1 tablespoon salt
1 tablespoon pepper
¾ cup white vinegar
1 cup pineapple juice
1 pineapple, skinned and sliced into 1-inch (2 cm) rounds
Instructions
Bring pork shoulder to room temperature and pat dry. Slice the pork shoulder into ¼" slices, which is roughly the width of your pinky finger. Move to a large bowl that will fit into your refrigerator.
In a bowl, whisk together the achiote paste, chili powder, garlic powder, oregano, cumin, salt, pepper, vinegar, and pineapple juice.
Whisk vigorously until the marinade is smooth and well combined.
Pour the marinade over the pork, then stir to make sure they are coated on all sides. Use a gloved hand to make sure you've worked the marinade into all of the meat. Cover the bowl and refrigerate for a minimum of two (2) hours.
Light your charcoal or pellet grill and prepare it for cooking at 350oF. Pre-heat your oven or gas grill to 350oF.
Remove the pork from the refrigerator and let come to room temperature.
Put your al pastor skewer stand on a baking sheet or plate. Put a slice of the pineapple and half a white onion on the skewer. Layer the sliders of pork on the skewer over the onion and pineapple alternating in the shape of an "X" through the skewer, until you have nearly reached the top of the skewer or you have run out of pork. Top with another ring of sliced pineapple.
Smoke for about 1½ hours, until the pork is slightly charred on the outside and has reached an internal temperature of 160oF. Rest the meat for about 10 minutes, then carve off thin slices of pork.
For more crispy pork, increase the heat on your grill or over to 425oF and slice off the crispy exterior and then cook an additional 5-10 minutes to char again. Repeat the step as desired.
Build your taco with chopped al pastor, minced white onion, and diced cilantro. Serve with lime wedges.
Recommended Products
As an Amazon Associate and member of other affiliate programs, I earn from qualifying purchases at no extra expense to you.
Nutrition Information
Yield
12
Serving Size
1
Amount Per Serving
Calories

583
Total Fat

41g
Saturated Fat

15g
Trans Fat

0g
Unsaturated Fat

22g
Cholesterol

170mg
Sodium

698mg
Carbohydrates

7g
Fiber

1g
Sugar

4g
Protein

45g
Nutrition is automatically calculated by Nutritionix - please verify all nutrition information independently and consult with a doctor or nutritionist for any and all medical and diet advice.