The best brussels sprouts and mushrooms recipe - delicious, easy pan fried brussels sprouts with onion and mushrooms for a delicious holiday side dish even picky eaters will love!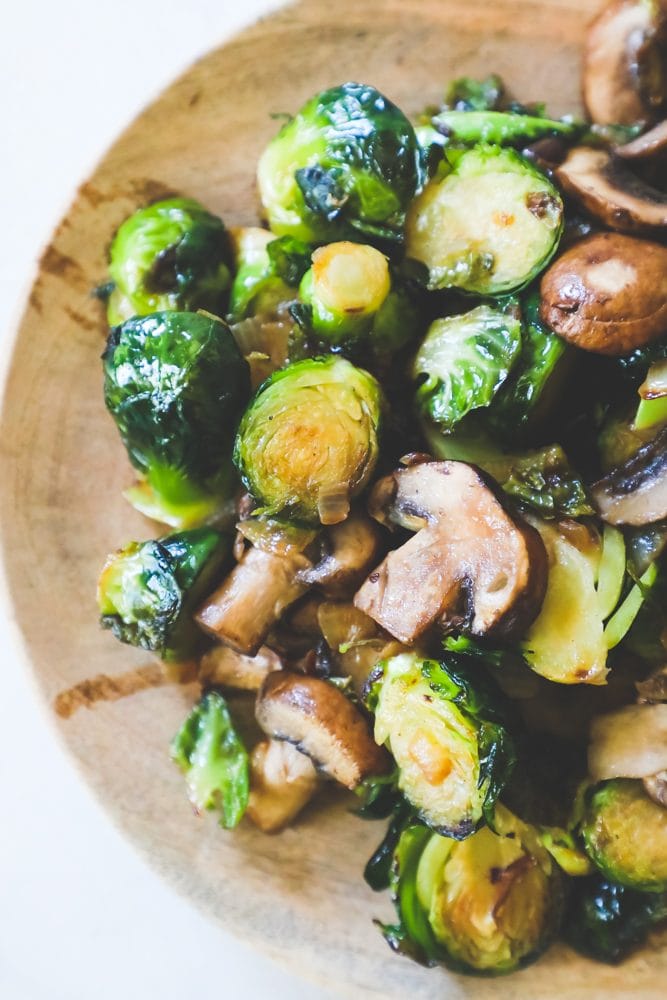 If you love rich, buttery brussels sprouts as much as I do, this recipe will soon become one of your favorite holiday side dishes.
These brussels sprouts are delicious - a little salty, a little meaty, and are packed with flavor - but go from the fridge to the fork in less than 20 minutes.
Brussels sprouts pair perfectly with ribeye roast, pork tenderloin, and even baked chicken thighs - and this recipe is naturally keto friendly and low carb for those cutting back on sugars.
Just Take Me to the Brussels Sprouts and Mushrooms Recipe Already!
I have readers of all levels comfort in the kitchen on my site and get a lot of questions on my recies - so I am providing a lot of extra information about this brussels sprouts and mushrooms recipe.
If you're more comfortable in the kitchen and prefer to not read my tips and tricks, please scroll to the bottom of the page, just above the comments, where you will find the easy printable recipe.
How To Cook Brussels Sprouts
Brussels sprouts are best when caramelized - allowing the bitter flavor to leave, and pulling out the buttery rich, slightly sweet flavor similar to fried cabbage.
Chopping the brussels sprouts and quickly cooking in butter (I prefer clarified butter for it's higher smokepoint),
How To Cut Brussels Sprouts
When you buy brussels sprouts, they come a few ways - either whole on the stalk, whole sprouts off the stalk, or sprouts that have the stem removed and are either cut, shaved, or chopped.
While I love to buy the bags of pre-prepped brussels sprouts, it is pretty expensive, and not always readily available - but thankfully brussels sprouts are incredibly easy to cut and prepare ahead of cooking.
Clean Brussels Sprouts
To clean brussels sprouts, you should discard any areas that have browned or outer leaves that seem a bit brown/yellow.
Soak in water and gently shake to remove any excess dirt (not common on bulk brussels sprouts, but can be found often on sprouts still on the stalk.)
Let dry on a paper towel to remove excess water from your sprouts!
Remove Brussels Sprouts Stem and Halve
The easiest way to prepare brussels sprouts for pan frying involves only two knife cuts per brussels sprout - simply trim the stem off at the base of the brussels sprout and then chop brussels sprout in half.
While you can eat much of the stem, it can be bitter and takes longer to cook to soft - I prefer to trim off as much of the brussels sprout stem as possible, but I also try to not worry too much about it and work quickly.
Shave/Chop Brussels Sprouts
For even more savory, crunchy, and caramelized brussels sprouts, I like to chop them into a "hash", or even shave them with a mandoline (be careful with your fingers!).
Giving your brussels sprouts more surface area helps them cook quicker at a higher temperature so you can have a lovely caramelized flavor without making the brussels sprouts too soft or soggy.
How To Make Brussels Sprouts Not Taste Bitter
If you're trying to avoid bitter brussels, there are a lot of options to help pull out the buttery, sweet cabbage flavor brussels sprouts can have, including my tips below:
Cook Hot and Fast
The best way to make brussels sprouts not bitter is to cook brussels sprouts hot and fast - which usually means frying or pan frying.
Getting caramelization on the brussels sprouts, without making them over cooked (overcooked brussels sprouts often taste somewhat sulphuric - over boiled brussels sprouts are the top way to make them bitter) is the best way to pull out a rich delicious flavor and cover bitterness.
You want your brussels sprouts to brown and caramelize - not get soggy and soft - so cook on high heat, quickly.
Chop Finely For a Hash
The next easy way to get perfect, never bitter brussels sprouts is by chopping, shaving, or dicing brussels sprouts.
This works by making the sprouts cook faster, and gives more surface area to crisp and brown, without becoming soggy.
Brussel sprout hash, cried brussels sprouts chips, and chopped brussels sprouts are all crunchy, rich, savory, and so delicious.
How To Pick Perfect Brussels Sprouts
If you're looking to cut down on the bitter flavor some brussels sprouts can have, starting with the right brussels sprouts can have a big impact on the final flavor.
When picking the most flavorful brussels sprouts, look for ones that are:
Are bright, vibrant green.
Are only around 1 - 1 ½ inches in diameter. Smaller sprouts often have more flavor!
Are tightly packed without loose leaves.
Are free from yellowing or browning.
How To Make Brussels Sprouts Smell Good
Much like a sometimes bitter flavor, many people shy away from brussels sprouts because of the smell.
Brussels sprouts, like many cabbages, can have a rotten-egg or stale gas smell when . over-boiled - which is just about the least appetizing thing you can think of.
Brussels sprouts should smell rich, buttery, and almost meaty when pan fried - and this dish delivers big time on a hearty and delicious smell that wont turn off picky eaters.
Why To Serve Brussels Sprouts at Christmas
I love learning the history of dishes that become so important to celebrations - and often wondered just why exactly we serve brussels sprouts at Christmastime (and Thanksgiving, as well.)
There are often trends in dining, and despite many people claiming to hate brussels sprouts (which we won't anymore, because we took all that bitter flavor out of the equation with the tips above) - so just why have brussels sprouts long been served at Christmastime?
It turns out that despite the Belgian heritage of these tiny cabbages, the popularity of brussels sprouts for Christmas dinner alongside a roast was largely popularized by Brits, excited by the newly imported vegetables in the late 1800's, when the idea of a big holiday feast was taking hold across the UK.
Since brussels sprouts season peaks in winter, it was only natural that serving them alongside hearty winter roasts, stews, and for big holiday dinners quickly became popular - and we've been serving them ever since.
Thankfully, we've progressed passed overcooked, bitter, and stinky brussels sprouts of old - this pan friend brussels sprouts recipe honors the culinary history of brussels sprouts, with a flavor everyone at your Christmas dinner will actually want to eat!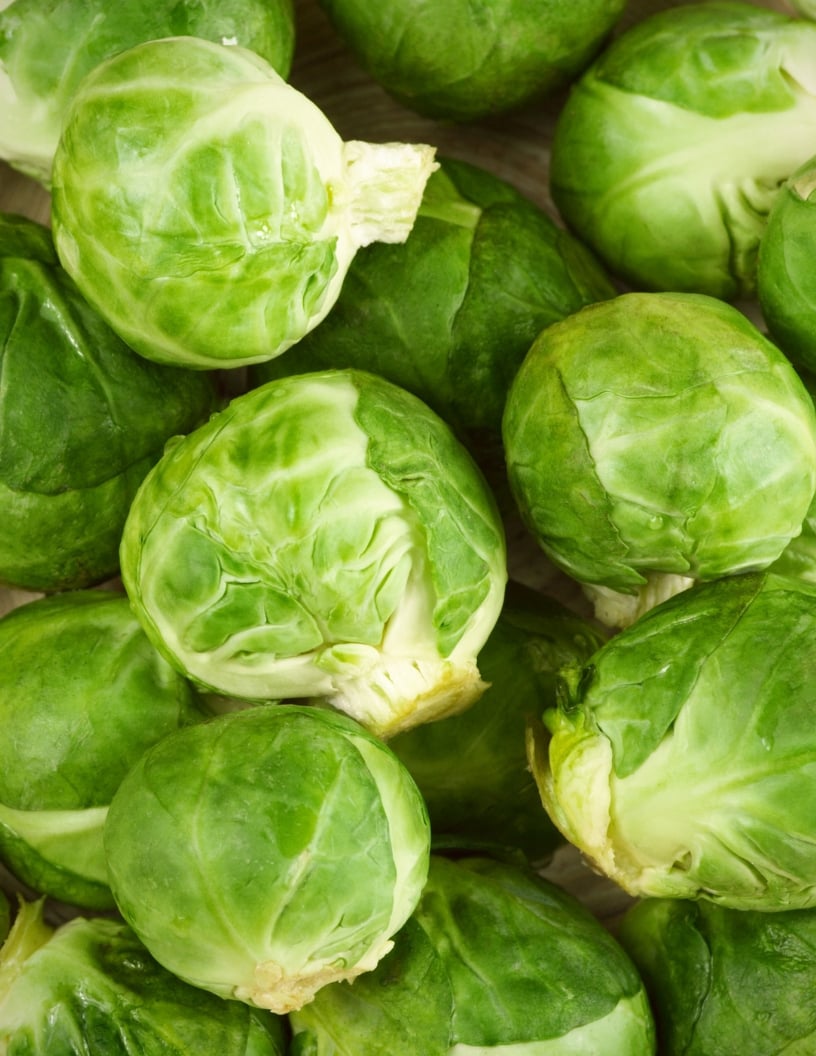 The Best Brussels Sprouts and Mushrooms Recipe
If you love this brussels sprouts and mushrooms recipe as much as I do, please give it a five star review (simply click the stars below, I love reading your comments!) and help me share on facebook and pinterest.
CONNECT WITH SWEET C'S!
Be sure to follow me on social media, so you never miss a post!
Facebook | Twitter | Youtube | Pinterest | Instagram
Only have 30 minutes to get dinner on the table? Sign up for my 30 minute dinner plans direct to your inbox!
Find and shop my favorite products in my Amazon storefront here!
Yield:

4 people
Brussels Sprouts and Mushrooms Recipe
The best brussels sprouts and mushrooms recipe - delicious, easy pan fried brussels sprouts with onion and mushrooms for a delicious holiday side dish even picky eaters will love!
Ingredients
2 tablespoon clarified butter
1 lb brussels sprouts, halved, with stems removed.
1 white onion, skin removed, halved, and diced finely.
8oz sliced cleaned cremini mushrooms
3 cloves garlic
1 teaspoon adobo seasoning
1 teaspoon fresh cracked pepper
¼ cup chicken or beef stock
Instructions
In a large, heavy pan, melt butter until light and foamy.
Add diced onion to pan and let soften and become fragrant, about 5 minutes.
Add garlic and stir, let soften, about 1 minute.
Stir in brussels, fresh cracked pepper, and mushrooms.
Cook on medium high, stirring often, until brussels and mushrooms have browned and caramelized, about 10 minutes. Do not let burn.
Pour in chicken stock and adobo seasonings, mix well.
Turn heat to high and cook off stock, stirring to prevent burning, until stock has cooked off.
Serve and enjoy!
Recommended Products
As an Amazon Associate and member of other affiliate programs, I earn from qualifying purchases at no extra expense to you.
Nutrition Information
Yield
4
Serving Size
6
Amount Per Serving
Calories

153
Total Fat

8g
Saturated Fat

4g
Trans Fat

0g
Unsaturated Fat

3g
Cholesterol

24mg
Sodium

254mg
Carbohydrates

15g
Fiber

4g
Sugar

4g
Protein

8g
Nutrition is automatically calculated by Nutritionix - please verify all nutrition information independently and consult with a doctor or nutritionist for any and all medical and diet advice.