The Best Easy Bang Bang Shrimp Recipe Ever
Sep 10, 2020, Updated Nov 09, 2023
Easy Bang Bang Shrimp Recipe – simple and delicious sweet and spicy lightly breaded bang bang shrimp with sweet chili sauce and lightly fried shrimp that is a huge hit with the whole family.
Tastes just like the Bang Bang Shrimp from Bonefish Grill – but even better in a fraction of the time it takes to eat out to dinner! Low carb keto bang bang shrimp recipe included. 
Don't want all the extras in a recipe post? We provide a skip to recipe button in the top left corner, as well as a clickable table of contents, just below, to help make this page easier to navigate.
If you've never been to Bonefish Grill, you haven't had their signature appetizer – the bang bang shrimp.
I love it alongside the Bonefish Pomegranate Martini or one of their other delicious cocktails – I swear, they have the BEST cocktails and appetizers!
Bang Bang Shrimp is a spicy, sweet, and perfect lightly fried shrimp that is irresistible and totally addictive – and just so happens to be totally easy to make at home in a fraction of the time it takes to go out to dinner!
This recipe is bursting with flavor from sweet chili sauce with a creamy thick mayonnaise-based sauce that goes perfectly with gently fried shrimp, thanks to a light cornstarch batter.
Since this shrimp uses cornstarch to "bread" the shrimp, it can easily be made low carb and is entirely gluten free (watch preservatives in your sauces to be absolutely sure you are avoiding gluten if you are celiac please) and works in a number of healthy eating plans.
How to Serve Bang Bang Shrimp
Bang Bang Shrimp is delicious as a main course, appetizer, or side dish – and works great with grilled vegetables, rice, or even over pasta for a dinner everyone asks for again and again.
This insanely versatile family friendly shrimp recipe is fantastic in salads, tacos, wraps, and sandwiches, too!
To Make This Bang Bang Shrimp Recipe, You'll Need:
This recipe is lightning quick if using fresh peeled and de-veined shrimp – and can be made either in a deep fryer (my favorite can be purchased here – we love it!), or with some oil in a dutch oven or any pot that is heavy and has tall walls to keep oil from splashing or splattering all over the kitchen.
Otherwise, you'll need just a few basic ingredients and tools to make this recipe perfect every time!
Deep Fryer
Or Dutch Oven / Tall Pot
Frying spoon
Defrosted or fresh peeled and de-veined shrimp
Mayonnaise
Sweet Chili Sauce (or keto swap)
Hot Chili Sauce
Corn Starch (or keto swap)
Sesame Seeds
Paper Towels
Large bowl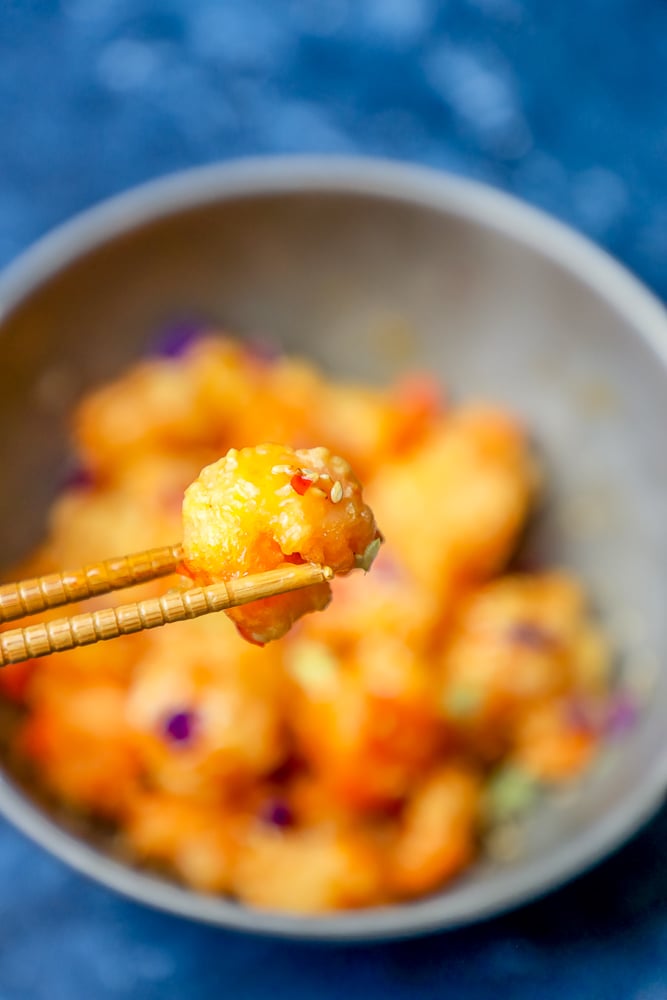 How to Make Keto/Low Carb Bang Bang Shrimp
To make this delicious bang bang shrimp work in a keto diet, there are a couple simple swaps you'll need to make – but they still taste fantastic!
Keto Corn Starch Replacement for Frying
Cornstarch can easily be subbed with xantham gum when frying for a low carb and keto approved swap – although, I have seen a few keto sources that allow for the use of cornstarch.
Keto Sweet Chili Sauce Replacement
If you're looking for a delicious alternative to sweet chili sauce while sticking to a keto diet – you're in luck! It is really easy to make, and incredibly delicious!
To make keto sweet chili sauce, try this recipe:
1/2cup Swerve Sweetener.
1/4cup rice wine vinegar.
1/4cup water (filtered)
2cloves garlic, minced or pressed.
1tablespoon coconut aminos.
1tablespoon Organic Ketchup.
1/8+teaspoon crushed red pepper flakes.
1pinch sea salt (real salt)to taste.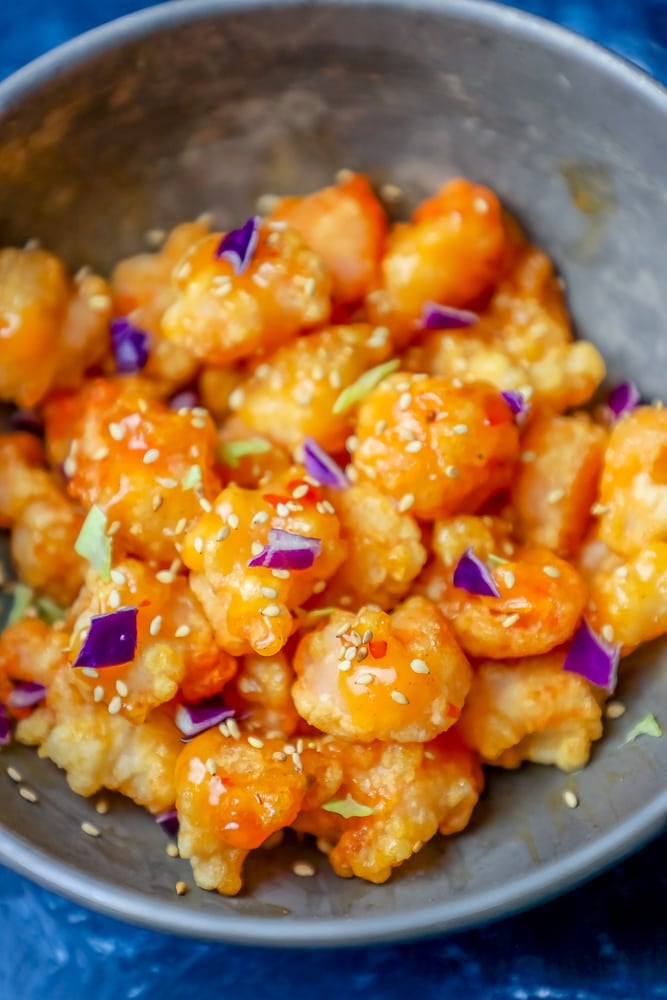 Family Friendly Shrimp Recipes:
If you love this delicious and easy bang bang shrimp recipe, please be sure to check out some of my other favorite family friendly shrimp dinners – simply click each link to find the easy printable recipe.
The Best Easy Bang Bang Shrimp Recipe – Bonefish Grill Copycat
If you love this recipe as much as I do, please write a five star review, and be sure to help me share on facebook and pinterest!
CONNECT WITH SWEET C'S!
Be sure to follow me on social media, so you never miss a post!
Only have 30 minutes to get dinner on the table? Sign up for my 30 minute dinner plans direct to your inbox!
Find and shop my favorite products in my Amazon storefront here!
The Best Bang Bang Shrimp Recipe Ever
The Best Easy Bang Bang Shrimp Recipe Ever - easy delicious sweet and spicy bang bang shrimp just like from your favorite restaurant!
Ingredients
1⁄2 cup mayonnaise
2 cups peanut oil or other high heat oil for frying
1 lb shrimp, shelled and deveined
1⁄2-3⁄4 cup cornstarch for coating the shrimp
1⁄4 cup Thai sweet chili sauce
3 -5 drops hot chili sauce
1 tsp sesame seeds
1 tbsp diced red cabbage
1 tbsp diced scallions
Instructions
Mix mayo and sauces for coating shrimp after it is fried.
Bread shrimp in cornstarch.
Heat oil in a deep pan (I prefer a dutch oven) or a deep fryer on medium high heat until it has reached 375 degrees.
Fry the shrimp until lightly brown, stirring occasionally to prevent sticking together.
Remove shrimp from pan and drain shrimp on paper towel, carefully patting off excess oil.
Put shrimp in a bowl and coat with the sauce.
Serve and top with sesame seeds, purple cabbage, scallions, or other favorite garnish.
Nutrition Information
Yield

6
Amount Per Serving
Calories

143
Total Fat

8g
Saturated Fat

1g
Trans Fat

0g
Unsaturated Fat

0g
Cholesterol

0mg
Sodium

590mg
Carbohydrates

0g
Fiber

0g
Sugar

0g
Protein

15g
If you loved this recipe and want to check out more of our reader favorites, we've rounded up the top posts loved by Sweet C's readers!
Sweet C's Favorite Recipes
Favorite recipes from Sweet Cs Designs