The Best Easy Kung Pao Shrimp Recipe
Aug 12, 2019, Updated Nov 09, 2023
The Best Easy Kung Pao Shrimp Recipe – a Chinese Food Takeout Copycat -tastes just like takeout Kung Pao Shrimp from your favorite Chinese food restaurant – in half the time it takes to drive to get it, and a million times more delicious! 
Don't want all the extras in a recipe post? We provide a skip to recipe button in the top left corner, as well as a clickable table of contents, just below, to help make this page easier to navigate.
If you love Chinese Food Takeout, you've probably had kung pao shrimp – the rich, earthy, spicy dish loaded with flavor from shrimp, bell peppers, celery, water chestnuts, chilis, and crunchy peanuts!
This dish is a class Chinese food takeout staple – and incredibly easy to make from scratch at home.
It seriously is quicker to whip up a batch of this delicious kung pao shrimp than ordering takeout and driving to pick it up – and it tastes about a million times better!
This easy, delicious kung pao shrimp recipe is simple, quick, and perfect for an easy dinner recipe – but bright and colorful, so it's also great for a dinner party or Sunday supper.
The best part about this easy kung pao shrimp recipe? It can be make keto or paleo because it is a naturally low carb Chinese food dish…. so if you're watching your carbs, and missing Chinese food, this keto kung pao shrimp recipe is a perfect easy way to get your fix!
I'm including notes on making this recipe appropriate for a keto diet, so don't skip them if you're looking for a low carb kung pao shrimp!
What is Kung Pao Shrimp
Kung Pao Shrimp is originally developed from the authentic Sichuan style Kung Pao Chicken – and features a slightly spicy and sweet taste that is similar to Chinese garlic sauce and full of earthy, garlic flavor.
The dish is light, without noodles, but with a savory and rich sauce that is slightly sweet and totally addictive – especially over rice.
Is Kung Pao Shrimp Keto
While Takeout Kung Pao Shrimp isn't terrible for low-carb eaters, it is not specifically a keto recipe.
Thankfully, this Low Carb Kung Pao Shrimp recipe takes less time to make than it takes to call for takeout and tastes a zillion times better – making it the perfect paleo or keto meal!
Kung Pao Shrimp is a dish consisting of mostly low carb items – just shrimp mixed with stir fried vegetables – but the sauce can hide carbs.
To make a Keto Kung Pao Shrimp, swap soy sauce for Coconut Aminos, and skip the corn starch entirely.
While this might make your sauce a little thinner, it won't impact flavor – though many people on keto will go ahead and add the small amount of cornstarch since it won't have a big difference in their macros as it's such a tiny amount.
The choice there is entirely up to you and your eating program!
How to Cook Perfect Shrimp
Shrimp is perfect when cooked just through – not overcooked.
When many people say they don't like shrimp, I often like to ask why they don't – and many times, they complain of chewy, gummy, and overly fishy tasting shrimp – all things that are caused by overcooking shrimp.
Shrimp should be cooked to just white and opaque – if it starts to curl in on itself, it is likely over-reduced and has lost much of the moisture that keeps the shrimp's springy texture and light, sweet flavor.
When cooking shrimp, remember to cook it hot and fast – just at the end of the dish. I like to turn the heat up at the end of preparing kung pao shrimp and toss in the shrimp and the sauce at the same time and toss them until the shrimp are cooked through and the sauce has thickened and slightly absorbed into the dish.
Can You Freeze Kung Pao Shrimp
This easy kung pao shrimp is great when prepped and heated with just a couple simple modifications.
Freeze Kung Pao Shrimp After Preparing
If you've made a portion of this shrimp you can't finish and want to save for a later date, this Kung Pao Shrimp can be frozen and reheated for later – but there are a couple of tips to do it without making your meal turn to mush or having your shrimp turn tough.
-Place in an airtight bag and remove all excess air (I prefer to vacuum pack leftovers.)
-Try to help bag lay flat so leftovers don't freeze in a large ball shape – a thin, flat bag will be easier to reheat.
-Add to freezer and keep for no longer than 2 months.
-When cooking, remove directly from freezer, open bag and remove kung pao shrimp, and re-heat in a hot skillet with 2 tbsp oil (from frozen).
-Cook until food is piping hot.
-Do not overcook or over reduce.
Freeze Kung Pao Shrimp Partially Prepared.
The ideal way to freeze this meal is in separate bags – simply portion out the shrimp, but do not cook, and place in one bag in the freezer – and cook/prepare the vegetables and sauce, then store those in an airtigh bag in the freezer.
How Do You Reheat Frozen Kung Pao Shrimp
-When reheating, remove shrimp from freezer and let thaw completely.
-When shrimp has thawed, heat a large nonstick skillet and add 2 tbsp oil, swirl in pan until shimmery.
-Add frozen vegetables to pan and cook to almost hot – then add shrimp and sauce and cook until shrimp is white and opaque and vegetables are piping hot.
-Do not over reduce sauce – can thin with water if needed.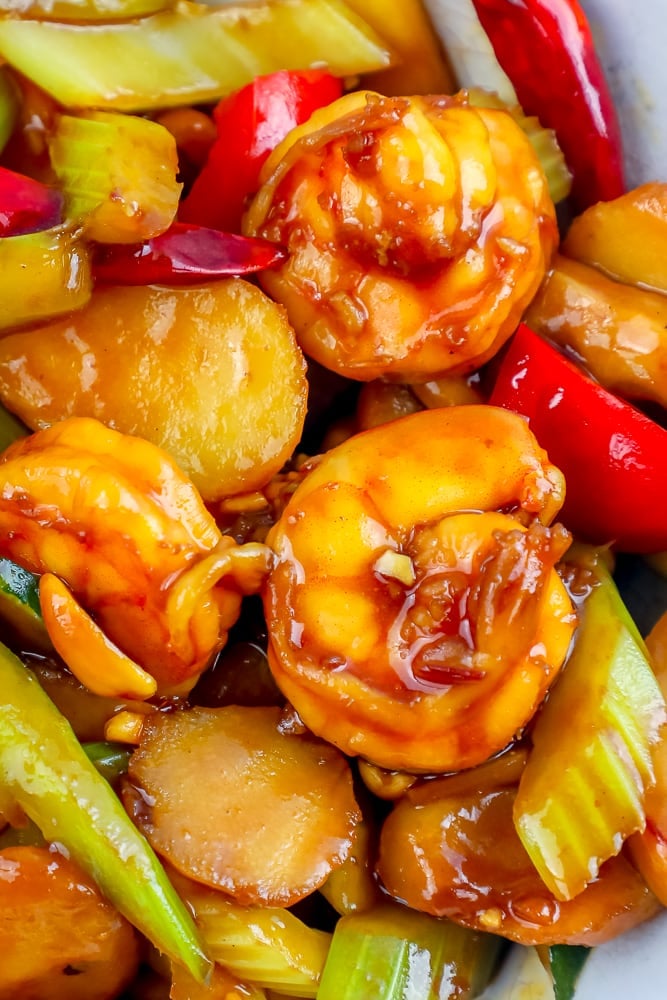 Other Easy Asian Food Inspired Takeout Copycat Recipes You'll Love:
If you love this easy and delicious Kung Pao Shrimp recipe, be sure to check out some of my other favorite Asian Food Takeout Inspired recipes – simply click the links to find each easy printable recipe below!
These easy Asian food takeout classics are family pleasing, affordable to serve a group, and bursting with your favorite takeout inspired flavors!
10 Minute Pan Seared Thai Chili Scallops Recipe
Panda Express Black Pepper Chicken Copycat Recipe
One Pot 15 Minute Potsticker Soup
Garlic Chinese Style Green Beans
Spicy Thai Shrimp Salad Recipe
Easy Chicken and Shrimp Pad Thai Noodles Recipe
The Best Easy Kung Pao Shrimp Recipe
If you love this Easy Kung Pao Shrimp Recipe as much as I do, please write a five star review, and be sure to help me share on facebook and pinterest!

CONNECT WITH SWEET C'S!
Be sure to follow me on social media, so you never miss a post!
Only have 30 minutes to get dinner on the table? Sign up for my 30 minute dinner plans direct to your inbox!
Find and shop my favorite products in my Amazon storefront here!
Easy Kung Pao Shrimp Recipe
The Best Easy Kung Pao Shrimp Recipe - a Chinese Food Takeout Copycat -tastes just like takeout Kung Pao Shrimp from your favorite Chinese food restaurant - in half the time it takes to drive to get it, and a million times more delicious! 
Ingredients
⅛ teaspoon sesame oil
1 tablespoon olive oil
½ teaspoon sriracha (you can add more to taste as desired)
3 tablespoons low sodium soy sauce
1 teaspoon rice wine vinegar
1 teaspoon cornstarch
2 stalks celery, diced
¼ cup green bell pepper, diced
¼ cup red bell pepper, diced
1 zucchini, cut into thin half-rounds
6-10 hot thai red chilis, dried
12 ounces large shrimp, peeled with the tails off
1/4 cup water chestnuts, drained
1 teaspoon fresh diced garlic
¼ teaspoon fresh ginger, minced
(Optional) Peanuts, chopped
(Optional) Green onions, sliced
(Optional) Sesame Seeds
Instructions
Heat sesame oil and olive oil in a large skillet on high heat.
Make the Kung Pao sauce - Whisk the soy sauce, rice wine vinegar, cornstarch and sriracha together in a small bowl. Set aside.
Add bell peppers, celery, zucchini, and hot Thai peppers and sauté for 2-3 minutes or until slightly tender. (They will continue to cook with the shrimp and sauce).
Add in shrimp and sauté until cooked through, 3-4 minutes.
Add in garlic, ginger, and water chestnuts and cook for 1 minute.
Pour the Kung Pao sauce over the shrimp and vegetables. Turn the heat down and allow the shrimp to simmer until the sauce is thickened.
Serve with chopped peanuts, green onions and sesame seeds for serving, if desired.
Recommended Products
As an Amazon Associate and member of other affiliate programs, I earn from qualifying purchases at no extra expense to you.
Nutrition Information
Yield

4
Serving Size

1
Amount Per Serving
Calories

350
Total Fat

17g
Saturated Fat

4g
Trans Fat

0g
Unsaturated Fat

10g
Cholesterol

205mg
Sodium

1730mg
Carbohydrates

17g
Fiber

3g
Sugar

4g
Protein

32g
Nutrition is automatically calculated by Nutritionix - please verify all nutrition information independently and consult with a doctor or nutritionist for any and all medical and diet advice.