Perfect Grilled Souvlaki – Greek Grilled Pork Kebabs – are delicious, easy grilled pork skewer recipe, that are low calorie, low carb, and bursting with authentic Greek Souvlaki flavor!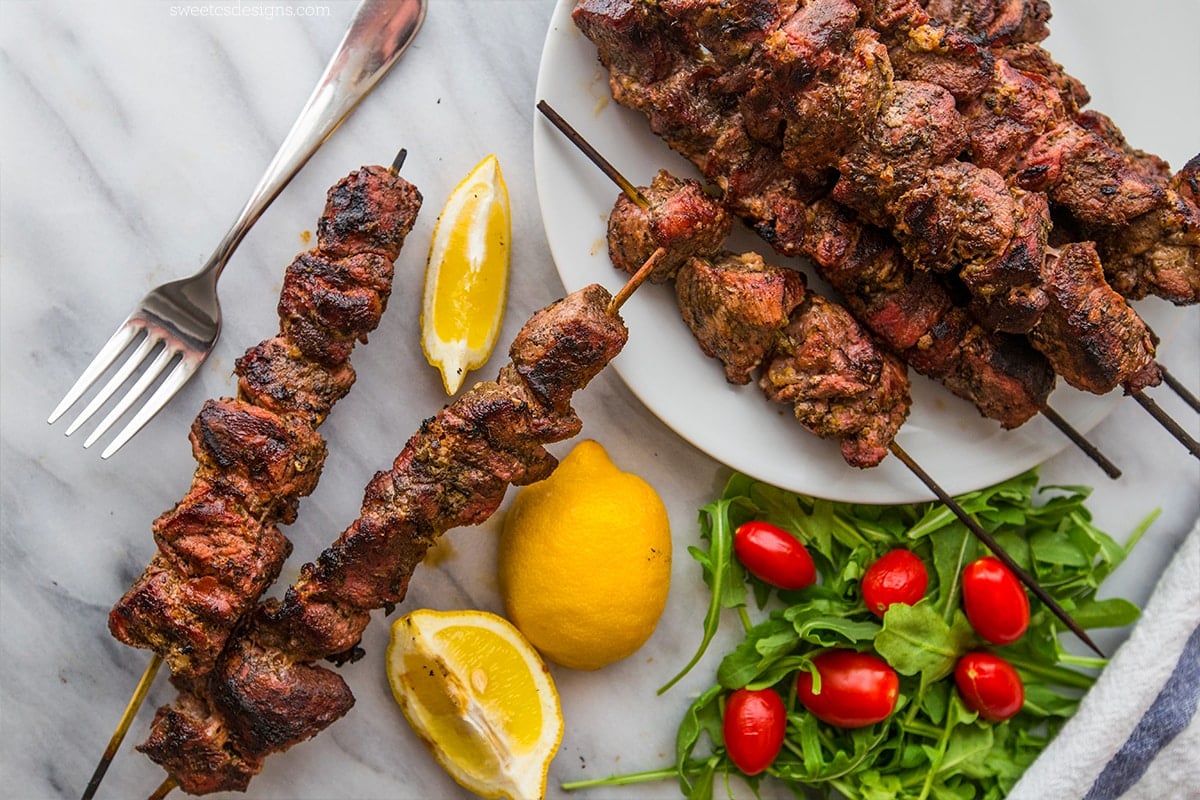 One of my favorite meals to order at Greek Restaurants is perfect, tender, and juicy Pork Souvlaki.
I love grilled Greek pork kebabs – and this recipe for perfect pork souvlaki is a sure-fire classic that is great on it's own, in sandwiches, or salads for a fresh grilled flavor!
Souvlaki is usually served with greek salad, tzatziki, pita, and fries- but the grilled pork kebabs make a delicious, easy meal at home, too!
My husband has been working on a perfect souvlaki method, and this is his secret recipe for delicious Perfect Grilled Souvlaki!
Don't want all the extras in a recipe post? We provide a skip to recipe button in the top left corner, as well as a clickable table of contents, just below, to help make this page easier to navigate.
Grilled Souvlaki is a delicious, easy meal that is great to feed a crowd – but there are some tips that will help make this recipe even easier!
Soak Skewers

To prevent skewers from burning, soak them in water for at least 30 minutes before adding pork to skewers and grilling.

Don't Skip the Marinade

One of the reasons pork souvlaki is so delicious, juicy, and tender is because the pork is marinated for so long, allowing the oil to soak through the meat and help soften it for grilling – as well as soaking up tons of flavor.
This souvlaki is best when left to marinate for 24 hours – but can even be prepped up to two days ahead of cooking – so it's great to make for a party!

Don't Overflip Souvlaki

Grilled pork is smoky, rich, and delicious – and a big part of this recipe is the caramelized crunchy bits around the pork from grilling.
Don't overflip your pork, or you won't get a delicious, crunchy crust on the outside.
If pork is cooking too fast, reduce heat, instead of flipping over and over. This will also help prevent pork from sticking too much to grill.
Souvlaki is great because it's great when reheated – so even if you can't eat your whole meal in one night, it's great as leftovers and meal prep!
To reheat souvlaki, it is best to quickly sauté in a skillet, instead of microwaving or baking – but if you're taking leftover souvlaki to work, a quick pop in the microwave will work too.
Be careful to reheat the pork to piping hot – but not overcook – to prevent leftover souvlaki from drying out.
Leftover souvlaki is delicious in salads, wraps, sandwiches, or served with rice or over vegetables.
Leftover grilled souvlaki is also great served cold when chopped up into small bites and served over salad!
What to Serve With Souvlaki
If you're looking for delicious recipes to serve alongside your souvlaki (other than just tatziki and pita bread), click through these links to find easy, delicious side dishes I love serving with souvlaki!
If you're at a Greek restaurant, you'll usually get souvlaki served with french fries and lots of tzatziki – and if you're making this delicious grilled souvlaki at home, my recipe for easy crunchy baked fries is the perfect side to grilled souvlaki – or try our super popular Air Fryer French Fries Recipe!
You'll also love our halloumi recipe, or our pork chops with creamy feta sauce!
If you're looking for some other delicious sides (that are all totally low carb), please check out my favorite veggie dishes to go alongside grilled souvlaki!
Easy Grilled Yellow Squash
Other Recipes You'll Love:
This Perfect Grilled Souvlaki is one of my favorite meals in my husband's repertoire- every time he makes it, it seems to be tastier and tastier.
The balance of garlic and lemon make this grilled pork truly one of the most delicious meals ever!
And really, what is better than lemon and garlic grilled pork skewers?
I've been hounding my husband to give us the secret… and today he's sharing his recipe!
If you want more of Luke's secret recipes, be sure to leave a comment, and see the few I linked below.
He's a phenomenal cook!
The Best Smoked Pork Ribs Recipe Ever
When is souvlaki done?
Pork souvlaki is considered safe to eat after it has reached 145 degrees Fahrenheit.
How long does this recipe last?
Grilled souvlaki lasts for up to four days in the refrigerator in an airtight container.
If you love this easy recipe please click the stars below to give it a five star rating and leave a comment! Please also help me share on facebook and pinterest!
CONNECT WITH SWEET C'S!
Be sure to follow me on social media, so you never miss a post!
Facebook | Twitter | Youtube | Pinterest | Instagram
Only have 30 minutes to get dinner on the table? Sign up for my 30 minute dinner plans direct to your inbox!
Find and shop my favorite products in my Amazon storefront here!
Yield:

12
Perfect Grilled Souvlaki
Perfect Grilled Souvlaki - Greek Grilled Pork Kebabs - are delicious, easy grilled pork skewer recipe, that are low calorie, low carb, and bursting with authentic Greek Souvlaki flavor! 
Ingredients
5 lbs pork, Pork Shoulder, cut into rough 3" cubes
4 tbsp lemon juice and zest, zested and juiced
2 tbsp dry oregano
8 garlic cloves, diced
2 tbsp garlic powder
4 tbsp olive oil
2 tsp salt
2 tsp pepper
Instructions
Cut pork and combine with ingredients and marinade for one to two days.
Remove pork from refrigerator two hours prior to cooking, and bring to room temperature.
Soak wooden skewers for one hour prior to cooking.
In a charcoal grill, light a hot charcoal fire - or preheat a gas grill.
Slide pork cubes onto wet wood skewers.
Cook over hot, charcoal fire, flipping occasionally until 160 degrees F - about 10-15 minutes.
Let rest for 10 minutes before serving - be careful handling hot wood skewers.
Serve with lemon wedges and tatziki.
Nutrition Information
Yield
12
Serving Size
about 6 oz pork, cooked
Amount Per Serving
Calories

535
Total Fat

33g
Saturated Fat

11g
Trans Fat

0g
Unsaturated Fat

19g
Cholesterol

176mg
Sodium

506mg
Carbohydrates

3g
Fiber

1g
Sugar

0g
Protein

53g