Air fryer lettuce wrap cheeseburgers - delicious crave-worthy juicy keto cheeseburgers air fried in an Instant Pot, then wrapped in crisp, crunchy lettuce!
Grilling a burger outside doesn't always work in our schedule - it can take aa while for grill to heat up, you're stuck inside if the weather is bad - or you don't want to waste a bunch of charcoal or propane for just a couple burgers.
This recipe is perfect for an easy dinner or lunch, is low carb and keto compatible, and has great char broiled flavor - right from your countertop, with no grease flying everywhere or smoke and smells flooding your kitchen.
This recipe will show you how to make knockout burger right from your air fryer - perfectly wrapped in crisp and crunchy iceburg lettuce.
These burgers are juicy and delicious, packed with perfectly melted cheese, and wrapped in lettuce - I hope you love them as much as I do!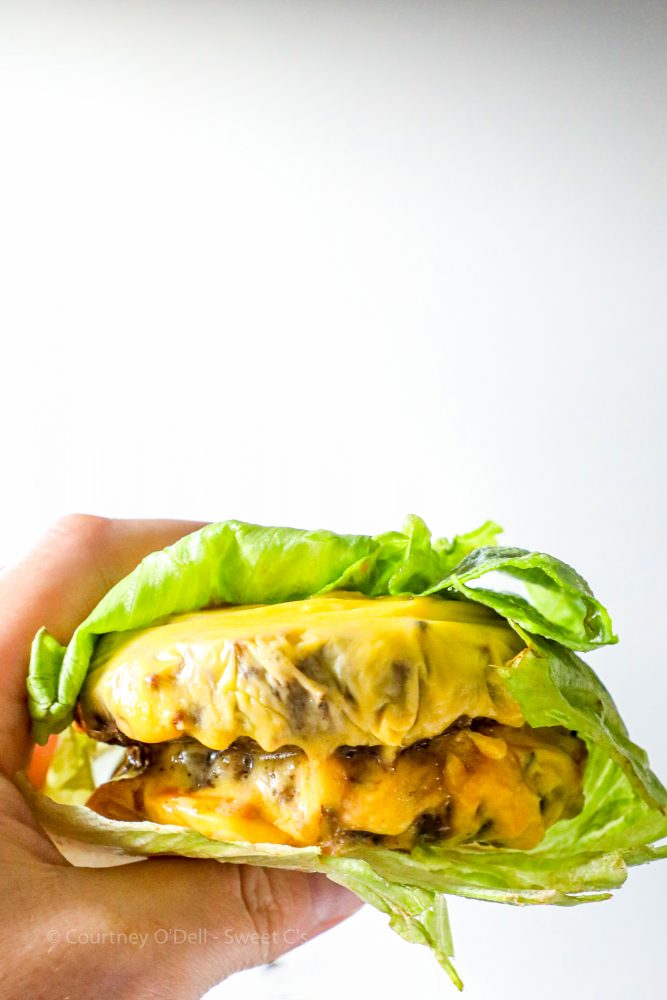 It's not always easy to griddle burgers or grill burgers outside - and while I love the flavor of pan-fried burgers, I hate how smoky it makes the whole house.
Air frying burgers is a quick, easy way to get juicy burgers without all the fuss - all you need to do is pop in your pressure cooker's air fry basket (with broiler lid) or in an air fryer, and cook!
For best results, be sure to flip your burger partway through to evenly char on both sides.
Check your burger's temperature regularly with a quick-read digital thermometer.
What lettuce to use for burgers. Iceberg lettuce works the best for lettuce wraps - it is crunchy, won't get soggy as fast as many lettuces, and the leaves are large, so you can fold it into a wrap around your burger.
To Make This Recipe You'll Need
We're using an Instant Pot or Ninja Foodi to broil these burgers indoors - so you'll need a pressure cooker with broiler lid, or an air fryer tabletop machine.
What To Serve With Lettuce Wrap Burgers
Burgers are one of the kinds of foods that go with just about everything - but if you're grabbing for these burgers because they are low carb, you'll want a great low carb side to go with it!
I'm rounding up my favorite easy delicious keto sides, perfect to pair with a juicy cheeseburger!
Of course, if you're not watching carbs, these burger sides are a total knockout!
How can I tell my burger is done?
What temperature should I cook burgers to?
To avoid foodborne illness, it is recommended to cook ground beef to 160 degrees internal temperature.
Well Done: 160°F to 165°F. This burger will have no pink inn the middle.
Medium Well: 150°F to 155°F – This burger will have a small bit of pink in the middle.
Medium: 140°F to 145°F – Meat will be slightly pink in the middle.
Medium Rare: 130°F to 135°F – If you grind your own meat and know all proper safety precautions have been taken, this burger will be reddish pink in the middle.
Rare: 120°F to 125°F – Since ground beef is more prone to food-borne illness, this is not a good temperature to cook to.
What if my burger isn't done enough?
After the 20 minute cook time, if your burger isn't done, leave in the air fryer to continue cooking. Air fryers keep their heat for a long time - so your burger will meet your desired temperature in a few minutes.
What toppings can I add?
We intentionally left toppings OFF this burger, so you can chose the condiments that you love and work into your eating plans. Go wild - top your burger with whatever you're craving!
Air Fryer Lettuce Wrap Cheeseburger Recipe
If you love this easy recipe please click the stars below to give it a five star rating and leave a comment! Please also help me share on facebook and pinterest!
CONNECT WITH SWEET C'S!
Be sure to follow me on social media, so you never miss a post!
Facebook | Twitter | Youtube | Pinterest | Instagram
Only have 30 minutes to get dinner on the table? Sign up for my 30 minute dinner plans direct to your inbox!
Find and shop my favorite products in my Amazon storefront here!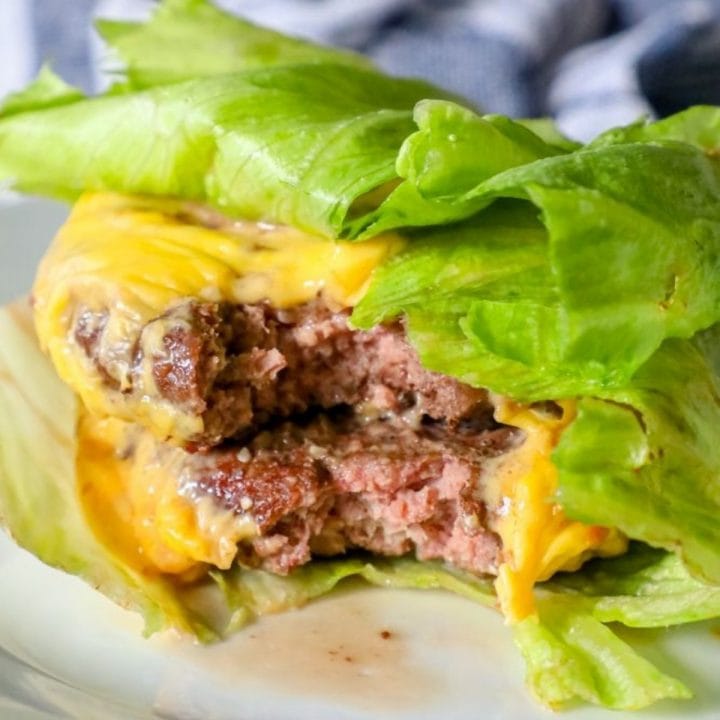 Yield:

4 patties
Air Fryer Lettuce Wrap Cheese Burger Recipe
Air fryer lettuce wrap cheeseburgers - delicious crave-worthy juicy keto cheeseburgers air fried in an Instant Pot or air fryer, then wrapped in crisp, crunchy lettuce!
Ingredients
1 lb Ground beef
1 tablespoon Burger rub
2 tablespoon Worcestershire sauce
4 slices american, cheddar, or jack cheese
4 leaves iceburg lettuce
Instructions
Preheat air fryer to the highest broil setting. (400-450 if using an Instant Pot or Ninja Foodi, 400 for other air fryers)
In a bowl, mix ground beef, Worcestershire sauce, and burger rub.
Using a kitchen scale (or by sight), divide ground beef into four equal balls.
Flatten the balls and press firmly to form patty shapes.
Place patties in broiler/air fryer basket (only place as many as you can fit without having them touch too much.)
Set timer for 10 minutes, and broil on high (for IP it is 400 degrees, 450 for Ninja Foodi).
Flip burger using long handled tongs - be careful as air fryer will be HOT.
Set timer for 5 minutes and broil more.
Check burgers internal temp - if 145+, and you're aiming for medium well done, add cheese. If under 140, broil additional 5 minutes.
When five minutes is up, open lid and add cheese slices. Close lid and let continue cooking for 5 minutes in air fryer heat.
When done cooking, remove and let sit for five minutes before serving.
Wrap in lettuce - either as a double-decker burger, or single patty burgers.
Enjoy!
Nutrition Information
Yield
4
Serving Size
1
Amount Per Serving
Calories

466
Total Fat

32g
Saturated Fat

14g
Trans Fat

1g
Unsaturated Fat

13g
Cholesterol

137mg
Sodium

428mg
Carbohydrates

4g
Fiber

0g
Sugar

1g
Protein

39g
Nutrition is automatically calculated by Nutritionix - please verify all nutrition information independently and consult with a doctor or nutritionist for any and all medical and diet advice.