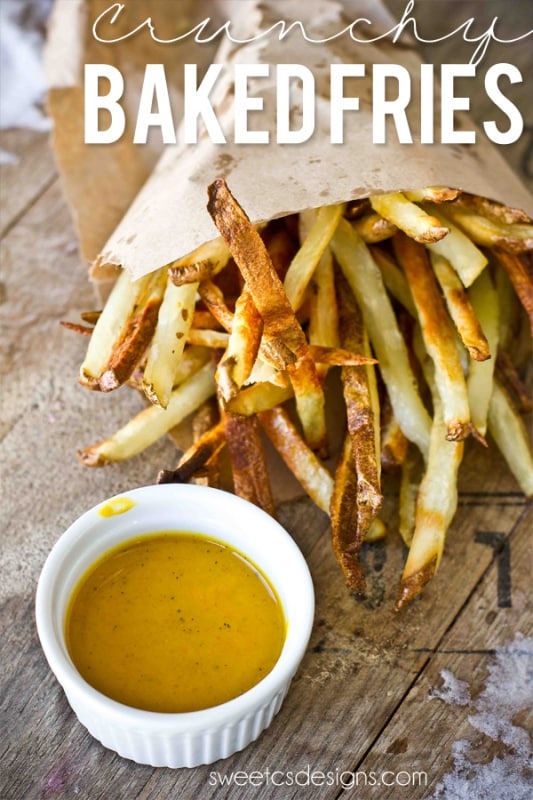 We LOVE fries in this house. Sweet Potato, Potato- fried or breaded- we just love fries! The problem is, we know high fat fries aren't the best for us. This recipe for Crunchy Baked Fries gives you the crispy, crunchy texture of fried fries, but with a little heart healthy olive oil and sea salt for a lightened up version.
These fries use a dash of heart healthy olive oil and are baked at a high temperature to help cut down on some of the unneeded fat of fries- and they are so good, you won't even notice they are baked. While we don't eat them often, these are gone in a few minutes when we do- and the best part- they are totally easy!

Crunchy Baked Fries
Ingredients
3 large russet potatoes
2-3 tablespoons olive oil
Sea salt and pepper, to taste
Instructions
Using a mandoline, slice the potatoes into fries. I don't worry too much about the size of fry I am making- some are bigger, and some are smaller. That's fine!
Next, place your spuds in a nice cool water bath. Completely submerge the fries in water.
Let fries sit one hour. This helps to remove excess starch and will help the fries crisp up more in the oven.
After an hour, drain the water, and pat fries dry with a paper towel.
Toss with a couple tablespoons of olive oil, salt and pepper.
Spread out onto a baking sheet which has been generously sprayed with cooking spray (two if the sheet is too crowded- fries should not be super packed on the sheet).
Bake at 400 for about 30 minutes- until fries start to get soft. You might want to stir the fries at this point to prevent excessive sticking and to flip the fries to the other side.
Turn the oven to 450 and continue baking until crisp (about 20-30 minutes). If you get in a hurry, turn on the broiler to crisp up the fries- but watch them closely, and stir them a few times to be sure all sides get some good crunch!
Plate, and enjoy! This recipe is good as a side for about 6 people.
The fries are best eaten hot- but you can add a dash of oil in a pan, as well as some garlic to heat them a second time. Learn more about reheating fries in my post- Turn Leftover Fries into Garlic Truffle Fries.