Crunchy Baked Fries Recipe - delicious restaurant style french fries - straight from the oven - for a delicious golden brown and cripsy baked french fry recipe that is sure to become your family's favorite.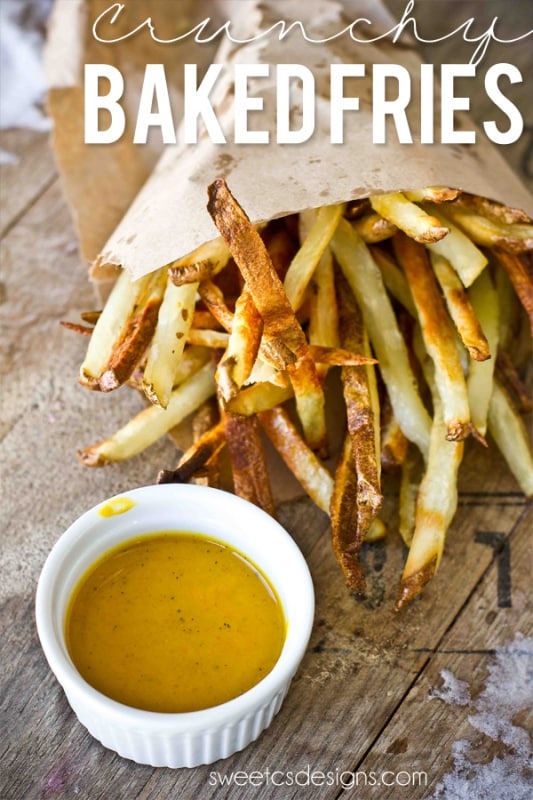 We LOVE fries in this house. Sweet Potato, Potato- fried or breaded- we just love fries!
The problem is, we know high fat fries aren't the best for us.
This recipe for Crunchy Baked Fries gives you the crispy, crunchy texture of fried fries, but with a little heart healthy olive oil and sea salt for a lightened up version.
These fries use a dash of heart healthy olive oil and are baked at a high temperature to help cut down on some of the unneeded fat of fries- and they are so good, you won't even notice they are baked.
While we don't eat them often, these are gone in a few minutes when we do- and the best part- they are totally easy!
Just Take Me To The Best Easy Baked French Fry Recipe Already!
I get a ton of questions and comments on my posts, so I try to provide as much information as possible for my readers.
If you're looking to bypass all the helpful tips, please click on the "skip to recipe" button in the top left corner, or scroll to the bottom of the page where you will find the recipe for these crunchy baked fries!
Tips To Perfect Crispy Baked French Fries
These easy tips and tricks will help to ensure the best crunchy baked french fries, every time.
Cut potatoes with a mandoline for easy, perfect sticks that will crisp up well.
Make sure your fries soak for at least one hour - preferably changing the water after 30 minutes to new cold water.
Soaking in water helps remove some of the starch, which will help them crisp up better!
Make sure your fries are VERY dry after their little bath.
Pat them with paper towels or a clean dish towel to be sure there is no residual moisture.
Wet fries = soggy fries.
Ensure your baking sheets are well greased, or your fries will stick and become a nightmare.
Aluminum foil works in many situations, but my fries always stick to foil as well - so be sure to use plenty of cooking spray if you do.
If lining your baking sheet, I suggest parchment paper or a silicone mat, and I still use an olive oil based cooking spray for those as well.
Always cook fries in a single layer.
Allowing fries to bake separate from each other will help them get crunchy.
Adjust Cooktime if Needed
Adjust cook time as needed.
I watch my french fries closely while cooking, and make adjustments as needed.
Every oven is different, and I've noticed a ton of things impact cook time and even something as small as the humidity in the air can impact cooktime.
This recipe is good as a side for about 6 people.
The fries are best eaten hot- but you can add a dash of oil in a pan, as well as some garlic to heat them a second time.
Learn more about reheating fries in my post- Turn Leftover Fries into Garlic Truffle Fries.
It's shockingly delicious, and a great way to reheat leftover french fries!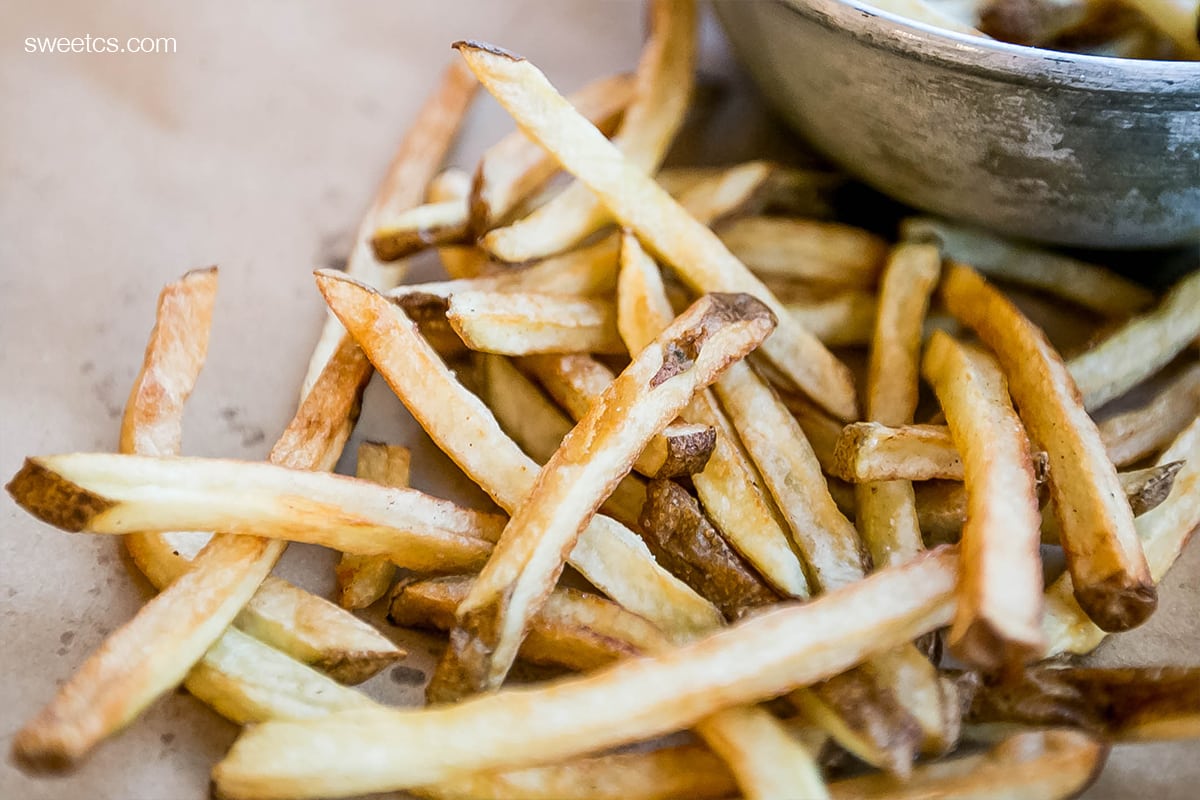 Crispy Baked Fries Seasoning Ideas
These baked french fries are so delicious because they can be made with all sorts of different flavors and seasonings - try some of these easy ideas, or come up with your own!
Adding different powders and seasonings will help your fries take on new flavors easily - try some of these or come up with your own!
-Add onion powder or garlic powder for a bit more flavor.
-Add herbs de provence salt for a rustic French twist on your baked fries.
-Cajun seasoning sprinkled over the fries gives a spicy Five Guys like french fry flavor.
-Brush fries in the final 15 minutes of baking time with butter, diced garlic, and finely diced parsley for a sinfully rich garlic butter fries recipe.
Other Easy Recipes You'll Love
If you love this easy baked french fry recipe, be sure to check out some of my other favorite easy recipes!
The Best Air Fryer French Fries Recipe
Easy Fogo De Chao Brazilian Cheese Bread Copycat Recipe
Paleo Garlic Parmesan Zucchini Fries
Cheesy Sausage Potatoes and Cabbage
The Best Easy Slow Cooker Shredded Chicken Recipe
The Best Baked Garlic Pork Tenderloin
The Best Easy Crunchy Baked Fries Recipe
If you love the best easy crunchy baked fries recipe as much as I do, please give it a five star review and help me share on facebook and pinterest!
Yield:

6
Crunchy Baked Fries
Total Time:
1 hour
5 minutes
Ingredients
3 large russet potatoes
2-3 tablespoons olive oil
Sea salt and pepper, to taste
Instructions
Using a mandoline, slice the potatoes into fries. I don't worry too much about the size of fry I am making- some are bigger, and some are smaller. That's fine!
Next, place your spuds in a nice cool water bath. Completely submerge the fries in water.
Let fries sit one hour. This helps to remove excess starch and will help the fries crisp up more in the oven.
After an hour, drain the water, and pat fries dry with a paper towel.
Toss with a couple tablespoons of olive oil, salt and pepper.
Spread out onto a baking sheet which has been generously sprayed with cooking spray (two if the sheet is too crowded- fries should not be super packed on the sheet).
Bake at 400 for about 30 minutes- until fries start to get soft.
You might want to stir the fries at this point to prevent excessive sticking and to flip the fries to the other side.
Turn the oven to 450 and continue baking until crisp (about 20-30 minutes).
If you get in a hurry, turn on the broiler to crisp up the fries- but watch them closely, and stir them a few times to be sure all sides get some good crunch!
Nutrition Information
Yield
6
Serving Size
1
Amount Per Serving
Calories

205
Total Fat

7g
Saturated Fat

1g
Trans Fat

0g
Unsaturated Fat

6g
Cholesterol

0mg
Sodium

70mg
Carbohydrates

32g
Fiber

3g
Sugar

2g
Protein

4g
If you love this easy recipe, be sure to check out our reader favorites!
These tried and true recipes are viral hits with our readers!
Sweet C's Favorite Recipes
Favorite recipes from Sweet Cs Designs