Indulge in a global culinary fusion with our Baked Shawarma Ribs – the rich, savory rub is the perfect compliment to either beef or pork ribs, baked to tender, juicy perfection!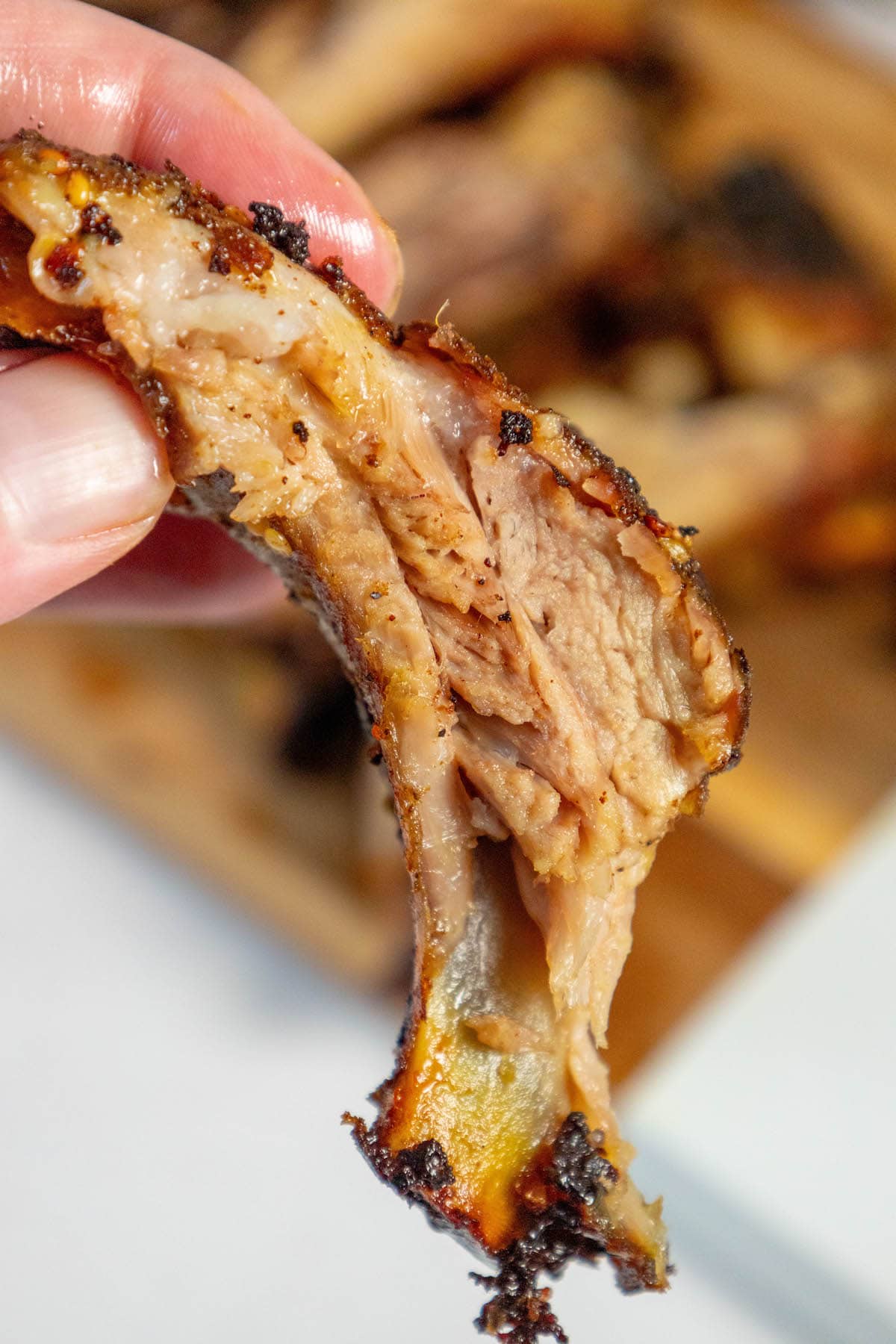 Baked Mediterranean Ribs
This recipe marries the fall-off-the-bone tenderness of slow-baked ribs with the bold, vibrant flavors of a classic Middle Eastern Shawarma spice blend. The result is an utterly delicious, mouthwatering dish that will tantalize your tastebuds. Our detailed instructions guide you through marinating the ribs in a flavorful shawarma spice mix, slow-baking them to perfection, and serving them up with a delightful sauce. Perfect for a weekend dinner or a special occasion, these Baked Shawarma Ribs are an unusual twist on a Mediterranean spice!
How To Make Baked Shawarma Ribs
To make this recipe, we will start with the following ingredients:
Ribs: Pork ribs are often used because they are tender and juicy, with a good amount of fat that melts into the meat as it cooks, enhancing the flavor and succulence. Beef ribs could also be used; they are more robust and beefy in flavor. Either way, the ribs serve as the canvas for the flavorful shawarma rub.
Olive oil: This is used to help the rub adhere to the ribs and also aids in the cooking process. The oil helps to spread the heat evenly across the meat surface, assisting in creating a crisp, tasty crust. Olive oil also adds a touch of its own flavor – a sort of earthy, slightly fruity note that complements the meat and spices well.
Shawarma Rub: This rub typically includes spices like cumin, coriander, garlic powder, paprika, turmeric, and cinnamon. These spices collectively bring a warm, earthy, and slightly spicy flavor to the dish. The basic components of shawarma rub include:

Cumin brings a warm, slightly bitter flavor that is essential to Middle Eastern dishes.
Coriander is slightly sweet and citrusy, which complements the other spices and the savory ribs.
Garlic powder adds a robust and earthy garlic flavor without the need for fresh cloves.
Paprika lends a sweet-peppery flavor and contributes to a nice, vibrant color.
Turmeric gives a warm, bitter taste and a golden color.
Cinnamon adds a sweet-spicy note that's a little unexpected but balances the savory elements of the dish beautifully.
Once we've gathered our ingredients, we will use the following process:
Prep. Preheat your oven to 275°F (135°C).
Mix together all the ingredients for the Shawarma rub in a small bowl until well combined. Pat the ribs dry with paper towels. Brush the ribs with olive oil on both sides. Generously apply the Shawarma rub on both sides of the ribs, pressing it into the meat. Place the ribs on a baking sheet and wrap with aluminum foil or place on a roasting rack, bone-side down.
Bake. Bake in the preheated oven for about 2.5-3 hours, or until the ribs are tender and cooked through.
Enjoy! After they're done, you can optionally broil the ribs for an additional 2-3 minutes to get a slightly crispy exterior. Just be sure to watch them closely to prevent burning. Let the ribs rest for about 10 minutes before cutting and serving. Enjoy your delicious Shawarma Rub Baked Ribs!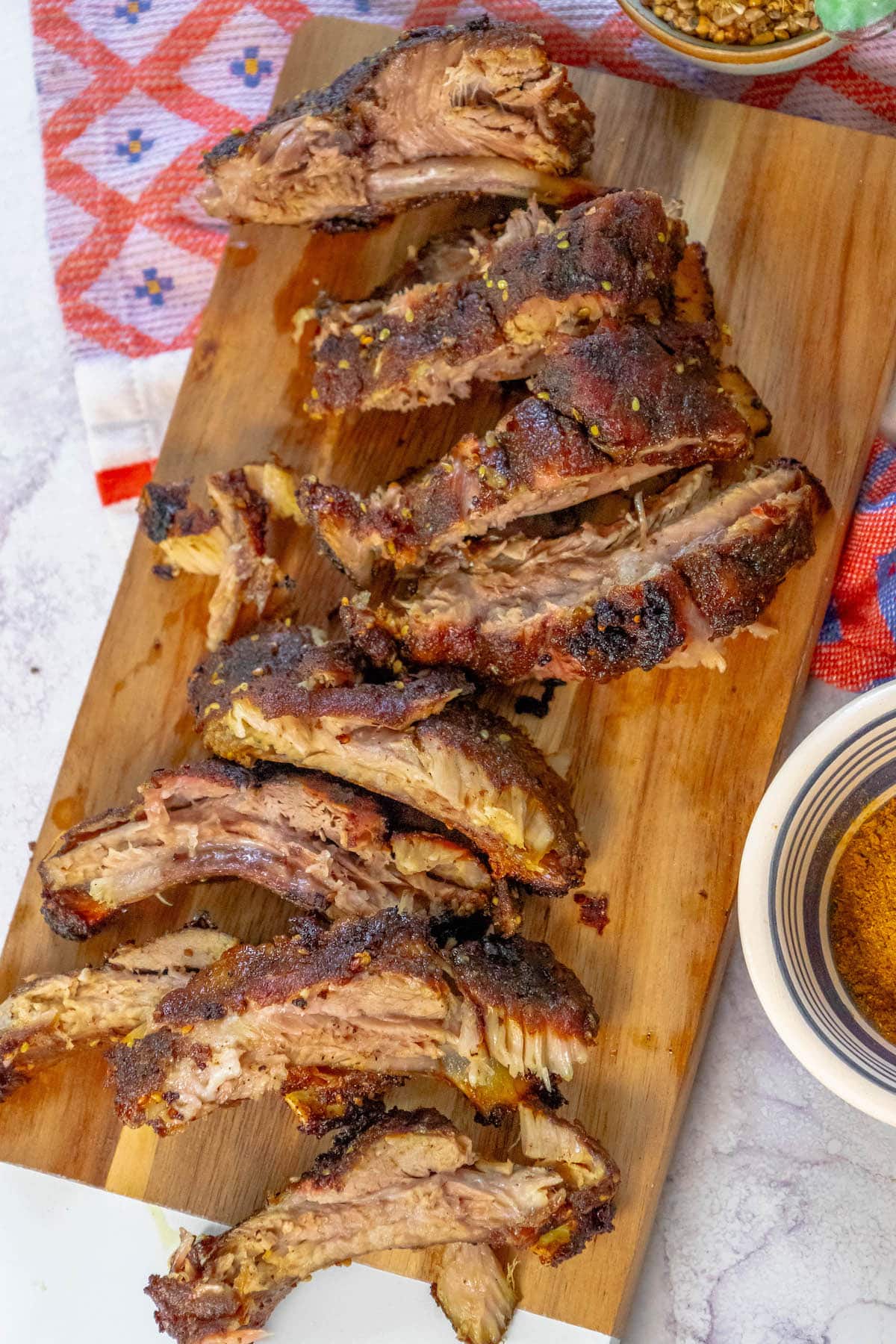 Tips and Tricks to the Best Shawarma Baked Ribs
Selecting the ribs: Look for ribs with a good amount of meat on them and some marbling. The fat will melt during the cooking process, resulting in juicy, tender ribs.
Remove the membrane: On the back of each rack of ribs, there's a thin membrane. Removing this will allow your spices to penetrate better and will improve the texture of your ribs. To remove it, use a knife to gently lift a corner, then grab it with a paper towel and pull it off.
Applying the rub: Make sure to apply the rub generously and evenly, ensuring every part of the ribs is covered. Don't forget the sides! Also, for deeper flavor, you can let the ribs marinate with the rub for a few hours or overnight in the refrigerator.
Slow and low: Baking the ribs at a low temperature for a long period of time helps to break down the tough connective tissue, resulting in tender ribs.
Wrapping the ribs: If you want to keep the ribs extra moist during cooking, you can wrap them in foil for the first couple of hours, then remove the foil for the last hour to let them develop a nice crust.
Resting: After they come out of the oven, let the ribs rest for about 10 minutes before cutting into them. This allows the juices to redistribute throughout the meat, resulting in more flavorful ribs.
Broiling: If you like your ribs with a bit of a crust, you can broil them briefly after baking. Just watch them closely to ensure they don't burn.
Basting: If you want to add an extra layer of flavor, consider basting your ribs with a glaze or sauce during the last 30 minutes of cooking. This can be a traditional BBQ sauce, or you could make a glaze using ingredients that complement the Shawarma rub, like honey, lemon, and garlic.
FAQs
What type of ribs should I use?
This recipe works well with both pork and beef ribs. Pork ribs are typically more tender and fatty, which can result in a juicier end product. Beef ribs are larger and have a more robust flavor – and are acceptable in diets that do not eat pork.
Can I make the rub ahead of time?
Yes, you can make the Shawarma rub ahead of time. Store it in an airtight container in a cool, dark place. It should keep for several months.
How long should I marinate ribs for?
Ideally, you should allow the ribs to marinate with the Shawarma rub for at least a few hours, or even overnight. However, if you're short on time, you can cook them immediately after applying the rub – they'll still be flavorful.
Can I grill these ribs instead of baking them?
Absolutely, grilling is a great option for cooking these ribs and can add a wonderful smoky flavor. Be sure to cook them on indirect heat and monitor closely to prevent them from burning. Check out our The Best Smoked Pork Ribs Recipe Ever recipe for tips to smoke ribs.
The ribs are browning too fast in the oven. What helps?
If the ribs are browning too quickly, you can cover them loosely with foil for the remainder of the cooking time. I always wrap mine in foil when cooking, though it is optional. This will help to prevent them from drying out.
How do I know when ribs are done?
The ribs should be very tender when they're done. You can check for doneness by inserting a knife into the meat – it should go in easily with little resistance. The meat should also start to pull away from the bone at the ends. However, avoid cooking them to the point where they're falling apart, as this can mean they're overcooked and might be dry.
What can I serve with shawarma baked ribs?
Shawarma Baked Ribs can be served with a variety of sides. Some popular choices are roasted vegetables, rice, couscous, or a simple salad. For a truly Middle Eastern experience, you can serve them with flatbread and tzatziki or hummus.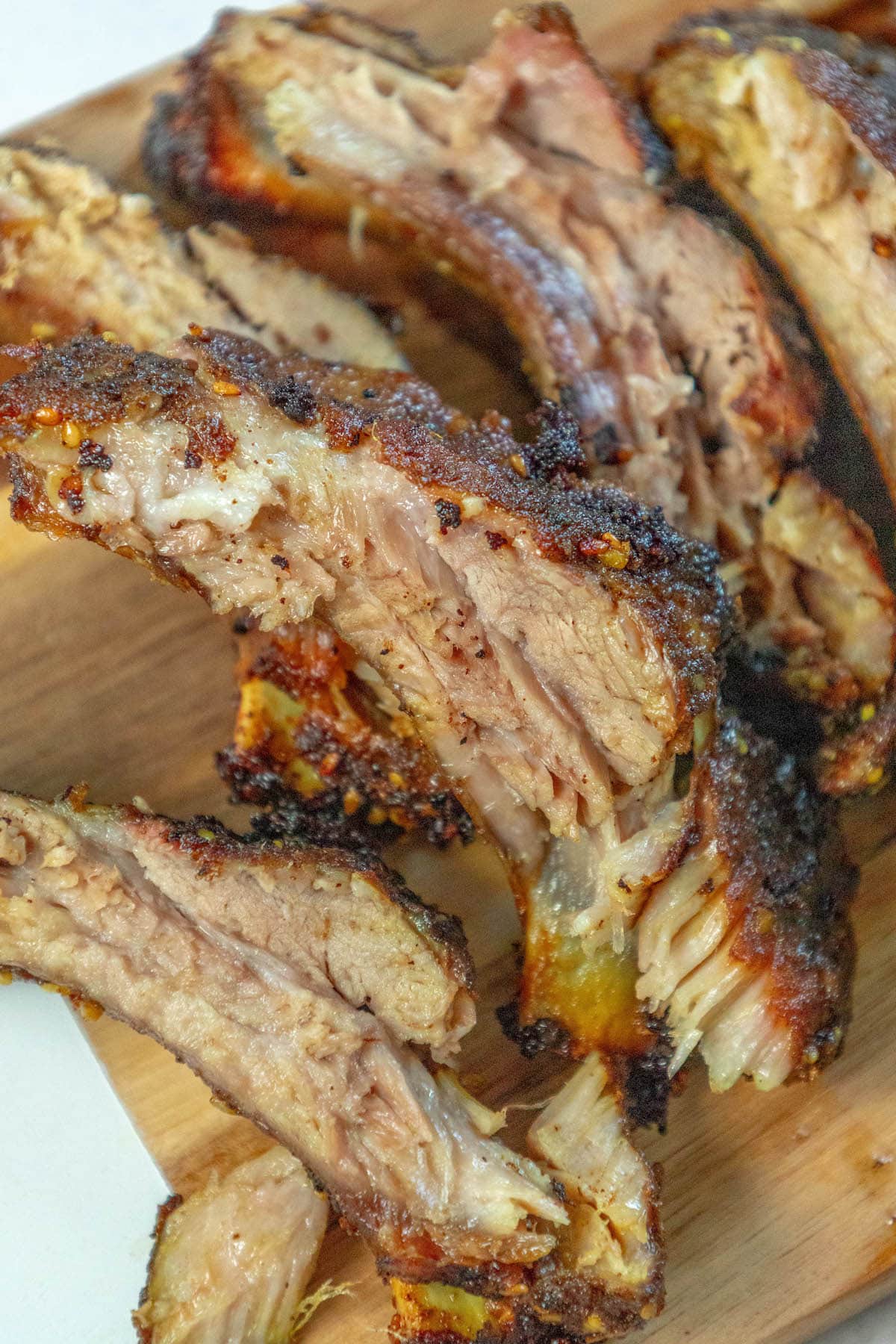 What to Serve with Shawarma Baked Ribs
Rice or Couscous: These can serve as a neutral base to absorb the flavors of the ribs. You could also consider a spiced rice or couscous dish for extra flavor.
Roasted or Grilled Vegetables: These can balance out the richness of the meat. Consider vegetables like zucchini, eggplant, bell peppers, or tomatoes.
Flatbreads: Warm flatbreads can be used to scoop up the meat and any sauce. They add a nice textural contrast to the dish.
Middle Eastern Salads: A fresh salad like tabbouleh or Israeli salad would provide a refreshing contrast to the savory ribs.
Tzatziki or Hummus: Tzatziki and hummus can help cool down and balance the spices in the Shawarma rub. They also pair well with both the ribs and flatbread. We also LOVE drizzling Zhoug (Skhug) Sauce over baked ribs!
Pickles: Middle Eastern pickles, like pickled cucumbers or turnips, would provide a tangy contrast to the rich meat.
Yogurt Sauce: A simple yogurt sauce made with garlic and lemon juice can add a refreshing tang and creaminess that complements the spices in the Shawarma rub.
Baked Shawarma Ribs Recipe
If you love this easy recipe please click the stars below to give it a five star rating and leave a comment! Please also help me share on facebook and pinterest!
Click here to view the web story for this recipe!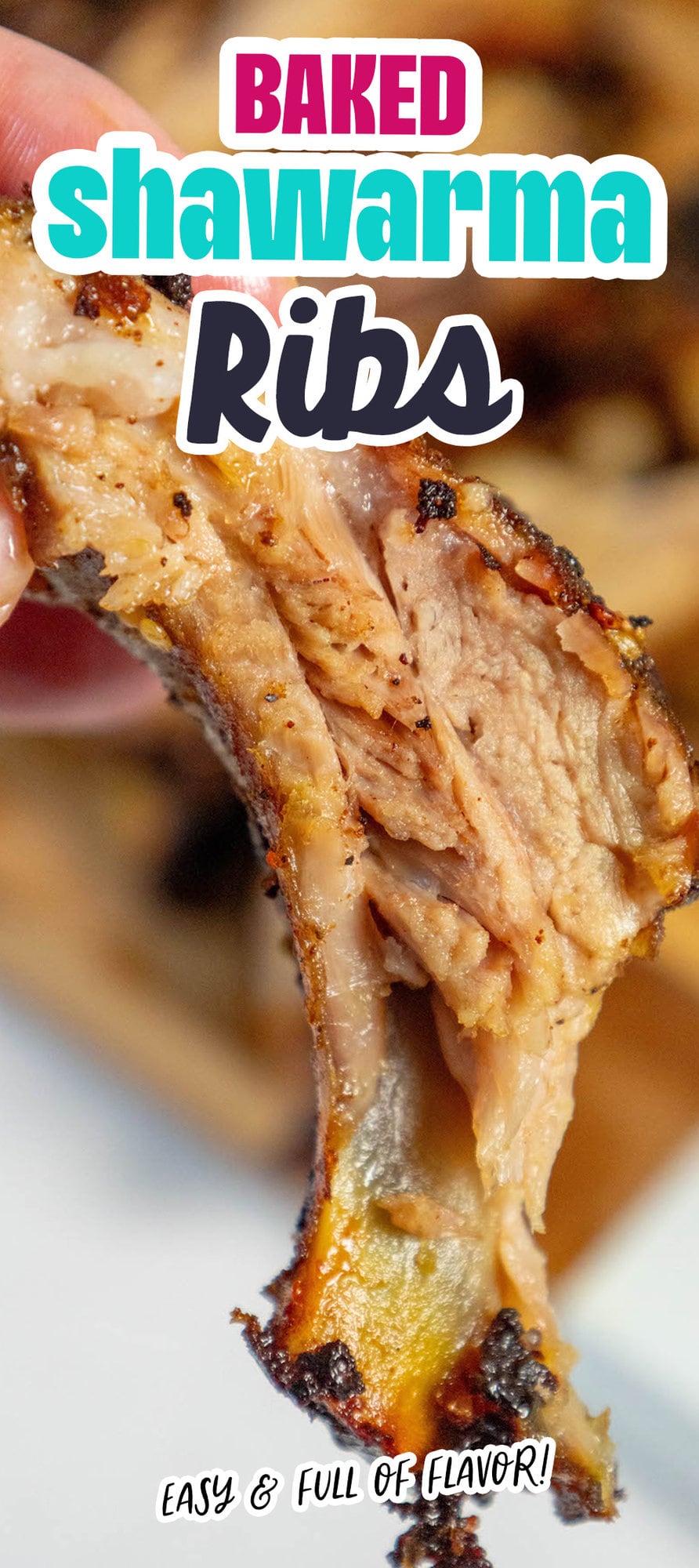 If you love this easy recipe please click the stars below to give it a five star rating and leave a comment! Please also help me share on facebook and pinterest!
Yield:

1 rack ribs
Baked Shawarma Ribs
Total Time:
3 hours
10 minutes
Tender, juicy baked ribs in a rich, savory shawarma rub and baked to perfection!
Ingredients
1 rack ribs
2-3 tablespoons olive oil
1/4 cup shawarma rub:
2 tablespoons ground cumin
2 tablespoons ground coriander
2 tablespoons ground turmeric
2 tablespoons smoked paprika
1 tablespoon ground allspice
1 tablespoon ground black pepper
2 teaspoons ground cardamom
2 teaspoons ground Aleppo or cayenne pepper
2 teaspoons ground cinnamon
1 teaspoon ground cloves
4 teaspoons garlic powder
2 teaspoons salt
1 tablespoon sesame seeds
2 teaspoons dried onion flakes, optional
Instructions
Preheat oven to 275F.
Remove ribs from refrigerator, pat dry from any liquid in packaging.
Using a sharp knife, cut the membrane on the bottom of the ribs, and pull hard to remove the thin, tough membrane on the bottom. (This is optional, but we recommend removing the silver skin for best results.)
In a small bowl, add herbs and spices and mix to create shawarma rub.
Drizzle ribs with olive oil. Season Generously with shawarma rub.
Wrap ribs tightly in foil (optional) and place on a baking sheet.
Bake at 275 for about 3 hours, until ribs are separating from bone and a nice dark crust has developed. Ribs should give to light pressure when pulled.
Let rest at least 10 minutes before cutting.
Serve and enjoy!
Recommended Products
As an Amazon Associate and member of other affiliate programs, I earn from qualifying purchases at no extra expense to you.
Nutrition Information
Yield
4
Serving Size
1
Amount Per Serving
Calories

208
Total Fat

16g
Saturated Fat

3g
Trans Fat

0g
Unsaturated Fat

12g
Cholesterol

9mg
Sodium

1081mg
Carbohydrates

16g
Fiber

7g
Sugar

1g
Protein

5g
Nutrition is automatically calculated by Nutritionix - please verify all nutrition information independently and consult with a doctor or nutritionist for any and all medical and diet advice.