Delicious creamy chicken and broccoli alfredo is a restaurant quality meal in under 30 minutes from simple ingredients you probably have on hand. Family friendly and hearty dinner quick!
I was recently in Boston with some of my blog best friends – Rachel from the Stay at Home Chef, and Alyssa from the Recipe Critic – and we even ran into our good friend Kristyn from Lil Luna!
Boston was sure fun after dark, strolling along the waterfront… But there's nothing like sitting on our back patio right now with twinkle lights as my son shoots a light up helicopter (those rubber band thingys people sell to tourists) into our back pasture. Sometimes this world feels really really big and small at the same time- this walk on Monday feels like just yesterday and a lifetime ago!! #sweetcs #boston #travel #travelblogger #trip #water #pretty #sunset #travelgram #cityscape #skyline #likes #love #instalove

A photo posted by Courtney | Food & Travel ? (@sweetcsdesigns) on
    We had a blast touring (and eating) the city over a long weekend, and hit up a ton of iconic and delicious spots along the way. Once of the neighborhoods we were really drawn to was Little Italy – we kept heading back for delicious pastries and pasta.
Little Italy + some of my favorite bloggers = heaven in Boston. Girls weekend #lobstarollin in bean town with @lillunakristyn @alyssa_therecipecritic @thestayathomechef #sweetcs #eat #food #foodie #foodgram #delish #tasty #forkyeah #eeeeeats #nomnomnom #foodandwine #foodwinewomen #eats #marthaeats #boston #travel #travelblogger #traveleats #besttravel #trip #vacation
  When I got home I had a major hankering for some alfredo like we had in little Italy one night at Fresh Catch – and I decided to adjust a few recipes I found for a classic alfredo and come up with a bit of my own.
  (PS- my friend Alyssa has quite a few alfredo recipes on her site if you're dying for more!)  
This creamy chicken and broccoli alfredo is one of the best pastas we've had in a very long time- and it is so easy to make!
The best part is, we're using simple ingredients you might already have on hand (no buying extra stuff you'll hardly ever use!) and for the most part, it can be made in one pot.
You can even keep this low(ish) carb by swapping out the penne for a spaghetti squash or zoodles!
For a lower calorie kick, reduce cream by half (you can also use milk, but it obviously won't be as velvety rich), and add 1/2 cup low sodium stock. Swap clarified butter for regular butter, or skip it and opt for olive oil. While the recipe I am outlining below is what is the most delicious, if you have health or calorie concerns, you can certainly make healthier swaps so this isn't extremely fat and calorie heavy.
Of course, if you aren't a fan of broccoli, you can swap out other veggies. Try asparagus, artichoke hearts, green beans – anything you really love.
  I hope you love this dinner as much as my family does! If you'd like to save a version of this quick and easy video to your Facebook page, you can use this one:     And be sure to follow me on Instagram where you can get a sneak peak into my tasty travels (which often inspire the meals I cook at home!) or check out some of my other favorite pastas:  
Creamy Chicken Tortellini Pasta  
  Chicken Bruschetta Pasta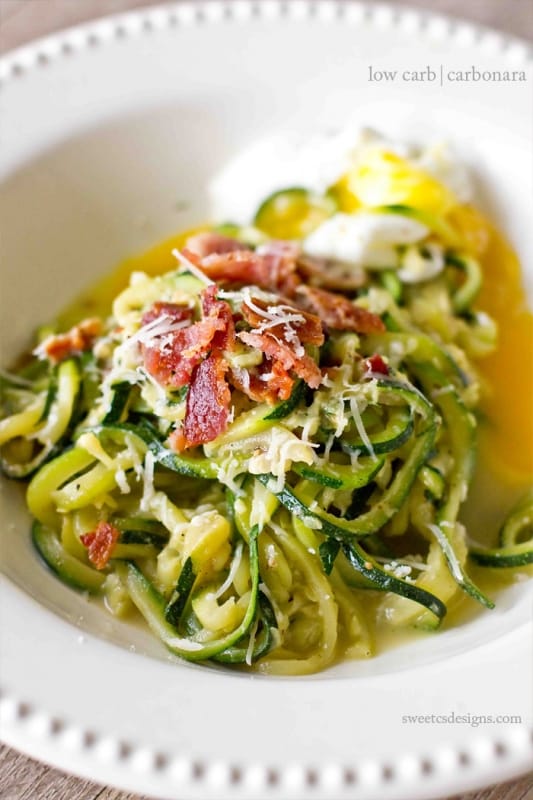 Low Carb Carbonara
Creamy Chicken and Broccoli Alfredo
Yield:

4
Creamy Chicken and Broccoli Alfredo
Delicious creamy chicken and broccoli alfredo is a restaurant quality meal in under 30 minutes from simple ingredients you probably have on hand. Family friendly and hearty dinner quick!
Ingredients
2 tbsp sunflower oil
1 lbs chicken , cut into 1" bites
24 oz broccoli crowns, rinsed and tough ends trimmed
2 tbsp butter
1/2 cup Parmesan cheese, fresh
6 garlic cloves, diced
1/2 cup sun dried tomatoes, chopped
1 tbsp dried oregano
1 tbsp dried basil
1 cup heavy cream
1/2 cup stock, if needed to loosen sauce
salt and pepper
Instructions
In a heavy pan on high heat, add oil and heat until shimmery (but not smoking).
Add diced chicken, cook on high 5 minutes, stirring occasionally to prevent burning.
Add broccoli and cook until soft and bright green, another 5 minutes.
Remove chicken and broccoli from pan and reduce heat to medium low.
Add butter and garlic, let soften and very slightly brown (about 2 minutes.)
Add sundries tomatoes and spices, stir to incorporate.
Add cream, cheese, and stock and stir, slowly raise heat to medium- lower heat if sauce starts to boil.
Let sauce thicken, stirring occasionally, about 5 minutes.
Add chicken and broccoli back to pan and toss to coat.
Let chicken and broccoli cook in sauce until sauce is thick and reduced by half.
When done, serve immediately over penne, spaghetti, squash, or zoodles.
Nutrition Information
Amount Per Serving
Calories

713
Saturated Fat

25g
Cholesterol

190mg
Sodium

561mg
Carbohydrates

23g
Fiber

6g
Sugar

8g
Protein

33g