Easy and delicious 10 Minute Lemon Garlic Butter Broiled Lobster Tails is the best oven baked lobster tail recipe – just bursting with garlic and lemon flavor in just one pot for an easy romantic dinner that tastes like an expensive steakhouse!
This is the best lobster tail recipe ever and is incredibly delicious with almost no work, plus works in a whole 30 diet or a keto diet for a low carb romantic dinner!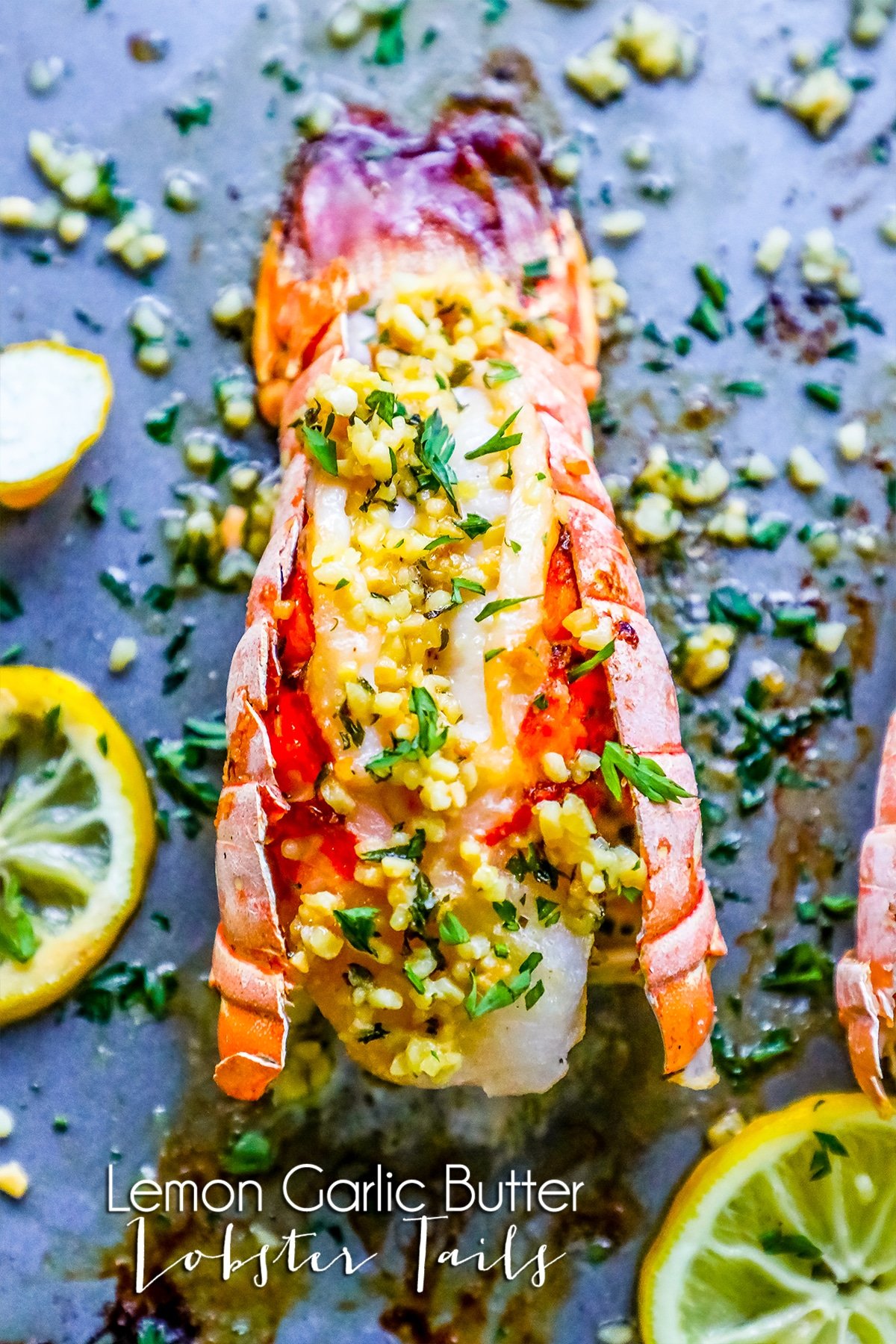 Lobster tails are one of my absolute favorite meals to make for a romantic dinner at home – because I can make delicious steakhouse style lobster tails, in a matter of minutes!
My 10 Minute Broiled Lobster Tail recipe has been a huge hit on Sweet C's over the years, and I recently updated a one pot butter poached lobster tail recipe – but this simple and easy recipe for 10 Minute Lemon Garlic Butter Lobster Tails is super-simple, incredibly delicious, and sure to be your next holiday or date night favorite!
Just Take Me To The Lemon Garlic Butter Lobster Tails Recipe Already!
If you'd like to skip my tips and tricks and get straight to the Lemon Garlic Butter Lobster Tails Recipe, please scroll to the bottom of the page, just above the comments.
I get a lot of comments and questions on my recipes, so I try to provide as much information as possible. If you'd rather skip the text, please scroll to the bottom of the page where you will find the easy printable recipe card.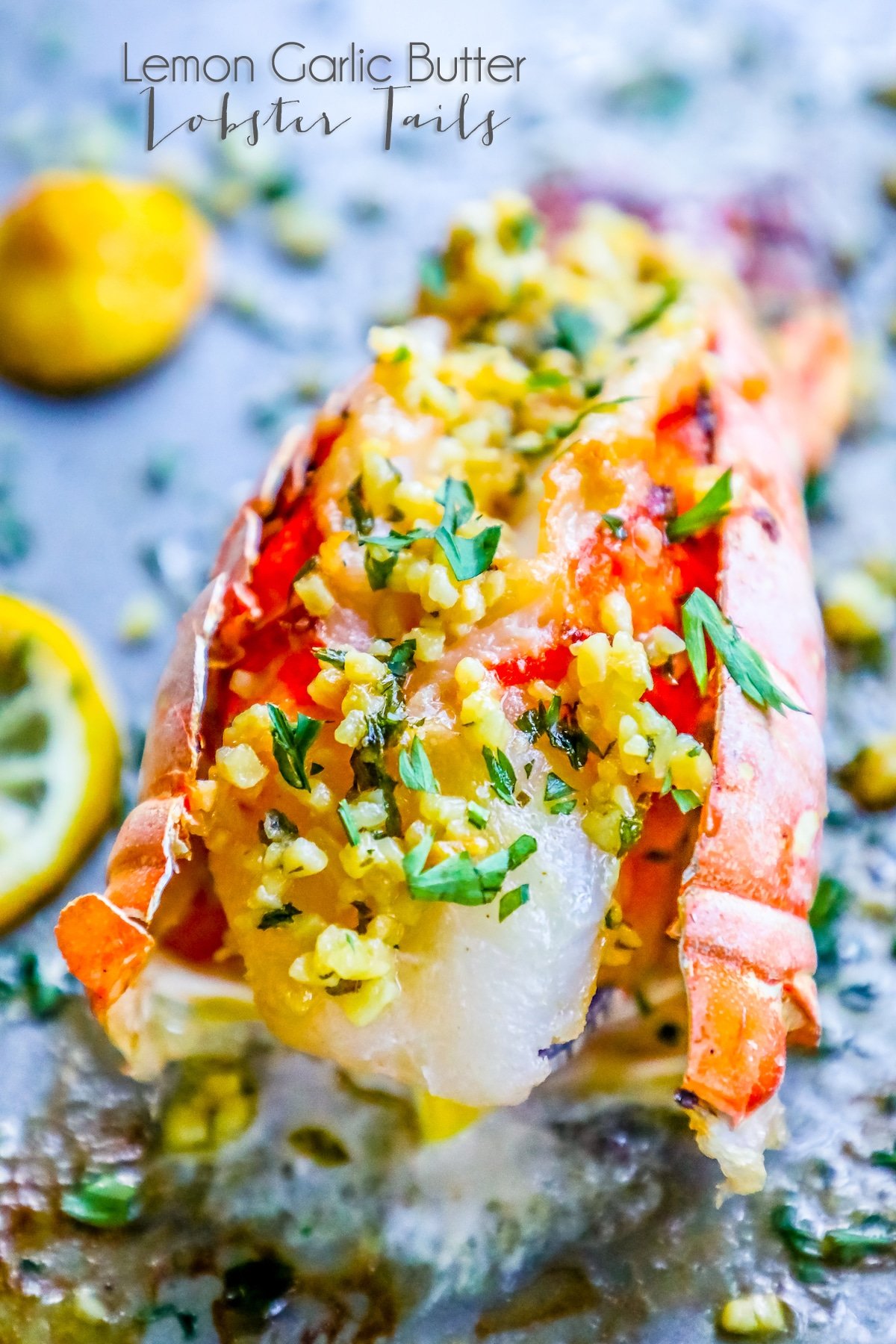 This lobster tail recipe is awesome because you can get steakhouse style lobster tails right at home – without making a huge mess!
These lobster tails are great for a romantic date night dinner for someone on a low carb diet – because lobster tails are naturally keto diet and whole 30 diet friendly diet foods!
If you're looking for a low carb romantic dinner, you cant get any more romantic than these steakhouse style garlic butter lobster tails!
Make Ahead Lobster Tails
You can even make a lot of this recipe ahead of time by prepping everything so it is ready to go until right before your big romantic date night lobster dinner.
Make the lemon garlic compound butter ahead of time, too – just slow roast the garlic and let the butter cool before adding onto lobster tails as it cooks!
You can clean, cut, and prep the lobster tails ahead of your dinner – simply wrap them tightly in plastic wrap and keep refrigerated until it is time to cook.
Since these lobster tails take around 10 minutes to cook, prep them ahead of time, but wait to cook until you're ready to eat. Reheated lobster is great in soups, stews, or macaroni and cheese – but I don't recommend reheating and serving lobster tails in the shell.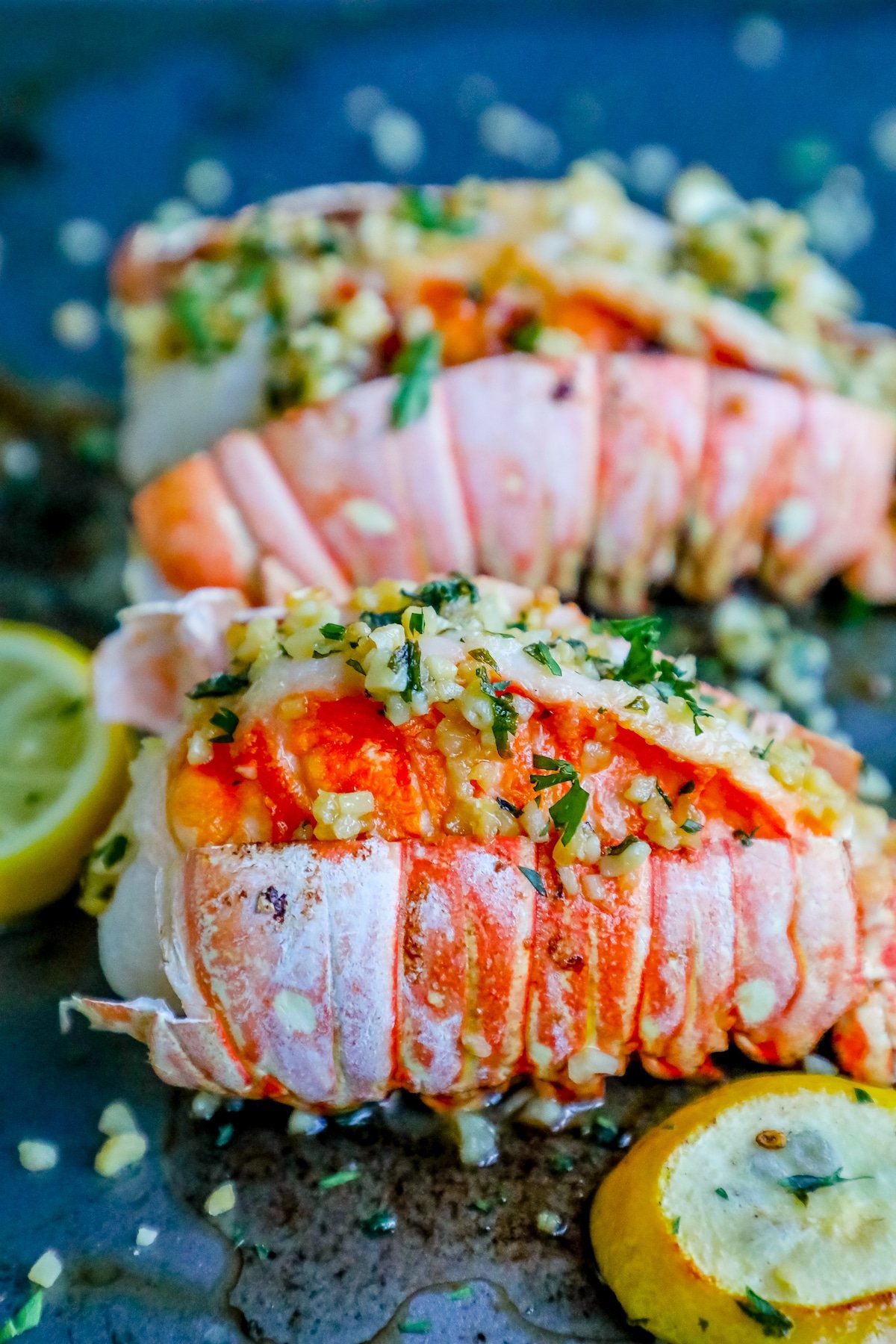 How To Cook Lobster Tails Without Fishy Smell
No gummy, dry, or fishy meat here – and this method won't stink up your whole house – because whats romantic about that?
This is one of my favorite reasons to make oven baked lobster tails – No fishy smell!
This would be really fun for a romantic meal or dinner party- you can prep the tails and place in the refrigerator (I'd cover them to keep the lobster meat from absorbing fridge flavors) and pop them in the oven when it is time to eat.
By baking the lobster tail in the oven, you will avoid stinking up your house with a fishy smell.
Keeping a lemon wedge under the lobster tail also helps to cut down on any cooking smell.

Tips To Perfect Easy Oven Roasted Lobster Tails:
-Make sure you don't overcook your lobster.
Lobster should be slightly sweet, buttery, and springy – when overcooked it dries out and becomes gummy and stringy.
Watch your lobster for a lovely opaque color (it should be bright white instead of blueish), despite the redness of the shell or lobster meat (not all lobster turns bright red.)
-Keep It Simple.
Lobster meat is beautiful on its own – no need to go overboard with tons of flavor or seasonings.
I like simple, fresh ingredients to pull out the lobster's flavor – and this lemon garlic butter lobster tail recipe highlights the lobster's rich buttery flavor without overpowering it.
-Present it well!
I like to keep the lobster in the shell, but sometimes the way it lays is a bit flat.
To make your lobster look a bit prettier, take a lemon wedge and slide it underneath the lobster tail (so it is in between the shell and the lobster meat) to cook – it will pop up the lobster meat and make the tail look bigger and more full!
To Make This Lemon Garlic Butter Broiled Lobster Tail Recipe, You'll Need:
This lemon garlic butter lobster tail recipe is super simple and easy to make, but it does require a couple tools to pull it off without a hitch. Here are my favorite items to help you make perfect 10 minute lemon garlic butter lobster tails:
Other Easy Seafood Dinners You'll Love:
If you love this easy one pot lobster tail recipe, be sure to check out my other easy seafood recipe favorites:
10 Minute Butter Poached Lobster Tails in Garlic Lemon Cream Sauce
McCormick and Schmicks Shrimp Cocktail Recipe
10 Minute Perfect Broiled Lobster Tails Recipe
The Best Pan-Seared Scallops with Lemon Garlic Butter
One Pot Creamy Shrimp Florentine Skillet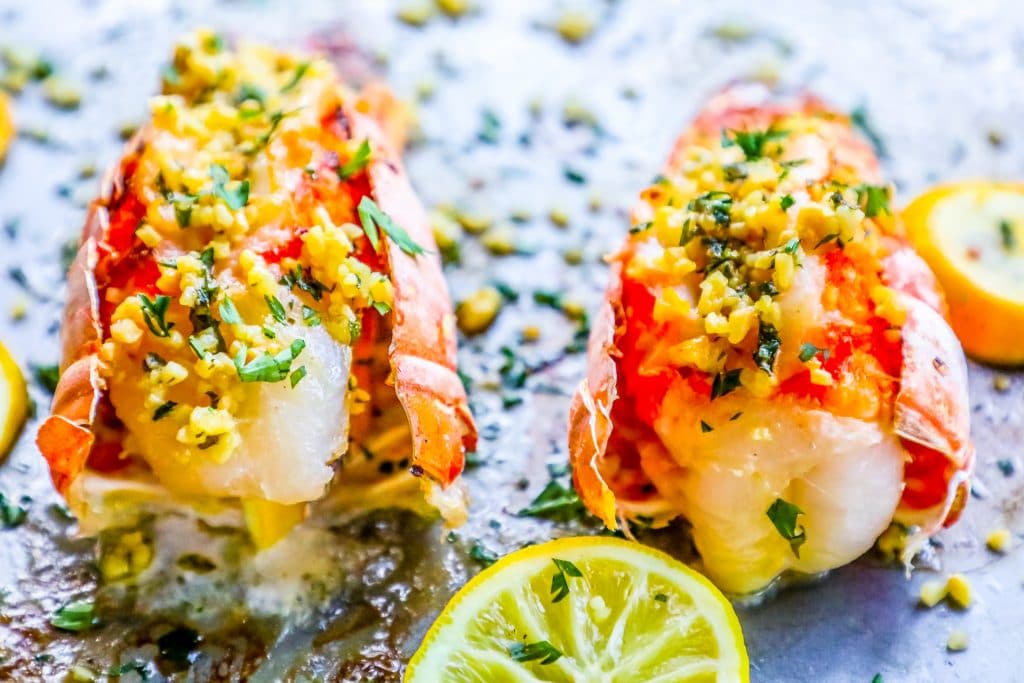 10 Minute Lemon Garlic Butter Broiled Lobster Tails Recipe
If you love this lemon garlic butter broiled lobster tails recipe as much as I do, please give it a five star review and help me share on facebook and pinterest!
CONNECT WITH SWEET C'S!
Be sure to follow me on my social media, so you never miss a post!
Facebook | Twitter | Youtube | Pinterest | Instagram
Sign up to receive an email in your inbox for each new recipe:
To see me make this recipe, please click on the video below:

Yield:

2
10 Minute Garlic Butter Broiled Lobster Tails
Ingredients
2 Lobster tails
4 tbsp butter + 2 one tablespoon pats of butter
1/4 cup minced garlic
juice of 1 lemon
celtic sea salt
1 tsp smoked paprika
1.2 tsp white pepper
2 tbsp diced parsley.
Instructions
Preheat broiler to high.
In a large pan, add 4 tbsp butter and garlic, cook on medium low, stirring occasionally to prevent burning as you prepare lobster.
Set lobster tails on a baking sheet or in an oven safe dish.
With sharp kitchen scissors or a knife, carefully cut the top of the lobster tail shell down to the tip of the tail, avoiding the meat.
Devein and remove any grit if needed.
Carefully pull shell down, so meat looks like it is sitting on top of shell and open.
Mix spices in a small bowl.
Sprinkle with spices.
Add small pats of butter along the lobster tail.
Place in oven on an upper middle rack.
Let cook until meat is opaque and white, about 8-10 minutes.
After 6 Minutes, add 3/4 of the butter and garlic from pan to lobster, drizzling over lobster tails.
Remove and serve immediately with rest of garlic and butter.
Nutrition Information
Yield
2
Serving Size
1
Amount Per Serving
Calories

416
Total Fat

31g
Saturated Fat

19g
Trans Fat

1g
Unsaturated Fat

10g
Cholesterol

153mg
Sodium

718mg
Carbohydrates

12g
Net Carbohydrates

0g
Fiber

1g
Sugar

1g
Sugar Alcohols

0g
Protein

24g
Nutrition is automatically calculated by Nutritionix - please verify all nutrition information independently and consult with a doctor or nutritionist for any and all medical and diet advice.