The Best Easy Instant Pot Lobster Tails Recipe – tender, delicious lobster tails cooked to perfection using an Instant Pot or pressure cooker!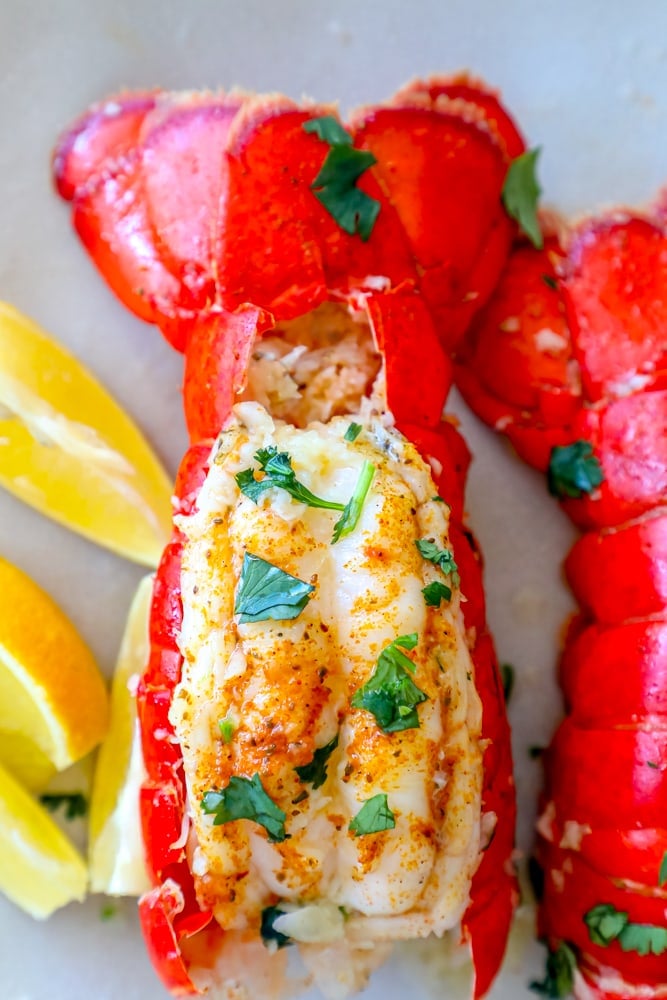 If you're looking for tthe absolute best lobster tail dinner – without the fuss – you're going to love this instant pot lobster recipe!
Lobster is naturally low carb, so it works great in a keto diet, making this an ideal easy keto Valentines dinner!
This recipe was adapted from my super easy Broiled Lobster Tail recipe, to be made perfectly for the Instant Pot.
For a different spin on your lobster, check out my garlic butter lobster tail recipe, or my recipe for Lobster mac and cheese!
I also have recipes for a knockout Garlic Butter Lobster Skillet, and the best Naked Lobster Rolls recipe – both can be used with lobster meat you cook in the instant pot!
To see our web story for this recipe, click here.
Here at Sweet C's, we have lots of types of readers – those who like to get straight to the recipe, and those who would like more information, including tips and tricks to feeling more comfortable in the kitchen.
We provide a skip to recipe button in the top left corner, as well as a clickable table of contents, just below, to help make this page easier to navigate.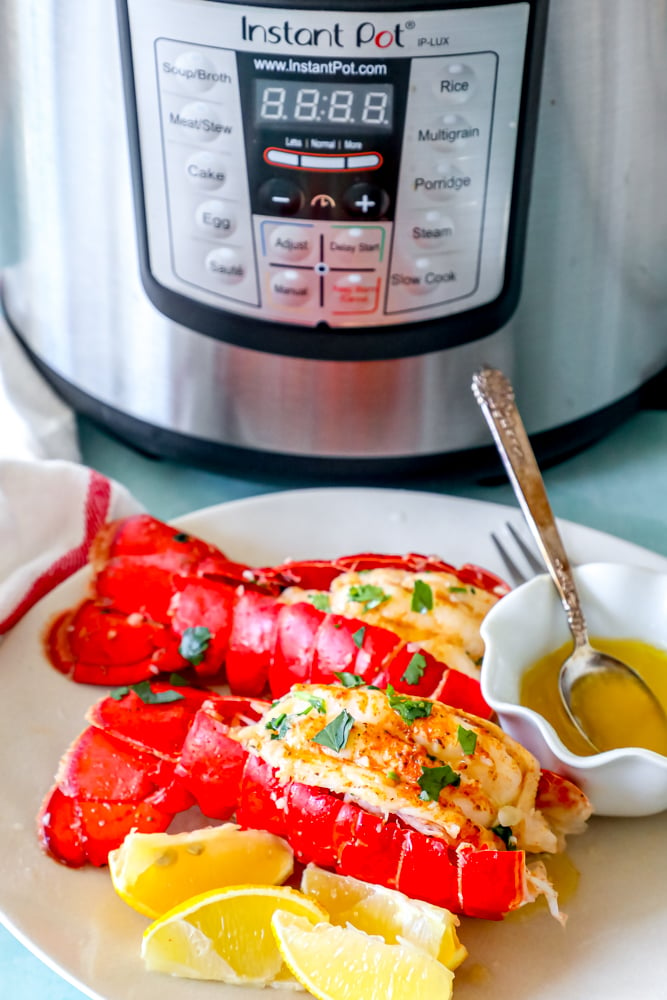 Ever since I first posted my Easy Broiled Lobster Tails recipe, the number one question I get is "can you cook lobster in an Instant Pot?".
Can You Cook Lobster Tails In The Instant Pot
While it might seem more complicated to cook lobster tails in an instant pot, it is actually incredibly easy, and keeps the lobster meat from getting too gummy or tough – plus it cuts down on kitchen prep and keeps cleanup to a minimum.
This recipe just calls for the lobster tails to be placed over a trivet, so you don't even need any extra tools for your IP to make your lobster come out perfect every time.
To Make Lobster Tails in an Instant Pot, you'll need:
–Instant Pot or Ninja Foodi
-Sharp kitchen shears
-Trivet (your pressure cooker will come with one, but I love this silicone sling/trivet)
-1 cup water or stock
-Tongs (consider using long-handled BBQ tongs when using your Instant Pot)
-Steamer basket if making more than 4 lobster tails at once
You can see the rest of my favorite kitchen gadgets here in my Amazon Affiliate Page. I earn a small commission when you purchase through my links, at no cost to you, so I can keep bringing you my favorite easy recipes!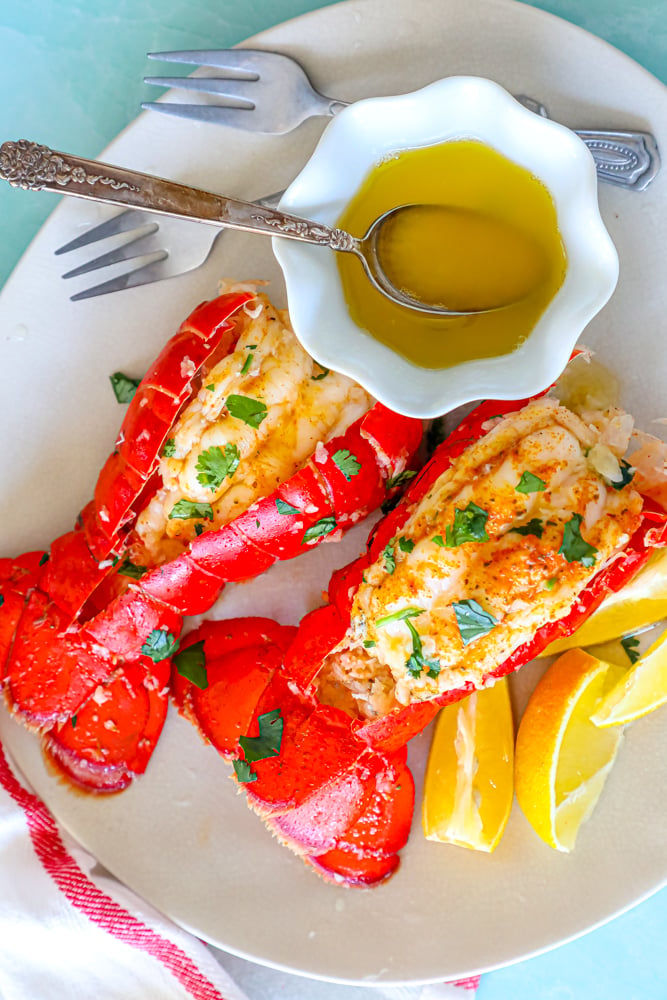 How To Make Lobster In An Instant Pot
Making lobster in an Instant Pot of Ninja Foodie is incredibly easy once you prep the lobster – after cutting the lobster, it's just put in the Instant Pot, set it, and come back to perfect, succulent, juicy lobster tails!
The biggest part of making lobster tails in the instant pot is preparing your lobster tails – after you put them in, they will cook and come out perfect – so don't skip time making sure you prep your lobster tails well by opening up lobster tail so the meat can cook evenly.
What Pressure To Cook Lobster In Instant Pot
I find it best to cook lobster's delicate meat on Low Pressure if possible.
Since not all pressure cookers can change pressure (mine always cooks on high pressure), this isn't a huge deal.
Add one minute (so lobster is set for two minutes total) if cooking using low pressure.
How Long To Cook Lobster Tail in Instant Pot
I cook lobster tails for one minute in my instant pot, with a ten minute "rest" period after force-releasing the pressure for the lobster to finish carryover cooking in the IP.
If you have lobster tails larger than 8 oz, add a minute to the cook time.
How To Thaw Frozen Lobster Tails
As I originally outlined in my broiled lobster tail post, you can cook lobster tails from frozen (especially in the Instant Pot), but I personally do not reccomend cooking this way because you need to cut the lobster tail shell to open up the meat for it to cook properly – which will result in tough lobster meat that could be also undercooked in the middle.
Since it can be hard to get fresh, gorgeous lobster tails if you don't live in a coastal area known for lobster, I will often opt for frozen lobster tails when I am making a lobster tail dinner for two.
While fresh is always best, fresh-frozen lobster tails taste just as delicious as fresh lobster tails that were trucked across the country to get to you and sit on a store counter for a few days – so being in a landlocked state like Colorado, I don't feel bad at all about grabbing frozen lobster tails.

At the very least, thaw lobster under cold water in the sink to speed up thawing, but thawing overnight in the fridge will give the absolute best results.
Buy Frozen Lobster Tails on a Budget
Hot tip: Whole Foods often has frozen lobster tail on sale – watch for sales and stock up or buy ahead of an upcoming special event to serve lobster tails on a budget!
How To Defrost Lobster in the Microwave
In a word? Don't.
Don't rush the thawing process in the microwave.
Defrosting lobster tails in the microwave will make the frozen lobster meat tough, in my opinion the meat is too delicate and cooks so quickly, it is just never going to defrost properly in the microwave.
Opt for gently defrosting in cold water in the sink if you absolutely can't wait.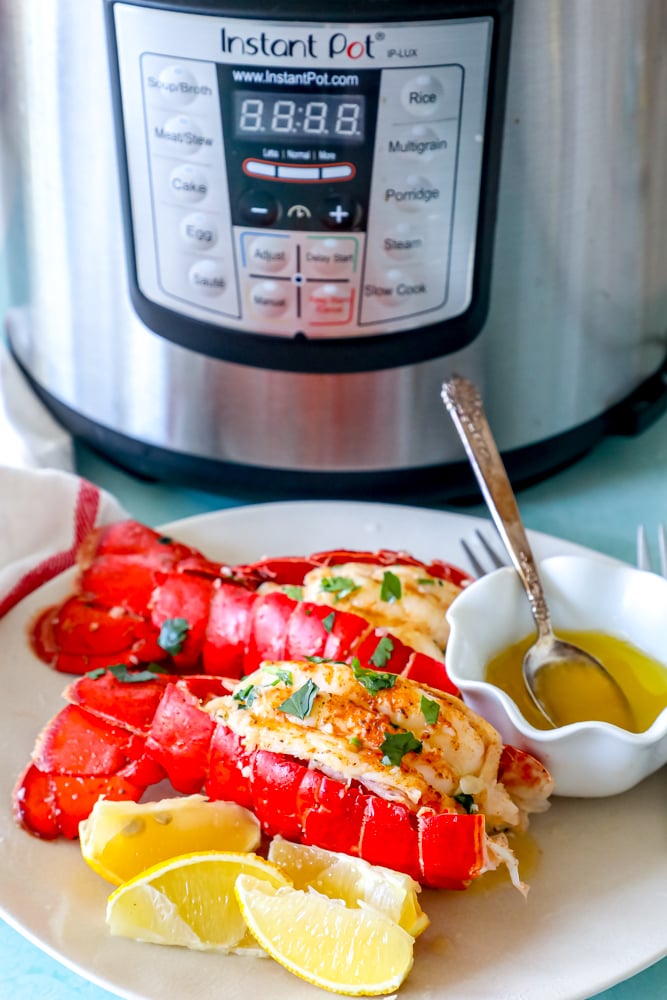 How Many Instant Pot Lobster Tails To Serve Per Person
If you're making lobster tails as the main dish, you'll want to pay attention to the lobster tail size and weight to be sure you have enough lobster to fill you up.
In general, you should plan for about 8-10 oz of cooked lobster tail meat per person if you're serving lobster tails as your main dish – meaning two lobster tails per person, unless they are jumbo lobster tails.
Most often frozen lobster tails that are readily available in grocery stores (not from specialty fishmongers, who will have larger Maine lobster tails more readily) are around 4-6 ounces, so plan on about two per person if making lobster tail your main dish.
Tips to Perfect Instant Pot Lobster Tails
Don't skip the butter – you want the lobster to cook in all that rich, amazing flavor!
Don't overcook lobster – it takes on a fishy flavor and gets gummy and tough when cooked too long.
Once the lobster is opaque it's ready!
If you're cooking your lobster without the tail, it's not going to be bright red – so don't wait for it to turn bright red – rather, it will turn bright white and slightly pink (and redder on the underside.) The lobster tail will also curl when cooked since the shell isn't holding it in place.
Clarified butter or ghee works in this recipe.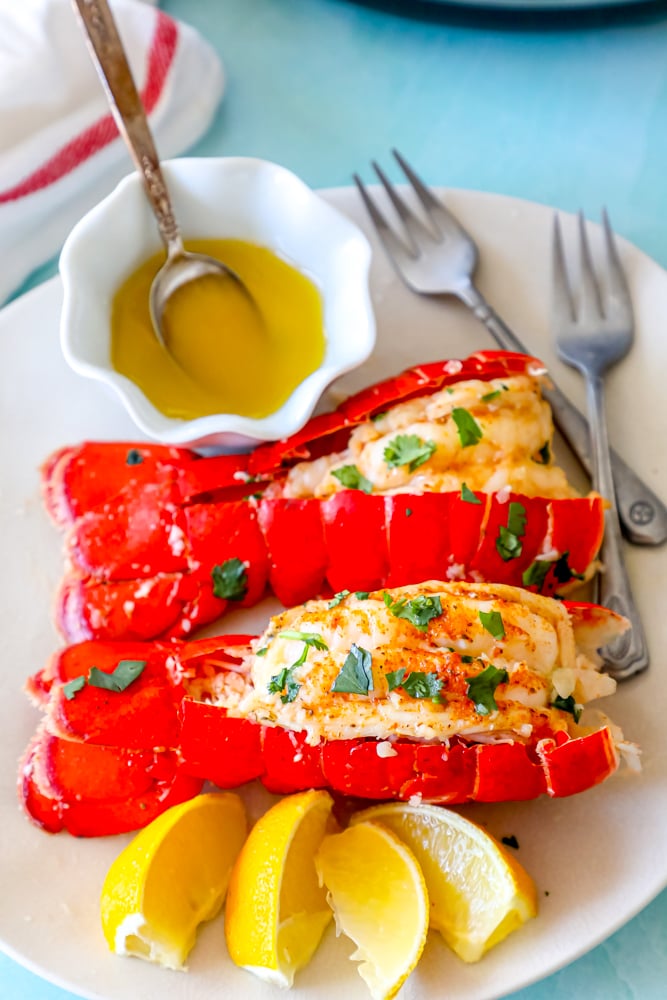 How do I tell when lobster is cooked?
Lobster tail will be bright white and pink when cooked, no longer grey and translucent. The shell will also be bright red.
Can I use frozen lobster tails?
Frozen lobster tails work just fine! I do think they get a gummy texture when cooked still frozen – so let them defrost for a few hours before cooking. Lobster thaws quickly, unlike say a thick cut of meat.
The Best Easy Instant Pot Lobster Tails Recipe
If you love this easy Instant Pot Lobster Tails recipe, please rate it five stars and help me share on facebook and pinterest!
CONNECT WITH SWEET C'S!
Be sure to follow me on social media, so you never miss a post!
Facebook | Twitter | Youtube | Pinterest | Instagram
Only have 30 minutes to get dinner on the table? Sign up for my 30 minute dinner plans direct to your inbox!
Find and shop my favorite products in my Amazon storefront here!
Yield:

4
The Best Easy Instant Pot Lobster Tail Recipe
Time For Pressure Cooker to Come to Pressure :
15 minutes
10 seconds
Total Time:
26 minutes
10 seconds
The Best Easy Instant Pot Lobster Tails Recipe - tender, delicious lobster tails cooked to perfection using an Instant Pot or pressure cooker!
Ingredients
2 Lobster tails
1 1/2 tbsp butter, divided
celtic sea salt
1 tsp garlic powder or 2 tsp fresh minced garlic
1 tsp smoked paprika
1/2 tsp white pepper
1 cup water or fish stock
Instructions
Add trivet and water or stock to Instant Pot.

Set lobster tails on a baking sheet or in an oven safe dish.

With sharp kitchen scissors or a knife, carefully cut the top of the lobster tail shell down to the tip of the tail,. Don't worry about hitting the meat too much as it will create a "butterflied" appearance.

Devein and remove any grit if needed.

Carefully pull shell down, so meat looks like it is sitting on top of shell and open.

To make it look even better, slide a lemon wedge or two under the lobster meat in between the meat and the tail.

Mix spices in a small bowl.

Sprinkle with spices.

Add small pats of butter along the lobster tail.

Place over trivet, shells facing down.

If making 8 lobster tails, place additional 4 in steamer basket and place above trivet.

Close lid and set to seal.

Set Instant Pot cook time at 1 minute. This will actually take closer to 15 minutes as the instant pot heats up and comes to pressure.

When one minute at pressure is up, force release the pressure.

Always release away from your face and never stand over your instant pot.

Remove lid from pot, but leave lobster tails in the pot for 10 minutes to carry over cook, and vent additional steam.

Serve with plenty of melted butter to dip in!
If you loved this easy recipe, and want to see more of my favorites (like a Wine Grilled Cheese, anyone?) please check out some of my most popular posts below:
Sweet C's Favorite Recipes
Favorite recipes from Sweet Cs Designs