The Best Easy Lobster Mac and Cheese Recipe
Feb 10, 2021, Updated Oct 27, 2021
The Best Easy Lobster Mac and Cheese Recipe – easy, creamy macaroni and cheese packed with fresh, rich lobster chunks!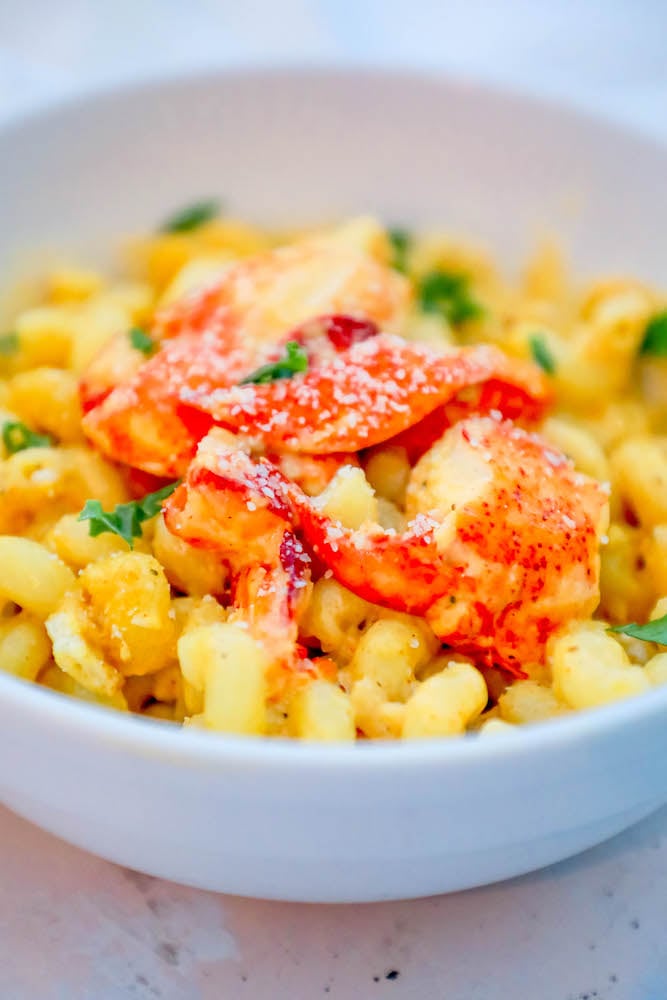 If you love lobster as much as I do, and love deliciously creamy, rich, and cheesy mac and cheese, this easy baked lobster macaroni and cheese is for you!
The recipe has a few steps for a hearty form-scratch flavor that is rich – but this recipe is definitely one even beginner cooks can tackle in no time.
I'm calling for pre-cooked lobster meat in this recipe – you can get cooked lobster chunks at most grocery stores.
If you need a great recipe to make lobster tails, please visit my recipe for perfect broiled lobster tails in just 10 minutes! 
Don't want all the extras in a recipe post? We provide a skip to recipe button in the top left corner, as well as a clickable table of contents, just below, to help make this page easier to navigate.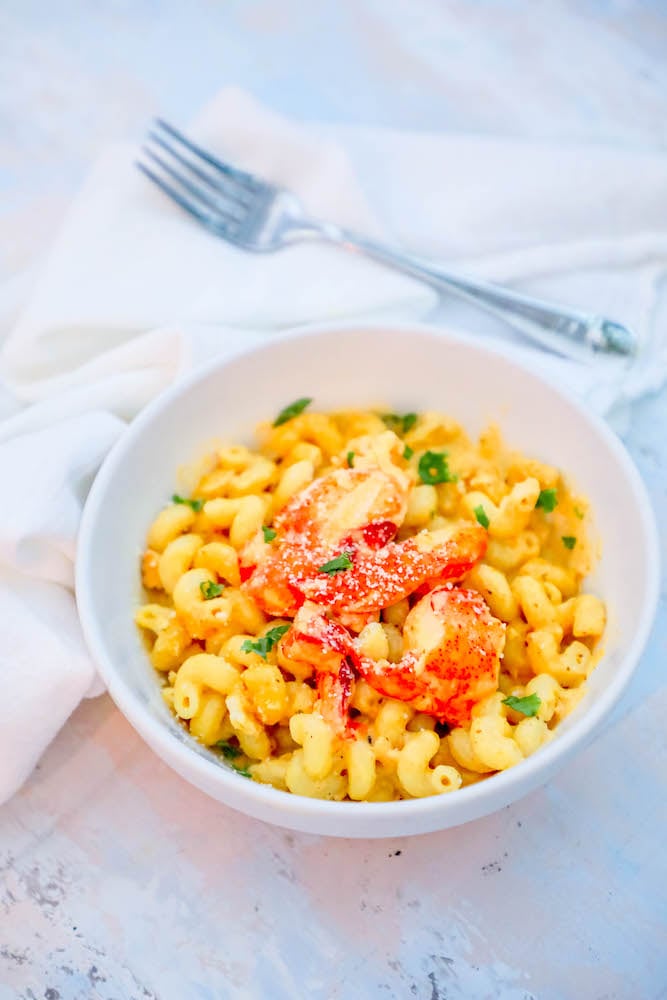 Creamy 3 Cheese Macaroni and Cheese
This recipe is so great because we're using 3 different cheeses to maximize the rich and hearty flavor.
This lobster mac and cheese recipe calls for cheddar, gruyere, and romano – but you can swap the cheeses for similar replacements if you would like – or try a slightly different taste with another cheese!
Other delicious cheeses that work well in macaroni and cheese include:
Brie
Gouda
Parmesan
Chevre
Fontina
Havarti
Cream Cheese
Raclette
Boursin
Marscapone
Just make sure you chose cheeses that melt well in this macaroni and cheese so the cheese sauce is decadent and gooey, not clumpy – but if you have any of those cheeses on hand, they work well in this gooey and cheesy lobster pasta!
What Lobster to Use In Mac and Cheese:
For this recipe, I use pre-cooked lobster meat that I get in my local grocery store – but any cooked lobster meat works, including lobster tails.
Since this recipe includes 3 different cheeses, pasta, and a ton of other flavor, I know pre-cooked lobster is much easier in a pinch than cooking a lobster – but if you do, you can reserve the shell and cook it with the onions and aromatics to release a little extra flavor after cooking the lobster and reserving the meat on the side.
Crab Macaroni and Cheese Recipe:
This delicious lobster macaroni and cheese is also a knockout with lump crab meat instead of lobster!
To make a delicious, hearty, and creamy Crab Macaroni and Cheese recipe, please swap equal amounts lump crab meat into the recipe below, and be sure to add a teaspoon of Old Bay into the seasonings!
How to Freeze Lobster Macaroni and Cheese:
To make a big batch of this lobster macaroni and cheese, and then freeze it for reheating later, there are some tips and tricks to ensure your mac and cheese is perfection!
One tip I try to always follow when I make this dish knowing I will be freezing it later is to reduce the pasta slightly (I remove about 1/4) cup of macaroni pasta from the recipe – since I feel like my pasta tends to suck up a lot of sauce after making it.
That could be where I live in Colorado and how dry it is – but I find it works best for what I want when reheating this macaroni and cheese, so I still have plenty of sauce.
I personally prefer to freeze this dish when it is all assembled in an oven proof tray and bake, then fully cool. (I buy lots of the foil baking pans at the grocery store that have lids just for freezing casseroles!). I then wrap the dish – in the pan – tightly in foil, add the lid to the tray, and pop it in the freezer for up to six months.
For the absolute best frozen macaroni and cheese, bake fully and then cut "slices" of macaroni and cheese and tightly wrap each individual piece (which should be the size of the portion you would like to eat) and place in freezer.
This will help stave off freezer burn the best, and provide you with single-servings of lobster macaroni and cheese that are ready for you whenever you are.
To reheat your macaroni and cheese, let thaw in the refrigerator overnight, and then heat in the microwave or (preferably) the oven. If baking again, wrap in foil to keep the sauce from drying out.
Always be sure to cook to piping hot when reheating and don't re-freeze any additional leftovers.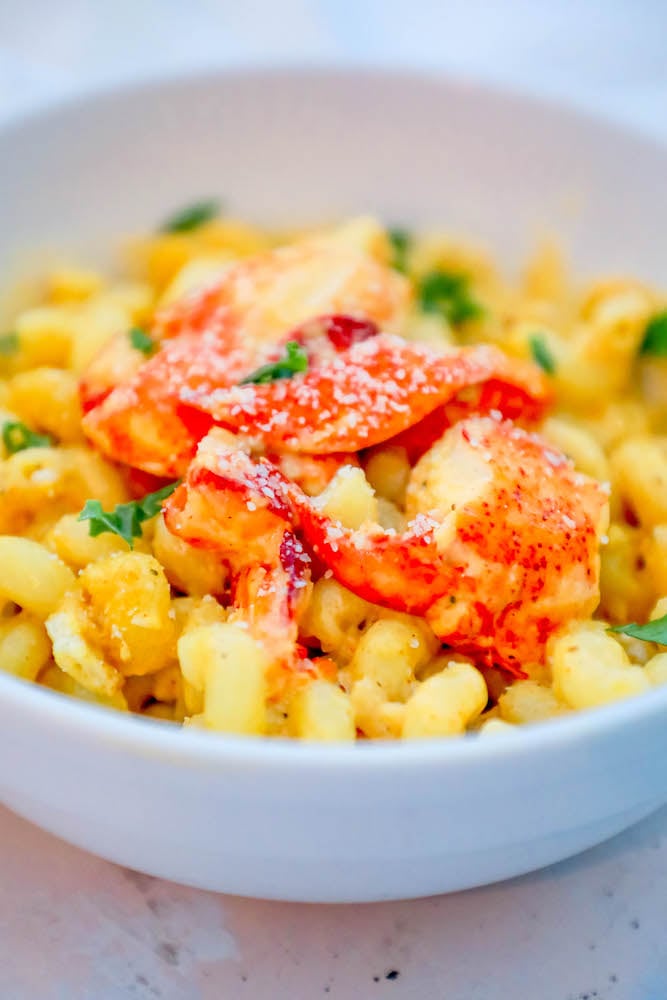 Other Lobster Recipes You'll Love:
If you can't tell, I really, really love lobster!
To find my favorite lobster recipes, please click below:
Other Delicious Seafood Dishes To Try:
If you love this easy lobster macaroni and cheese, be sure to click through and try my other seafood favorites:
How long can lobster macaroni and cheese last?
This recipe can be kept in the refrigerator for up to four days, but is best consumed within 24 hours.
The Best Easy Lobster Mac and Cheese Recipe
If you love this easy lobster mac and cheese recipe as much as I do, please give it a five star rating and help me share on facebook and pinterest!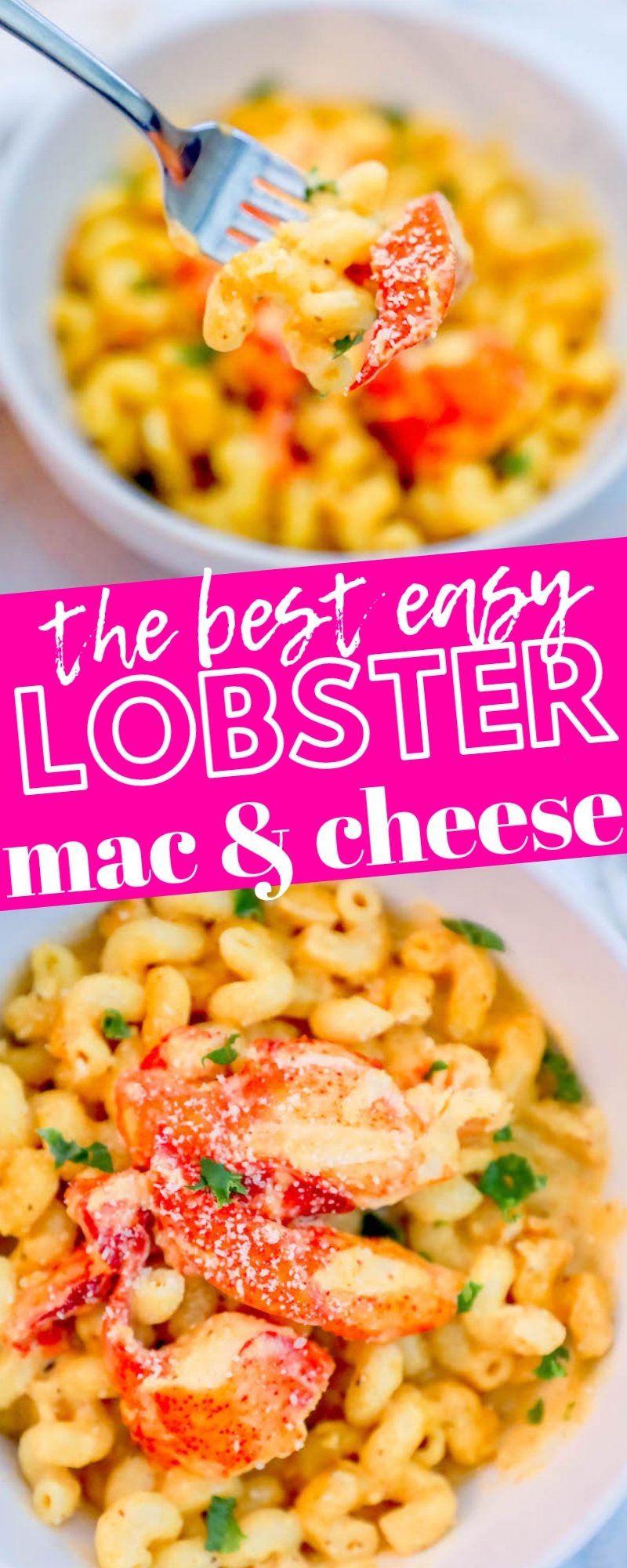 CONNECT WITH SWEET C'S!
Be sure to follow me on social media, so you never miss a post!
Only have 30 minutes to get dinner on the table? Sign up for my 30 minute dinner plans direct to your inbox!
Find and shop my favorite products in my Amazon storefront here!
The Best Easy Lobster Mac and Cheese Recipe
The Best Easy Lobster Mac and Cheese Recipe - easy, creamy macaroni and cheese packed with fresh, rich lobster chunks! 
Ingredients
1 (16 ounce) package elbow macaroni
3 cups lobster meat, cooked and chopped into 1" chunks
2 tablespoons butter
1 small onion, diced
1 clove garlic, minced
1 shallot, chopped
10 black peppercorns
2 cups milk
5 tablespoons butter
5 tablespoons all-purpose flour
1 pound shredded Gruyere cheese
3 cups shredded Cheddar cheese
1 cup grated Romano cheese
kosher salt and pepper to taste
3 tablespoons panko bread crumbs
Instructions
Fill a large pot with lightly salted water and bring to a rolling boil over high heat.
Once the water is boiling, stir in the macaroni, and return to a boil.
Cook the pasta uncovered, stirring occasionally, until the pasta has cooked through, but is still a bit crunchy to the touch, about 8 minutes.
Reserve about 2 cups of the hot pasta water, then drain the pasta in a colander set in the sink.
Set aside.
Melt 2 tablespoons of butter in the pot over medium heat.
Stir in the onion and cook until the onion has softened and turned translucent, about 5 minutes.
Place the garlic, shallots, peppercorns, reserved pasta water, and milk into the saucepan with the onions.
Bring to a gentle simmer over medium heat, and cook for 20 minutes. Milk should not boil.
Preheat oven to 350 degrees F (175 degrees C).
Melt 5 tablespoons of butter in a saucepan over medium-low heat.
Whisk in the flour, and stir until the mixture becomes paste-like and light golden brown, about 10 minutes.
Gradually whisk the milk into the flour mixture, and bring to a simmer over medium heat.
Cook and stir until the mixture is thick and smooth, 10 to 15 minutes.
Stir the Gruyere, Cheddar, and Romano cheeses into the thickened milk mixture until melted and smooth.
Season to taste with salt and pepper, then stir in the cooked lobster meat and macaroni.
Pour the macaroni into a 4 quart casserole dish or enameled dutch oven and smooth the top to be an even surface.
Sprinkle evenly with the panko crumbs.
Bake in the preheated oven until the sauce is bubbly, and the top is golden brown, 8 to 12 minutes.
Serve immediately and enjoy.
Nutrition Information
Yield

8
Serving Size

1
Amount Per Serving
Calories

660
Total Fat

48g
Saturated Fat

28g
Trans Fat

1g
Unsaturated Fat

16g
Cholesterol

159mg
Sodium

1041mg
Carbohydrates

19g
Fiber

2g
Sugar

2g
Protein

38g