Easy Buttercreams Candy Recipe – delicious easy candies loaded with buttercream frosting flavor for a classic nostalgic recipe the whole family loves!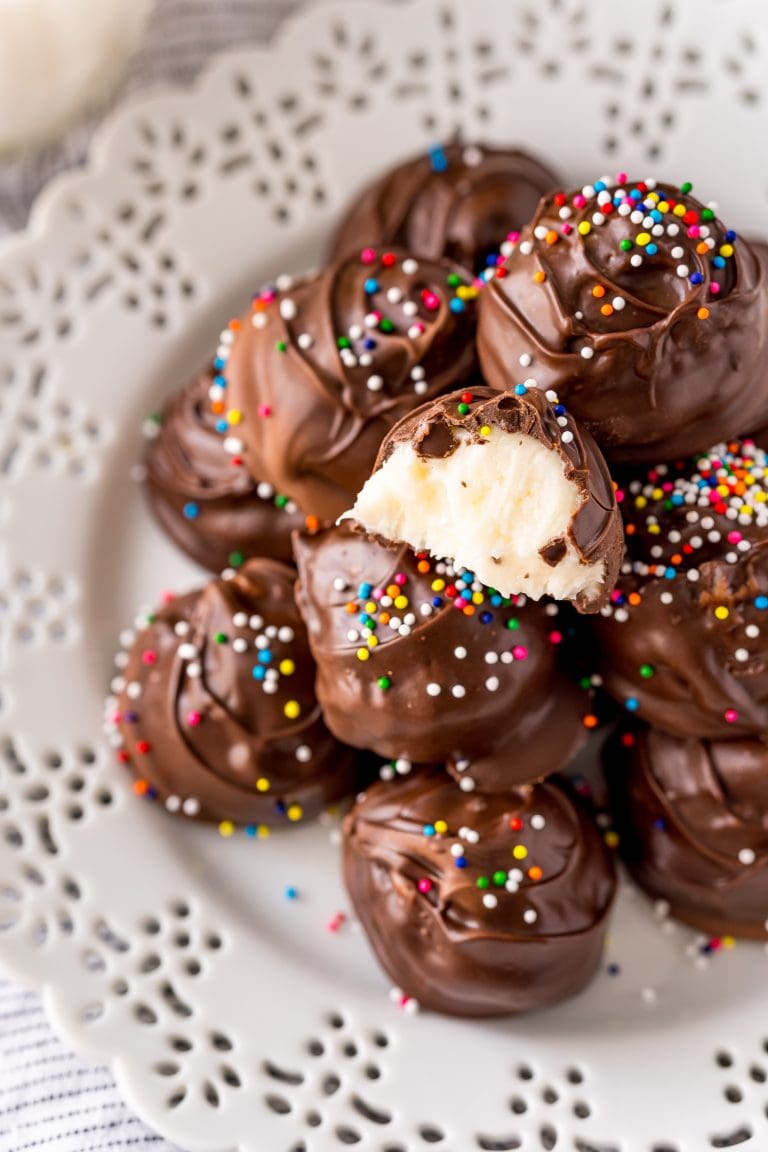 We love these adorable easy candies in our house – they taste like a big bite of chilly buttercream icing, with a perfect chocolate shell that melts in your mouth with sweet buttery icing flavor that tastes just like sweets grandma used to make.
This delicious candy is super easy to make, and loaded with nostalgic charm – they are totally adorable.
If you love buttercream icing, and you love chocolate, these easy candies are going to be your next favorite treat!
Just Take Me To The Buttercreams Candy Recipe Already!
I have a lot of loyal Sweet C's readers who are still becoming comfortable in the kitchen, and I provide extra tips and tricks in my recipe posts to help them love each recipe.
If you would like to skip over all that and get right to the recipe, please click "skip to recipe" in the top right corner, or scroll to the bottom of the page.
How To Store Buttercreams
Buttercreams are made from both chocolate and icing, which can melt when hot.
These easy candy treats will hold up for parties, but I like to chill them in the fridge before serving to keep them with a little bit of a chocolate crunch when you bite into them – this also keeps them from melting all over.
Store buttercreams in an airtight container (I line mine in parchment paper to prevent sticking or to keep them from taking on a plastic flavor) in the refrigerator for up to one week.
Freezing Buttercreams Candies
Buttercreams candies can be frozen for up to four months – pop one out next time you need a sweet treat, they naturally defrost quickly.
Buttercreams are incredibly easy to make – but they do require a bit of chilling and proper prep work for a perfect texture.
Follow the steps below to get perfect easy candies!
Gather buttercreams ingredients before creaming together frosting – once you get started, you want to get each step done quickly to prevent anything melting.
Since we will be letting the candies set before dipping in chocolate candy, don't worry about getting chocolate together until candies have set and are ready to be dipped.
Cream Butter, Cream Cheese, and Sugar
For easier creaming, use room temperature ingredients – but do not let cream cheese and butter become melted, or your candies will be oily and could separate giving you a weird texture.
Let mixture refrigerate before rolling out with cookie scooper (or your hands).
If candy mixture is too soft, you will have blobs instead of perfect candy balls.
Let candies chill again after forming into candy truffle shape so they can dip and retain a perfect shape.
Melt chocolate and dip candies into chocolate.
You can use a toothpick, fork, or a dipping tool.
Be sure to let set for a moment to let chocolate set – if you immediately place in refrigerator, the chocolate will whiten.
Use time chocolate is setting to add sprinkles!
Let buttercreams set in the refrigerator after dipping in chocolate to firm them and keep their perfect shape!
Tips to Perfect Buttercreams
These buttercreams are easy, but there are a few tricks to make them perfect, pretty, and out of this world delicious every time.
Please check out my tips below for perfect results every time!
You can roll the buttercreams into balls, but I prefer to press the scoop up against the edge of the bowl to create a flat surface and let them be a half circle.
The chocolate needs to sit at room temperature for a few minutes after dipping because if you put them in the refrigerator too soon then the chocolate will start to get a white color to it.
I like to use a wide mouth drinking glass to melt the chocolate because it makes the chocolate deeper which makes it easier to dip the buttercreams.
To Make This Recipe, You'll Need:
This recipe uses common kitchen tools , so you won't need too worry about finding a bunch of random items to make these buttercreams.
If you'd like to buy my suggested items, please click my affiliate links below:
Other Delicious Treats You'll Love
If you adore this candy as much as I do, please check out some of our other favorite easy and delicious treats, candies, and desserts!
All are simple with common ingredients – and are loaded with flavor your family will love!
Easy Classic Buttercreams Candy Recipe
If you love this easy buttercreams recipe, please be sure to rate it five stars and help me share on facebook and pinterest!
CONNECT WITH SWEET C'S!
Be sure to follow me on social media, so you never miss a post!
Facebook | Twitter | Youtube | Pinterest | Instagram
Only have 30 minutes to get dinner on the table? Sign up for my 30 minute dinner plans direct to your inbox!
Find and shop my favorite products in my Amazon storefront here!
Yield:

48
Easy Buttercreams Candies Recipe
Chilling Time:
3 hours
30 minutes
Total Time:
4 hours
5 minutes
Easy Buttercreams Candy Recipe - delicious easy candies loaded with buttercream frosting flavor for a classic nostalgic recipe the whole family loves!
Ingredients
½ cup unsalted butter, softened
4 ounces cream cheese, softened
¼ teaspoon salt
2 teaspoons vanilla extract
4 cups powdered sugar
4 cup chocolate melting wafers
Sprinkles, optional
Instructions
In a large bowl or stand mixer fitted with a paddle attachment, cream together the butter, cream cheese, vanilla, and salt until smooth.
Add in the sugar a cup at a time mixing between each addition until smooth.
Cover the bowl and place in the refrigerator to chill for 1 hour.
After chilling, use a medium cookie scoop to measure out even balls of the buttercream mixture and place them on the prepared baking pan.
Refrigerate for 2 more hours.
Melt the melting wafers ( I usually do this in two rounds to keep the chocolate fresh) in a glass.
Dip the buttercreams in the chocolate with a spiral dipping tool, toothpick, or fork until fully coated and place back on the baking sheet. Add sprinkles after every few you dip because they will begin to harden and won't stick after a couple of minutes.
Allow the buttercreams to sit at room temperature for about 15 minutes then transfer back to the refrigerator to chill for an additional 30 minutes to harden.
Enjoy or store in the refrigerator in an airtight container.
Nutrition Information
Yield
48
Serving Size
1
Amount Per Serving
Calories

140
Total Fat

7g
Saturated Fat

4g
Trans Fat

0g
Unsaturated Fat

2g
Cholesterol

11mg
Sodium

32mg
Carbohydrates

18g
Fiber

0g
Sugar

17g
Protein

1g
Nutrition is automatically calculated by Nutritionix - please verify all nutrition information independently and consult with a doctor or nutritionist for any and all medical and diet advice.
If you love this recipe, be sure to check out our other reader favorite easy recipes here on Sweet C's – each are easy, simple, and loaded with family friendly flavor!
Sweet C's Favorite Recipes
Favorite recipes from Sweet Cs Designs