Reindeer Popcorn
Dec 21, 2022, Updated Nov 10, 2023
Santa's reindeer called and they are tired of Santa getting cookies while they get carrots. They want some of this delicious M&M and sprinkle filled reindeer popcorn for Christmas!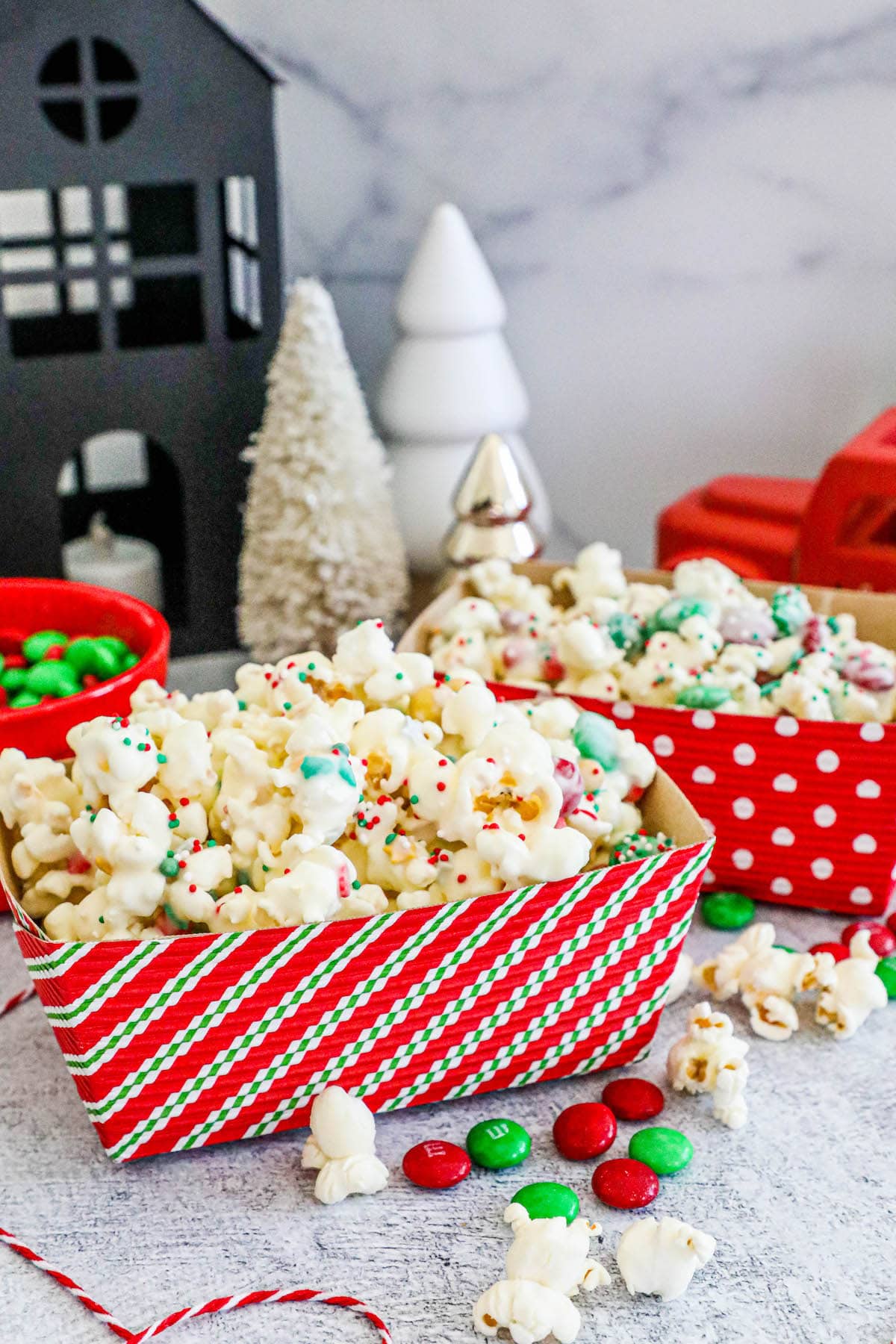 Don't want all the extras in a recipe post? We provide a skip to recipe button in the top left corner, as well as a clickable table of contents, just below, to help make this page easier to navigate.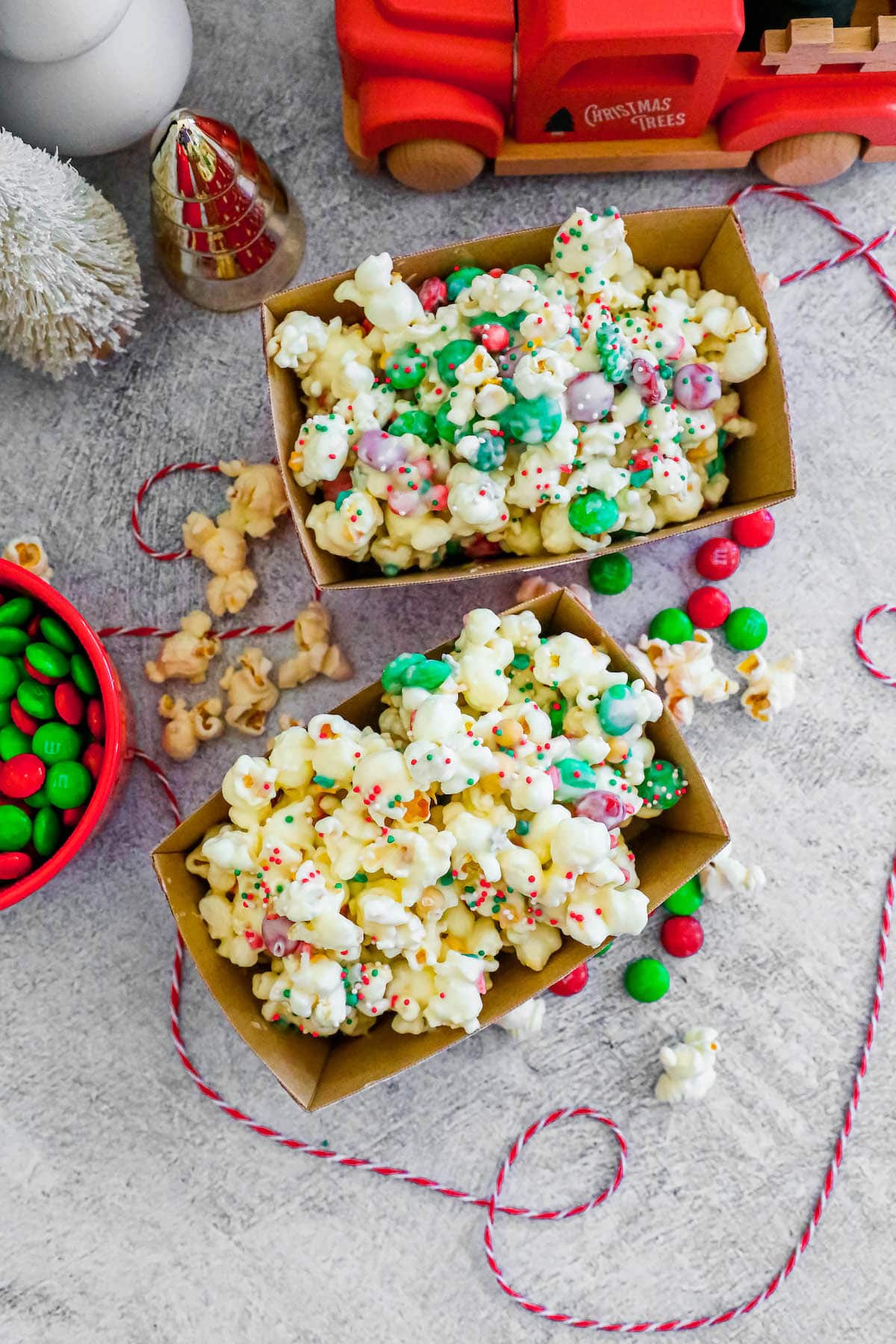 Sweet and Salty Reindeer Popcorn
Like every other kid on the planet, mine love putting out homemade cookies and milk for Santa every year by the fireplace. And like all parents I enjoy eating those cookies, especially when they are homemade! I have to say, I for one don't enjoy taking a giant bite out of a raw carrot that they leave for the reindeer, especially when they leave one for each reindeer…
I devised this delicious sweet and salty reindeer popcorn as a way to keep Santa's reindeer happy (aka my husband and I) and my kids love making it, its super simple! We like to make a big batch on Christmas Eve and enjoy it while watching a Christmas movie that evening all snuggled up together. This popcorn is great with Hot Cocoa!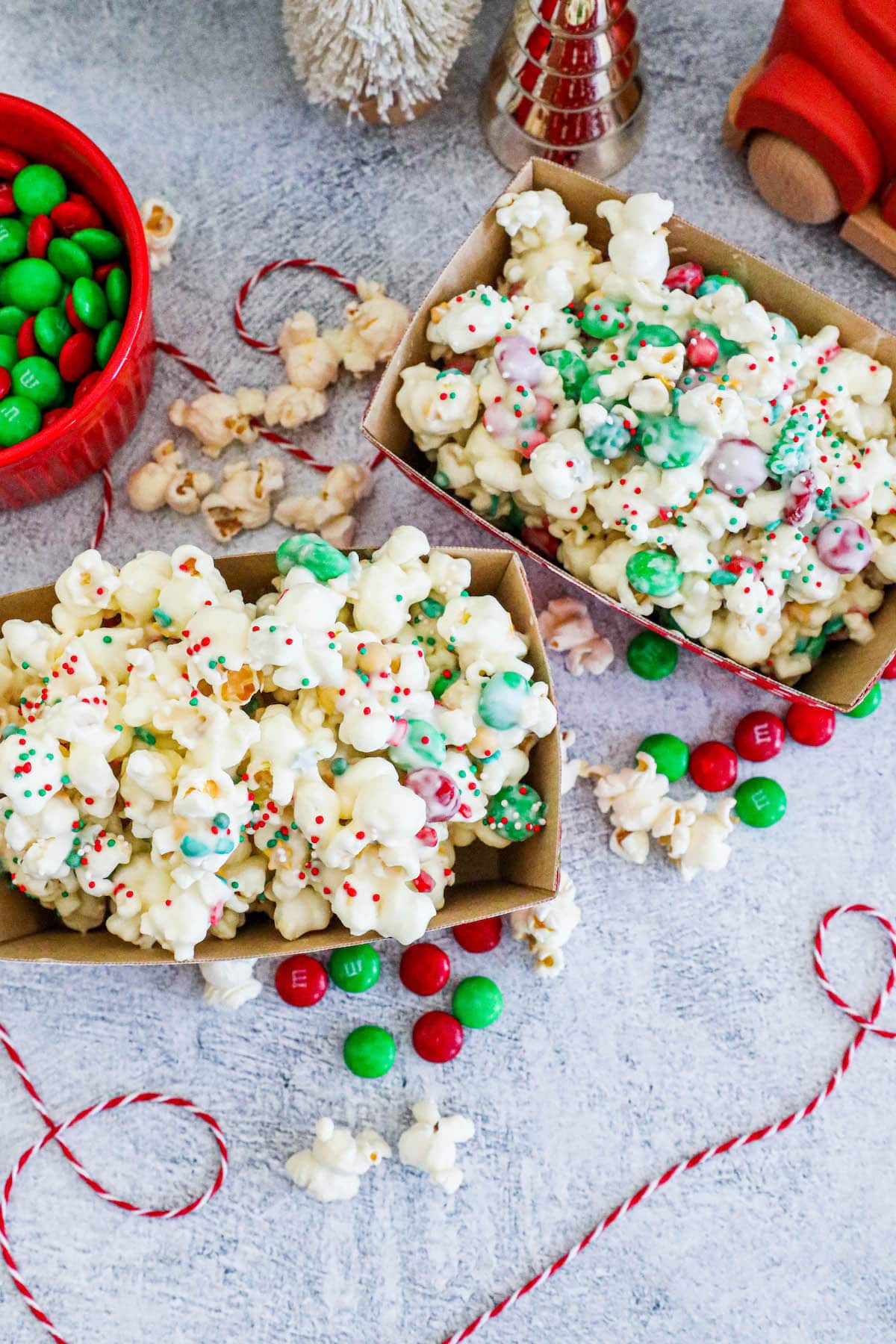 How to make Reindeer Popcorn
First you will need to assemble the following ingredients:
Salted popped popcorn – whether you pop it in the microwave or on the stovetop you want to use freshly popped popcorn that has been salted. A little salt goes a long way in balancing the sweetness of the candy melts and m&ms.
Vanilla Candy Melts – I like to use candy melts instead of white chocolate since I find that they stick to the popcorn better and wont melt all over your hands as you are eating the popcorn. I used Wilton Candy Melts, they are available at most grocery and large retail stores.
Christmas sprinkles – I love festive sprinkles, I use these, but you can use any you like!
Festive M&Ms – since we are using candy melts it's nice to get some real chocolate flavor and red and green M&Ms dop a great job of that while also adding a festive flair.
Once you have the ingredients, use the following method
Melt the Melts. Melt the vanilla candy melts in the microwave in 30 second intervals stirring frequently.
Drizzle and toss. Drizzle half the popcorn in the candy melts and then the other half making sure you coat well. Pour the mixture onto a parchment paper lined baking sheet or countertop and add the sprinkles and M&Ms tossing to coat evenly.
Set and enjoy. Let the popcorn sit for a few minutes so the candy melts can set. Once they are no longer wet to the touch break into pieces and enjoy!
Tips and Tricks for perfect Reindeer Popcorn
If you want perfect results every time, check out our tips and FAQs below.
Let it set. You want to make sure you let the candy melts set before trying to eat the reindeer popcorn. If it isn't allowed to set it will be really messy to eat and the M&Ms and sprinkles will fall off.
Don't overmix. While you want to make sure the popcorn is well coated in the candy melts you dont want to overmix. If you overmix your candy melts will start to harden and the sprinkles and M&Ms won't stick well.
Use nonstick. To make cleaning easier, its best to use parchment paper and a spatula. Candy melts will stick to wooden and metal surfaces and it's much harder to clean the melts off them.
FAQs
How long will this Reindeer popcorn keep?
If you have leftovers let it cool completely and store in an airtight container at room temperature for 3-4 days.
What to enjoy with Reindeer Popcorn
Check out some of my favorite Christmas recipes with your popcorn:
To see all our Christmas cookie recipes for Santa click here!
Reindeer Popcorn Recipe
If you love this easy recipe please click the stars below to give it a five star rating and leave a comment! Pease also help me share on facebook and pinterest!
CONNECT WITH SWEET C'S!
Be sure to follow me on social media, so you never miss a post!
Only have 30 minutes to get dinner on the table? Sign up for my 30 minute dinner plans direct to your inbox!
Find and shop my favorite products in my Amazon storefront here!
Reindeer Popcorn
Additional Time:
5 minutes
This delicious candy packed reindeer popcorn is perfect to put out for Christmas or enjoy for a family movie night!
Ingredients
16 cups salted popped popcorn
1 (12 oz) bag Vanilla Candy Melts, I used Wilton Candy Melts
Christmas sprinkles
1 (10 oz) bag green and red Milk Chocolate M&Ms
Instructions
Melt Vanilla Candy Melts in a microwave safe bowl on 50% power in 30 second intervals, stirring after each interval until melted and smooth. Drizzle half of melted candy melts over popcorn mixture, then stir, tossing gently a few times with a rubber spatula.
Drizzle remaining half of melted chips over popcorn, and gently stir mixture until evenly coated (don't over stir though or your sprinkles wont stick if the white chips begin to set and harden).
Pour mixture into a single layer onto wax paper. Sprinkle the entire mixture evenly with sprinkles and M&Ms (as many as you'd like) before the candy melts cool and set.
Allow to cool and harden, then gently break into pieces and enjoy!
Recommended Products
As an Amazon Associate and member of other affiliate programs, I earn from qualifying purchases at no extra expense to you.
Nutrition Information
Yield

18
Serving Size

1
Amount Per Serving
Calories

33
Total Fat

2g
Saturated Fat

1g
Trans Fat

0g
Unsaturated Fat

1g
Cholesterol

1mg
Sodium

7mg
Carbohydrates

4g
Fiber

0g
Sugar

4g
Protein

0g
Nutrition is automatically calculated by Nutritionix - please verify all nutrition information independently and consult with a doctor or nutritionist for any and all medical and diet advice.