Knockoff Tito's Tacos Salsa
May 26, 2021, Updated Oct 01, 2022
Knockoff Tito's Tacos Salsa tastes just like the cult Los Angeles taco stand's famous tangy, fresh red salsa with jalapeño coriander and lime!
(after you make this, you should go. immediately. its the best, I promise!!!!)
Don't want all the extras in a recipe post? We provide a skip to recipe button in the top left corner, as well as a clickable table of contents, just below, to help make this page easier to navigate.
About Titos Tacos In Los Angeles
If you're from Los Angeles (I am a Denver girl through and through – but I actually was born in Santa Monica and lived in southern California until third grade), there is one place for tacos you likely have a massive soft spot in your heart for.
The tacos themselves are pretty basic – a simple (but rich and delicious) shredded beef, iceberg lettuce, and tons of cheese – and the simple bean, cheese and meat burritos are similarly basic – but in the absolute best way.
Their simplicity – and crunchy "gringo tacos" – are a cult favorite in Los Angeles, and right down the street from my uncle's house in Culver City!
When you ask someone who loves Tito's as much as me (and my family), they will tell you – one of the absolute best things about Titos is the salsa.
Ask anyone I'm related to, and they will tell you stories of them ordering entire jugs of the salsa, and drinking it straight from the cup. Their salsa is fresh, tangy, just a tiny bit sweet from the roma tomatoes – and absolutely bursting with flavor. While there is zero replacement for the real thing, this knockoff Tito's salsa is tangy, fresh, and crazy addictive…
We hope you love this recipe as much as we do!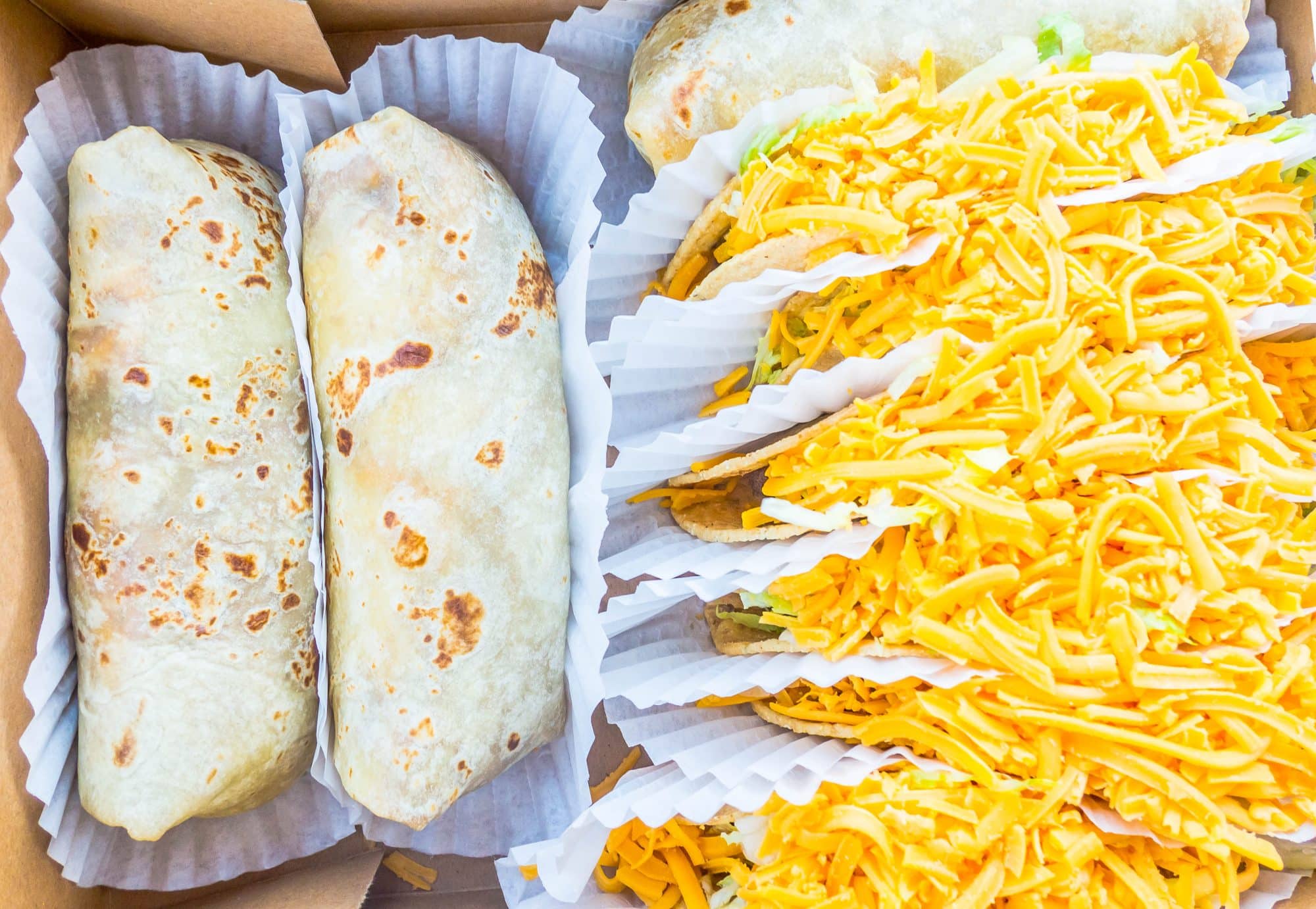 To see our web story for this recipe, click here.
I mentioned Tito's in my Top 15 Bucket List Tacos To Eat in California and The Ultimate Southern California Taco Tour Roadtrip posts – Tito's really is an obsession.
Find out more about Tito's here.
later – the burritos taste especially good a little cold, and are a gift straight from heaven after (or during) a long night of drinking!
Depending on your crowd, you might want to add those extra modifications, or leave them off (my daughter likes it without the garlic, etc. – whereas my husband and I definitely like the extra kick of flavors!)
This salsa is insanely delicious – and is honestly better the day after you make it, making it the perfect addition to a party since it can be prepped in advance!
This is also really easy to make in a blender – just toss in everything, and blend! If you like your salsa smooth, you can blend it to being pretty liquid – or leave it a little chunky.
Entirely up to you!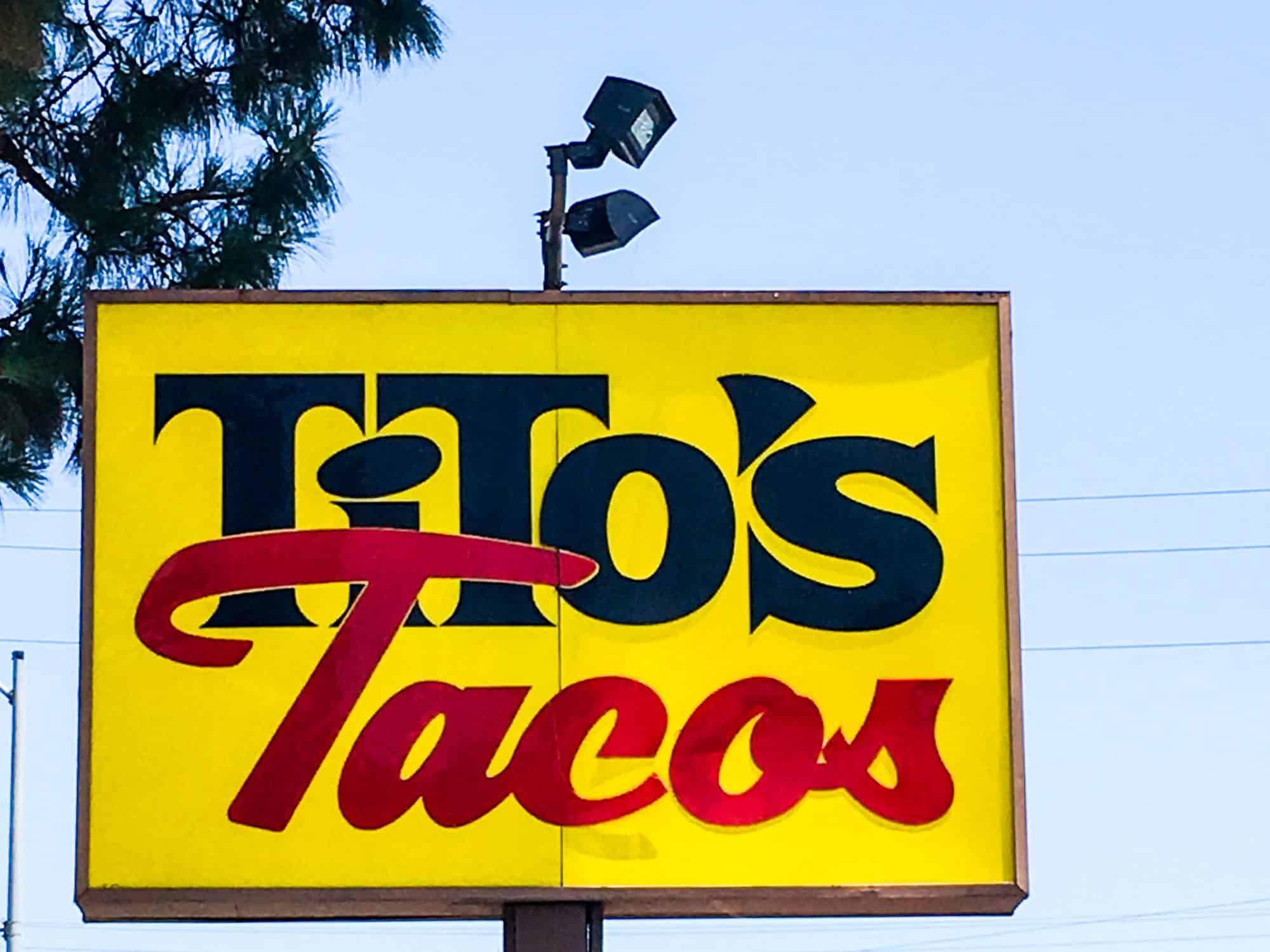 How to Make Titos Tacos Salsa
To make this salsa, you'll need:
Roma tomatoes
White parts of 1 bunch of green onions
Lime juice
Red chili peppers
Jalapeño juice
Pickled jalapeno slices
Ground coriander
Ground clove
Once you've gathered your ingredients, we will use the following method:
Add ingredients to blender.
Blend well.
Let chill 30 minutes before serving.
 Tips for Perfect Titos Tacos Knockoff Salsa:
This salsa is insanely easy to make – just dump it in a food processor and blend – but there are a couple tips we have to make your salsa great, every time!
Let salsa sit in the fridge (in an airtight container) for 30 minutes – 1 day for the BEST flavor.
If you like chunky salsa, dice the ingredients evenly. This reduces blending/processing time, and will help you get a more even blend.
If you like runny, very smooth salsa, go ahead and just dump it in – it will blend to be even!
I prefer to blend in just the whites of green onion for the flavor – but you can add in garlic if you'd like.
I like my salsa extra tangy, so I add 1-2 tbsp extra jalapeño juice.
I also like my salsa a little spicier, so I add another 10 jalapeño rings as well.
Recipe FAQs
How long does salsa last?
This salsa can be stored in an airtight container in the refrigerator for up to four days.
We prefer day old salsa for the best flavor – time for the flavor to build and come together.
Can I make salsa ahead of time?
This recipe for knockoff Tito's Tacos Salsa is actually better if made at least 30 minutes ahead of time – but we find the flavor is the best 1 day after making it.
Make this salsa the night before your next big party – you're going to love it!
What to Serve With Salsa
We love serving this salsa with Easy Smoked Al Pastor, One Pot Cheesy Taco Skillet, Air Fryer Tofu Tacos, Layered Taco Pie, or Easy Keto Slow Cooker Chicken Taco Bowls!
If you're planning a big Mexican food night, we're sharing some of our favorite recipes below:
You can find more of our tacos, burritos, and other Mexican-inspired foods here.
Knockoff Tito's Tacos Salsa Recipe
If you love this easy recipe please click the stars below to give it a five star rating and leave a comment! Pease also help me share on facebook and pinterest!
CONNECT WITH SWEET C'S!
Be sure to follow me on social media, so you never miss a post!
Only have 30 minutes to get dinner on the table? Sign up for my 30 minute dinner plans direct to your inbox!
Find and shop my favorite products in my Amazon storefront here!
Knockoff Tito's Tacos Salsa
Knockoff Tito's Tacos Salsa tastes just like the cult Los Angeles taco stand's famous tangy, fresh red salsa with jalapeño coriander and lime!
Ingredients
6 tomatoes, roma
1 bunch green onion - white part only
2 tablespoons lime juice
2 red chili peppers
1/4 cup jalapeño juice
10-15 slices jalapeño, pickled
1/2 teaspoon ground coriander
pinch of ground clove
Instructions
In a blender, mix all ingredients to desired consistency.
If salsa is too runny, you can always add back 1/4 cup finely chopped tomatoes and green onions, and stir them in.
Let sit half hour, or preferably covered in an airtight container in a refrigerator overnight.
Recommended Products
As an Amazon Associate and member of other affiliate programs, I earn from qualifying purchases at no extra expense to you.
Nutrition Information
Yield

12
Serving Size

1/4 cup
Amount Per Serving
Calories

32
Total Fat

0g
Saturated Fat

0g
Trans Fat

0g
Unsaturated Fat

0g
Cholesterol

0mg
Sodium

17mg
Carbohydrates

7g
Fiber

1g
Sugar

5g
Protein

1g
Nutrition is automatically calculated by Nutritionix - please verify all nutrition information independently and consult with a doctor or nutritionist for any and all medical and diet advice.