Have you seen the Lucky Charms Treats they sell in stores? I was a little skeptical when I first saw them. I figured it would be waaaay to sweet, like I sometimes find storebought Rice Krispy Treats to be, and decided I'd make them at home for the kids- which was a BIG mistake- because these Homemade Lucky Charms Treats are so hard to stop eating!
I set up a fun little party to celebrate St. Patricks Day and all things Irish (with babies named after Irish saints and the last name O'Dell… it's kind of mandatory) and delicious snacks were a top priority!
I already shared our delicious Pot 'o Gold Ice Cream Sundae, but today I wanted to share our homemade Lucky Charms treats (and give you a sneak peek at some other fun projects we've been doing to learn about Saint Patrick, too.) See those fun straws? You can see how to make them here! 
I especially loved making these because my kids got to help cook. They have been patiently learning how to cook things on the stove (I have them stand in a chair, wearing a sweatshirt or something very thick, as well as socks and boots) and I let them try their hands at stirring.
This is a very supervision-heavy task (I do not want any burns), and I am always sure to use deep pots when I let them stir to help prevent hot things from falling out. I was nervous to let them near the stovetop and get them involved, but ever since I have let them help (with certain things that don't splatter, etc), they have been much more responsible in the kitchen. They know that things on the stove are hot and don't try to grab at anything on or near the stove, and are patient to ask us if they can help.
Getting your kids involved in cooking helps them respect the possible dangers and become more aware of potential dangers… and this is a great recipe to get them learning, as long as you pay very close attention and think your kids are comfortable following your every instruction.
If you think this might be a bit advanced for them to stand over the stove, you could have them butter the pan you will set the treats in (which my almost two year old was more than happy to do as she's not stove-ready).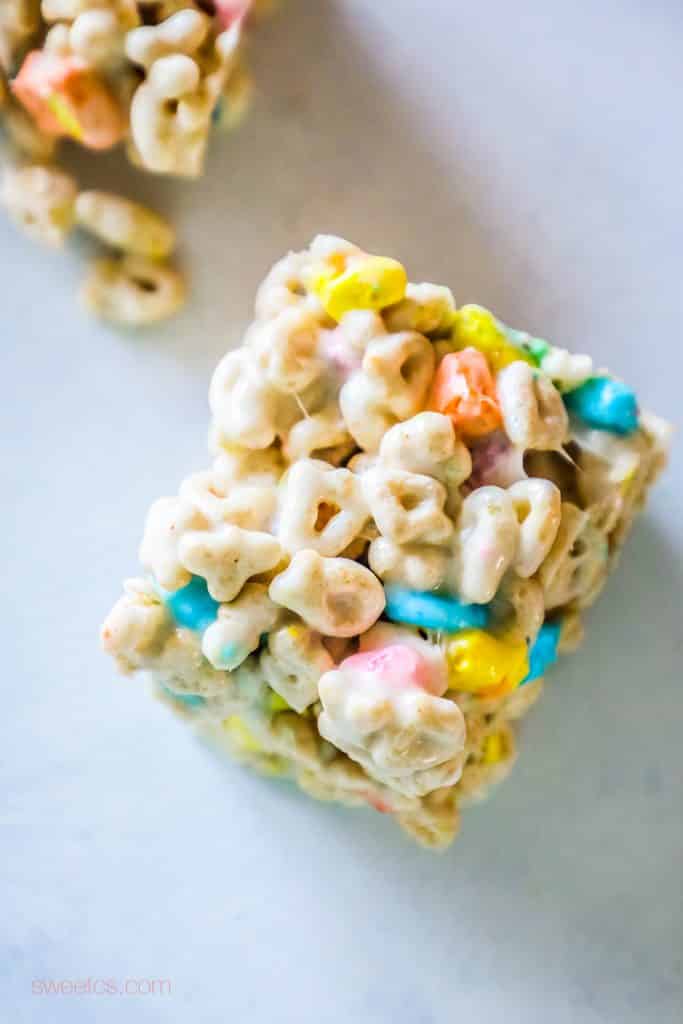 While we waited for these to cool, we ate rainbow quesadillas and made rainbows and leprechauns (printables and recipe coming soon), and talked about all the colors of the rainbow and pots of gold.
It was a blast, and while they didn't really learn a lot about the actual Saint Patrick, it got them interested in cooking, colors, and the idea of a fun holiday to look forward to.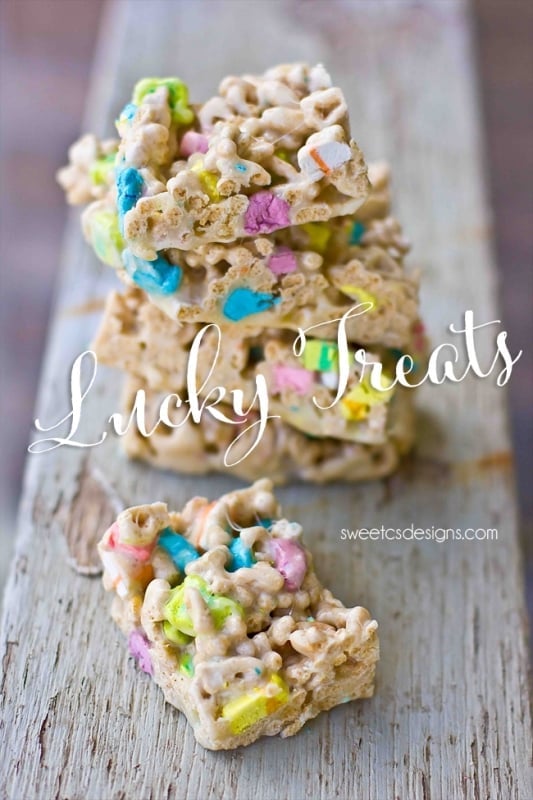 Homemade Lucky Charms Treats
Ingredients
3 cups marshmallows (if using jumbo, make them heaping cups)
4 cups Lucky Charms
¼ cup butter, salted
Instructions
In a large pot, add butter and begin to melt on medium.
Add marshmallows and stir constantly until mallows melt.
You may see slight browning- if your mallows aren't fully melted as the sugar browns, pull them off the stove and continue stirring. They should melt from the heat.
Add lucky charms to pan and stir well to combine.
Pour mixture into well greased casserole dish and let cool.
When set, cut and enjoy!