Keto Steak and Sausage Chili – a rich and hearty keto chili bursting with steak and sausage flavor that is naturally low carb and perfect for parties!
This steak and sausage chili is seriously one of the most delicious recipes I've developed in a long, long time – it is hearty and meaty, really filling, but keto compliant since it is a totally beanless chili.
Even though there are no beans in this chili, it has a very similar texture to other chili thanks to the ground sausage and vegetables – and the hearty, beefy steak chunks are totally irresistible!
If you're missing your favorite chili flavors because you're not using beans in chili anymore, you're going to absolutely love this easy keto chili dinner.
Just Take Me To The Keto Steak and Sausage Chili Recipe Already!
If you'd like to skip my tips, tricks, and other recipe ideas and head straight to the easy printable recipe, please scroll to the bottom of the page.
I get a lot of questions on posts, so I try to add as much information as possible into posts!
What Kind of Sausage to Use In Chili:
This keto steak and sausage chili has some different flavors – in part because I love to use slightly sweet ground breakfast sausage (regular Jimmy Dean flavor) in it.
I think adding ground sausage gives a rich flavor that isn't overpowering in chili – much like beans!
It crumbles perfectly and has a similar shape and texture to beans in this chili, so it's an easy swap for keto chili.
If you'd like to change it up, you can also add chorizo or ground italian sausage as well for a spicy and less sweet kick.
Keto Chili Toppings:
I love fritos crumbled over chili – the salty crunch is perfect for a hearty chili dinner – but fritos are sadly about the furthest thing from being keto!
I'm rounding up our favorite chili toppings that are low carb, delicious, and easy to serve for a big chili cookout or at a tailgate!
-Crumbled pork rinds
-Shredded cheese
-Sour cream
-Fresh diced onions (limit these to a small amount for a strict keto diet)
-Diced green onions
-Jalapenos
-Baked cheese crackers (baked cheese in a cracker shape – not actual crackers made from flour)
How to Thicken Keto Chili or Soup
Since tomato paste is usually used to thicken chili, but it is pretty high in carbs if you're closely watching macros, I'm listing our favorite ways to thicken a keto chili or soup:
-Guar Gum
-Xantham gum
-Pureed Vegetables
-Finely ground nuts (I prefer walnuts for their texture in soups, they mimic ground beef well.)
How to Freeze Keto Chili
This keto chili is great because it makes a big, hearty batch – that can easily be frozen and saved for later!
I like to make a big double batch when I make chili, so we can eat half of it, and pre-portion single servings that I can pop in the freezer and pull out whenever I need a hearty and comforting meal.
For best results when freezing and reheating, please follow my tips below:
-Freeze in the smallest amount possible.
-For best results, add just the amount you will eat when reheating to a bag – it will freeze faster and thaw more evenly so there is less chance of freezer burn.
-Freeze in freezer-style plastic bags that can lay flat.
-This will help the chili to freeze
-Do not overfill bags.
-Let freeze flat to "set".
-Keep in freezer less than three months.
-Let thaw naturally in refrigerator, and then simmer to reheat.
-Add up to 2 cups of water (slowly, add as you go) if chili is too thick when re-heated.
Slow Cooker Steak and Sausage Chili:
To make this keto chili in the slow cooker, brown steak, sausage, and vegetables lightly before adding to slow cooker (this is most important with the ground sausage – if you don't brown it lightly, it can clump up into big balls when in the slow cooker).
Add meat and vegetables in, then liquids, and seasonings.
Let cook on high for 3-4 hours, until reduced and thickened.
Or cook on low for up to 6 hours, until chili has thickened, stew meat has softened, and chili is dark red.
Easy Keto Dinner Ideas:
If you love this easy steak and sausage chili, you will love my other easy keto dishes!
Click each link to find the low carb printable recipes:
Easy Keto Low Carb Cheesy Pizza Chicken
Low Carb Keto Buttery Crackle Chicken Thighs
The Best Baked Garlic Pork Tenderloin
The Best Oven Broiled Ribeye Steaks with Mushrooms Recipe
Easy Instant Pot Cheesy Steak Taco Soup Recipe
Cheesy Chicken Taco Salad Stuffed Avocado Recipe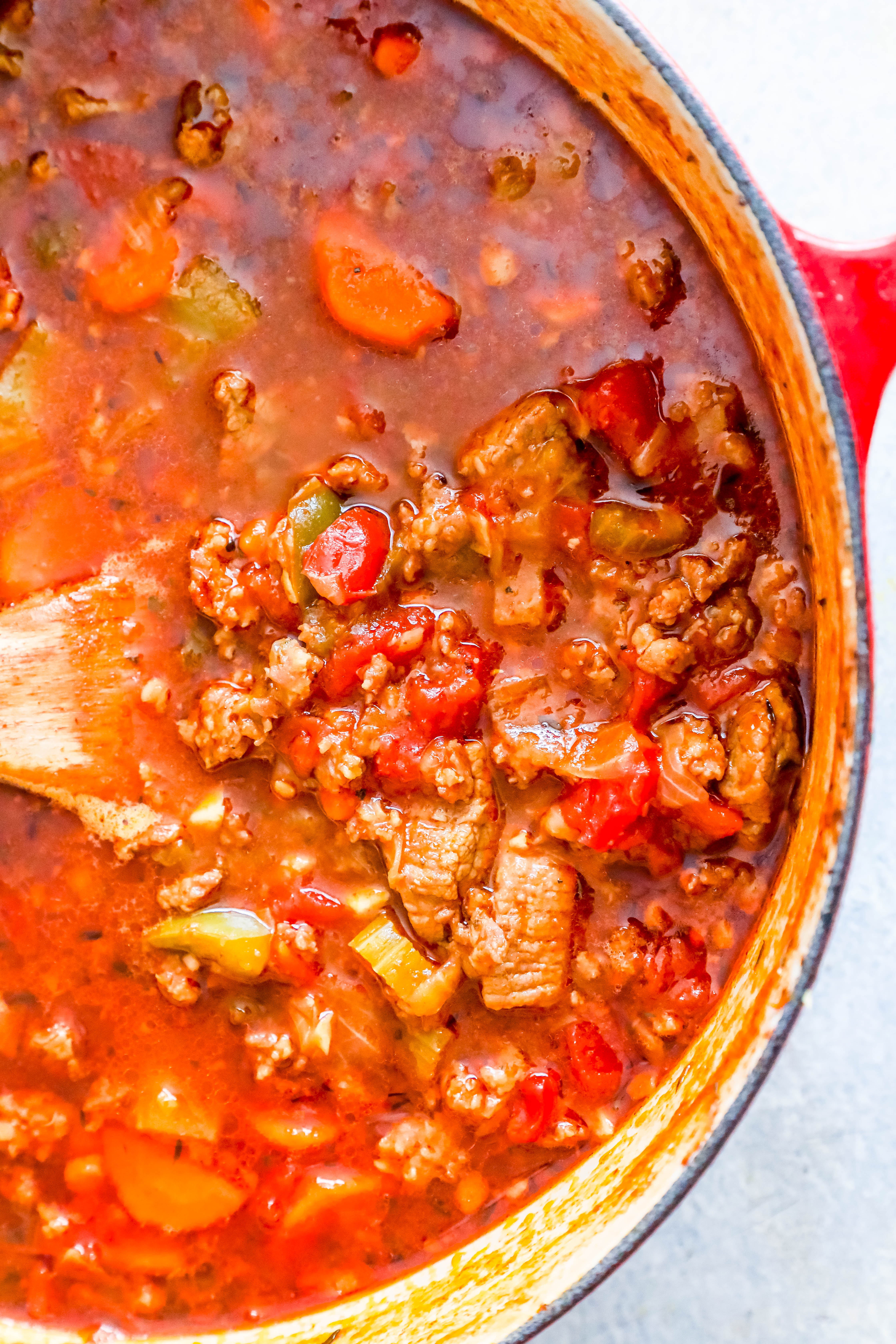 Keto Steak and Sausage Chili Recipe
If you love this hearty and delicious Keto Steak and Sausage Chili recipe as much as I do, please give it a five star review and help me share on facebook and pinterest!
CONNECT WITH SWEET C'S!
Be sure to follow me on my social media, so you never miss a post!
Facebook | Twitter | Youtube | Pinterest | Instagram

Sign up to receive an email in your inbox for each new recipe:
Yield:

8 people
Easy Keto Chili
Total Time:
1 hour
5 minutes
Ingredients
1 pound ground sausage
2 pounds stew meat , see note, cut into 1/2 inch pieces
1 yellow onion, choppeed
5 cloves garlic, minced
1 tsp good quality sweet imported Hungarian paprika
1 red bell pepper, seeded/membranes removed, cut into 1/2 inch chunks
1 can diced tomatoes
2 carrots, diced
2 stalks celery, diced
5 cups beef broth
1 bay leaf
1 teaspoon salt
1/2 teaspoon freshly ground black pepper
2 tsp chili powder
2 tsp cumin
2 tsp garlic powder
1 tsp cayenne pepper
Instructions
Add ground sausage to enameled dutch oven and cook on medium high heat until crumbled and cooked through.
Remove sausage from pan, do not drain fat.
Add stew meat to pan and cook until browned on all sides.
When meat has been browned, remove from pan and set aside with sausage.
Stir in onions and let soften and lightly brown, about 6 minutes, stirring occasionally to prevent burning or sticking.
Stir in garlic, carrots, celery, and peppers.
Cook until vegetables are soft, another 7 minutes.
Stir in diced tomatoes, broth, beef, sausage, and seasonings and turn heat to high.
Bring chili to a boil, and then reduce heat to low and simmer for 15-20 minutes, until chili has thickened up slightly and reduced.
Serve immediately and enjoy!
Nutrition Information
Yield
8
Serving Size
1
Amount Per Serving
Calories

441
Total Fat

24g
Saturated Fat

8g
Trans Fat

0g
Unsaturated Fat

14g
Cholesterol

161mg
Sodium

1424mg
Carbohydrates

7g
Fiber

2g
Sugar

3g
Protein

50g
Nutrition is automatically calculated by Nutritionix - please verify all nutrition information independently and consult with a doctor or nutritionist for any and all medical and diet advice.