One Pot Creamy Meatball Soup
Nov 25, 2018, Updated Jun 12, 2023
This one pot creamy meatball soup recipe is a low carb, hearty, and warming family favorite dinner in just one pot and under 40 minutes!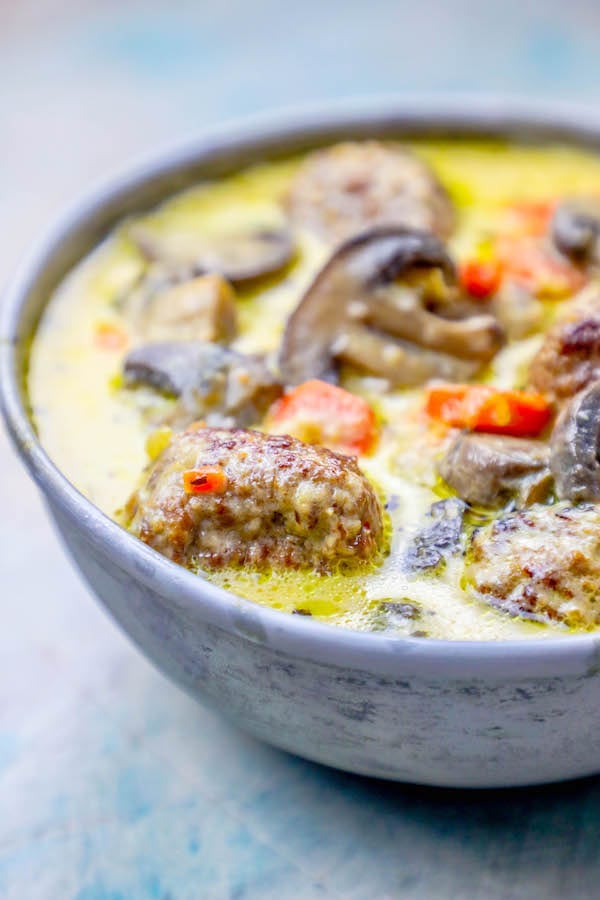 Don't want all the extras in a recipe post? We provide a skip to recipe button in the top left corner, as well as a clickable table of contents, just below, to help make this page easier to navigate.
Creamy meatball soup that is great for dinner parties, a winter dinner, or meal prep for busy weekday lunches that is paleo and keto diet compatible.
My husband and I have been on a low carb keto diet lately, and have been working hard on adding lots of delicious, easy recipes that we can make on busy weeknights and have to make-ahead so we're not reaching for sugar-filled carb-packed foods in a pinch.
While we've had a lot of luck with easy creamy dinners, it's been a little hard to find dinners the whole family will eat – diet or not.
This delicious, rich, and hearty meatball soup is a dish you'll want to serve again and again – and is great for dinner parties, guests, or fancier dinners!
This soup also reheats well, so it's a perfect meal prep recipe to make ahead of a busy work week, so you can have a hearty, healthy, low carb meal you can eat again and again at work or on the go!
How To Freeze Creamy Meatball Soup
If you want to make a big double batch of this creamy meatball soup, or you want to freeze leftovers, I'm giving tips for how to freeze and reheat this soup.
For best results when freezing and reheating, please follow my tips below:
-Freeze in the smallest amount possible.
-For best results, add just the amount you will eat when reheating to a bag – it will freeze faster and thaw more evenly so there is less chance of freezer burn.
-Freeze in freezer-style plastic bags that can lay flat.
-This will help the soup to freeze.
-Do not overfill bags.
-Let freeze flat to "set".
-Keep in freezer less than three months.
-Let thaw naturally in refrigerator, and then simmer to reheat.
-Add up to 2 cups of water (slowly, add as you go) if creamy soup is too thick when re-heated.
Tips To Perfect Creamy Soup
If you're looking to make the perfect rich, hearty, and creamy soup, these tips will help you get the best results, every time!
-Drain the fat. While I often don't drain the fat from recipes (especially keto recipes, which specifically call for more fat) – I do drain the fat for cream-based dishes, since the oil will float on top of the cream.
This makes no difference in flavor – but is a bit less appealing looking.
-Brown the meatballs and vegetables well.
Creating caramelization on the meatballs and the vegetables in this soup brings tons of flavor without adding calories – so don't skimp out on browning the meatballs and vegetables.
-When adding cream, remove from heat and whisk cream in until evenly incorporated. Then return to heat to bring to a gentle boil and let reduce.
-For extra rich and creamy soup, add up to 6oz. cream cheese. This will give your soup a smooth, creamy, and incredibly thick cheesy flavor!
Other easy one pot low carb dinners:
If you're looking for other easy hearty keto recipes, paleo recipes, and low carb recipes, you're going to love these simple dishes:
My family also loves, Paleo Spaghetti and Meatballs, Low Carb Paleo Buttery Crackle Chicken Thighs, One Pot Garlic Butter Chicken Thighs and Mushrooms, and One Pot Cheesy Taco Skillet.
Other Easy hearty soups you'll love:
If you love this easy creamy one pot creamy meatball soup, you will love these other easy soups that are all one pot and under 40 minutes to make:
Also try Instant Pot Skinny Steak Soup- Just 3 Points!, One Pot Cheesy Chicken Taco Skillet Soup, 10 Minute Chicken Tortilla Soup (Instant Pot, Stovetop, or Slow Cooker), and Creamy Sweet Potato Soup with Hazelnuts.
Click here to see all our soup recipes!
To Make This One Pot Creamy Meatball Soup Recipe, You'll Need:
This one pot creamy meatball soup is one of my favorite easy dinners because it doesn't involve any special cookware – you probably have everything you need on hand already.
-Large stock pot or enameled dutch oven
-Slotted Spoon
-Plate (to hold browned meatballs)
-Whisk
-Sharp knife
One Pot Creamy Meatball Soup Recipe
If you love this creamy meatball soup recipe as much as I do, please write a five star review, and be sure to help me share on facebook and pinterest!
CONNECT WITH SWEET C'S!
Be sure to follow me on social media, so you never miss a post!
Only have 30 minutes to get dinner on the table? Sign up for my 30 minute dinner plans direct to your inbox!
Find and shop my favorite products in my Amazon storefront here!
One Pot Creamy Meatball Soup
Easy, delicious, and under 40 minutes - this one pot creamy meatball soup recipe is a low carb, hearty, and warming family favorite dinner! Creamy meatball soup that is great for dinner parties, a winter dinner, or meal prep for busy weekday lunches that is paleo and keto diet compatible.
Ingredients
1 lb ground pork
1 lb ground Italian sausage, mild or spicy
1/2 cup onion, minced
1 tbsp garlic, minced
1 egg
1 tbsp olive oil
1 celery, finely minced
1 onion, diced
1/4 cup garlic, diced
8 oz cremini mushrooms, sliced
1 tsp sea salt
1/4 tsp ground black pepper
2 carrots, peeled, sliced into thin rounds
3 stalks celery, sliced into thin half-rounds
12 oz beef stock
1 tbsp Italian herb seasoning blend
2 cups heavy whipping cream
1 cup grated parmesan cheese
Instructions
For the meatballs:
For meatballs combine the ground pork, italian sausage, onion, garlic, and egg in a large bowl and mix well.
Roll into 2" (golfball sized) balls.
Let chill 1 hour in refrigerator to set.
For the soup:
Add olive oil to pan or dutch oven, and heat on medium high until shimmery.
Add meatballs and brown on all sides, about 3-5 minutes per side (1-2 minutes if cooking pre-cooked/frozen meatballs).
When meatballs are lightly browned on all sides, remove from pan and set aside.
Add onions, garlic, carrots, mushrooms, and celery to pot or dutch oven.
Brown vegetables until soft, another 5-8 minutes.
Add stock, herbs, and meatballs to pot and increase heat to high.
Let stock reduce down by half.
Turn heat off and slowly add in cream, whisking as it is added.
Whisk vigorously to incorporate into soup.
Return heat to medium and whisk in parmesan cheese.
Let come to a rolling boil and thicken, another 2-4 minutes.
When soup is thickened, serve.
Notes
You can use frozen premade meatballs if you prefer.
Nutrition Information
Yield

8
Serving Size

1
Amount Per Serving
Calories

682
Total Fat

55g
Saturated Fat

26g
Trans Fat

1g
Unsaturated Fat

27g
Cholesterol

187mg
Sodium

1167mg
Carbohydrates

14g
Fiber

1g
Sugar

6g
Protein

34g
Nutrition is automatically calculated by Nutritionix - please verify all nutrition information independently and consult with a doctor or nutritionist for any and all medical and diet advice.