Pickled Carrot and Jalapeno Salsa
This one is for all you salsa lovers out there! These beautiful jalapenos are pickled to mellow and marry them beautifully to the carrot and onion in this mouthwatering salsa.
Don't want all the extras in a recipe post? We provide a skip to recipe button in the top left corner, as well as a clickable table of contents, just below, to help make this page easier to navigate.
Table of contents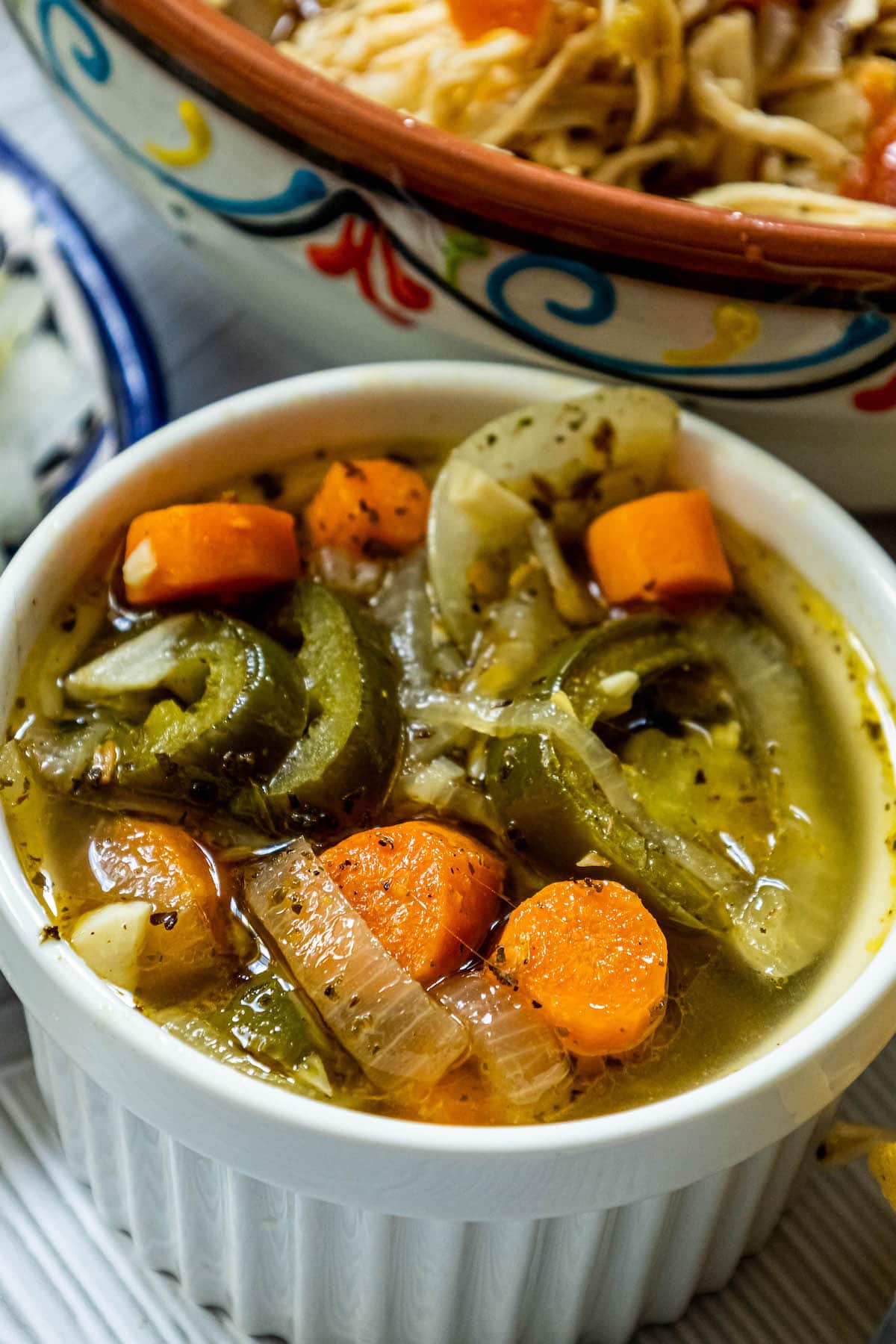 Spicy Pickled Carrot and Jalapeno Salsa
I love love love Mexican food! Here in Colorado, we have a lot of incredible authentic Mexican and southwestern food – and one of my favorite things to make at home are simple shredded chicken tacos with boiled chicken or Shredded Chicken Tacos and this tangy, spicy, crunchy salsa.
If you want to kick things up a notch this salsa is for you. Carrots and jalapeño lend themselves well to pickling for a salsa since it adds a sharp vinegar taste and some sweetness from the sugar – it's the perfect addition to brighten up simple, rustic tacos, great over steaks and fish, and fabulous with salads and in wraps!
How to make Pickled Carrot and Jalapeno Salsa
To make this recipe, you'll need:
Ingredients
Jalapeños – jalapeños are the most popular chili pepper in the world. They are very hot and can give you a burning sensation when you taste them or touch the cut peppers. Handle with care when cutting and use gloves.
Carrots – carrots have a dense texture which makes them ideal for pickling. If you use softer vegetables, they may fall apart when soaked in the brine.
Onion – onions have a pungent flavor with some sweetness which is a nice contrast with the jalapenos.
Garlic – garlic is very pungent and will add the pickle flavor to this salsa.
Olive oil – olive oil is part of the base of any brine, use high quality olive oil.
White vinegar – white vinegar is extremely acidic which will soften the vegetables and pickle them nicely.
Water – water helps combine the brine.
Kosher Salt – salt helps to combat the heat of the jalapenos and season everything.
Mexican oregano – oregano is pungent and can easily balance the acid of the vinegar.
Cumin seeds – cumin seeds have a citrus nutty flavor and give the brine a nice Hispanic flair.
Black peppercorns – black peppercorns add a soft spice to the brine.
Bay leaf – bay leaf has a minty zing that will elevate the brine.
Once you've gathered your ingredients, we will use the following method:
Brown some vegetables. In a large pan over medium heat brown the onions in oil then add the garlic and spices until fragrant. Add the jalapenos and carrots and lightly sauté.
Make brine. Add the vinegar and water and bring to a boil.
Cool and serve. Remove from the heat and place in jars. Let it cool then serve immediately or cool overnight.
Enjoy. Enjoy this salsa with chips or one of our suggestions below.
Tips and Tricks for perfect Pickled Carrot and Jalapeno Salsa
See tips and tricks for perfect pickled carrot and jalapeno salsa every time.
Use gloves when handling jalapenos. Make sure you use gloves and don't touch your eyes, nose, or mouth when cutting the jalapenos to avoid a burning sensation.
Let it sit overnight to enhance the flavors. One of the best flavor results can be achieved by letting the salsa sit overnight in the refrigerator.
FAQ's
How long will leftovers last?
Leftovers will keep for a week or two in the refrigerator, but this recipe is not designed for long term canning and storage. 
Can this be prepared with other chilis besides jalapenos?
Yes! You can use habaneros or really any pepper of your choice. Make sure you check the heat of the pepper you choose by referencing its Scoville units.
What to serve with Pickled Carrot and Jalapeno Salsa
I love enjoying this pickled carrot and jalapeno salsa with homemade tortilla chips, air fryer potato chips, and zucchini chips.
I always top keto chicken enchilada casserole, buffalo chicken enchiladas, fried chicken tacos, rib pork tacos, or vegan cauliflower tacos with pickled carrot and jalapeno salsa.
Pickled Carrot and Jalapeno Salsa Recipe
If you love this easy recipe please click the stars below to give it a five star rating and leave a comment! Pease also help me share on facebook and pinterest!
CONNECT WITH SWEET C'S!
Be sure to follow me on social media, so you never miss a post!
Only have 30 minutes to get dinner on the table? Sign up for my 30 minute dinner plans direct to your inbox!
Find and shop my favorite products in my Amazon storefront here!
Pickled Carrot and Jalapeno Salsa
This one is for all you salsa lovers out there! Don't be scared away by the jalapeno, pickling mellows the jalapenos and marries them beautifully to the carrot and onion in this mouthwatering salsa.
Ingredients
8 jalapenos, sliced
2 carrots, sliced in rounds
1 onion, halved and sliced
8 cloves of garlic
1 tablespoon olive oil
1 1/2 cups white vinegar
1 cup water
1 tablespoon sea salt
1/2 teaspoon Mexican oregano
1/2 teaspoon cumin seeds
8-10 black peppercorns
3 bay leaf
Instructions
Heat olive oil in large pan over medium heat until shimmery, add onion to pan, and soften until lightly browned and translucent, about 5 minutes, stirring to prevent burning.
Add garlic, let get fragrant, about 40 seconds.
Add spices to molcajete and lightly grind, press bay leaf with grinder to release oils, but do not crush. Add to pan and stir in.
Add the jalapenos and carrots, lightly sauteeing until softened, then add vinegar and water and bring to a rapid boil.
Remove from heat and place in jars and serve immediately or let cool.
Nutrition Information
Yield

10
Serving Size

1
Amount Per Serving
Calories

41
Total Fat

2g
Saturated Fat

0g
Trans Fat

0g
Unsaturated Fat

1g
Cholesterol

0mg
Sodium

647mg
Carbohydrates

5g
Fiber

2g
Sugar

1g
Protein

1g
Nutrition is automatically calculated by Nutritionix - please verify all nutrition information independently and consult with a doctor or nutritionist for any and all medical and diet advice.