The Best Air Fryer Bacon Recipe - delicious crispy, crunchy bacon from the air fryer without smoke or greasy splatter!
Don't want all the extras in a recipe post? We provide a skip to recipe button in the top left corner, as well as a clickable table of contents, just below, to help make this page easier to navigate.
Crispy Crunchy Air Fried Bacon
If you're looking for the BEST way to make bacon - right in your air fryer - this is the most simple, easy, and delicious way to make it instead of making bacon in the oven!
Air fryer bacon is the perfect easy brunch treat - crunchy bacon strips go great served with Easy Sangria Mimosas, Dragon Fruit Salad, Easy Baked Oatmeal With Apples, and Easy Eggs Benedict.
This air fryer bacon is delicious in our Easy Bacon Butter Spread, Easy Bacon Chicken Ranch Macaroni and Cheese, Bacon Ranch Potato Salad, and Bacon Raspberry Cheese Bites.
It is crispy, crunchy, and doesn't load your house up with smoke or a ton of smell (I love the smell of bacon, but sometimes it can be overwhelming - bacon smoking can really get a strong smell.)
We hope you love this recipe as much as we do!
How To Air Fry Bacon
We're adding our favorite tips to perfect air fryer bacon below, so you can get perfect strips from your air fryer - whether you use thick cut bacon or thin cut bacon - every time.
To make this recipe, you're just going to need bacon, and an air fryer. Any air fryer (or pressure cooker with an air fryer lid) will work - and either thin-cut or thick-cut bacon can work.
Once you have your bacon, we will use this method:
Lay bacon strips in air fryer so they don't lay on top of each other for best results.
Add a little water in bottom of pan to reduce smoke from bacon grease.
Lay crisped bacon strips on paper towels to collect some cooking grease, and help crisp and crunch after cooking.
Cooking time is a bit subjective - you may wish to cook your bacon more or less depending on how crispy you like bacon, and how think your bacon is. If you have thinner bacon, or are using vegan bacon or turkey bacon, you may find yourself reducing cook time.
Air fryers are more of a convection oven than a deep fryer - they circulate hot air instead of frying - so you can always pop bacon back in oven if it needs to crisp up more.
Tips and Tricks to Perfect Air Fried Bacon
Add some sugar! This recipe calls for plain keto crunchy bacon, but we're adding one of our favorite extra tips below to make delicious, sticky, sweet breakfast recipes below by adding a bit of brown sugar to your air fried bacon below:
Halfway though cooking bacon, after flipping once, sprinkle a pinch of brown sugar along each strip of bacon.
Cook 2-3 minutes.
Flip, sprinkle sugar on other side, and continue to cook until desired crispiness.
Bacon will look slightly less done. Air fryer bacon will look slightly underdone when still in the air fryer basket - as bacon is removed, the fat takes a while to cool, and it will continue to cook, bringing it to a crispier texture and deeper brown color than what you see when removing from the air fryer basket. Remove bacon when it is slightly undercooked from your preferred doneness - about one shade of brown less than what you prefer. You can always crisp bacon more if it isn't done enough, but once you cook bacon, you can't make it chewier and less crispy!
Preheat the Air Fryer: Give it a 3-5 minute warm-up at 375°F. Preheating ensures even cooking.
Single Layer: Lay the bacon strips in a single layer. Overlapping causes uneven cooking.
Check Thickness: If you've got thick-cut bacon, you'll need a bit more time. Standard bacon usually takes about 8-10 minutes; thick-cut could take up to 12.
Shake It: Halfway through cooking, give the basket a good shake or use tongs to flip the bacon for even crispiness.
Paper Towel: After cooking, place the bacon on a paper towel to absorb extra grease.
Test One First: If you're unsure about the cooking time, cook one strip first as a test run.
Keep an Eye: Bacon can go from perfect to burnt pretty quickly. It's good to keep an eye on it, especially towards the end.
Season: A little black pepper or maple syrup can add a whole new dimension.
Happy air frying! ?
Recipe FAQs
When is bacon done cooking in the air fryer?
Bacon is done cooking when fat has rendered and bits have become crispy brown - but how long to cook bacon varies a lot per person.
Cook bacon to your preferred doneness - extra crunchy and crispy, or lightly brown and chewy.
Is preheating necessary?
Yep, preheating at 375°F for 3-5 minutes is a good idea. It helps the bacon cook more evenly.
Do I need to use any oil?
Nope, bacon's got enough fat on its own. The air fryer circulates hot air, crisping it up without additional oil.
How do I avoid smoke?
Line the bottom of the air fryer with aluminum foil or place a slice of bread there. This will catch drippings and prevent smoke.
How long do I cook the bacon?
For standard bacon, 8-10 minutes is usually perfect. Thick-cut bacon might take up to 12 minutes. Keep an eye on it to avoid burning.
Can I air fry frozen bacon?
You sure can! Just add a few extra minutes to the cooking time and make sure to separate the strips as best as you can.
Can I stack bacon in the air fryer?
Not the best idea if you want crispy, evenly cooked bacon. Stick to a single layer.
Can I reheat cooked bacon in the air fryer?
Absolutely, just pop it back in at 350°F for about 2-3 minutes to bring back that crispiness.
Can I add flavor?
Of course! Try a sprinkle of black pepper, a drizzle of maple syrup, or even a dash of cayenne for some heat.
Hope that covers your burning questions! ??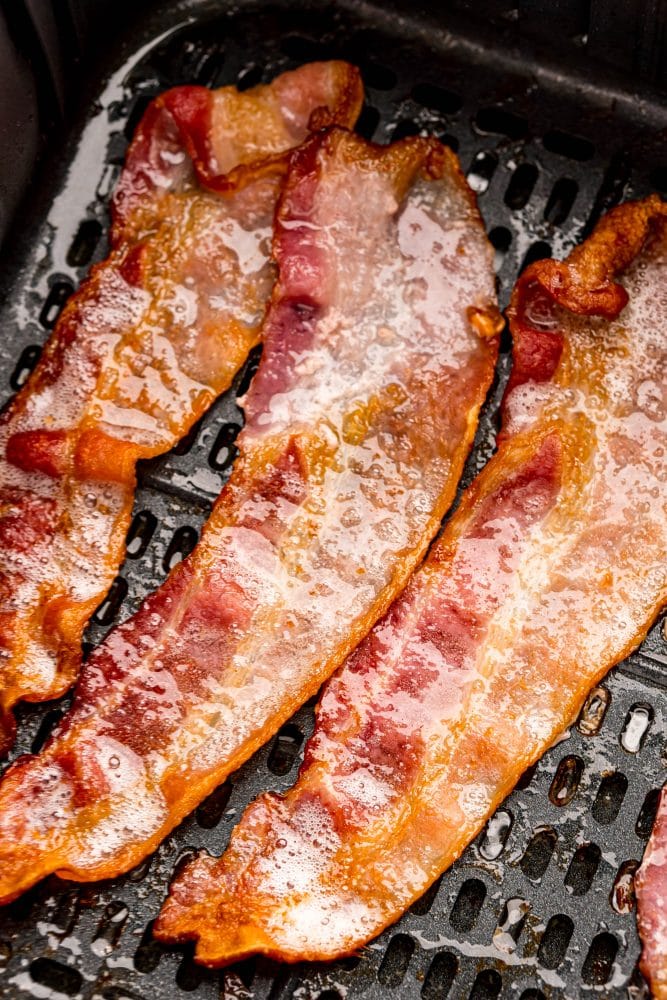 What to Serve With Air Fryer Bacon
This air fryer bacon is delicious all on it's own - or in one of our tasty recipes bursting with crispy, crunchy, salty bacon flavor!
Recipes like our German Potato Salad, Creamy Chicken Bacon Pasta Salad, and Brown Butter Bacon Baked Brussels Sprouts are great with crispy air fried bacon in them - or recipes like Pumpkin Cream Cheese Muffins, Easy Apple Fritter Bread, and Easy Sangria Mimosas are just delicious with bacon alongside!
Find more of our recipes loaded with bacon here:
You can find our complete bacon recipe archives here.
Find our complete breakfast and brunch recipe archives here.
The Best Air Fryer Bacon Recipe
If you love this easy recipe please click the stars below to give it a five star rating and leave a comment! Please also help me share on facebook and pinterest!
CONNECT WITH SWEET C'S!
Be sure to follow me on social media, so you never miss a post!
Facebook | Twitter | Youtube | Pinterest | Instagram
Only have 30 minutes to get dinner on the table? Sign up for my 30 minute dinner plans direct to your inbox!
Find and shop my favorite products in my Amazon storefront here!
Yield:

6
The Best Air Fryer Bacon Recipe
The Best Air Fryer Bacon Recipe - delicious crispy, crunchy bacon from the air fryer without smoke or smell in the kitchen!
Instructions
Add water to the bottom of the air fryer.
Place 3 to 4 strips of bacon at a time into the air fryer basket, depending on size.
Fry for at 350 degrees F for 8 to 10 minutes for regular bacon or 10 to 12 minutes for thick-cut.
Remove from air fryer and place on a paper towel-line plate and let rest for a few minutes before serving.
Repeat with the rest of the bacon.
Nutrition Information
Yield
6
Serving Size
1
Amount Per Serving
Calories

354
Total Fat

27g
Saturated Fat

9g
Trans Fat

0g
Unsaturated Fat

16g
Cholesterol

75mg
Sodium

1273mg
Carbohydrates

1g
Fiber

0g
Sugar

0g
Protein

26g
Nutrition is automatically calculated by Nutritionix - please verify all nutrition information independently and consult with a doctor or nutritionist for any and all medical and diet advice.