The Best Air Fried Mushrooms Recipe
The Best Air Fried Mushrooms Recipe – delicious hearty mushrooms with an unbelievably rich flavor right from the air fryer!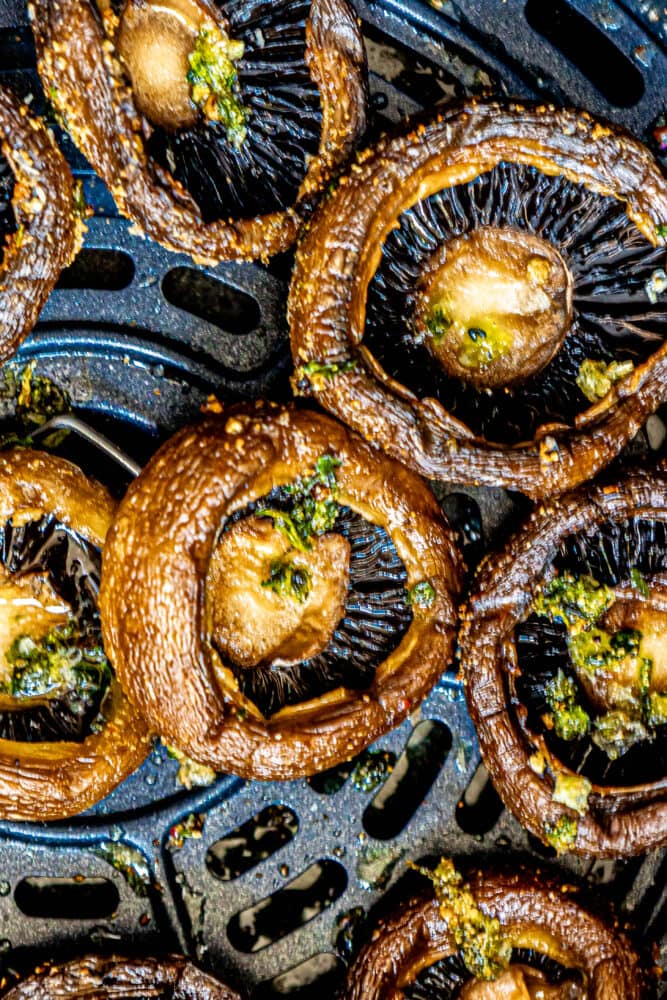 Don't want all the extras in a recipe post? We provide a skip to recipe button in the top left corner, as well as a clickable table of contents, just below, to help make this page easier to navigate.
Easy Keto Air Fryer Mushrooms
If you love the rich, earthy, hearty flavor of mushrooms, but aren't sure how to get a steakhouse style mushroom flavor at home, you're going to love this recipe!
We're using an air fryer (or Ninja Foodi, or Instant Pot, with broiling function and crisping lid) to get tender, hearty, perfect mushrooms in just 15 minutes!
These mushrooms are perfect alongside tender, juicy steaks, poultry, pork, or seafood – are keto and vegan, and so easy to make!
How to Air Fry Mushrooms
To air fry mushrooms, we will only need a few simple ingredients:
Mushrooms – this is intentionally ambiguous, as this method works with any type of mushroom. We're using cremini for their meaty flavor, small size, and the fact they are widely available – but other mushrooms work beautifully in this dish. If you're using a smaller mushroom, or sliced mushrooms, you may need to adjust time down a bit so they don't over brown/burn – simply check at 5 and 10 minutes and see how they are going, and adjust to cooking until they look browned but not overly.
Olive oil – olive oil has a light, clean flavor that lets mushrooms shine and helps to get a bit of rich meaty flavor from the maillard reaction as mushrooms brown.
Italian seasoning blend
Garlic powder
Kosher or celtic sea salt
Fresh cracked pepper
Air Fryer – any style air fryer will work. We love the Ninja Foodi, Ninja grill and air fryer combo, the Instant Pot oven-style air fryer, and small countertop air fryers!
Once you've gathered your mushrooms and herbs, we will use the following method:
Clean mushrooms & prep. Mix herbs and oil in a small bowl to make a dressing. Clean mushrooms by wiping with a paper towel or very lightly damp kitchen towel, and place in large bowl. Toss mushrooms in dressing, so they are coated in oil and herbs.
Air fry. Preheat airfryer and then air fry for about 15 minutes until browned.
Tips and Tricks to Keto Air Fryer Mushrooms
Personally, I prefer this recipe using cremini mushrooms, because I love their "meaty" flavor.
Use mushrooms you love. This recipe works with all kinds of mushrooms, however – we're rounding up our favorites below:
White button mushrooms
Shiitake mushrooms
Portabella mushrooms
Enoki mushrooms
Lions mane mushrooms
Oyster Mushrooms
Gourmet mushroom blends from your grocer
Keep whole, slice, or chop. Whether or not you leave mushrooms whole, or chopped, is up to you. Since we're cooking in an air fryer basket – which by design has holes so air can flow through – you will want a large, rough chop – especially since mushrooms shrink considerably when their water releases while cooking. Don't chop so small the bits all fall to the bottom and burn.
Go by look, not time. Air fryers all work differently, and mushrooms come in such a massively wide variety of sizes – so our 15 minute cook time should be seen as a starting off point for full cap cremini mushrooms. If you're using chopped mushrooms, or smaller or larger mushrooms, you may need to change to 10 minutes or 20 minutes! Simply stir mushrooms every five minutes or so of cooktime, until they get lightly browned – and then cook for another few minutes until browned. Think of the time as a suggestion, not at all a rule.
Trim woody stems. Some mushrooms don't have thick, woody stems – and some do. I like to remove cremini mushroom stems because they can get really dry and woody when cooking (similar to the woody ends of asparagus), but if you like them, go ahead and leave them on!
Use an air fryer you love some of our favorites are below:
Recipe FAQs
How long can I keep air fried mushrooms?
Store leftovers in an airtight container in the refrigerator for up to four days.
To reheat, pop into air fryer for 5-8 minutes, until piping hot.

Are air fried mushrooms crunchy?
Since we're keeping these simple without breading, these mushrooms won't be crispy or crunchy – but also won't be soggy. They will be similar to pan fried mushrooms with a nice toothy bite and won't feel slimy at all.
What to Serve With Air Fried Mushrooms
This delicious air fried mushroom recipe is delicious with lots of easy healthy meals – from keto dishes to hearty mains! We love serving mushrooms alongside dishes like Garlic Baked Pork Tenderloin, easy baked chicken breasts, macaroni salad, or ribeye roast!
Our favorite recipes to serve with mushrooms are below:
The Best Air Fried Mushrooms Recipe
If you love this easy recipe please click the stars below to give it a five star rating and leave a comment! Pease also help me share on facebook and pinterest!
CONNECT WITH SWEET C'S!
Be sure to follow me on social media, so you never miss a post!
Only have 30 minutes to get dinner on the table? Sign up for my 30 minute dinner plans direct to your inbox!
Find and shop my favorite products in my Amazon storefront here!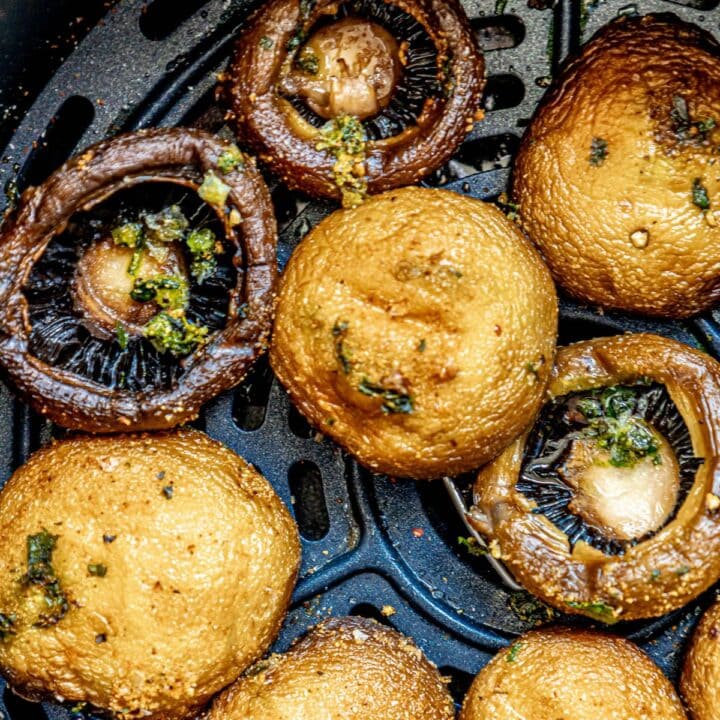 The Best Air Fried Mushrooms Recipe
The Best Air Fried Mushrooms Recipe - delicious hearty mushrooms with an unbelievably rich flavor right from the air fryer!
Ingredients
2 tablespoons olive, avocado, or other oil
1 pound mushrooms, wiped clean, stems removed (optional to remove stems)
2 teaspoons garlic powder
2 teaspoons Italian herbs mix
1 teaspoon celtic sea salt (+ more to taste if desired)
1 teaspoon black pepper, to taste
Instructions
In a large bowl, add mushrooms.
In a small bowl, combine herbs and olive oil. Drizzle over mushrooms, tossing as you go, to coat in oil and herbs.
Preheat air fryer for 5 minutes on high.
Add mushrooms to air fryer basket and set to high (400-450 degrees, depending on your fryer.)
Cook 15 minutes, stirring at five minutes to check cook time, then stir again at 10 minutes. Go by color of the mushrooms - you want them to look smaller (meaning they gave off water) and have a darker color with browning.
Remove and serve!
Nutrition Information
Yield

4
Serving Size

about 1/2 cup
Amount Per Serving
Calories

155
Total Fat

12g
Saturated Fat

1g
Trans Fat

0g
Unsaturated Fat

10g
Cholesterol

0mg
Sodium

567mg
Carbohydrates

12g
Fiber

6g
Sugar

3g
Protein

4g
Nutrition is automatically calculated by Nutritionix - please verify all nutrition information independently and consult with a doctor or nutritionist for any and all medical and diet advice.