Garlic Brown Sugar Pork Chops Recipe - perfectly tender pan fried pork chops with a brown sugar garlic glaze the whole family will love. Can be made keto/low carb.
This post is sponsored by the Iowa Pork Producers Association. All opinions are my own.
Don't want all the extras in a recipe post? We provide a skip to recipe button in the top left corner, as well as a clickable table of contents, just below, to help make this page easier to navigate.
Rich Easy Garlic Butter Sugar Pork Chops
There is nothing better than the sticky-sweet flavor of garlic brown sugar glaze over pork - it is super simple, packed with flavor, and always a huge family hit.
Pork is one of our family's favorite dinners - it's got a great mild flavor, it is healthy and quick to cook, it is easy to find and always available in our stores - and we feel good about supporting the families raising pork in Iowa, where most of America's pork comes from!
We love serving pork often at home - Easy Baked Ranch Pork Chops, Baked Garlic Butter Pork Tenderloin, and Smoked Pork Ribs are on constant rotation!
This recipe uses only a few ingredients and just one pan - making it a truly easy, quick, and delicious recipe you can feel good about feeding your family.
Please be sure to check my notes on how to make this recipe keto diet compatible - including the sugar alternative I reccomend.
About Iowa Pork Producers
When you're buying pork in the United States, chances are you're eating fresh pork from local Iowa hogs!
Choosing pork is a great way to choose to feed your family a safe, American raised product that also helps employ thousands of American families.
If you're curious about some of the commitments America's pork farmers have taken to preserve animal, economical, and environmental wellbeing, please read about the We Care Initiative here.
I was able to tour a pork farm in Iowa last fall and learn more about Iowa Pork's dedication to safety and health for consumers and animals and I was really impressed - to hear more about my trip, please check out this post featuring Iowa Pork and Iowa Corn Growers - I learned so much about their impact on America's economy and dinner tables.
When Are Pork Chops Done?
Rely on thermometer - NOT time - to tell when pork has been cooked fully.

If you don't have a quick-read digital meat thermometer, it is one of the best investments you can make for perfectly cooked pork, every time.
I cook pork to the FDA guidelines, which does include a bit of pink in the middle.
This is NOT underdone if you're going by temperature - pork is safe to eat at 145 degrees, and trust me, it is the best flavor and texture!
Tender, juicy, and flavorful pork is best when not overcooked - so watch your thermometer!
For more information on cooking pork chops, please visit my guide to pork chops, or visit the Iowa Pork site.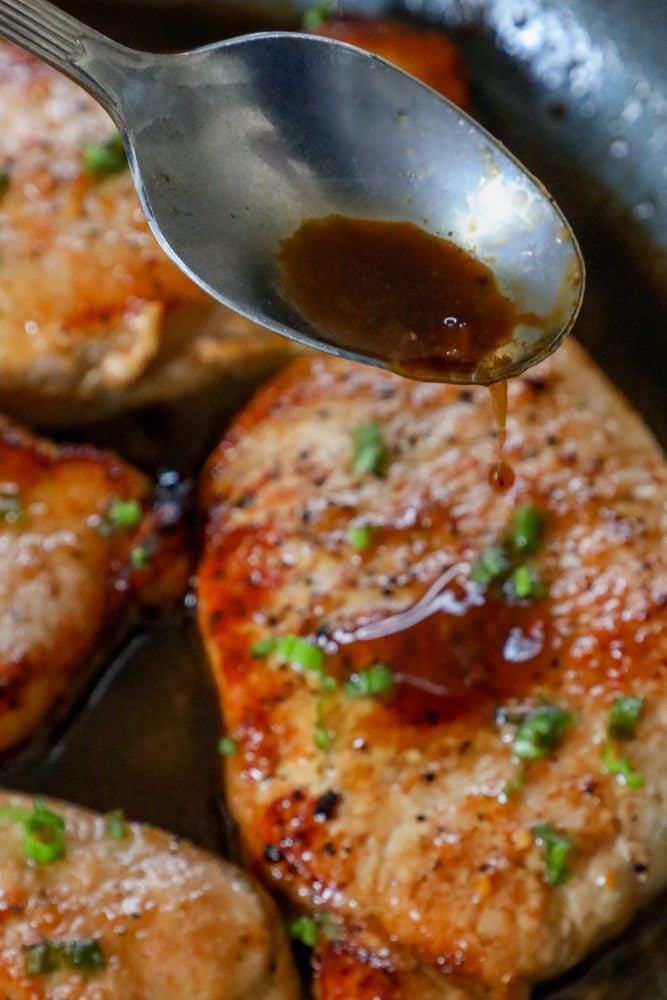 To Make This Recipe, You'll Need
Heavy nonstick pan (I don't use cast iron for this recipe since the glaze is quite sticky.)
Kitchen tongs
4 boneless pork chops
Butter
Salt
Pepper
5 cloves Minced Garlic (using the frozen pre-minced kind is fine - if you don't love garlic you can reduce to 3 cloves)
2 tablespoon brown sugar or brown sugar splenda
Green onions, to garnish
Garlic Brown Sugar Glaze
This recipe's knocout flavor comes from the sticky-sweet garlic brown nsugaar glaze we're whipping up - right in the same pan we're using for the pork chops.
After pan frying pork, let them set aside while you whip up the glaze, and the toss them back in the pan to finish cooking so they can soak up all the amazing garlic brown sugar flavor!
How To Make Pork Chop Glaze
Once pork chops have browned well on each side, remove to set aside as you make the glaze in the pan.
If you have a lot of browned bits in the pan, you can carefully add 3-5 tablespoon water to deglaze the pan and scrape them up. Do not clean pan out, you want the drippings for more flavor!
Add butter and garlic and heat until garlic is fragrant (do not let garlic burn), about 45 seconds.
Stir in brown sugar and let come to a boil, then nreduce heat and place pork chops back in pan to continue coookinng in nglaze until 145 degrees.
When serving, spoon as much glaze as desired over pork chops.
Keto Garlic Brown Sugar Glaze
While there are a lot of sugar substitutes, I reccomend using Splenda + brown sugar for this glaze.
While there is some sugar in the splenda substitute, we're using such a small amount, it won't throw off macros if you're keeping to a strict keto diet.
Since the splenda mix contains a bit of real brown sugar, it breaks down properly to form the sticky-sweet sauce, and doesn't taste artificia.
Recipe FAQ's
What temperature do I cook pork chops to?
Pork is done cooking at 145 degrees - meaning when it hits 140 degrees internal temperature, you can remove from the pan so it can carryover cook to 145 degrees. Overcooked pork is dry pork - don't overcook!
My pork is pink, is it safe to eat?
Pork will be a little pink at 145 degrees. It is perfectly safe to eat once it has reached 145 degrees Fahrenheit.
Brown Sugar Garlic Pork Chops Recipe
If you love this easy recipe please click the stars below to give it a five star rating and leave a comment! Please also help me share on facebook and pinterest!
CONNECT WITH SWEET C'S!
Be sure to follow me on social media, so you never miss a post!
Facebook | Twitter | Youtube | Pinterest | Instagram
Only have 30 minutes to get dinner on the table? Sign up for my 30 minute dinner plans direct to your inbox!
Find and shop my favorite products in my Amazon storefront here!
Yield:

4
Garlic Brown Sugar Pork Chops Recipe
Ingredients
5 tablespoon butter, divided
4 boneless pork chops
1 teaspoon sea salt
1 teaspoon fresh cracked pepper
5 cloves garlic, minced
2 ½ tablespoon brown sugar
Instructions
In a large, heavy skillet, melt butter until melted and foamy.
Generously season pork chops with salt and pepper.
Brown pork chops on each side, about 5 minutes per side.
When pork chops are browned on each side, set aside on a plate.
Add other half butter to pan and melt. Scrape up any browned bits fro pan.
Stir in minced garlic and stir to prevent burning.
Add brown sugar. Stir to mix well, until it starts to bubble.
Add pork chops back to pan (along with any liquid that may have collected on plate.)
Cook spoon glaze over pork chops and cook until pork chop internal temperature is 140 degrees.
Let pork rest and finish carry over cooking for at least 5 minutes before slicing.
Spoon additional glaze over pork as desired.
Top with diced green onions, optional.
Recommended Products
As an Amazon Associate and member of other affiliate programs, I earn from qualifying purchases at no extra expense to you.
Nutrition Information
Yield
4
Serving Size
1
Amount Per Serving
Calories

474
Total Fat

33g
Saturated Fat

16g
Trans Fat

1g
Unsaturated Fat

15g
Cholesterol

141mg
Sodium

816mg
Carbohydrates

8g
Fiber

0g
Sugar

7g
Protein

37g
Nutrition is automatically calculated by Nutritionix - please verify all nutrition information independently and consult with a doctor or nutritionist for any and all medical and diet advice.