The Best Crispy Baked Chicken Wings Ever Recipe - easy and delicious classic chicken wings that are crunchy and delicious with a rich and savory spicy sauce!
If you're looking for crispy, crunchy classic chicken wings - baked to perfection in the oven - these chicken wings will be your new favorite!
These crispy oven baked chicken wings are juicy and tender every time, with a crunchy crust that tastes deep fried.
This method for perfect baked chicken wings never fails to deliver... it's one of our all time favorite chicken wing recipes!
I hope you love these baked chicken wings as much as I do - and be sure to check out my baked Lemon Garlic Parmesan wings while you're here!
I get lots of questions and comments on my posts – so I try to provide as much information in them as possible for my readers.
If that isn't your thing, please click the "skip to recipe" button above, the part of the recipe you'd lke to go to in the table of contents below, scroll to the bottom of the page where you will find the easy printable recipe.
Tips to Easy Clean Baked Chicken Wings
Baking chicken wings in the oven can be a dreadfully messy job to clean up - but with a couple of tips and tricks, you can bake and sauce your chicken wings without making a huge mess.
-Line a baking sheet with foil.
-When chicken has cooked, let sit on paper towels to absorb excess oil. Then move wings to bowl to get coated in sauce.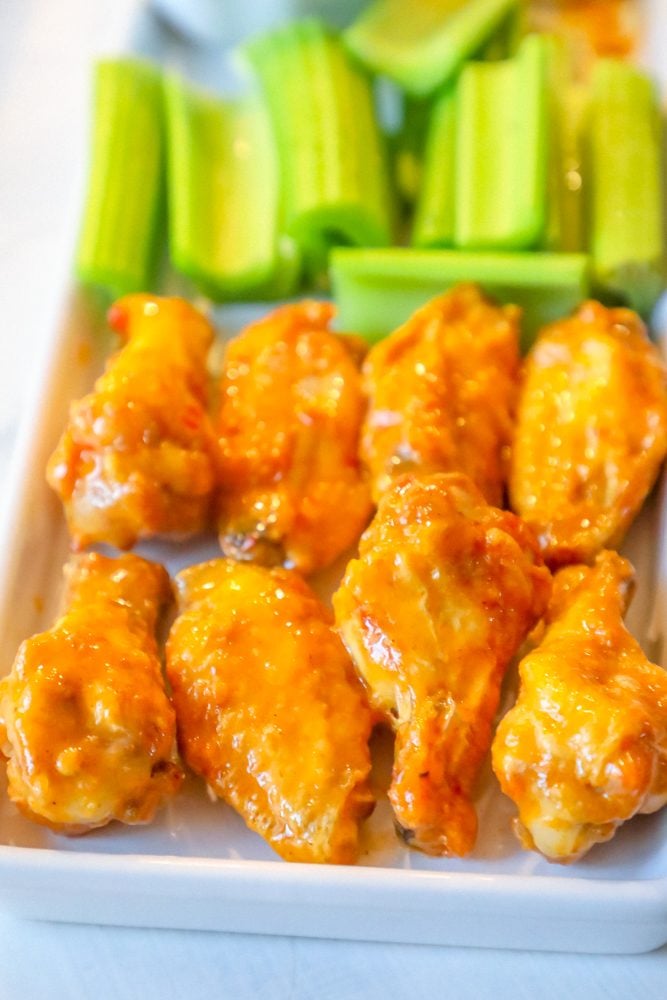 How to Sauce Chicken Wings
Coating chicken wings in hot sauce or buffalo sauce can be messy - and can be a little tricky with unbreaded wings - but my tips to perfectly sauce wings will get you tons of flavor, all over your wings!
-When cooked, add wings to a large bowl.
-Melt butter and add sauce, mixing in a small sauce pot until combined and butter is melted.
-Toss cooked chicken wings in sauce in the bowl to coat.
How to get Crunchy Oven Baked Chicken Wings
Crispy and crunchy wings - with no extra breading - take a bit of technique to get to perfectly mimic a deep fried wings texture.
If you're looking for crunchy keto chicken wings - this is one technique you will want to bookmark to use again and again!
We're using the fat in the chicken wings to crisp them without frying - which is easier if wings are completely dry going into the oven.
Excess liquid from packaging or water on your wings can cause wings to steam instead of crisp - making skin soggier. Quickly pat wings dry with a paper towel to get a crispier wing.
Cooking chicken wings on a wire rack encourages better air circulation all around the chicken wings, which will help them cook faster and crisp more.
Lightly grease wire racks with olive oil, coconut oil, or another fat you prefer to make it less likely to stick to the chicken wings.
This will help to reduce any chance for your wings to get soggy from the sauce.
Make sure to use from the oven hot wings - the sauce sticks better to hotter wings what have been patted dry with paper towels to remove excess oil and fat and then tossed with sauce.
These wings don't need baking soda, baking powder, vegetable oil or olive oil - we're using chicken wings own fat to crisp our wings into perfection - for a crunchy, delicious bite with tons of buffalo sauce!
Normally baking wings can result in a softer wing - the fat is beautifully rendered, but the skin doesn't have much crunch.
These baked wings use hot air all around your wings (by putting them on a wire rack over your baking sheet) to help them crisp naturally and get a crunchy, delicious flavor without frying.
Can You Freeze Chicken Wings
I prefer to not freeze chicken wings for the best flavor and texture - but if you have too many on hand to eat, follow these tips to freezing baked chicken wings:
-Arrange cooked chicken wings on a sheet of freezer paper over a baking sheet, and wrap in plastic wrap.
-Freeze overnight.
-Move chicken wings from baking sheet and add to freezer ziploc bag.
While these steps might sound tedious, this will make your chicken wings freeze individually, so they dont all touch and clump up so reheating will be easier.
Freeze for up to three months.
Hot To Reheat Chicken Wings
Thaw chicken wings fully overnight in refrigerator.
To bake chicken wings again after refrigerating, preheat oven to 400 degrees.
Coat chicken wings with BBQ sauce – just enough to coat entire wings, about 1-3 tbsp.
Place chicken wings on cooling rack over baking sheet and bake about 10 minutes, until piping hot.
Broil for extra 1-2 minutes to crisp.
How to Cut Chicken Wing Pieces
I often buy flats of chicken wings from my grocery store because they are much more affordable - and often more fresh!
Cutting your own chicken wings saves a ton of money, so I try to always trim my own chicken wings whenever I can.
For this recipe, you can use the whole wing intact - but I find the texture is the best when I cut them.
Cutting chicken wings down to pieces makes them easier to eat, and also helps get a super crispy texture!
To cut chicken wings into thirds - flat, drumette, and tip of the wing - follow the instructions below:
-Using a sharp large chefs knife, feel for the joints between the 3 main parts to a chicken wing - the wing tip, the flats, and the drumette.
-Bend the joints backwards, using your hands, to get them to loosen.
-Use your knife to feel where the bones come together, and pressing down hard, cut through the joint. (You don't want to try to cut the bone - but find the space in between the bones.)
-While you can cook wing tips, they often dont have much (if any) meat to them. Discard any that don't look to offer you much meat.
Other Chicken Wings You'll Love
If you love the best baked chicken wings recipe, please be sure to check out my other chicken wing recipes you are sure to love!
Chicken Wings Recipes
The best delicious chicken wing recipes ever!
How can I get my chicken wings crispier?
If your wings are done cooking, but you want a bit more crunch, pop them under the broiler for a few minutes (make sure they don't burn) to crisp up all sides of the wings.
Are chicken wings keo?
Chicken wings are a great filling low carb meal - many sauces have no or little sugars, but check labels carefully since the sauce you pick will have the biggest impact on carbs for this dish.
Do I need to cut up wings into pieces?
Often when you buy chicken wings you get the whole wing - not separated into drumsticks, flats, and the tip. You can cook them whole, but we prefer cutting them to allow the wings get crunchier and crispier. It is totally up to you, however.
The Best Baked Chicken Wings Recipe Ever
If you love the best baked chicken wings recipe ever as much as I do, please give it a five star rating (just click the stars below) and help me share on facebook and pinterest!
CONNECT WITH SWEET C'S!
Be sure to follow me on social media, so you never miss a post!
Facebook | Twitter | Youtube | Pinterest | Instagram
Only have 30 minutes to get dinner on the table? Sign up for my 30 minute dinner plans direct to your inbox!
Find and shop my favorite products in my Amazon storefront here!
Yield:

12 wing pieces
The Best Baked Chicken Wings Recipe Ever
The Best Baked Chicken Wings Ever Recipe - easy and delicious classic chicken wings that are crunchy and delicious with a rich and savory spicy sauce!
Ingredients
2 lbs chicken wings, cut into thirds (wing tips, drumettes, flats)
4 tbsp butter
¼ cup Franks Hot buffalo sauce or hot peri peri sauce
Instructions
To Bake Crispy Wings:
Preheat oven to 400°F.
Line two large baking sheets (with a large rim) with parchment paper or foil.
Set a wire rack (preferably a nonstick rack, or lightly greased) over baking sheets.
Pat chicken wings dry with paper towels.
Divide wings between wire racks and spread out in a single layer.
Bake wings until cooked through and skin is crispy, 45–50 minutes.
For extra crunch, broil under broiler on high for 2-3 minutes per side - watch CAREFULLY to make sure wings don't burn or over-crisp.
For the Sauce:
Melt butter in sauce pot until foamy.
Vigorously whisk in sauce until well combined.
To Coat the Buffalo Wings:
Pat wings dry out of oven with paper towels.
In a large mixing bowl, add wings.
Drizzle sauce over wings and toss vigorously until evenly coated.
Serve immediately.
Recommended Products
As an Amazon Associate and member of other affiliate programs, I earn from qualifying purchases at no extra expense to you.
Nutrition Information
Yield
12
Serving Size
2 wing pieces
Amount Per Serving
Calories

290
Total Fat

23g
Saturated Fat

9g
Trans Fat

0g
Unsaturated Fat

12g
Cholesterol

73mg
Sodium

504mg
Carbohydrates

8g
Fiber

1g
Sugar

1g
Protein

13g
If you love this delicious easy recipe, be sure to check out my other favorites!
Sweet C's Favorite Recipes
Favorite recipes from Sweet Cs Designs