Easy Cajun Baked Chicken Wings Recipe – delicious juicy, crispy chicken wings in a spicy cajun rub that are always a hit at any party!
Don't want all the extras in a recipe post? We provide a skip to recipe button in the top left corner, as well as a clickable table of contents, just below, to help make this page easier to navigate.
Crunchy Cajun Wings
Spicy, salty, crunchy chicken wings are one of my all time favorite things to eat – especially at a party.
While making wings can take a ton of time and patience – these crunchy baked chicken wings have the crunchy texture of deep fried, battered wings – but straight from the oven, with NO breading!
These crunchy baked cajun chicken wings use your oven to get a perfect crunchy texture – and are naturally low carb, perfect if you're looking for a keto chicken wing recipe.
These baked cajun chicken wings are so addictive, I always not doubling the batch – my husband and I could eat them all! They are always the first thing gone at a party, and always a huge hit!
I hope you love these crunchy baked cajun chicken wings as much as I do.
I get lots of questions and comments on my posts – so I try to provide as much information in them as possible for my readers.
If that isn't your thing, please scroll to the bottom of the page where you will find the easy printable recipe.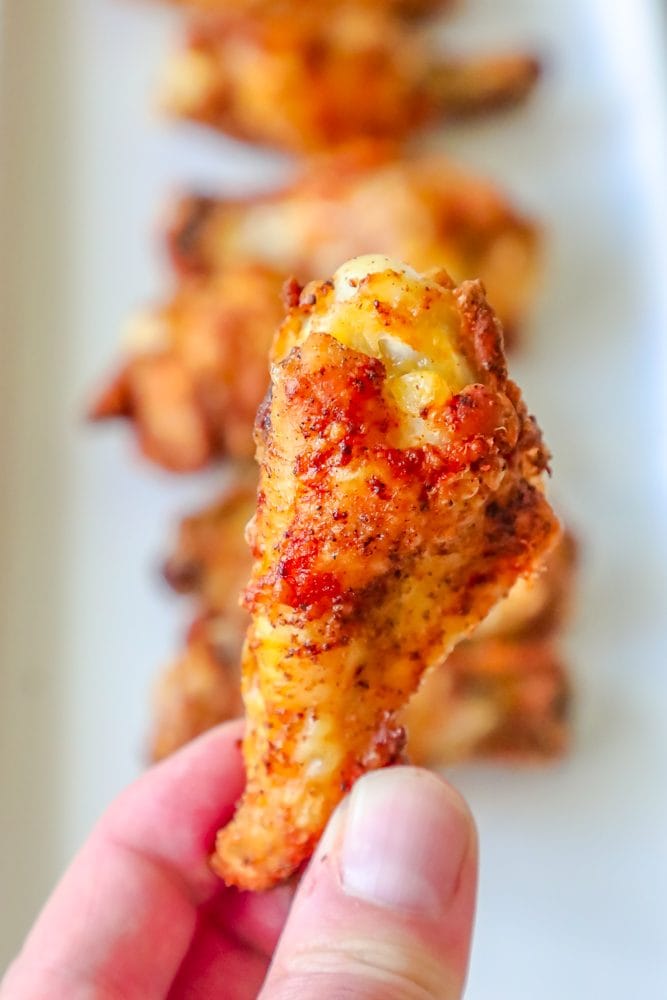 How To Bake Crispy Cajun Chicken Wings
To bake these Keto Crispy Cajun Chicken wings, you will need the following basic tools:
Baking sheets – We will be baking the wings on a baking sheet with a wire rack over it for the best air flow to make crunchy wings – using a baking sheet with a deep or shallow rim is critical, so you don't have grease running off into the oven which is a burn and fire risk.
Foil or Parchment Paper – this is optional, but I like to line my baking sheet with foil to prevent staining from fat drips for an easy cleanup.
Wire Rack – cooking chicken wings on a wire rack provides air flow so the fat can render and skin can crisp, giving an almost fried texture without any added fat.
Large Chefs Knife – using a sharp, heavy knife is the best way to cut whole wings into sections.
Large Bowl – a large bowl or plastic bag is the best way to season chicken wings, so you can toss them in seasoning.
Tongs – tongs are the easiest tool to flip and move chicken wings from a wire rack as they cook.
Chicken wings: The star ingredient of the dish, chicken wings are a great source of protein and the perfect vehicle for the flavorful cajun seasoning.
Garlic powder: Adds a savory and aromatic flavor to the seasoning blend.
Italian seasoning: A blend of dried herbs such as basil, oregano, and thyme that adds depth and complexity to the seasoning blend.
Paprika: Provides a smoky and slightly sweet flavor to the seasoning blend.
Salt: Enhances the flavors of the other ingredients and helps to tenderize the chicken wings.
Black pepper: Adds a subtle heat and earthy flavor to the seasoning blend.
Cayenne pepper: Adds a spicy kick to the seasoning blend.
Dried thyme: Another herb that adds a subtle earthy and savory flavor to the seasoning blend.
Onion powder: Provides a sweet and slightly pungent flavor to the seasoning blend.
Tips For Perfect Cajun Baked Wings & FAQs
How to Cut Chicken Wing Pieces: I often buy flats of chicken wings from my grocery store because they are much more affordable – and often more fresh! To cut chicken wings into thirds – flat, drumette, and tip of the wing – follow the instructions below:
Using a sharp large chefs knife, feel for the joints between the 3 main parts to a chicken wing – the wing tip, the flats, and the drumette.
Bend the joints backwards, using your hands, to get them to loosen.
Use your knife to feel where the bones come together, and pressing down hard, cut through the joint. (You don't want to try to cut the bone – but find the space in between the bones.)
While you can cook wing tips, they often dont have much (if any) meat to them. Discard any that don't look to offer you much meat.
Pat wings dry completely before baking. We're using the fat in the chicken wings to crisp them without frying – which is easier if wings are completely dry going into the oven. Excess liquid from packaging or water on your wings can cause wings to steam instead of crisp – making skin soggier. Quickly pat wings dry with a paper towel to get a crispier wing.
Cook wings on wire rack for extra crispy wings. Cooking chicken wings on a wire rack encourages better air circulation all around the chicken wings, which will help them cook faster and crisp more. Lightly grease wire racks with olive oil, coconut oil, or another fat you prefer to make it less likely to stick to the chicken wings.
FAQs
What is cajun rub?
Cajun rub is a blend of spices that typically includes paprika, garlic powder, onion powder, cayenne pepper, and other seasonings. It adds a spicy and flavorful kick to chicken wings.
Can I use a different type of seasoning other than cajun rub?
Yes, you can use any type of seasoning or spice blend that you prefer. However, keep in mind that the flavor of the wings may be different.
How do I bake crispy chicken wings?
To make the chicken wings crispy, bake them on a wire rack placed over a baking sheet. This allows air to circulate around the wings and helps to crisp up the skin.
How long do I bake chicken wings?
Bake the chicken wings for approximately 30-35 minutes, or until they are cooked through and the skin is crispy.
How do I prevent chicken wings from sticking to the wire rack?
To prevent the chicken wings from sticking to the wire rack, lightly coat it with cooking spray or preferably a mist of olive oil before placing the wings on it.
Can I make chicken wings ahead of time?
Yes, you can make the chicken wings ahead of time and reheat them in the oven for a few minutes before serving.
What can I serve with chicken wings?
Crispy baked cajun rub chicken wings are a great appetizer or main dish and can be served with a variety of side dishes such as coleslaw, potato salad, or roasted vegetables.
What to Serve With Cajun Chicken Wings
Coleslaw: A creamy and tangy coleslaw would pair well with the spicy flavor of the chicken wings.
Corn on the cob: Grilled corn on the cob, or air fryer corn on the cob would be a great side dish to balance out the heat of the chicken wings – corn ribs are also a fun and delicious twist!
Baked fries: Baked potato fries are a healthier alternative to deep fried fries and would make a great side dish to complement the chicken wings.
Salad: a light, crisp Kale salad is a perfect side dish to compliment these lightly spicy wings.
Ranch dressing: A cool and creamy ranch dressing would help to balance out the spiciness of the chicken wings.
Beer or a margarita: A cold beer or margarita would be a great drink to wash down the spicy chicken wings.
For more of our favorite chicken wing recipes, find our recent favorites below:
You can find the rest of our chicken wing recipes here.
Cajun Baked Chicken Wings Recipe
If you love this keto cajun baked chicken wings recipe as much as we do, please give it a five star review (just click the stars below) and help me share on facebook and pinterest!
Click here to see my web story for Baked Cajun Chicken Wings!
CONNECT WITH SWEET C'S!
Be sure to follow me on social media, so you never miss a post!
Facebook | Twitter | Youtube | Pinterest | Instagram
Only have 30 minutes to get dinner on the table? Sign up for my 30 minute dinner plans direct to your inbox!
Find and shop my favorite products in my Amazon storefront here!
Yield:

16 wing pieces
The Best Baked Cajun Chicken Wings Recipe
Easy Cajun Baked Chicken Wings Recipe - delicious juicy, crispy chicken wings in a spicy cajun rub that are always a hit at any party!
Ingredients
2 lbs chicken wings, cut into pieces (drumette, flats, wing tips)
3 tbsp cajun seasoning
Instructions
To Bake Crispy Wings:
Preheat oven to 400°F.
Pat chicken wings dry with paper towels.
In a large mixing bowl or plastic bag, add chicken and seasoning and toss to coat completely.
Line two large baking sheets (with a large rim) with parchment paper or foil.
Set a wire rack (preferably a nonstick rack, or lightly greased) over baking sheets.
Divide wings between wire racks and spread out in a single layer.
Bake wings until cooked through and skin is crispy, 45–50 minutes.
For extra crunch, broil under broiler on high for 2-3 minutes per side - watch CAREFULLY to make sure wings don't burn or over-crisp.
Nutrition Information
Yield
12
Serving Size
2 wing pieces
Amount Per Serving
Calories

258
Total Fat

19g
Saturated Fat

7g
Trans Fat

0g
Unsaturated Fat

11g
Cholesterol

64mg
Sodium

1122mg
Carbohydrates

8g
Fiber

1g
Sugar

0g
Protein

13g