Easy Cajun Baked Chicken Wings Recipe - delicious juicy, crispy chicken wings in a spicy cajun rub that are always a hit at any party!
Spicy, salty, crunchy chicken wings are one of my all time favorite things to eat - especially at a party.
While making wings can take a ton of time and patience - these crunchy baked chicken wings have the crunchy texture of deep fried, battered wings - but straight from the oven, with NO breading!
These crunchy baked cajun chicken wings use your oven to get a perfect crunchy texture - and are naturally low carb, perfect if you're looking for a keto chicken wing recipe.
These baked cajun chicken wings are so addictive, I always not doubling the batch - my husband and I could eat them all! They are always the first thing gone at a party, and always a huge hit!
I hope you love these crunchy baked cajun chicken wings as much as I do.
Just Take Me To The Best Baked Cajun Chicken Wings Recipe Already!
I get lots of questions and comments on my posts – so I try to provide as much information in them as possible for my readers.
If that isn't your thing, please scroll to the bottom of the page where you will find the easy printable recipe.
How To Bake Crispy Cajun Chicken Wings
To bake these Keto Crispy Cajun Chicken wings, you will need the following basic tools:

-Foil or Parchment Paper

Easy Cajun Seasoning Recipe
Cajun wings starts off with a crucial ingredient - cajun seasoning!
If you don't have a cajun seasoning you love - or would like to make your own - I am providing a recipe for the best cajun seasoning.
This cajun seasoning is great on chicken, fish, shellfish, beef, pork - and even vegetables!
2 tablespoons garlic powder.
2 tablespoons Italian seasoning.
1 tablespoon black pepper.
1 tablespoon cayenne pepper.
1 tablespoon dried thyme.
1 tablespoon onion powder.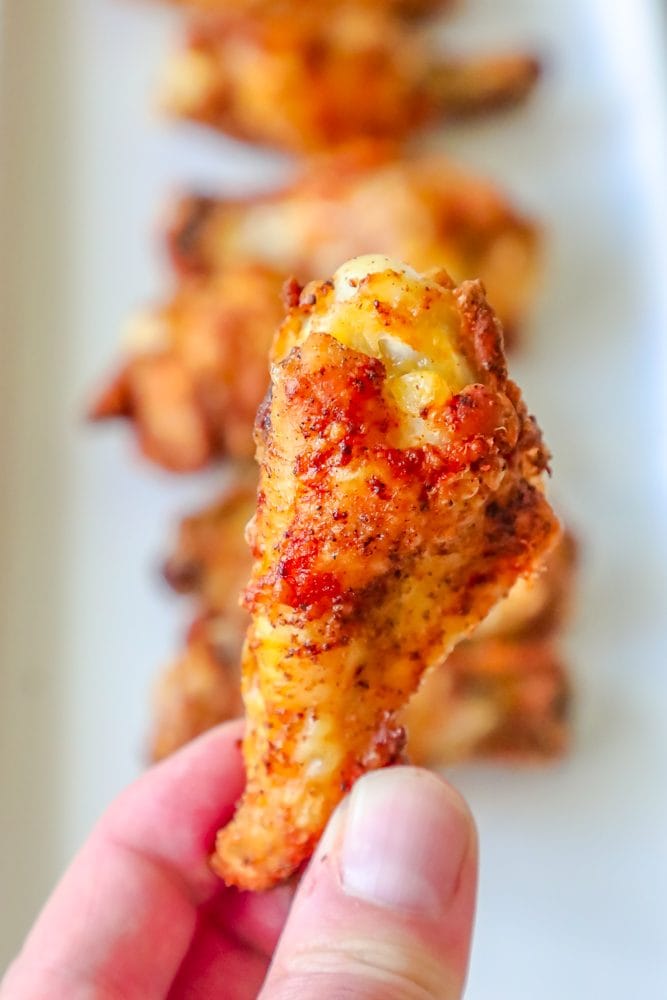 How to Cut Chicken Wing Pieces
I often buy flats of chicken wings from my grocery store because they are much more affordable - and often more fresh!

Cutting your own chicken wings saves a ton of money, so I try to always trim my own chicken wings whenever I can. For this recipe, you can use the whole wing intact - but I find the texture is the best when I cut them.

Cutting chicken wings down to pieces makes them easier to eat, and also helps get a super crispy texture!

To cut chicken wings into thirds - flat, drumette, and tip of the wing - follow the instructions below:

-Using a sharp large chefs knife, feel for the joints between the 3 main parts to a chicken wing - the wing tip, the flats, and the drumette.

-Bend the joints backwards, using your hands, to get them to loosen.

-Use your knife to feel where the bones come together, and pressing down hard, cut through the joint. (You don't want to try to cut the bone - but find the space in between the bones.)

-While you can cook wing tips, they often dont have much (if any) meat to them. Discard any that don't look to offer you much meat.
HOW TO GET CRISPY BAKED CHICKEN WINGS
Crispy and crunchy wings – with no extra breading – take a bit of technique to get to perfectly mimic a deep fried wings texture.

If you're looking for crunchy keto chicken wings – this is one technique you will want to bookmark to use again and again!
-Pat wings dry completely before baking.

We're using the fat in the chicken wings to crisp them without frying – which is easier if wings are completely dry going into the oven.

Excess liquid from packaging or water on your wings can cause wings to steam instead of crisp – making skin soggier. Quickly pat wings dry with a paper towel to get a crispier wing.

-Cook wings on wire rack for extra crispy wings.

Cooking chicken wings on a wire rack encourages better air circulation all around the chicken wings, which will help them cook faster and crisp more.

Lightly grease wire racks with olive oil, coconut oil, or another fat you prefer to make it less likely to stick to the chicken wings.
Other Cajun Recipes You'll Love
If you love these easy crunchy cajun chicken wings, you'll love my other recipes with rich cajun seasoning flavor!
These recipes have the most delicious, spicy and salty cajun flavor - you are sure to love them!
Click each link to find the easy printable recipe:
The Best Cajun Recipes
Recipes full of cajun seasoning flavor!
Other Chicken Wings You'll Love
If you love the best baked cajun chicken wings recipe, please be sure to check out my other chicken wing recipes you are sure to love!
These chicken wing recipes are all easy and delicious crowd pleasing favorites!
Chicken Wings Recipes
The best delicious chicken wing recipes ever!
Cajun Baked Chicken Wings Recipe
If you love this keto cajun baked chicken wings recipe as much as we do, please give it a five star review (just click the stars below) and help me share on facebook and pinterest!
CONNECT WITH SWEET C'S!
Be sure to follow me on my social media, so you never miss a post!
Facebook | Twitter | Youtube | Pinterest | instagram
Sign up to receive an email in your inbox for each new recipe:
FREE EMAIL SUBSCRIPTION
Yield:

16 wing pieces
The Best Baked Cajun Chicken Wings Recipe
Easy Cajun Baked Chicken Wings Recipe - delicious juicy, crispy chicken wings in a spicy cajun rub that are always a hit at any party!
Ingredients
2 lbs chicken wings, cut into pieces (drumette, flats, wing tips)
3 tbsp cajun seasoning
Instructions
To Bake Crispy Wings:
Preheat oven to 400°F.
Pat chicken wings dry with paper towels.
In a large mixing bowl or plastic bag, add chicken and seasoning and toss to coat completely.
Line two large baking sheets (with a large rim) with parchment paper or foil.
Set a wire rack (preferably a nonstick rack, or lightly greased) over baking sheets.
Divide wings between wire racks and spread out in a single layer.
Bake wings until cooked through and skin is crispy, 45–50 minutes.
For extra crunch, broil under broiler on high for 2-3 minutes per side - watch CAREFULLY to make sure wings don't burn or over-crisp.
Nutrition Information
Yield
12
Serving Size
2 wing pieces
Amount Per Serving
Calories

258
Total Fat

19g
Saturated Fat

7g
Trans Fat

0g
Unsaturated Fat

11g
Cholesterol

64mg
Sodium

1122mg
Carbohydrates

8g
Fiber

1g
Sugar

0g
Protein

13g