Air Fried Nandos Chicken Wings Recipe – an easy keto air fried chicken wing recipe tossed in a spicy garlic nandos sauce that everyone loves!
Just Take Me To The Recipe Already! 
I get lots of comments and questions on my recipes looking for tips and tricks – as well as similar recipes – so I try to provide as much content as possible for my readers.
There is a lot of extra info in this post, but I add it in so you can get perfect results, every time.
If you'd rather skip over it, please scroll to the bottom of the page where you will find the easy printable recipe.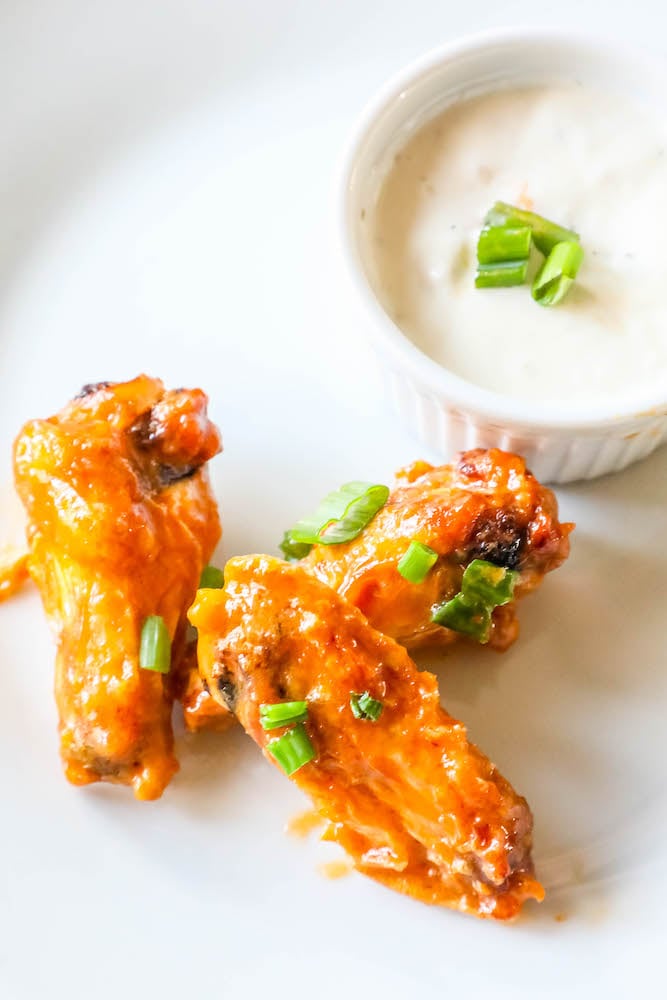 How To Air Fry Chicken Wings
It couldn't be any easier than this simple method for how to air fry chicken wings – just season, place in the fryer basket, flip the wings, and then toss in sauce!
You don't have to worry about wings being cooked through – this method is SO easy in an air fryer.
I'm also giving a simple and easy option to make in the oven if you don't have an air fryer – extra no oil needed! 
There are a couple of tips and tricks to get perfect air fried wings every time – to get the best wings, follow these simple tricks:
Don't stack wings on top of each other 
While it will take extra time, wings should be given enough room to crisp up in the basket on their own – overcro
wding the pan will cause the chicken to not fry at as high a temperature, making them soggier and less crispy and crunchy.
Shake basket every 5 minutes
This will help to ensure your wings crisp evenly.
Some people flip their wings with tongs – which is certainly more accurate – but if you'd like to speed up the process, shaking the basket well will help move the wings around enough to flip them without having to flip each individual wing.
Simply remove the basket as the air fryer is cooking and give it a quick shake – then place back in the fryer and let it continue to cook.
Toss wings in sauce in a bowl
The easiest way to add sauce to your wings is to place wings from the air fryer into a large bowl, and th
en drizzle sauce mixture on top, tossing wings in it as you go.
When wings are coated, plate and serve immediately.
Extra Crunchy Air Fried Wings
If you want super-crunchy air fried wings, there is a little bit of a process to get the wings to crisp without breading (your sauce will be fried in with the wings at the end for a chicken wing that is less wet or sticky feeling, and more crunchy.)
To get extra crunchy wings, follow these steps:
Fry chicken wings as called for, except the final round at 400 degrees.
Toss wings in sauce.
Shake off excess. 
Place back in fryer basket and fry at 400 for 3-4 minutes.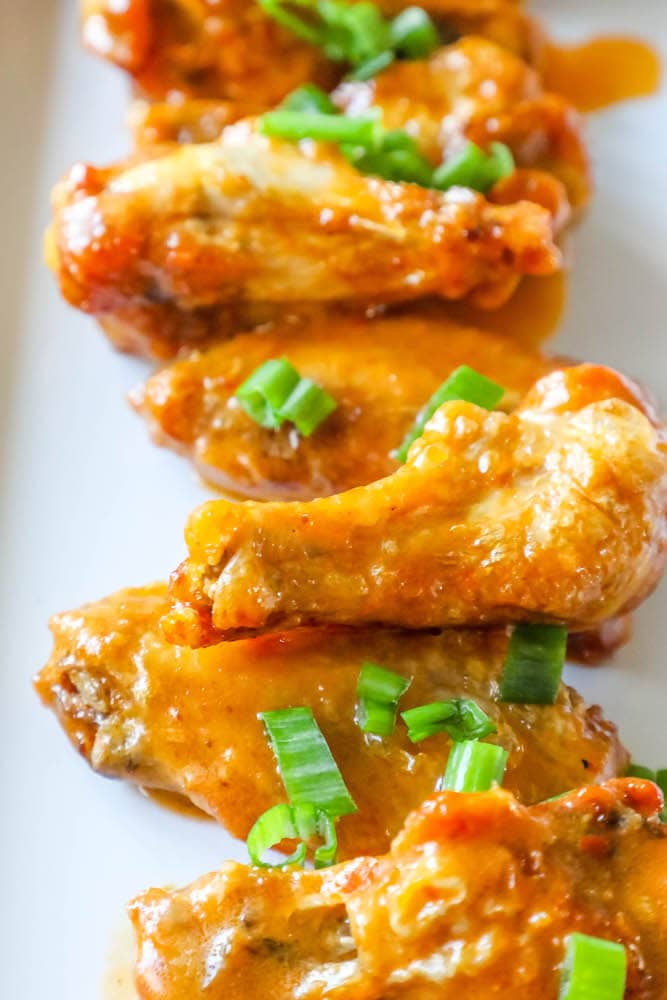 It can be so hard to find sauces and dips that are keto compliant or low carb – so many have added sugars!
If you've ever been to London (or the handful of US cities that have a Nandos), you know how delicious their peri peri sauce is – it is tangy, full of flavor, and often spicy!
I was over the moon when US grocery stores started carrying Nando's sauces – and have two go-to recipes bursting with Nandos flavor – 3 Ingredient Nandos Peri Peri Chicken and One Pot Knockoff Nandos Spicy Peri Peri Rice.
While the rice doesn't qualify as a keto dish, the chicken does – because all of Nando's sauces are keto and low carb friendly!
I don't just love Nando's Peri Peri Sauces for the amazing flavor – I love to use them because they all are sugar and carb free, making them the best choice for wings, chicken drumsticks, and more.
Hot, mild, XX Hot, Garlic, Lemon and Pepper – all have no carbs, according to their bottle's nutrition information.
Since Nando's sauce is delicious on wings, chicken, steak, fish, vegetables, pork, and even in rice – there are so many ways you can use it.
To buy a sampler pack of Nandos sauces, please click here.
Other Keto Chicken Recipes
If you love low carb keto friendly chicken recipes, be sure to check out some of my favorites:
Easy Keto Low Carb Cheesy Pizza Chicken
Easy Air Fryer Lemon Chicken Recipe
3 Ingredient Nandos Peri Peri Chicken
Easy Low Carb Slow Cooker Creamy Chicken Marsala
Slow Cooker Chicken Taco Bowls Recipe
One Pot Garlic Butter Chicken Thighs and Mushrooms
Other Easy Air Fryer Recipes
If you love this air fried chicken wings recipe, please check out some of my other air fryer favorites:
Easy Air Fryer Lemon Chicken Recipe
The Best Easy Air Fryer French Fries Recipe
Easy Air Fryer Lemon Chicken Recipe
Air Fried Nandos Chicken Wings Recipe
If you love this delicious easy keto air fried nandos chicken wings recipe as much as I do, please give it a five star review and help me share on facebook and pinterest!
CONNECT WITH SWEET C'S!
Be sure to follow me on my social media, so you never miss a post!
Facebook | Twitter | Youtube | Pinterest | Instagram
Sign up to receive an email in your inbox for each new recipe:
FREE EMAIL SUBSCRIPTION
To shop my favorite air fryer essentials, please visit my Amazon storefront here.
Yield:

12 wings
Air Fried Nandos Chicken Wings Recipe
Air Fried Nandos Chicken Wings Recipe - an easy keto air fried chicken wing recipe tossed in a spicy garlic nandos sauce that everyone loves! 
Ingredients
1 tbsp extra virgin olive oil
12 chicken wings
1 tsp salt
1 tsp fresh cracked pepper
4 tbsp nandos sauce
2 tbsp butter
Instructions
In a bowl or plastic bag, toss wings in olive oil. This wont coat wings much, it is just a little oil to help crisp the wings more.
Generously salt and pepper wings.
Place wings in air fryer basket so they aren't crowding each other.
Fry in air fryer for 25 minutes at 375 degrees, pulling out basket to quickly shake wings to rotate them every 5 minutes or so.
After 25 minutes, shake wings again, and then fry at 400 for 6 minutes to make wings extra crunchy.
As wings are in final fry, melt butter in small pot on stovetop, adding in nandos sauce when it is melted.
Stir well to mix, remove from heat.
Add chicken wings when fried to a large bowl.
Drizzle sauce over wings, stirring them to mix sauce evenly.
Toss wings in sauce until evenly coated.
Plate and serve immediately.
Nutrition Information
Yield
6
Serving Size
2 wings
Amount Per Serving
Calories

492
Total Fat

35g
Saturated Fat

11g
Trans Fat

0g
Unsaturated Fat

22g
Cholesterol

250mg
Sodium

633mg
Carbohydrates

1g
Fiber

0g
Sugar

1g
Protein

41g