This cheesy broccoli cauliflower sausage casserole is packed with protein and veggies. Your whole family will love this down-home classic!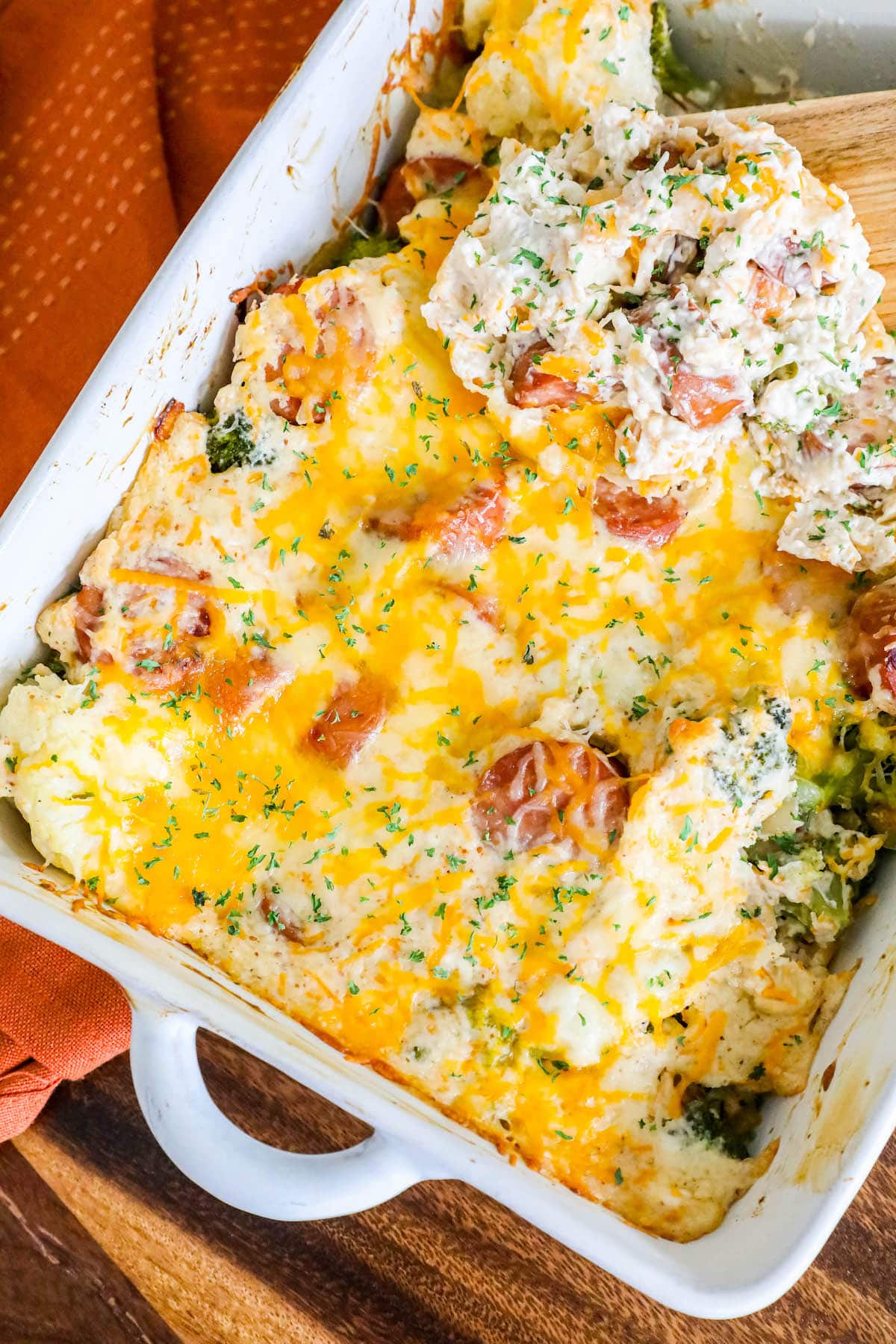 Don't want all the extras in a recipe post? We provide a skip to recipe button in the top left corner, as well as a clickable table of contents, just below, to help make this page easier to navigate.
Easy Cheesy Veggie Packed Sausage Casserole
Cheesy sausage broccoli and cauliflower casserole is a comforting and hearty dish that is perfect for a family dinner or potluck!
This over-the-top dish adds a cheesy sauce made with sausage, cheese, and seasonings, mixed with tender broccoli and cauliflower florets, and baked until bubbly and golden brown. This casserole is a great way to get your daily dose of vegetables while satisfying your craving for something rich and cheesy!
How to make Cauliflower Broccoli Sausage Casserole
First you will want to assemble and prepare the following ingredients:
Broccoli florets - Broccoli adds a slightly sweet and nutty flavor to a cheesy casserole, which contrasts well with the rich and savory cheese sauce.
Cauliflower florets - Cauliflower adds a mild and slightly sweet flavor to a cheesy casserole, which helps to balance the richness of the cheese and sausage.
Olive oil - olive oil is a great oil to sauté vegetables and brown before adding to a casserole, adding depth and heart-healthy fats to the dish.
Yellow Onion - Yellow onion brings a savory and slightly sweet flavor to a cheesy casserole, which provides a rich and aromatic base for the dish.
Garlic - Garlic adds a pungent and slightly spicy flavor to a cheesy casserole, which helps to balance the richness of the cheese and sausage, and adds depth and complexity to the dish.
Smoked sausage or andouille - smoked sausage adds a protein hit and rich flavor, you can use beef or pork sausage.
Cream cheese - cream cheese adds some lovely fat to this casserole and thickens the cheese sauce.
Mayonnaise - mayo is the base for the creamy casserole.
Mexican blend cheese - this cheese blend is a mixture of Monterey jack, Colby, and cheddar cheese with some added spices.
Dijon mustard - Dijon mustard is distinct from regular mustard because it has horseradish and white wine in it which gives this casserole a wonderful flavor.
Sea salt - use high quality sea salt to season the veggies and sausage.
Fresh cracked black pepper - pepper adds a wonderful heat that balances out this dish. Add extra pepper if you want it spicier.
Once you've gathered your ingredients, we will use the following method:
Tips and Tricks for a Perfect Cheesy Casserole
Blanch or sauté the broccoli and cauliflower: Parcooking the vegetables before baking helps to soften them and ensure even cooking.
Use high-quality sausage: Choose a high-quality sausage with a bold flavor that can stand up to the other ingredients in the casserole.
Use a blend of cheeses to kick up the flavor: A blend of cheeses such as cheddar, mozzarella, and parmesan will provide a more complex and flavorful sauce than using just one type of cheese.
Season well: Don't be shy with the seasonings. Use a generous amount of salt, pepper, and any other seasonings you like to bring out the flavors in the dish.
Don't overcook: Be careful not to overcook the casserole, as this can cause the cheese to become stringy and the vegetables to become mushy.
Let it rest: Allow the casserole to rest for a few minutes after baking, as this will allow the flavors to meld together and make it easier to serve.
FAQs
Can I use frozen vegetables for this recipe?
Yes, frozen broccoli and cauliflower can be used for this recipe. Just make sure to thaw and drain them before using.
Can I use a different sausage for this recipe?
Yes, you can use any type of sausage you like for this recipe, whether it's spicy Italian sausage, sweet Italian sausage, or breakfast sausage.
Can I make this recipe ahead of time?
Yes, you can prepare the casserole in advance and keep it in the refrigerator until ready to bake. You may need to add a few minutes to the baking time if the casserole is cold.
Can I freeze this casserole?
Yes, you can freeze the casserole for up to 2-3 months. To freeze, let the casserole cool completely, then cover tightly with plastic wrap and foil. When ready to serve, thaw the casserole in the refrigerator overnight, then bake as until bubbly and hot.
Can I use other types of cheese?
Yes, you can use any type of cheese you like for this recipe, whether it's cheddar, mozzarella, or a blend of cheeses. Just make sure to choose a cheese that melts well and has a bold flavor.
What to Serve With Broccoli and Cauliflower Sausage Casserole
Garlic bread or dinner rolls pair well with casserole as a light, fluffy side dish that absorbs tons of cheesy flavor.
Roasted vegetables such as carrots, asparagus, or Brussels sprouts make light, delicious side dishes loaded with nutrients and a contrast to rich cheesy casseroles.
A side salad with mixed greens, cherry tomatoes, and cucumbers.
Grilled or roasted chicken or steak add protein to a meal with this casserole.
A cold beer or glass of red wine pair perfectly with hearty and rich cheesy casseroles.
For some perfect salads to serve alongside, find our recent favorites below:
Broccoli Cauliflower Sausage Casserole Recipe
If you love this easy recipe please click the stars below to give it a five star rating and leave a comment! Please also help me share on facebook and pinterest!
Click here to view the web story for this recipe!
CONNECT WITH SWEET C'S!
Be sure to follow me on social media, so you never miss a post!
Facebook | Twitter | Youtube | Pinterest | Instagram
Only have 30 minutes to get dinner on the table? Sign up for my 30 minute dinner plans direct to your inbox!
Find and shop my favorite products in my Amazon storefront here!
Yield:

8
Broccoli Cauliflower Sausage Casserole
Ingredients
1 pound broccoli florets
½ pound cauliflower florets
1 tablespoon olive oil
1 small yellow onion, finely diced
2 teaspoon fresh garlic, minced
12 ounces smoked sausage or andouille, sliced into 1-inch rounds
8 ounces cream cheese, room temperature, cut into cubes for easier mixing
½ cup mayonnaise
2 cups shredded mexican blend cheese, divided
2 tablespoons dijon mustard
½ teaspoon sea salt
Fresh cracked black pepper to taste
Instructions
Preheat oven to 400˚F.
Bring a large half-full pot of salted water to a boil.
Add broccoli florets and cauliflower florets to the boiling water and cook for 6 minutes. Drain and set aside.
Add olive oil to a skillet over medium-high heat.
Add onions and cook for 2 minutes.
Add garlic and cook for 20 seconds.
Stir in smoked sausage and cook for 3 minutes, or until browned on all sides, stir frequently to prevent burning.
Set broccoli, cauliflower, and sausage mixture in a lightly greased 9 x 13 baking dish.
In a mixing bowl combine cream cheese, mayonnaise, 1 cup shredded cheese, dijon mustard, salt, and pepper; mix until thoroughly incorporated.
Pour the cream cheese mixture into the broccoli mixture. Stir around until everything is well combined. Add remaining shredded cheese on top.
Bake for 12 to 15 minutes, or until cheese is melted and top is golden brown. Enjoy!
Nutrition Information
Yield
8
Serving Size
1
Amount Per Serving
Calories

499
Total Fat

45g
Saturated Fat

17g
Trans Fat

0g
Unsaturated Fat

23g
Cholesterol

92mg
Sodium

968mg
Carbohydrates

9g
Fiber

3g
Sugar

4g
Protein

17g
Nutrition is automatically calculated by Nutritionix - please verify all nutrition information independently and consult with a doctor or nutritionist for any and all medical and diet advice.