Delicious, easy and a perfect gift idea- this chocolate chip cookie dough fudge is a perfect, microwaveable treat!
I know it might seem early- but I am full in the swing of planning Christmas gifts for family, friends, neighbors and teachers.
I love to give delicious, fun, and unique gifts during the holidays- and this recipe for Chocolate Chip Cookie Dough Fudge is a fabulous gift!
This fudge isn't just great at Christmas- it is great any time of year- but you can't go wrong with everyone's favorite cookie flavor in fudge form!
I like to give fudge in cute mason jars when giving as a gift. How cute are these jar toppers, twine, and tags from Joann Fabrics and Crafts?
This fudge is so simple and easy- you can make it in the microwave and stir, then let it cool and set! It takes just a few minutes active time and about an hour to set in the fridge- so it's a perfect last minute gift!
Chocolate Chip Cookie Dough Fudge
Ingredients
2 pkg. (4 oz. each) White Chocolate Chips
1 cup Chocolate Chips (I prefer mini)
½ cup butter, divided
1 cup water
1 pkg. (3.9 oz.) Cookie Dough Flavor Instant Pudding OR Sugar Cookie Mix (the powdered kind in a bag)
3 cups powdered sugar
Instructions
Line 8-inch square pan with Foil, with ends of foil extending over sides.
Microwave chocolate, butter, and water in large microwaveable bowl on HIGH 2 min. or until butter is melted.
Add dry pudding mix and stir until mixture becomes thick and creamy.
Add sugar, 1 cup at a time, stirring after each addition until well blended.
Add chocolte chips to fudge and stir quickly (don't overstir or they will melt into fudge).
Press onto bottom of prepared pan with back of spatula.
Refrigerate 2 hours or freeze 30 minutes- until firm.
Eat or pack in airtight container with parchment paper between each layer and store in refrigerator.
If you love making fudge at Christmas as much as I do, you should also check out some of my other favorite Christmas treats:
Single Serve Microwave Peppermint Fudge
Christmas Candy Cookie Dough Fudge,
a divine Rocky Road Fudge,
White Chocolate Peppermint Bark,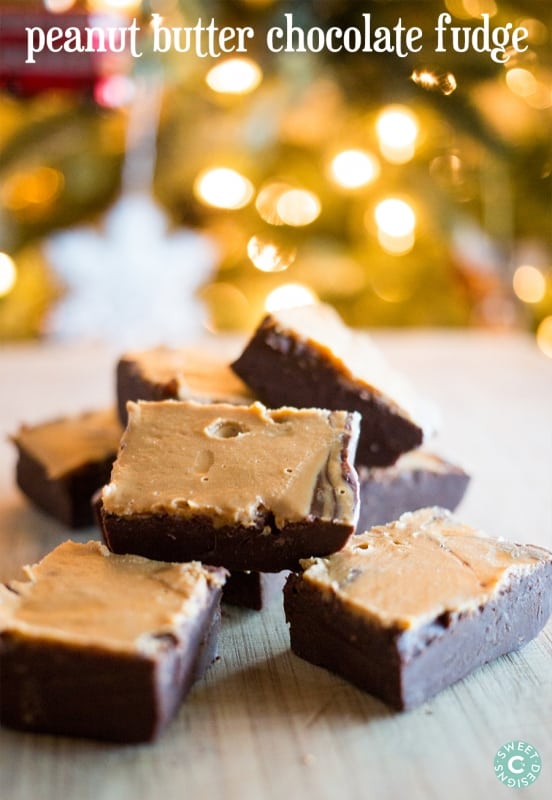 and Peanut Butter Chocolate Fudge!