Eggplant Caponata is a delicious and earthy dish that is equally at home as a vegetarian main dish, or as a hearty side dish for a roast dinner or pasta.
Don't want all the extras in a recipe post? We provide a skip to recipe button in the top left corner, as well as a clickable table of contents, just below, to help make this page easier to navigate.
Table of contents
Easy Eggplant Caponata
Caponata is a delicious and easy-to-make dish that will fast become a favorite at your dinner table.
Eggplant caponata is a casserole of sorts, make of roasted or fried eggplant with a sauce of tomatoes, onion, garlic, and capers. It's easy to make and packs a ton of flavor.
This dish hails traditionally from Scilly, though a variant from the city of Palermo includes octopus. Sicilian nobility would add lobster and swordfish and garnish with wild asparagus. Some local variants might include carrots, bell peppers, potatoes, pine nuts, or raisins.
This dish is hearty enough to stand on its own as a vegetarian main dish, but could easily accompany pasta or roast meat main course.
How to make Eggplant Caponata
To make this recipe, you'll need:
Eggplant - Eggplants are often used in vegetarian cooking as their soft flesh absorbs fats and flavors well, and has a texture similar to meat. It's technically classified as a botanical berry but is treated as a vegetable in the culinary world.
Olive Oil - Olive oil is a staple of Mediterranean cooking. Its nutty and rich flavor is a great complement to the eggplant and other vegetables used in this traditional dish.
Celery - Celery brings a salty, and fresh vegetal flavor to the dish, which compliments the sweetness of the onion when it's cooked.
Onion - Onion brings a rich and earthy flavor to this dish and a sweetness that balances well with the vinegar and brine of the capers.
Garlic - Garlic, the tangy and pungent cousin of the onion, provides great umami flavor and richness to the caponata.
Canned Tomatoes - Canned tomatoes are sweet and acidic. The skinless, canned tomatoes make adding this deep rich flavor dish easy.
Olives - Olives are another classic Mediterranean ingredient. Their salty, fatty flavor balances out the sweetness of the other vegetables.
Capers - Capers are an ingredient particularly common in Scicillian, southern Italian, and Greek foods. Capers are brined and bring a bright, acidic element to the dish.
Red Wine Vinegar - Red wine vinegar brings out the acidity in the tomatoes and pairs perfectly with eggplant.
Sugar - Sugar helps to balance and even out the many savory and competing flavors that make up this dish.
Parsley - Parsley is a fresh and light flavor to adorn the many rich flavors of this casserole.
Italian Seasoning - This blend of oregano, basil, thyme, rosemary, and marjoram is a staple of Italian cooking and flavors that complement chicken and beans well.
Once you've gathered your ingredients, we will use the following method:
Prepare the ingredients. Cut your eggplant into cubes and set it aside. Dice the celery, onions, olives, and capers and set them aside individually. 
Roast the eggplant.  Drizzle the eggplant with olive oil and salt and pepper on a parchment-lined baking sheet. Roast in a 400o oven until tender, about 18-20 minutes. 
Build the sauce. In a large, heavy skillet cook the onions and celery for 5-7 minutes until softened. Then add the minced garlic and cook for another minute to soften the garlic. Add the remaining ingredients and cook the sauce for 1-2 minutes to combine. 
Add the eggplant and finish. To the sauce, add the roasted eggplant and cook for 4-5 minutes until it bubbles and thickens. Serve warm with a garnish of chopped parsley and fresh cracked pepper. 
Tips and Tricks to Perfect Eggplant Caponata:
Eggplant Caponata is an easy dish, but these tips will make your cook even better.
Tip 1 - Use a dutch oven to prepare the caponata. Use a 10" or larger enamel or cast iron dutch oven to cook the ingredients. These high-sided and heavy dishes are perfect for simmering the eggplant and other ingredients together.
Tip 2 - For more texture, leave the skin on the eggplant. Leaving the skin on the eggplant adds extra texture and flavor. I left the skin on, though some people can find the skin slightly bitter when cooked. If you're sensitive to the flavor of the skin, go ahead and peel it.
FAQs
How long can caponata be kept in the fridge?
Caponata can be kept in the refrigerator for up to seven (7) days. Many in Scilly are known to pressure can their caponata to keep over the winter.
Can I use other ingredients in caponata?
Caponata can be kept in the refrigerator for up to seven (7) days. Many in Scilly are known to pressure can their caponata to keep over the winter.
What to serve with Eggplant Caponata:
Easy Eggplant Caponata can be served as a vegetarian main dish. I recommend good crusty bread be served with it. My no-knead bread or jalapeno cheese bread would be great choices.
For more of an international flair, pair it with Khachapuri Georgian Cheese Bread.
Roast chicken, lemon chicken, or pork would also make an excellent main dish to accompany eggplant caponata. Our try my herb butter baked pork loin and potatoes.
Click here to check out other amazing vegetable recipes.
Easy Eggplant Caponata Recipe
If you love this easy recipe please click the stars below to give it a five star rating and leave a comment! Please also help me share on facebook and pinterest!
CONNECT WITH SWEET C'S!
Be sure to follow me on social media, so you never miss a post!
Facebook | Twitter | Youtube | Pinterest | Instagram
Only have 30 minutes to get dinner on the table? Sign up for my 30 minute dinner plans direct to your inbox!
Find and shop my favorite products in my Amazon storefront here!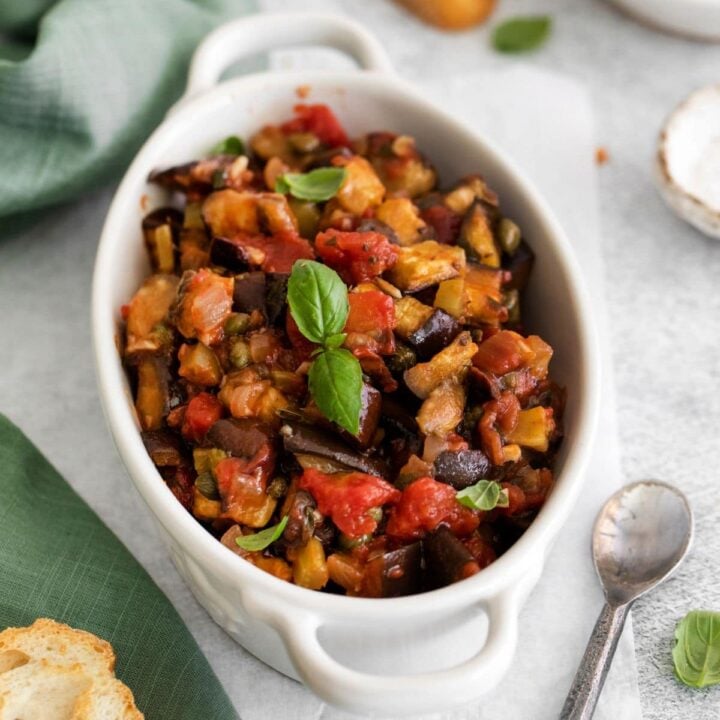 Yield:

4 servings
Eggplant Caponata
Eggplant caponata is a simple appetizer that features roasted eggplant, tomatoes, and olives seasoned with red wine vinegar, capers, and fresh herbs.
Ingredients
1 large eggplant, seeded and cut into ½" cubes
3 tablespoons olive oil, divided
½ cup diced celery
½ cup diced onion
2 cloves garlic, minced
1 (14 ounces) can of diced tomatoes
¼ cup olives pitted and roughly chopped
2 tablespoons capers, drained
2 tablespoons red wine vinegar
1 tablespoon granulated sugar
1 tablespoon chopped parsley
½ teaspoon dried Italian seasoning.
Instructions
Preheat the oven to 400F. Line a large baking sheet with parchment paper.
Place the cubed eggplant on the baking sheet and drizzle over 1 tablespoon of olive oil. Season with a pinch of salt and pepper.
Roast the eggplant for 18-20 minutes, or until it is fork tender.
Heat a large skillet over medium heat and add the remaining olive oil. Next add the celery and onion. Cook for 5-7 minutes, or until the vegetables are soft.
Add the garlic and cook for an additional minute.
Next add the tomatoes, olives, capers, vinegar, sugar, parsley, and italian seasoning. Stir to combine.
Add the eggplant to the tomato sauce and cook for another 5-7 minutes or until the sauce is thick and bubbling. Season with salt and pepper to taste.
While this caponata is delicious hot, it is most often served at room temperature.
Nutrition Information
Yield
4
Serving Size
1
Amount Per Serving
Calories

198
Total Fat

12g
Saturated Fat

2g
Trans Fat

0g
Unsaturated Fat

10g
Cholesterol

0mg
Sodium

232mg
Carbohydrates

24g
Fiber

6g
Sugar

11g
Protein

3g
Nutrition is automatically calculated by Nutritionix - please verify all nutrition information independently and consult with a doctor or nutritionist for any and all medical and diet advice.