Garlic herb butter baked pork loin and potatoes - delicious juicy pork loin and roasted potatoes baked in decadent garlic herb butter for an easy sheet pan dinner the whole family will love!
The most delicious, tender, and juicy pork loin - bursting with garlic and herb butter flavor.
If you love my crazy viral garlic butter pork tenderlion recipe, our Smoked Pork Ribs Recipe, Easy Slow Cooker Pork Steaks Recipe, or our easy baked pork chops - you're going to flip for this herb butter pork lion that is baked right alongside perfect roasted potatoes - for a main and side dish in just one pan!
This recipe is truly a one pot sheet pan dinner - it is loaded with flavor your family will love, and so easy to make, you'll want to make it all the time!
I hope you love this delicious pork loin and potato dinner as much as we do.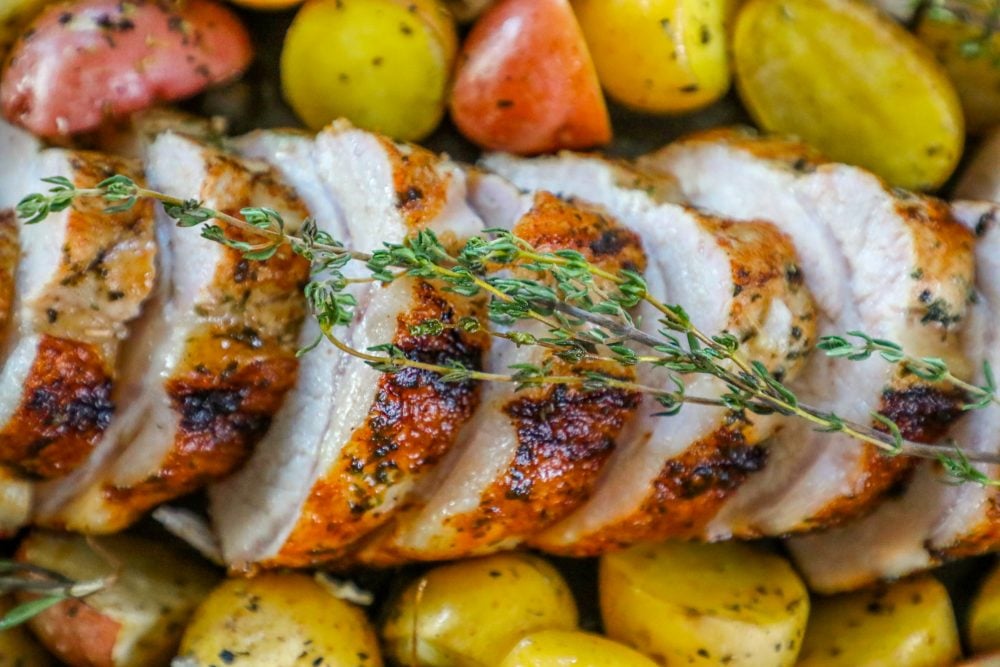 What is the difference between pork loin and pork tenderloin
I get a lot of questions on this recipe on whether to use pork tenderloin or pork tenderlion.
The two cuts of pork are from similar areas (off the back of the pig), and are both leaner and respond to the same cooking methods, but pork tenderloin is much longer and skinnier than a pork loin.
Pork loins tend to be much fatter, much heavier, and over 3 lbs – while a pork tenderloin will be longer, skinnier, and around 1-2 pounds.
For this recipe, I am calling for a Pork Loin – but a pork tenderloin will also work!
To make this baked pork loin recipe with a smaller, thinner pork tenderloin, continue with the recipe exactly as called for below, but plan on for 10-30 minutes less cooking time (this will vary wildly depending on your pork tenderloin, I always advocate for cooking off temperature rather than time when cooking meat.)
Simply check your pork loin's internal temperature as it bakes, and monitor for doneness.
You're looking for slightly pink in the middle, as food safety rules have changed and pork no longer needs to be cooked all the way to fully opaque and white in the middle.
Your instant-read thermometer should read 145 degrees when inserted into the thickest part of your pork loin when fully cooked.
How To Keep Pork Loin From Drying Out
Since pork loin has little fat, it can become tough very quickly when overcooked – I'm providing my best tips and tricks to keep pork loin moist below:
Marinating or brining pork loin before cooking will always help to soften the pork loin and keep it from drying out.
I love using a bottle of simple Italian Dressing or a cup of olive oil with some lemon juice, salt, and pepper for an easy overnight pork loin marinade.
Pork loin dries out very quickly when overcooked.
I often pull my pork loin at 140 degrees and tent it with foil to continue carryover cooking as it rests for about 10 minutes before serving.
You can let it rest for up to 15 minutes before serving while you finish up some side dishes, too!
Pork is properly cooked at 145 degrees, overcooking will dry out pork.
We made this recipe using boiler potatoes, cut in half - but you can use other types of potatoes, too.
Wash fingerling potatoes well, and pat dry. You can leave whole or cut in half.
Use 2 russet potatoes. Wash russet potatoes well and pat dry. Cut into 2" chunks.
Use 8-10 small blue potatoes. Wash well and pat dry, and cut into 2" chunks.
What to Serve With Pork Loin and Potatoes
If you're looking for a perfect side dish for this pork and potatoes sheet pan meal, or a delicious easy dessert, we have you covered!
You can also visit our easy side dishes recipe archives, or our easy dessert archives.
What temperature to cook pork loin to?
Pork loin is fully cooked when the internal temperature is 145 degrees.
Is pink pork loin safe to eat?
If your pork has reached 145 degrees internal temperature (measure the fattest part of the loin), it is fully cooked. This may contain a bit of pink - unlike chicken, color isn't an indicator of doneness.
Garlic Herb Butter Baked Pork Loin and Potatoes
If you love this easy recipe please click the stars below to give it a five star rating and leave a comment! Please also help me share on facebook and pinterest!
CONNECT WITH SWEET C'S!
Be sure to follow me on social media, so you never miss a post!
Facebook | Twitter | Youtube | Pinterest | Instagram
Only have 30 minutes to get dinner on the table? Sign up for my 30 minute dinner plans direct to your inbox!
Find and shop my favorite products in my Amazon storefront here!
Yield:

1 pork loin
Garlic Herb Butter Baked Pork Loin and Potatoes Recipe
Garlic herb butter baked pork loin and potatoes - delicious juicy pork loin and roasted potatoes baked in decadent garlic herb butter for an easy sheet pan dinner the whole family will love!
Ingredients
1 bottle Italian dressing, as marinade
3 lb pork loin
6 tbsp butter
1 tbsp celtic sea salt and fresh cracked pepper
4 tbsp butter, sliced into 4-6 pats
2 tbsp diced garlic
1 tsp dried basil*
1 tsp dried oregano*
1 tsp dried thyme*
1 tsp dried parsley*
½ tsp dried sage*
*OR 2 tbsp Italian Herb Seasoning Blend
1 lb red and yukon gold potatoes, halved
1 cup diced onion
Instructions
Marinate pork in Italian dressing, at least 30 minutes, preferably overnight.
Preheat oven to 350 degrees Fahrenheit.
Remove pork from marinade and discard marinade.
Pat dry and season well with salt and pepper.
Heat 2 tbsp butter in a large heavy pan.
Brown pork loin on all sides, about 2 minutes per side.
When pork loin has browned, add to roasting pan or baking sheet.
Melt rest of butter in pan and combine onion, herbs and garlic - heat 30 seconds and remove from heat.
Wash potatoes well and cut in half. Pat dry.
Arrange around pork loin in pan.
Generously season pork and potatoes with herbs, salt, and pepper.
Drizzle butter and herbs over pork and potatoes. Toss potatoes lightly to coat in herb butter.
Roast 20-30 minutes, checking temperature after 20 minutes.
When porks internal temperature reaches 140 degrees, remove from oven and let rest 10 minutes before carving.
Serve and enjoy!
Nutrition Information
Yield
6
Serving Size
1
Amount Per Serving
Calories

602
Total Fat

36g
Saturated Fat

15g
Trans Fat

1g
Unsaturated Fat

17g
Cholesterol

174mg
Sodium

1760mg
Carbohydrates

20g
Fiber

2g
Sugar

4g
Protein

48g
Nutrition is automatically calculated by Nutritionix - please verify all nutrition information independently and consult with a doctor or nutritionist for any and all medical and diet advice.
If you love this easy recipe, be sure to check out our reader favorites!
These tried and true recipes are huge hits and loaded with family friendly flavor.
Sweet C's Favorite Recipes
Favorite recipes from Sweet Cs Designs