Slow Cooker Honey Soy Chicken Wings
These spicy and sweet Slow Cooker Honey Soy Chicken Wings are the most delicious appetizer ever! Just dump in a crock pot and stir- out come the tastiest, fall-off-the-bone wings you'll ever make!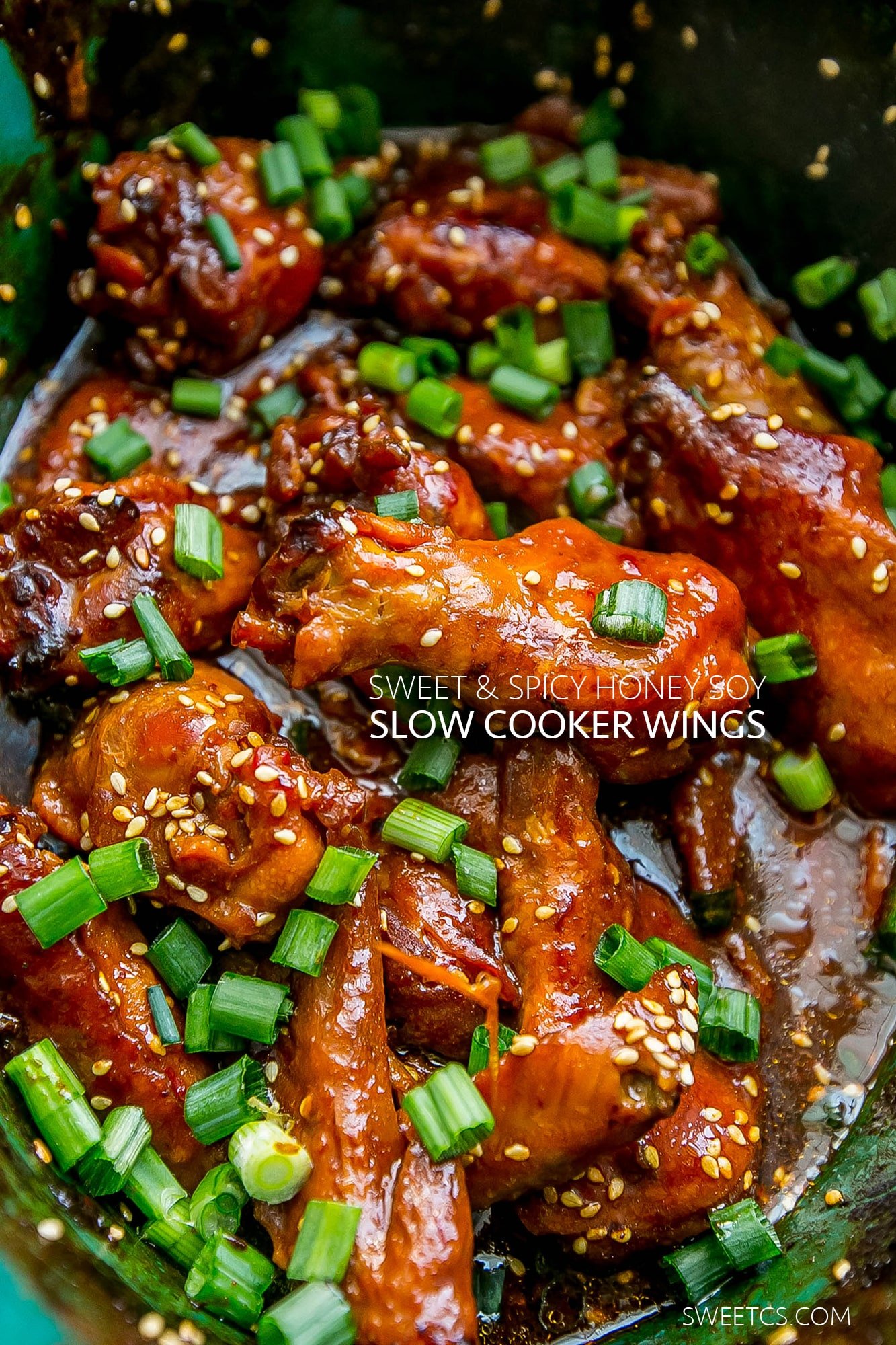 I love chicken wings.
They are delicious, easy to set out at parties, and always the first thing gone from my appetizer spreads.
But let's be honest, sometimes making wings can be a pain in the butt- especially the most delicious, fall-off-the-bone tender kind.
But that doesn't have to be the case.
I am not generally a fan of sweet wings- to me, wings need to be spicy and have a ton of flavor.
I love the sticky, thick texture honey gives to wing sauce when cooked on a low temperature over time though, so I knew i needed to find some bold, delicious spices to pair with the honey to get the flavor I was looking for- and then I just needed to figure out what way to cook them.
I recently saw these delicious Slow Cooker Honey Garlic Wings at my sweet friend Alyssa's site, and I was instantly inspired:
and I knew I needed to try the slow cooker method!
Only, I decided to make them my own and put a little bit of an asian-inspired twist on them with some shoyu (soy sauce), a little chili paste, and some special spices.
And right then, these Slow Cooker Honey Soy Chicken Wings were born!
The result was amazing!
And easy. Seriously- I can't get over how easy these wings are to make.
And they come out perfectly every time, with almost zero work!
Don't believe me? Check out this quick video I made while I made them (and be sure to subscribe to my YouTube Channel and give the video a thumbs up if you like it!!)
See how easy they are?
Also, I know you might be a bit freaked out by the baking soda coating. I get it- it just looks weird. And clumpy. But this just helps to draw a bit of moisture out of the chicken while they cook so they don't end up totally falling off the bone and maintaining their shape- as well as working to thicken the sauce.
It will look like you don't have enough sauce when you add it to your crock pot, but don't worry- the chicken will release a lot of moisture that will add to the sauce during cooking.
Simply stir the chicken once about every hour or so (no vigorous stirring, just move the wings around a bit and then put the lid back on and go about your day) to make sure the sauce is spread evenly.
These wings are the most delicious and easy appetizer ever.
And trust me- I am a girl who knows my wings!
I can't wait to make these again and again!
They are a little sweet, have a good punch of spice, and plenty of salty soy notes, mixed with a bit of tangy zip from some rice vinegar, and a bit of a punch of heat from some chili paste and cayenne pepper.
Plus, aren't they just gorgeous topped with sesame seeds and freshly sliced green onion?
Slow Cooker Honey Soy Chicken Wings Recipe
Makes 18-20 wings – 5 minutes active prep – 2-5 hours in the slow cooker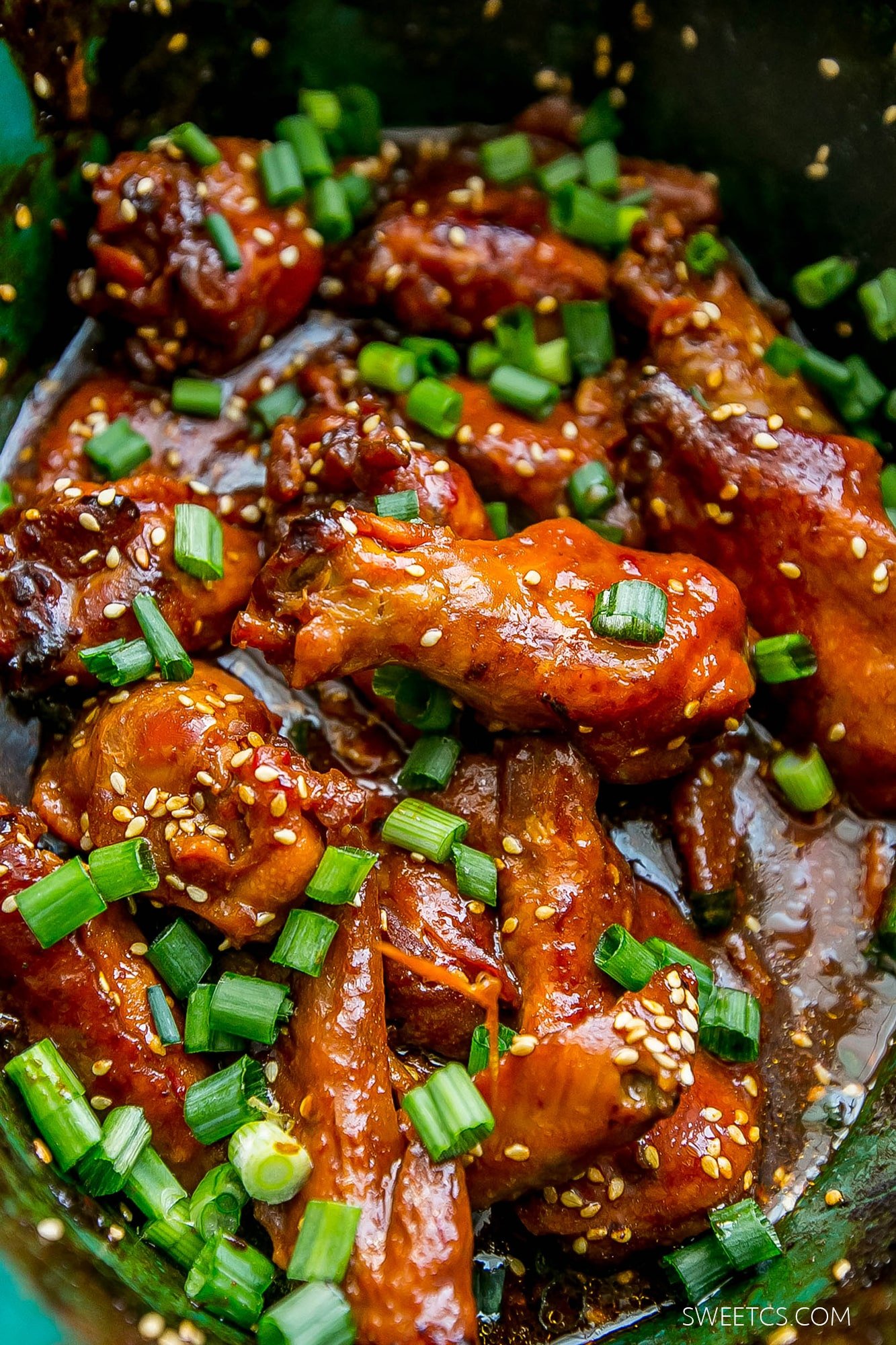 Slow Cooker Honey Soy Chicken Wings
These delicious slow cooker honey soy chicken wings are an easy set and forget appetizer that everyone loves! Sweet and spicy with a ton of flavor from your crock pot or slow cooker!
Cuisine:
American, asian inspired
Ingredients
2

tbsp

honey

1/4

cup

soy sauce

2

tbsp

rice vinegar

1

tbsp

chili paste

1

tbsp

onion powder

1

tbsp

garlic powder

1

tsp

cumin

1/2

tsp

cayenne pepper

2

tbsp

baking soda

1

lb

chicken wings

I cut them in between drum, wing, and tip but you can leave them whole if you prefer

To garnish:

3-4

green onions

diced

1

tbsp

sesame seeds
Instructions
In a medium sized bowl, add all ingredients except for the baking powder and chicken wings.

Stir well to combine, set aside.

Add chicken wings and baking soda to a ziploc bag, shake well to coat chicken wings evenly.

Add chicken wings to slow cooker.

Pour sauce over wings.

Cook on high for 2-3 hours. If cooking on low, cook for 4-5 hours.

Stir about once every hour just to make sure sauce is even on all wings.

When meat is easily separated from bone, and wings have reduced in size by about half, plate wings or serve right out of the slow cooker. Be sure to stir well to make sure all wings have a good amount of sauce on them.

Top with sesame seeds and freshly chopped green onions.

Time will vary based on the slow cooker or crock pot you use.
Nutrition Facts
Slow Cooker Honey Soy Chicken Wings
Amount Per Serving (181 g)
Calories 240
Calories from Fat 68
% Daily Value*
Total Fat 7.6g 12%
Cholesterol 82mg 27%
Sodium 852mg 36%
Total Carbohydrates 14.9g 5%
Protein 27.9g 56%
* Percent Daily Values are based on a 2000 calorie diet.
Need the perfect slow cooker to make these in and transport to a party? I love this Hamilton Beach Stay or Go Slow Cooker! It even comes with a carrying case!
And if you're curious about the nutritional analysis on these wings, they aren't the worst choice you can pick for an appetizer- and are pretty good when eaten in moderation.
One serving is about 4-5 pieces (which is about 2 full wings) – they are a bit high in sodium and cholesterol, but are a lower calorie pick compared to other appetizers that are often filled with calories and fat!
I hope you enjoy these wings as much as I do!
This post contains affiliate links. I make a small percentage off purchases made from readers which help me offset the costs of running Sweet C's. I only link to products I truly stand behind and believe in, as your trust is far more valuable than the small amount of money made from affiliate sales. Thank you for helping to support this website!