The Best Easy Air Fryer Cornish Game Hens recipe – tender, juicy delicious cornish game hens in under 40 minutes from an air fryer or Instant Pot with broiler lid!
Tender, delicious Cornish game hens with a crispy, golden crust are one of the most delicious dishes to serve at a dinner party or holiday dinner.
They are low carb and keto compliant, have a light, chicken-like flavor, present beautifully, and are so easy to make.
These air fried Cornish game hens are a perfect main dish for a smaller holiday dinner – each hen serves about 2 (if your guests are big eaters, you can serve 1 per guest), and make great leftovers.
I hope you love this recipe as much as we do!
We provide a skip to recipe button in the top left corner, as well as a clickable table of contents, just below, to help make this page easier to navigate.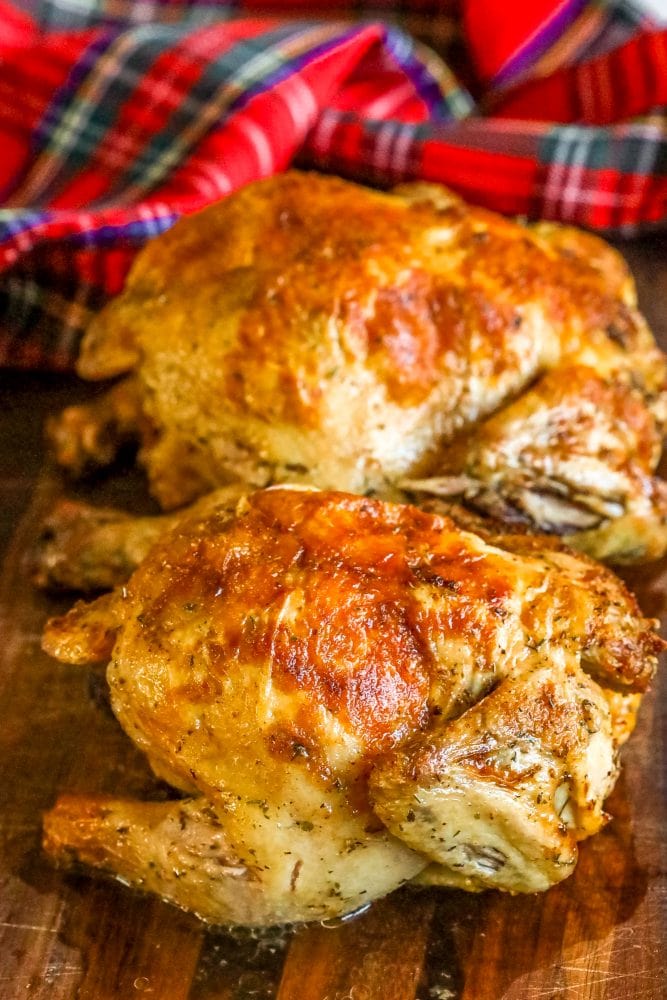 How Many Cornish Game Hens To Serve Per Person
One of the trickiest parts of serving Cornish Game Hens for a holiday dinner is planning out just how many to cook for a crowd!
Luckily, it can be easy to figure out with a little bit of planning!
While one Cornish hen per person might make the most sense for your dinner party, you might want to go for a little less, and serve it pre-carved to guests.
If you want to serve a meal with some meat left as leftovers, it is important to be sure you cook a slightly bigger portion per person.
Since cornish game hens are quite small, they really only give 1 – 1 1/2 servings per bird, making them a dish you really need to plan ahead to be sure you have the proper amount before roasting.
For larger portions dinners, plan for one cornish game hen per person for dinner.
This hen can be sliced and portioned and then served to dinner guests on a platter, or presented whole on a plate so the guest can carve their own hen.
How To Air Fry Cornish Game Hens
Cooking game hens in an air fryer is a delicious, easy way to get crunchy, juicy, deep-fried flavor without all the extra oil or carb-y breading.
If you love crunchy game hens, be sure to check my top tips for perfect air fried chicken legs below:
Run your air fryer for a few minutes before adding the food so it is hot and ready to go when you go to air fry your cornish game hens.
This is optional, but I feel it helps the skin to puff up and get a crispy "fried" texture.
Since air fryers are completely sealed off, it's hard to judge your hen's doneness by the look of it.
Don't open your air fryer constantly, letting heat escape – trust in the timing of the recipe, and a handy rapid-read digital meat thermometer.
Check the temperature of the game hen when you're already opening the air fryer to flip them – don't open it just to check the temperature or too much heat will escape.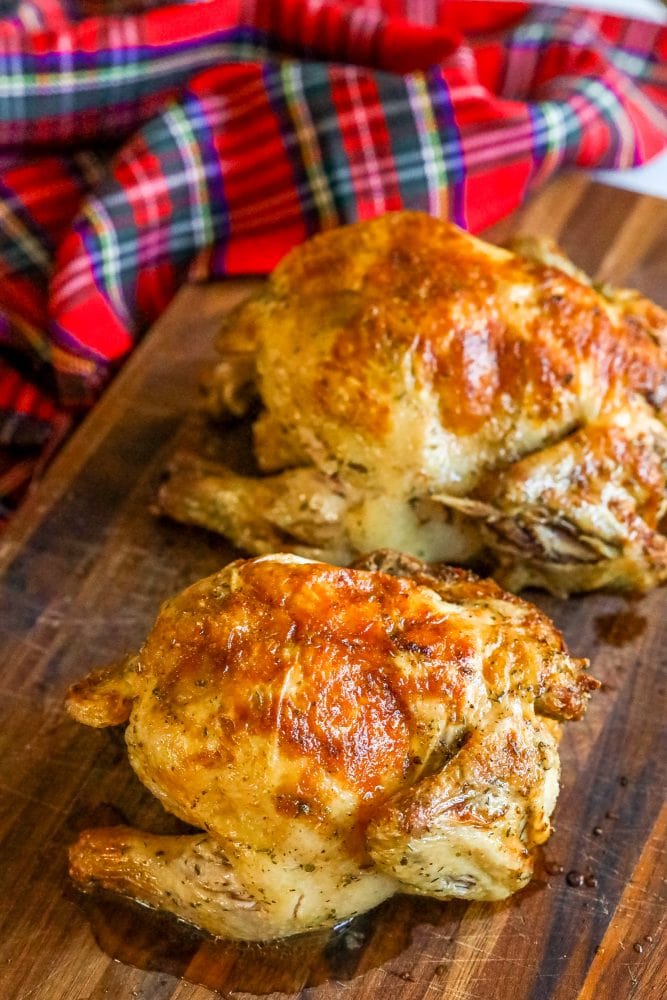 Use a Digital Thermometer
When your timer is done, immediately test the temperature of the game hens with a digital thermometer inserted into the middle of the thickest part of the chicken drumstick without touching bone.
Cornish game hens should be cooked to 165 degrees internally.
If poutry has not met 165 degrees internally, add another 2-5 minutes to cook time.
Air fryers help get hot air to circulate around the game hens to get a heat so high it makes meat taste fried – and to do that, it helps to not crowd the pan.
Put the Cornish game hens in your air fryer pan in a way they aren't crowding each other – it makes a huge difference.
Instant Pot Cornish Game Hens
If you have a crisping lid for your Instant pot, or an Instant Pot Duo crisp, you can also use your Instant Pot to air fry Cornish Game Hens!
If you need an air fryer crisplid for your Instant Pot, click here.
If you'd like to buy an Instant Pot with pressure cook and air fry functions, click here.
Use the method below to make these game hens in your Instant Pot:
Instant Pot Cornish Game Hens
Prep cornish game hens as called for in recipe below.
Place the hens in the CrispLid basket.
Place the trivet and the basket inside the inner steel pot.
Place the Crisplid on the Instant Pot.
Set to 425°F and follow instructions in recipe below.
How many Cornish game hens per person?
Plan on one game hen per person for hungry adults if it is a main course.
How big is a Cornish game hen?
Game hens run from 1-2 pounds, but most hens will weigh about 1 1/4 pound.
How can I get crispier skin?
Slather cooked game hen in a little butter and prop under the broiler for 2-5 minutes to crisp skin before serving.
The Best Easy Air Fryer Cornish Game Hens Recipe
If you love this easy recipe please click the stars below to give it a five star rating and leave a comment! Please also help me share on facebook and pinterest!
CONNECT WITH SWEET C'S!
Be sure to follow me on social media, so you never miss a post!
Facebook | Twitter | Youtube | Pinterest | Instagram
Only have 30 minutes to get dinner on the table? Sign up for my 30 minute dinner plans direct to your inbox!
Find and shop my favorite products in my Amazon storefront here!
Yield:

2 game hens
The Best Easy Air Fryer Cornish Game Hens Recipe
The Best Easy Air Fryer Cornish Game Hens recipe - tender, juicy delicious cornish game hens in under 40 minutes from an air fryer or Instant Pot with broiler lid!
Ingredients
2 Cornish game hens
salt and pepper to taste
1 lemon, quartered, to stuff in hens
2 sprigs fresh rosemary, to stuff in hens
1 tbsp Italian Herb Seasoning Blend
3 tbsp butter, softened
8 cloves garlic
Instructions
Preheat air fryer to 450F.
Rub chickens with 3 tablespoons of butter.
Lightly season chickens with salt, pepper, and herbs.
Place 1 lemon wedge, 4 garlic cloves, and 1 sprig rosemary in cavity of each hen.
Spray inside of air fryer basket with nonstick spray.
Reduce oven temperature to 350F.
Arrange chickens in air fryer basket.
Roast in preheated air fryer for 30 minutes
Flip hens, roast additional 10 minutes.
Remove hens from oven when they reach 170 degrees with an instant read digital thermometer.
Tent hens with aluminum foil as hens carryover cook, do not carve for at least 10 minutes.
Serve individual chickens on diners plates, and encourage them to carve tableside for a fun dinner!
Nutrition Information
Yield
4
Serving Size
1 hen
Amount Per Serving
Calories

426
Total Fat

32g
Saturated Fat

12g
Trans Fat

0g
Unsaturated Fat

18g
Cholesterol

191mg
Sodium

322mg
Carbohydrates

4g
Fiber

1g
Sugar

1g
Protein

29g
Nutrition is automatically calculated by Nutritionix - please verify all nutrition information independently and consult with a doctor or nutritionist for any and all medical and diet advice.