Top 11 Things To Do On The Sky Princess Cruise Ship
Top 10 Things To Do On The New Sky Princess cruise ship from Princess Cruises – including spots you won't want to miss, why Ocean Medallion Technology makes cruising easy, and the top reasons to book a cruise on Sky Princess!
This post is sponsored by Princess Cruises. All opinions are my own.
I was invited to sail the Mediterranean and Adriatic seas with Princess Cruises to celebrate the launch of the Sky Princess – Princess Cruises' newest ship in their fleet.
Don't miss out on the Best. Sale. Ever. For the first time ever, Princess Cruises is offering guests a fare that includes drinks, Wi-Fi, and gratuities when they book a cruise or cruisetour. Book today!
By using my link above I am given a small commission at absolutely no cost to you – so I can keep bringing you more top cruise tips!
Sky Princess is the first ship built completely around Princess' Ocean Medallion program – a revolutionary program that makes it easier than ever to come back refreshed and relaxed from your cruise.
With features like interactive maps (so you can find your way to each bar), chat with friends (so you can find friends on ship and have them meet you at the next bar!), games on ship and on your phone, and the ability to order food and drinks from around the ship – Sky Princess brings Ocean Medallion cruising to a whole new level!
To see more from our trip across the Mediterranean, please visit my recipe for Authentic Greek Tzatziki (inspired by our port in Athens, with some great info on how easy Ocean Medallion makes heading into port), and The Ultimate Sky Princess Bar Crawl.

While Princess Cruises rolls out the game-changing Ocean Medallion app on all their ships, the Sky Princess was the first ship built from the ground up using the new technology – bringing an experience you can't get anywhere else.
Sky Princess is one of the most gorgeous ships I've ever been on – and while there are tons of things to do to have the best vacation ever on ship, I'm sharing my top picks for unique and fun things to do on the Sky Princess!
Top 11 Things To Do On The New Sky Princess Cruise Ship
Our top 11 experiences you can't miss on the brand new Sky Princess cruise ship with Princess Cruises!
Swim in the Wake View Infinity Pool
Princess ships always have the best pools – but the brand new infinity style pool on the Sky Princess is one of my favorites!
Princess has other wake view pools, but the Sky has the first as an infinity style pool – perfect for lounging and floating to take in the gorgeous view all around.
The stair-entry plunge pool is just large enough for a small group – making it the ultimate place to mix and mingle with other cruisers just behind the Wake View Bar.
The pool is at the back of the ship, perfect for watching the ships wake as you soak away your cares.
There are a couple of loungers in a very shallow area just off the pool – perfect for sipping a drink or lounging before a swim.
There are only three loungers, but the area doesn't get too incredibly crowded, so you don't need to scope out this perfect spot too early!
Since the back of the ship area the Wake View Pool occupies largely serve as overflow dining space from thee buffet, the pool is not as popular – making it the perfect spot to hang out all day!
The Sanctuary, Princess' adults-only relaxation area, is always one of my favorite parts of the ship.
Geared towards relaxation, the Sanctuary is a quiet spot to read, sunbathe, take in the impressive scenery, relax – and even enjoy a massage in a cabana!
The Sanctuary is also it's own dining destination on ship – serving up juices and smoothies, as well as lighter spa fare.
Be sure to try the Sanctuary's lighter fare including chips and dip, smoothies and fresh fruit juices, and make sure to get some refreshing water mist sprayed on you while you sunbathe on hot days!
Part of the Sanctuary is covered with a sun sail, and part is outdoors, for optimal sunbathing – and on the Sky Princess, the Sanctuary even has a Jacuzzi!
As the Sanctuary is very popular, I advise reserving a space on embarkation day – especially for scenic cruising days like the day we cruised through the Strait of Bonifacio between Corsica and Sardinia.
Order Food Delivery Around the Ship
When you're on vacation, you don't want to have to think about anything too much – and running around to grab food and drinks can cut into enjoyment time (who wants to have to walk across the boat for a slice of pizza, when you're watching a movie – or give up your prime spot at the bar to grab a burger to go with it?)
One of my favorite parts of the brand new Ocean Medallion technology is the ability to order food all over the ship – from pizza and bruscetta, to the deliciously decadent Ernesto burger, to drinks – anything you're craving is just a click away using the Ocean Now app!
My husband and I loved the bruschetta and avocado toast from Slice – as well as their pizza, of course – and we just might have eaten our bodyweight in Ernesto burgers from the Salty Dog Grill while watching movies during Movies Under the Stars.
While the Ernesto Burger has a small upcharge, the other items are all free – and so delicious!
Grab a Slice From Slice
Princess Cruises has my favorite pizza – and Slice offers it up all day long as a grab-and-go option.
(I also LOVE the pizza from Alfredo's – it is one of my favorite spots to eat on ship, and is not a restaurant with an upcharge even though it feels like one – and I love that Alfredo's on the Sky Princess has new outdoor dining that is a must in it's own right – but you can't beat how easy it is to walk past slice for a phenomenal piece of pizza, round the clock!)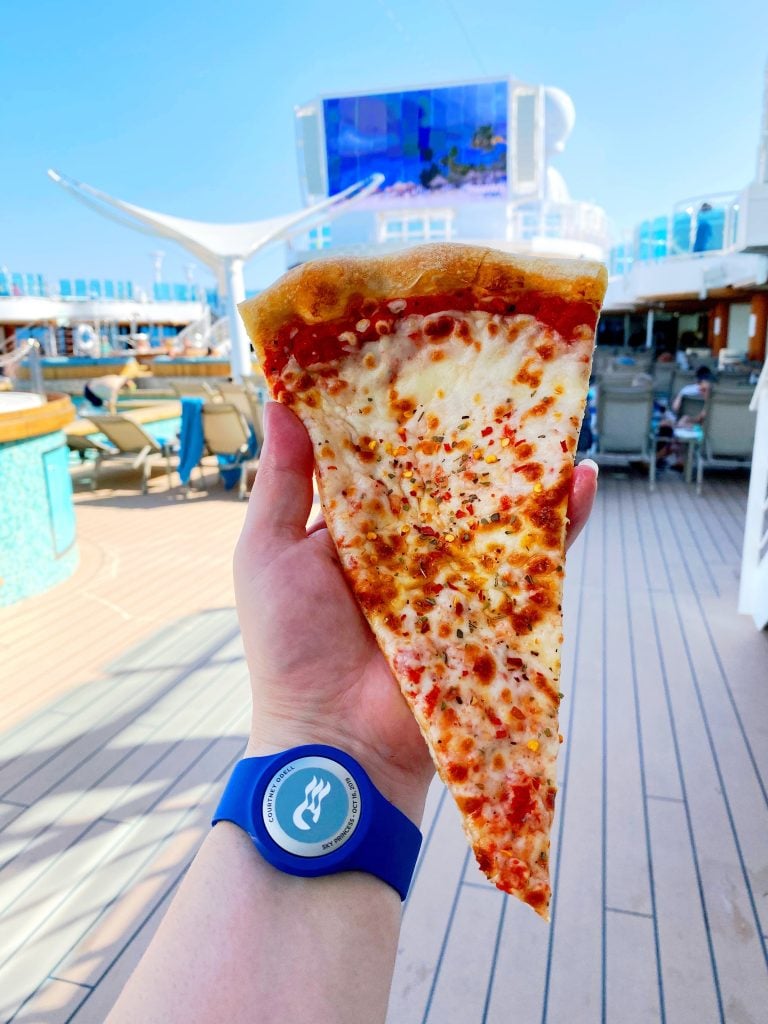 Slice is Princess Cruises top deck pizza restaurant – easy for grab and go slices of cheese, pepperoni, and other rotating pizzas anytime a craving hits.
The pizza at slice is always free, and it's served up all day long next to the pool – and now with the Ocean Medallion, you can even order a slice of pizza to be delivered to you from tons of locations around the ship!
You really can't beat how easy and delicious Princess Cruises pizza is – I crave it long after I'm off the ship!
Watch a Movie Under The Stars
One of my favorite parts of a Princess cruise is watching movies on the top deck, underneath the stars!
Movies Under the Stars on the Sky Princess is an ultimate treat – with a reconfigured pool deck that includes two fun round seating areas sunk into the deck behind a hot tub and pool, as well as comfy lounger chairs outfitted with cozy blankets perfect to cuddle up with – like other Princess ships.
Find Street Art On The Sports Deck
One of the most fun additions to the Sky Princess – and one of the most fun things to get to see as it was created on the Inaugural cruise my husband and I took on the Sky Princess to celebrate our 10 year anniversary – is the fun street art placed all around the Sports Deck.
Princess commissioned artists to work the Princess logo in with several sea-inspired murals around the top of the ship – the hand painted murals are all unique in the same blue palate, and dotted around the jogging track on the Sports deck.
If you're heading up for a workout – or just want the ultimate mural to photograph in front of – I love the fun style the murals give the Sky Princess!
My favorite are the whale tails – which mural is your favorite?
Melt Away Stress in the Enclave
Two words: thermal suite.
The Enclave, Sky Princess' gorgeous and ultra-relaxing thermal suite unit, is one of my favorite parts of the ship.
There are steam rooms, aromatherapy showers, a Turkish hammam, a large hot tub, and heated tile beds scattered around the room.
My only complaint: I wish the Enclave stayed open longer. Often there is no time after dinner to pop in for a relaxing session right before bed. I really wish it was open 24 hours, since it is largely unstaffed.
Enclave entry is most economical if you buy a pass at the beginning of your trip, and can be purchased in your cruise personalizer or in person at the Lotus Spa desk the day of embarkation.
Do a Sky Princess Bar Crawl
To see more from my Ultimate Sky Princess Bar Crawl, check out my post here!
I have a list of the best bars on ship, how to create your own fun bar crawl around the ship, and all of the best drinks you just HAVE to order!
If you love drinking your way around the world, the Sky Princess offers so many delicious and fun options – and everything I outline fits into one of the Princess Premium Beverage Plans.
There are a couple options on ship that aren't covered in the beverage plans (like the incredibly delicious carafe cocktails in the Wake View Bar), but those are meant to be enjoyed with friends, so you can easily split the cost without running up your tab too high.
Eat At a Specialty Restaurant
Specialty dining on Princess Cruises has always stood out as bringing a top notch experience – but the Sky steps it up even more with the new restaurant, Sur La Mer – a French bistro focused on delicious seafood.
The seabass
For our 10 year anniversary, my husband and I went to the Crown Grill on ship to celebrate with our friends – we each ordered surf and turf (who can resist perfectly grilled steaks, cooked-to-order, topped with a juicy, succulent lobster tail?), as well as a bunch of our favorite sides like the sautéed mushrooms and truffle fries.
One of my favorite parts of dining at the Crown Grill is the salt – which sounds silly, but finishing meals with a sampling of specialty salts (I personally love the smoked salt, my husband loved the Himalayan pink salt) makes dinner a little interactive and fun!
We also LOVED the new sushi concept at the Ocean Terrace bar – thee rolls are delicious (go for the spicy tuna with fresh jalapeno), and it's a great spot for people watching!
The rolls all involve a small surcharge, even though the area is more of a bar than a set restaurant, but I am counting it as specialty dining since it involves a small upcharge.
I didn't have a chance to check out the Wine Table or Chef's Table on the Sky Princess, but did get to check out the tables, and can say they are absolutely stunning, just as I had expected! Some of my favorite nights on ship have been during specialty dinners – its so great to get to have more one on one time with the head chef and maitre'd, and I can only assume on Sky it is just as fabulous as other ships I have been on!
One of the best parts of Princess Cruises? You don't need to leave your bed for a delicious breakfast!
Whilee you can get breakfast in the main dining room, from the buffet, or from the International Cafe, you can also order complimentary room service for breakfast, or upgrade your breakfast in bed to the Ultimate Balcony Breakfast!
Simply fill out your room tag at night to pick breakfast for the morning – select pastries (I personally love the egg muffin – it's hearty and cheesy, and doesn't weigh you down or make you feel greasy all day), and hang on your door at night for your breakfast to come the next morning.
If you really want to go all out for breakfast though, there is no beating the Ultimate Balcony Breakfast!
I've booked the Ultimate Balcony Breakfast twice on cruises – and it was amazing each time!
For my 10 anniversary breakfast with my husband – the morning we toured Messina, Italy – we tucked into fresh fruit, pastries, a huge pile of smoked salmon and capers, and a big pot of coffee, and a bottle of champagne, so we could mix our own mimosas!
I previously had an Ultimate Balcony Breakfast when cruising the Caribbean with my friend last spring – and despite my friend's food sensitivity (she has celiac, so she cannot eat gluten), we had a huge, delicious breakfast brought up – complete with a large selection of gluten free baked goods!
To see more about my guide to cruising with celiac, click here.
Of course, if you don't want to get crumbs all over your bed, you can head out onto your balcony and take in an amazing sunrise as you eat breakfast on your balcony! It is one of my favorite ways to wake up at sea.
Watch Sunrise and Sunset at Sea
The Sky Princess does offer interior rooms, but the majority of rooms on ship offer a balcony, making the Sky Princess one of the best cruise ships to take in breathtaking sunrises and sunsets from the comfort of your own room.
There is nothing better than watching the sun rise as you pull in to port – or watching as the sun sets as you sail away waving goodbye to ports just visited.
One of the most gorgeous experiences from the two times we visited Kotor Montenegro (my husband and I booked back to back cruises to celebrate the Sky Princess' inaugural voyages, so we got to visit Kotor twice, which was great as it ended up as our favorite port!) was just watching the sunset over Perast as our ship cruised through the bay back to the sea – we had a jaw-dropping view right from our balcony!
Sweet C's + Princess Cruises
To see more from my favorite vacations with Princess Cruises, please check each post below: