Air Fryer Ribeye Steaks Recipe – delicious tender, juicy ribeye steaks cooked to perfect medium rare in the air fryer!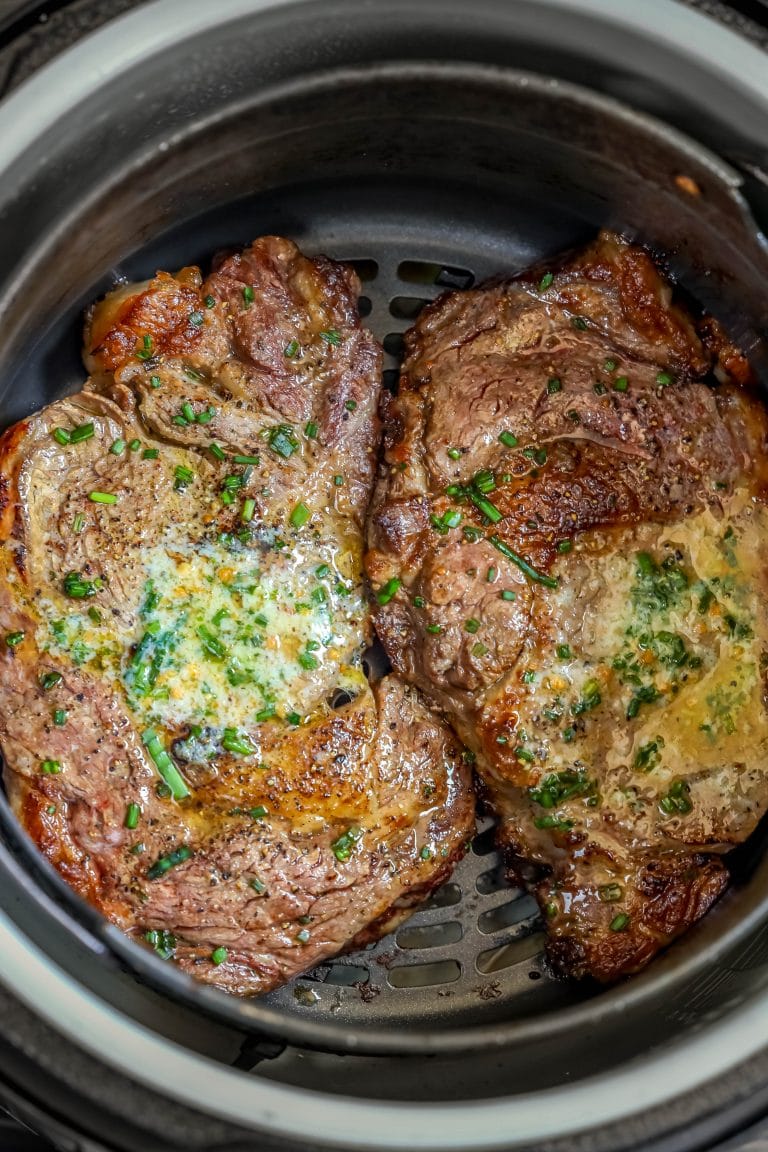 Don't want all the extras in a recipe post? We provide a skip to recipe button in the top left corner, as well as a clickable table of contents, just below, to help make this page easier to navigate.
Perfect Ribeye Steaks in the Air Fryer
Grab some ribeye steaks, your air fryer, and set aside 20 minutes – and you're about to have a knockout steak like you never thought you could make at home. Add some butter to melt over the top and a great side dish, and you have an amazing steak dinner in no time!
I'm going to show you how to use your air fryer to mimic the ultra high heat needed for restaurant quality steak – right from your own kitchen, without having to fire up the grill or worry about a ton of smoke.
We're going to walk you through the steps – from buying steaks to preparing them – to help you make a great ribeye dinner right in your air fryer, from start to finish.
We hope you love this recipe as much as we do.
Air fried steaks are tender, juicy, and delicious – they are one of my favorite way to get steakhouse quality ribeyes at home. If you have an air fryer that goes over 400 degrees (the higher, the better), you're going to LOVE this recipe!
Just like our Air Fryer New New York Strip Steaks, our Air Fryer Tri Tip Steak, and our Air Fryer London Broil Recipe, this recipe brings you tender, juicy, delicious steak right from your air fryer. It takes less than 20 minutes for a juicy steak to get to your plate, and there's almost no prep or cleanup work! Serve this steak with some dinner rolls, a lobster tail, broccolini, rice pilaf, or garlic roasted potatoes for a dinner you'll want again and again.
These air fryer steaks are awesome for a lot of reasons, including:
Air frying steaks cuts down on smoke and cooking smells compared with broiling, so your kitchen stays clean!
Air fryers get hotter than some broilers quick – so you can char steak fast without overcooking.
Ribeye steaks are low carb and work great in keto diets!
Ribeye is rich, hearty, and large – while expensive, it can serve 2. (Or 1 really hungry adult.)
There is almost NO cleanup – wash out your air fryer and you're done!
It's super easy to get a perfect temperature for your steak – we're going to share the right temperature to cook to so it's exactly how you like it!
How To Air Fry Ribeye Steaks
To make this recipe, you will need:
2 large ribeye steaks
2 tablespoons butter, softened
1 teaspoon celtic sea salt
1 teaspoon fresh cracked pepper
1/4 teaspoon aleppo or cayenne pepper
2 tbsp compound butter
Once you've gathered your ingredients, we will follow this process:
Prep. Let steaks come to room temperature and season well. Preheat air fryer to scorching hot.
Air fry. Air fry steak according to your temperature preference, flipping once in the middle of cooking. Let rest in air fryer to carryover cook for medium well or well done. Let rest on cutting board for 10 minutes before slicing.
Serve. Enjoy!
Tips and Tricks For Perfect Air Fried Ribeye Steaks
Air frying steaks is insanely easy – even if you've never made steaks before – but there are a few simple tips and tricks we've found to help you have a great steak dinner, every time you make it!
Make a compound butter. We love topping our steak with a compound butter – basically a butter that we mix with chives, garlic powder, and some herbs before chilling. You can make your own compound butter with whatever herbs and flavors you love (plan for about 1/2 cup softened butter and a couple teaspoons fresh or dried herbs.) You'll mix together the softened butter, herbs, and spices, and then spoon into parchment paper and roll into a "log" shape to be refrigerated. Once your butter sets, you can slice little pats that are perfect to top steaks, pork chops, lobster tails, chicken thighs, and all sorts of dinners with!
1/2 cup high-quality unsalted butter, softened
3 garlic cloves, minced
2 tablespoons fresh minced chives
1/4 tsp coarse salt
1/4 tsp freshly ground black pepper
Cook ribeye steak to the ideal temperature. To find your ideal cooking temperature, you can follow our easy chart below:
Rare – 125 degrees (steak will be soft to the touch – not firm at all, deep red/purple and slightly cool in middle)
Medium Rare – 135 degrees (steak will be a bit soft, and red in middle)
Medium – 145 degrees (steak will be more firm, and have a bit of pink in middle)
Medium Well – 155 degrees (steak will be mostly firm and have no pink)
Well – 165 degrees (steak will be very firm and have absolutely no pink whatsoever.)
What steak to buy. Ribeyes have lots of fat marbling, which makes them perfect to air fry – their higher fat content can drip on a grill and cause flame-ups, but in an air fryer that is enclosed, there is no fire risk since the burner isn't underneath the steaks! For the best ribeye, we reccomend looking for steaks that:
Look for thicker steaks – the thicker, the better! Generally, we like steaks thicker than 1″.
Know what grade steak you're getting. Prime cuts are usually what you're eating in a restaurant, with the most marbling. Choice cuts are the highest many grocery stores carry – and are a great quality pick, with less marbling than prime and a bit of a lower price tag. Select cuts have the least amount of marbling and are the least expensive.
Ribeye steaks come bone-in or boneless – either can be used for this recipe. Cooking with the bone in might impact how your steak fits in your air fryer basket, but it does provide flavor and the fat around the bone keeps a ribeye tender and juicy. Which you select is a personal choice for this recipe!
Let ribeye come to room temperature for at least 30 minutes before cooking.

Cold ribeye steak won't caramelize and sear properly, room-temperature steak will have the most juicy, melt-in-your-mouth flavor and perfectly seared crust!

Pat steak dry with paper towel if there is any moisture from packaging.

Moisture leftover from packaging is common unless you bought dry-aged steaks – be sure to pat steaks dry to get a perfectly seared crust so your steaks sear, not boil.

Salt and pepper steak generously before cooking.
Preheat air fryer for at least 10 minutes.

I can't undersell the importance of heating your air fryer basket to be scaldingly hot before placing steaks in the basket – you want the air to be hot, the basket to be scalding, and the motor warmed up ready to start searing the second the steaks hit the fryer basket!
Recipe FAQs
When is steak done?
For a medium rare steak, cook to 135 degrees internal temperature.
Rare – 125 degrees
Medium Rare – 135 degrees
Medium – 145 degrees
Medium Well – 155 degrees
Well – 165 degrees
all degrees Fahrenheit
How long to broil ribeye steak?
For a medium rare ribeye steak, broil for 12-15 minutes.
Rare – 10-12 minutes
Medium Rare – 12-15 minutes
Medium – 13-16 minutes
Medium Well – 15-17 minutes
Well – 16-18 minutes


How long does ribeye steak last?
Ribeye steak can be stored in the refrigerator in an airtight container in the refrigerator for up to four days.
What To Serve With Air Fryer Ribeye Steaks
Steaks are classically served with baked potatoes (we love our perfect air fryer baked potatoes!), or some asparagus – we also love serving steak with a red pepper farro salad, delicious baked carrot fries, or garlic roasted brussels sprouts!
For more delicious and easy side dish recipes, visit our archives below:
Air Fryer Ribeye Steaks Recipe
If you love this easy recipe please click the stars below to give it a five star rating and leave a comment! Please also help me share on facebook and pinterest!
CONNECT WITH SWEET C'S!
Be sure to follow me on social media, so you never miss a post!
Facebook | Twitter | Youtube | Pinterest | Instagram
Only have 30 minutes to get dinner on the table? Sign up for my 30 minute dinner plans direct to your inbox!
Find and shop my favorite products in my Amazon storefront here!
Yield:

2 steaks
Air Fryer Ribeye Steak Recipe
Air Fryer Ribeye Steaks Recipe - delicious tender, juicy ribeye steaks cooked to perfect medium rare in the air fryer!
Ingredients
2 large ribeye steaks
2 tablespoons butter, softened
1 teaspoon celtic sea salt
1 teaspoon fresh cracked pepper
1/4 teaspoon aleppo or cayenne pepper
2 tbsp compound butter
Instructions
Let steaks come to room temperature, set on counter about 20-30 minutes before cooking.
Preheat air fryer to the highest temperature it allows (at least 400, preferably 450-500 degrees.)
As air fryer preheats, prepare steaks. Pat ribeye steaks dry with paper towel, making sure there is no packaging liquid or water on steaks at all.
Rub steaks with softened butter.
Generously season steaks with salt, pepper, and cayenne or aleppo pepper.
When air fryer is preheated and scorching hot, place steaks in clean air fryer basket using long handled tongs.
Air fry at 450-500 (the highest temperature you can air fry at) for 8 minutes.
Flip steak, cook 5-6 more. Gauge steak temperature and cook to 135 degrees for medium rare.
Nutrition Information
Yield
4
Serving Size
1
Amount Per Serving
Calories

220
Total Fat

20g
Saturated Fat

11g
Trans Fat

0g
Unsaturated Fat

8g
Cholesterol

64mg
Sodium

645mg
Carbohydrates

1g
Fiber

0g
Sugar

0g
Protein

11g
Nutrition is automatically calculated by Nutritionix - please verify all nutrition information independently and consult with a doctor or nutritionist for any and all medical and diet advice.