Low Carb Taco Stuffed Avocados are a rich and filling meal that won't weigh you down - perfect for lunch or dinner!
Cheesy Taco Stuffed Avocados are a stuffed avocado recipe that you won't be able to get enough of - and a perfect easy healthy family dinner your kids will actually want to eat!
With spring in full swing, it's a bit easier and tastier to eat delicious, low-carb foods since there are so many beautiful, fresh vegetables in season.
This is the time of year I'm often feeling pretty bad due to crazy schedules and increased activity which throw my rheumatoid arthritis for a loop - so I really try to focus on eating healthier when fruits and vegetables as much as I can at home in summer.
This recipe for Cheesy Taco Stuffed Avocados is a perfect indulgent but healthy meal- loaded with veggies (the taco mixture we're using is packed with hidden vegetables) and lighter on the meat and cheese, this meal is packed with heart-healthy fats, protein, fiber, iron, and calcium.
And trust me when I say nothing about it tastes like diet food! This is one stuffed avocado recipe you're going to want to eat again and again and again - and even though this recipe is perfect for paleo, low carb, and keto diets - EVERYONE loves this quick, delicious, and hearty meal!
Just take me to the cheesy taco stuffed avocado recipe already!
If you'd rather skip my (very helpful, i think) tips and tricks - including how to keep an avocado from turning brown - essential cooking info, and similar recipe ideas – and get straight to this deliciously easy stuffed avocado recipe and the stuffed avocado recipe video – simply scroll to the bottom of the page where you can find the printable recipe card.
Stuffed Avocado Taco Meat Filling
These avocados are filled with my favorite taco meat mixture - my low carb cheesy taco skillet!
While you could use any taco meat to stuff your avocados, my top-rated cheesy taco skillet is our hands-down favorite.
Not only is it BURSTING with taco flavor - there are a TON of hidden vegetables in the skillet that have helped tons of families incorporate more vegetables into their family's dinners - without any fights!
This cheesy taco recipe is one you'll want to bookmark and eat again and again - and has tons of rave reviews.
To get the full low carb cheesy taco skillet recipe, head here.
Chicken & Vegan Stuffed Avocados Recipe Variations
While my cheesy taco skillet recipe is amazing in this stuffed avocado recipe, I am adding a couple of my other delicious taco skillet recipes - one lower calorie, thanks to lean ground chicken - and one that is vegan AND paleo for a low carb vegan stuffed avocado you'll swoon over!
Chicken Taco Bowls Recipe
If you're looking for a bit of a lighter version, I also have an unbelievably delicious slow cooker chicken taco bowls recipe that is amazing in this delicious cheesy stuffed avocado recipe.
Using lean ground chicken meat is a great swap for those watching calories - and it tastes great, and is still loaded with tons of hidden veggies so your kids will never know they are actually eating healthy (to really hide the veggies for picky kids like my son, I will grate or whiz veggies in a food processor so he can't see them.
I actually always let him know I did - and he agrees that he will eat them if he can't see it. The joys of parenthood, eh?)
Slow Cooker Chicken Taco Bowls Recipe

Vegan Taco Skillet Recipe
Low Carb Paleo Vegan Taco Skillet Recipe that tastes rich and meaty - you'd never know there was no meat or cheese in the dinner, really!
This vegan taco skillet is amazing for vegan taco stuffed avocados - and are full of protein and fat for a filling and fueling vegan stuffed avocado taco dinner that everyone will love!
If you want this to still be a deliciously "cheesy" stuffed avocado, opt for a vegan cheese (we prefer almond cheese shreds) that melts well. You can also mix in vegan sour cream or some vegan cream cheese, too.
Click here for the best Vegan Taco Skillet Recipe: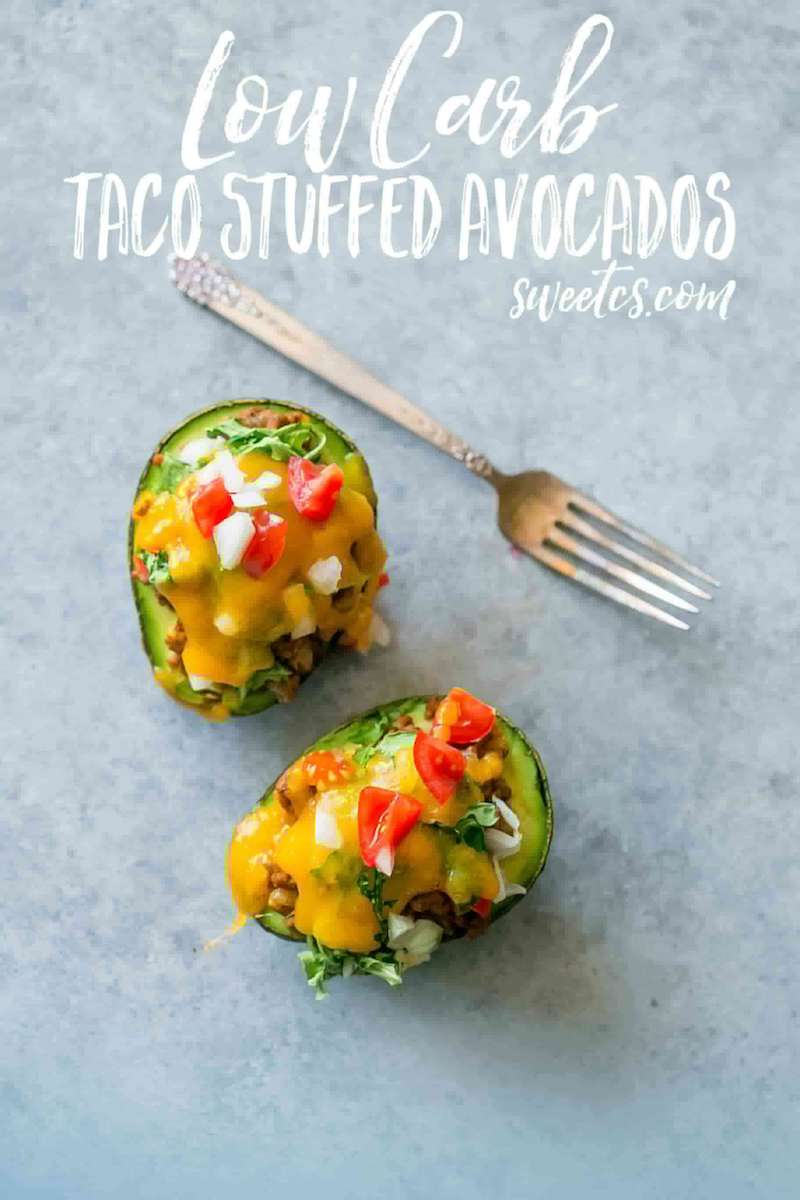 Stuffed Avocado Recipe Serving Ideas
Once you've made the taco skillet, it's all about stuffing the avocados and layering in more delicious fresh ingredients, for a creamy, rich, and grain/gluten free dinner - and planning the perfect meal around this amazingly delicious stuffed avocado recipe!
This meal is perfect for a party or to take to work for a filling, healthy meal that won't wear you out all day - and is so much fun at a dinner party for an interactive stuffed avocado bar your guests can fill and build their own perfect stuffed avocado dinner.
Stuffed Avocado Meal Prep Ideas
These are so good- you won't be able to get enough. And they can be pre-made and popped into a microwave for a few seconds to melt the cheese for a perfect, portable healthy lunch!
To ensure your taco stuffed avocados transport well, there are a few tips and tricks to keep everything perfect and fresh and perfectly reheated:
If making for cold lunch meal prep, use lower fat ground beef and drain all fat thoroughly before seasoning.

If you are planning on making this taco skillet for meal prep and might eat the stuffed avocados cold - like a taco salad - you want to ensure your taco meat has been drained well and you don't have much extra fat since when cold it will clump and look weird and have a slimy texture (think of how bacon fat turns white and solid when cool - this is similar! Simply drain the meat well before seasoning to prevent this.)

Store ingredients separately to prevent a mushy mess.

If you're packing this meal to go to work, keep the meat filling, shredded cheese, and avocado separate when refrigerating/bringing to work. If you pre-mix this or make them ahead of time, the moisture from the avocado and the taco meat will make the cheese soft and mushy - and the avocado will break down into a slimy, grey, and gross texture. It will still taste fine - but who wants that?
Find my favorite BPA free meal prep containers here. They are microwave and dishwasher safe, super strong and sturdy, and don't soak up gross smells like so many kinds of plastic food storage containers can. They also stack well and have different compartments so you can keep all the ingredients separate easily!

Microwave taco meat.

When you go to eat this meal in an office, you likely won't have an oven to pop the stuffed avocados in to melt the cheese like below. I personally really hate microwaved avocados -so I'll just heat the taco mixture and then add in the avocado, stuff it in the avocado skin, and then top with shredded cheese and put a bowl, foil, or a lid over the whole avocado for a few minutes after heating the meat mixture so that the heat melts the cheese. It's a perfect hack for at-your-desk healthy eating that doesn't have that funky microwaved texture.

Use finely shredded (not store-bought pre-shredded cheese)

I am ALL for store-bought pre-shredded cheese to save some time - but I find it can microwave weirdly thanks to the (usually gluten) coating that comes with the shredded cheese to prevent it from clumping in the bag. For this recipe - especially because I am relying on the taco meat's heat to melt the cheese as detailed in the tip above - I want cheese that I very finely shred by hand because it melts the best and has the best flavor in such a simple, fresh recipe.

Wait to cut your avocado.

Avocados start to grey and discolor from oxidation immediately - wait to open yours until you're ready to eat. When your meat is reheating, cut into your avocado to get it ready.
These avocado boats are also delicious for dinner parties and make easy, portable dinners all in one handy piece!
To have an unforgettable and delicious dinner party, consider serving these as a part of a taco bar - set out tons of filling ideas - like the slow cooker chicken taco bowls, vegan taco skillet, black bean salad, Knockoff Tito's Tacos Salsa, One Pot Salsa Chicken Thighs Skillet - or more!
How to Prevent Avocados from Turning Brown
Avocados oxidize and start to get slimy and turn brown, black, or grey almost immediately after cutting into them - so whether you're making this dinner for meal prep, a dinner party, or just an easy meal, it is always best to cut into the avocados right before eating. Since that isn't always a possibility, check out my tips to keep an avocado from oxidizing too quickly!
First, it helps to know what makes an avocado turn brown. Some fruits and vegetables (apples, potatoes, avocados, and more) contain phenolic compounds and enzymes that, when exposed to oxygen, will produce a brown-black pigment.
Avocados cell walls protect the fruit from browning, but when bruised or cut into, those walls break, and the oxygen immediately starts reacting with the phenolic acid, turning the flesh grey and slimy.
If you're making these stuffed avocados for a dinner party or you need to prep your meal a bit ahead of time, here are my top tips to keep your avocados green and delicious for these stuffed avocados:
Splash lemon or lime juice on your avocado.

Citrus is known to delay avocado oxidation and prevents as an anti-oxidant to avocado flesh - plus it just tastes great!
Avocado treated with citrus can stay fresh for up to 1 day - be sure to wrap it tightly in plastic wrap or a plastic bag to prevent additional oxygenation.

Brush your avocados with a bit of oil.

Brushing a bit of oil over avocado flesh works as a perfect barrier for avocado flesh to keep oxygen from turning it brown. I like to use avocado oil, olive oil, or even a garlic-infused oil for delicious protection from oxygenation.
You don't want to add a ton - think of it as a thin coating just to seal the avocado flesh from oxygen, not a dousing. (This is a weird comparison that isn't super appetizing - but think of it as putting just enough lotion on your face to hydrate, but not have a big gloopy greasy mess.)
Avocado treated with oil can stay fresh for up to 1 day - be sure to wrap it tightly in plastic wrap or a plastic bag to prevent additional oxygenation.

Seal avocados with very tightly wrapped plastic wrap.

Since oxygen causes the chemical reaction that browns avocados, keeping avocados away from oxygen is the easiest way to prevent browning. Seal cut avocados in tightly wrapped plastic wrap to keep them from oxidizing.

Keep the Pit In/Nearby Avocado.

For short times before serving, keeping the avocado with the pit can help it from oxidizing. I often toss the pit in guacamole when storing it in the fridge to help from extra browning too! I don't know why, but it helps a ton!
If you're only using half an avocado, and storing the other half, store the side with the pit still in and use the one without so the other side is still fresh and delicious when you're ready for it!

Store with fresh cut red onion pieces.

The same gas that makes you cry when you cut a red onion prevents oxidation in avocados. While this trick won't work for recipes you don't want an onion flavor and scent with (luckily in this taco stuffed avocado recipe it is perfect - but an avocado smoothie bowl probably wouldn't be the best with a hint of red onion....), it is great in dishes whose flavor profiles work well with onion, like this cheesy stuffed avocado.
Taco Stuffed Avocados Recipe
If you love this Taco Stuffed Avocados Recipe as much as I do, please write a five star review in the comment section below (or on Pinterest with the "tried it" button – you can now add pictures into reviews, too!), and be sure to help me share on facebook!
Or you can sign up for my totally free email newsletter to get my favorite easy meals delivered straight to your inbox, daily and be sure to follow me on Facebook and Instagram – or join the Sweet C's Facebook group where you can share your favorite recipes, lifestyle tips, travel – and just fun stuff!
Disclaimer: Nutrition information is calculated automatically by my recipe widget as a guide to this recipes nutritional profile - but should not be treated as absolute fact. Variations based on ingredient size, brand, home measurement, or other outside issues are very possible.
I am not a nutritionist and all calculations should be reviewed by a doctor or nutritionist if using in a medical diet plan.
Yield:

2 people
Low Carb Taco Stuffed Avocados
Low Carb Taco Stuffed Avocados are a rich and filling meal that won't weigh you down - perfect for lunch or dinner! Cheesy Taco Stuffed Avocados are a stuffed avocado recipe that you won't be able to get enough of - and a perfect easy healthy family dinner your kids will actually want to eat!
Ingredients
1 avocado, sliced in half and pit removed
1 cup low carb taco skillet mixture
2 oz sharp cheddar cheese, shredded (omit if sticking to paleo/whole 30 diet)
⅓ cup arugula
¼ cup red onion, diced
¼ cup pico de gallo
Instructions
Preheat oven to 350 degrees.
Halve avocado and remove pit.
Scoop ½ cup taco skillet mixture into each ½ avocado.
Add arugula to the top, followed by cheese.
If taking to work, wrap with foil and refrigerate until ready to microwave, then microwave for 45-55 seconds, until meat is warmed and cheese has melted.
If preparing in the oven, bake for 15 minutes, just until cheese is melted.
Garnish with fresh diced onion and tomato, serve immediately.
Nutrition Information
Yield
2
Amount Per Serving
Calories

443
Saturated Fat

10g
Cholesterol

99mg
Sodium

457mg
Carbohydrates

13g
Fiber

6g
Sugar

3g
Protein

33g