The Best Easy Skillet Lasagna Recipe
The Best Easy Skillet Lasagna takes the long wait time and all the prepwork out of lasagna so you can have the cheesy, creamy, delicious flavor in under an hour!
If you've ever been craving delicious, cheesy, hearty lasagna – but looked at the clock and said there is just no way – this recipe is for you.
Lasagna can take forever – pre-boil noodles, make the sauce, assemble the layers, and then bake – but this super simple skillet lasagna can be made in just one pot in under an hour!
Making lasagna in a skillet makes it super easy to get tons of flavor quickly – this dinner is a huge family favorite, and one I don't mind whipping up.
Follow our steps below to make sure this is the best lasagna skillet ever – including our filling ideas, recommendations for cheese and sauce, and tips to make it perfect!
For more delicious lasagna ideas, be sure to check out my Cottage Cheese Lasagna Recipe – using cottage cheese instead of ricotta cheese; or my easy eggplant lasagna for a low carb cheesy twist!
Just Take Me To The Skillet Lasagna Recipe Already!
We have a lot of readers on Sweet C's who have asked us to add a lot more information into our recipes, including serving information, tips and tricks, and more.
If you want to skip over this additional information, please click the "skip to recipe" button or scroll to the bottom of the page.
Not everyone is comfortable cooking in the kitchen and making meals for their family – and we try to make cooking approachable for everyone.
To Make This Recipe You'll Need
This recipe is incredibly easy and doesn't need a ton of specialty equipment (yay for one pot dinners!), but there are a couple of tools you'll need to make skillet lasagna.
Nonstick Skillet with a tight fitting lid (tips below on how to make this without a lid)
If Your Pot Doesn't Have a Lid
If your pot doesn't have a lid, you can finish your skillet lasagna in the oven.
Preheat oven to 375 degrees.
After stirring in ricotta and half of the parmesan and mozzarella, top with rest of mozzarella and parmesan.
Place in oven and bake until lasagna is bubbly and cheese is melted.
Tips To Perfect Skillet Lasagna
This stovetop lasagna is much easier and quicker than traditional lasagna – but there are a few tips that can help you make it perfect, everytime!
You can add a TON more flavor by swapping the 1 1/2 cup water in the recipe for beef stock.
Since the water is used to boil the noodles, it is necessary – but using a beef broth for your liquid gives you a lot more flavor without any additional work.
Make sure to use a low sodium stock if you try this easy tip – it can get too salty if you use salted stock.
If you like more bite to your lasagna, and want to add in more vegetables, this recipe is totally adaptable.
I like to stir in a diced bell pepper or sliced mushrooms – simply browned with the sausage in the first step.
Brown sausage partway, and then add in vegetables (be sure to dice them well for even cooking), and let them slightly brown and soften.
Be careful to not overcook vegetables and make them too soft.
Many of your favorite vegetables will work well in this dish – but I don't recommend asparagus, as it overcooks easily and gets mushy easily.
This isn't for everyone, so it isn't listed in the recipe below, but you can add pinch of nutmeg (less than 1 tsp) for a nice extra earthy flavor.
As you cook, if you notice your noodles aren't yet soft or the pasta looks overly dry, you can add 1/4 cup water at a time to get a little more liquid in the dish.
I live in a very dry area at high altitude and sometimes have to add more water to the pan if I lose much to evaporation – but adding in a little bit at a time is easy.
You can always add more, but be careful to not add too much and make your pasta super watery.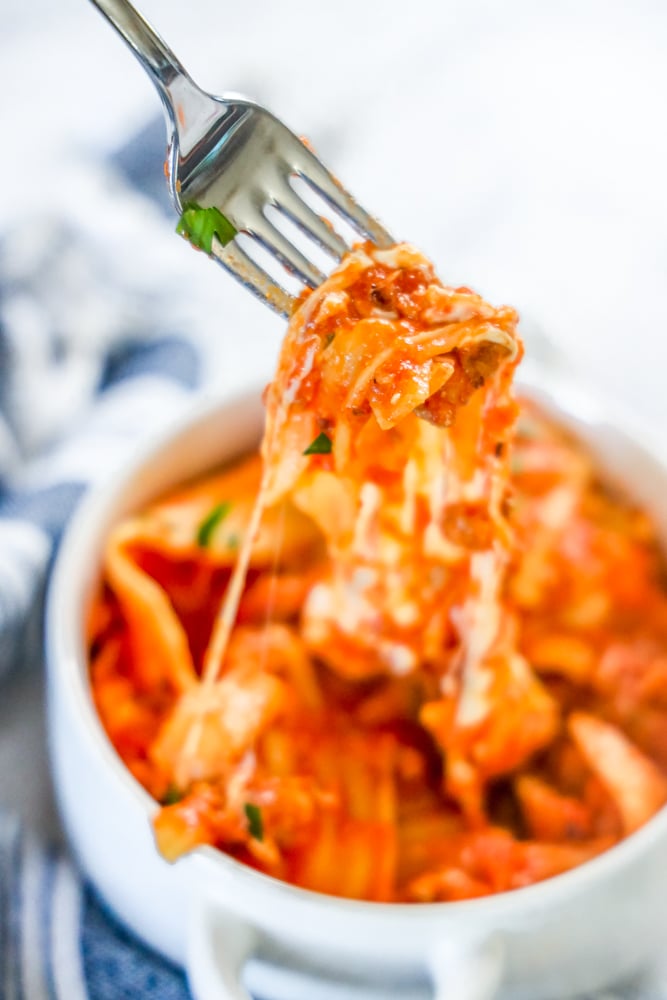 What Type of Lasagna Noodles To Use
I've made this recipe with both the oven-ready and traditional lasagna noodles, and they both worked great.
Since you will be checking the noodles doneness throughout the cooking, if your noodles take longer, just let them cook a bit more.
Other Easy Pasta Dinners You'll Love
We love delicious, easy, and often super cheesy pasta dishes – and if you do too, you need to check out some of our favorite easy one pot dinners!
What to Serve With Skillet Lasagna
This lasagna is rich, hearty, and really filling on it's own – but it pairs well with lots of simple vegetables, a nice salad, or even some easy fresh baked bread.
I love to serve my 10 minute broccolini, a delicious Greek farm salad, or my to-die-for no knead bread alongside skillet lasagna.
How to Store Skillet Lasagna
Skillet lasagna can be stored for up to four days in the refrigerator in an airtight container.
To reheat, I find baking is best – place in a ceramic dish, oven-safe skillet, or deep dish baking sheet and bake at 350 until piping hot.
Make sure your baking dish is nonstick, as the cheese will melt and can be a pain to clean in pans that stick.
The Best Easy Skillet Lasagna Recipe
If you love this easy skillet lasagna, please give it a five star review and help me share on facebook and pinterest!
CONNECT WITH SWEET C'S!
Be sure to follow me on social media, so you never miss a post!
Only have 30 minutes to get dinner on the table? Sign up for my 30 minute dinner plans direct to your inbox!
Find and shop my favorite products in my Amazon storefront here!
Easy Skillet Lasagna Recipe
Easy skillet lasagna loaded with tons of melted cheese, Italian sausage, and tons of homemade lasagna flavor in a fraction of the time on the stovetop!
Ingredients
1 pound sweet Italian Sausage
1 large onion, diced finely
3-6 cloves garlic, minced (I like a lot of garlic, adjust to your tastes)
2 tsp Italian herbs seasoning blend
1 tsp celtic sea salt
1 tsp fresh cracked pepper
24 ounces pasta sauce (your favorite brand)
1 1/2 cups water
8 uncooked lasagna noodles, broken into pieces
3/4 cup ricotta cheese
4 ounces shredded mozzarella cheese
3 oz thinly sliced fresh mozzarella cheese
1/4 cup grated Parmesan cheese
parsley, to garnish - optional
Instructions
Brown sausage in a large nonstick pan that has a lid, using a spatula to crumble sausage at it browns.
When sausage has browned, remove from pan and set aside. Do not drain fat from pan.
Add onion and cook 3 minutes, stirring occasionally, until lightly browned and softened.
Add in garlic and cook 1 minute until soft and fragrant.
Place sausage back in pan, stir to mix well.
Break lasagna noodles into pieces and add to pan.
Dump in sauce, water, herbs, and noodles and stir to mix well.
Bring to a boil, then reduce heat to low.
Stir in ricotta cheese and shredded mozzarella cheese and half of the parmesan.
Cover pan with a lid and cook for 15 minutes, or until your noodles are al dente - with just a little bite left. Stir often to prevent burning.
Top with rest of parmesan and thin mozzarella slices and let melt.
When cheese is melted, remove from heat, and serve.
Garnish with parsley and grated parmesan cheese, optional.
Recommended Products
As an Amazon Associate and member of other affiliate programs, I earn from qualifying purchases at no extra expense to you.
Nutrition Information
Yield

4
Serving Size

1
Amount Per Serving
Calories

647
Total Fat

26g
Saturated Fat

11g
Trans Fat

0g
Unsaturated Fat

11g
Cholesterol

80mg
Sodium

2532mg
Carbohydrates

62g
Fiber

6g
Sugar

12g
Protein

42g
Nutrition is automatically calculated by Nutritionix - please verify all nutrition information independently and consult with a doctor or nutritionist for any and all medical and diet advice.
If you love this simple to prepare recipe, be sure to check out our viral reader favorites!
Sweet C's Favorite Recipes
Favorite recipes from Sweet Cs Designs