Best Instant Pot Pork Tenderloin
Oct 14, 2021, Updated Nov 20, 2023
The Best Instant Pot Pork Tenderloin Recipe – delicious, tender pork medallions, juicy and bursting with flavor from your Instant Pot!
Don't want all the extras in a recipe post? We provide a skip to recipe button in the top left corner, as well as a clickable table of contents, just below, to help make this page easier to navigate.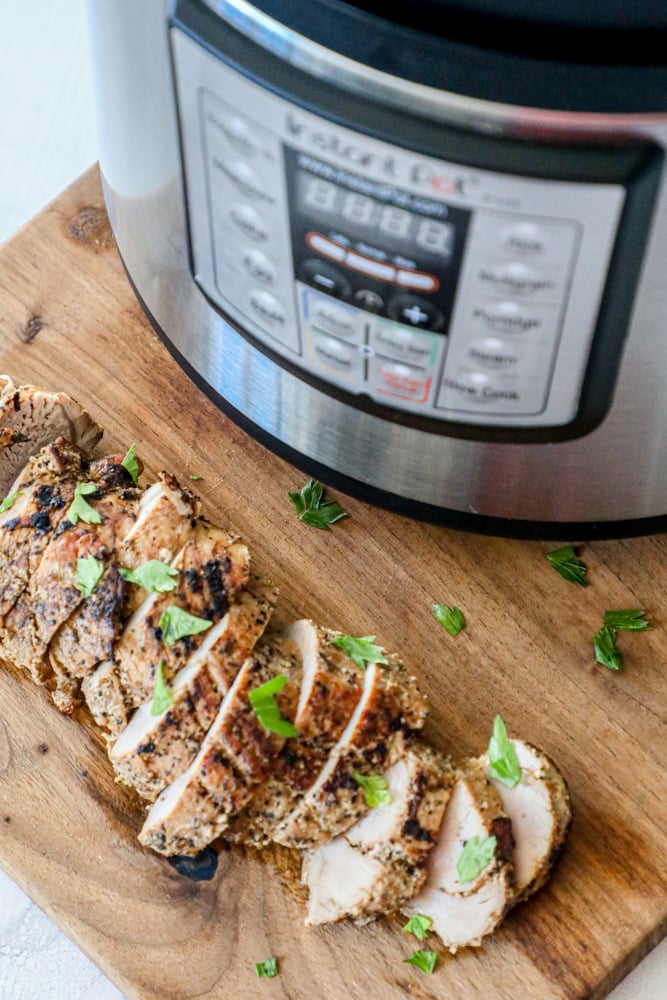 Instant Pot Pork Tenderloin
This Instant Pot Pork Tenderloin recipe is based off my crazy popular Best Baked Garlic Pork Tenderloin Ever Recipe – it is rich, buttery, and sooooo delicious.
This recipe, however, involves very little prep – just season pork, then brown, and finish with a quick blast in the Instant Pot as it comes to pressure. We've designed this dinner to be incredibly easy to make in an apartment, dorm, or other areas with small space – you don't even need an oven or a stove.
And if you're looking for another delicious Instant Pot dinner, be sure to check out our delicious Instant Pot Pot Roast dinner – a whole pot roast and potatoes dinner right from your Instant Pot!
How To Make Pork Tenderloin in an Instant Pot
Cooking a pork tenderloin is pretty easy, but there are a couple tips to make sure your Instant Pot seals properly and comes to pressure, to make sure you use your instant pot safely, and how to be sure to keep your pork juicy and tender.
Marinade
Pork tenderloin cooks quickly and is a great, easy cut of pork when cooked properly – it doesn't explicitly need a marinade, but I prefer to marinate pork for the best flavor.
Marinating helps infuse herbs and spices into your pork before cooking, so you can taste garlic and Italian spices throughout the pork.
Marinating also helps to keep pork from drying out. While that is less of a risk with this instant pot recipe, marinating helps to ensure perfect tender pork.
If you can't marinate, no problem – but if you'd like to, you will get the best results even with as few as 30 minutes or up to overnight.
What can I Swap for Pork Loin?
If you have a pork LOIN, not a TENDERLOIN (pork loins are shorter and wider, and are over 3 pounds, tenderloins are long, skinny, and generally under 3 pounds); this recipe still works like a charm with a couple of modifications.
I get a lot of questions on this recipe on whether to use a tenderloin or loin – and what the difference is between tenderloin and loin since they are similar cuts from the pig, and can both be used in this recipe.
The two cuts are from similar areas (off the back of the pig), and are both leaner and respond to the same cooking methods, but a pork tenderloin is much longer and skinnier than a pork loin.
Loins tend to be much fatter, much heavier, and over 3 lbs – while a tenderloin will be longer, skinnier, and around 1-2 pounds.
For this recipe, I am calling for a Pork Tenderloin – but a loin will also work with the modification for time below.
Please follow the notes below for perfect Instant Pot Pork Loin:
Marinate. Pork loins can dry out faster, and the meat cooks better when marinated before cooking. Marinate a pork loin at least 3 hours before cooking.
Modify cook time for a loin. Since a pork loin is larger, it has a different cook time than a tenderloin. The actual recipe will be the same, but please use the modifications below:
Place a trivet in the IP and set the loin on top of the trivet.
Add and lock the lid, and cook on high pressure for 15 minutes.
Let pressure naturally release for 15 minutes, then quick release any extra pressure.
Open the lid and check internal temperature with an instant read meat thermometer – it should read 145F. Pork is done at 145 degrees internal temperature.
If pork is not yet 145 degrees, place the lid back on the pot to let the carryover heat cook the pork to doneness.
Tips To Perfect Instant Pot Pork Tenderloin and FAQs
This recipe is super simple and delicious – but the following tips, tricks, and information will help you make a perfect pork tenderloin, every time!
Can I Use a Ninja Foodi? If you have a Ninja Foodi, or another electric pressure cooker, you can absolutely use it in this recipe. I personally use a Ninja Foodi more than my Instant Pot more often because I like some of their other features. You can use any pressure cooker you have for this recipe.
Storing & Reheating Leftovers
Follow the steps below for perfect reheated leftover pork tenderloin – and for best results, do not reheat in the microwave.
To store leftovers, place in an airtight container and keep in refrigerator for up to three days.
To freeze leftovers, place in a plastic bag or wrap in plastic wrap and keep in freezer for up to three months.
To reheat leftovers, let thaw naturally in the refrigerator overnight, and bake at 350, wrapped in foil, until piping hot when ready to serve.
FAQs
What temperature is pork tenderloin done?
The FDA has changed food safety guidelines for pork – a pork tenderloin is safely considered cooked at 145 degrees Fahrenheit.

When your pork has naturally released in the Instant Pot, insert a digital meat thermometer in the middle of the thickest part of pork, it should read 145 degrees.
How long can pork tenderloin be stored?
Pork tenderloin can be stored in the refrigerator in an airtight container for up to four days.
Can I freeze pork tenderloin?
To freeze pork tenderloin leftovers, place in a plastic bag or wrap in plastic wrap and keep in freezer for up to three months.
What if my tenderloin isn't cooked enough when the lid comes off?
If your meat is under cooked by 5-10 degrees, put lid back on Instant Pot to let carryover cook for longer without having to bring the pot back to pressure again.
Is pork safe to eat if it is pink?
Pork is slightly pink when fully cooked – it can be cooked to fully white and opaque, but a little pink is perfectly fine. Make sure pork has been cooked to 145 degrees instead of judging by pork's color.
Why should I let meat rest before slicing?
Always let rest for 10 minutes after cooking before slicing to serve to ensure all the juices don't run out giving you dry, tough meat.
What to Serve With Instant Pot Pork Tenderloin
This recipe is perfect for people on keto diets because it is naturally low carb – so sides like roasted cauliflower with cashew pesto, roasted asparagus, and Keto ham and cheese rolls make a perfect side.
If you're following a keto or low carb diet, I have a bunch of delicious Deviled Eggs Recipes that are a perfect easy side dish, especially for a backyard picnic!
If you're not watching carbs, this dinner is a knockout alongside fresh baked no knead bread, crispy baked french fries, or Crispy Roasted Potatoes, or rice pilaf!
You can find our entire pork recipe archives here.
The Best Instant Pot Pork Tenderloin Recipe
If you love this instant pot pork tenderloin recipe as much as I do, please give it a five star review and help me share on facebook and pinterest!
CONNECT WITH SWEET C'S!
Be sure to follow me on social media, so you never miss a post!
Only have 30 minutes to get dinner on the table? Sign up for my 30 minute dinner plans direct to your inbox!
Find and shop my favorite products in my Amazon storefront here!
Best Instant Pot Pork Tenderloin Recipe
The Best Instant Pot Pork Tenderloin Recipe - delicious, tender pork tenderloin that is juicy and bursting with flavor from your Instant Pot!
Ingredients
1 bottle Italian Salad Dressing (optional for marinade)
2 tbsp extra virgin olive oil
1 teaspoon sea salt and fresh cracked pepper
2 lb pork tenderloin, optional: pre-marinate pork before cooking for foolproof never dry tenderloin
4 oz butter, thin sliced into 4-6 pats
2 tbsp diced garlic
1 tsp dried basil*
1 tsp dried oregano*
1 tsp dried thyme*
1 tsp dried parsley*
1/2 tsp dried sage*
*OR 1 tbsp Italian Herb Seasoning Blend
1 cup chicken stock
Instructions
Optional - marinade the tenderloin in the Italian salad dressing for 2 hours or up to 24 in the refrigerator. After marinading rinse and pat dry.
In a small bowl, combine garlic, basil, oregano, thyme, parsley, and sage.
Remove pork from marinade, rinse and pat dry. Generously season tenderloin with salt and pepper, as well as herbs.
Heat instant pot to medium high.
Add oil to instant pot, heat oil until shimmery.
Add tenderloin to pan, and cook on all sides until dark golden brown.
When Tenderloin has browned, but not cooked, remove and set aside.
Scrape up any brown bits from bottom of Instant Pot.
Add stock to Instant pot.
Add trivet to Instant Pot.
Place pork tenderloin on top of trivet, top with pats of butter.
Place lid on Instant pot, set to seal.
Cook on the High setting for 2 minutes (yes this is right - we're simply using the time to come to pressure to cook your pork tenderloin plus an extra minute.)
Let pork tenderloin naturally release, about 7-10 minutes.
Let sit 10 minutes before slicing.
Serve immediately.
Recommended Products
As an Amazon Associate and member of other affiliate programs, I earn from qualifying purchases at no extra expense to you.
Instant Pot Ultra, 10-in-1 Pressure Cooker, Slow Cooker, Rice Cooker, Yogurt Maker, Cake Maker, Egg Cooker, Sauté, and more, Includes App With Over 800 Recipes, Stainless Steel, 6 Quart
Nutrition Information
Yield

6
Serving Size

1
Amount Per Serving
Calories

500
Total Fat

32g
Saturated Fat

15g
Trans Fat

1g
Unsaturated Fat

14g
Cholesterol

177mg
Sodium

1509mg
Carbohydrates

3g
Net Carbohydrates

0g
Fiber

1g
Sugar

1g
Sugar Alcohols

0g
Protein

48g
Nutrition is automatically calculated by Nutritionix - please verify all nutrition information independently and consult with a doctor or nutritionist for any and all medical and diet advice.