Bourbon Molasses Glazed Ham
Dec 01, 2018, Updated Apr 04, 2023
Recipe for the most delicious Bourbon Molasses Glazed Ham – sweet, crunchy, salty, and completely addictive with a subtle smoky flavor!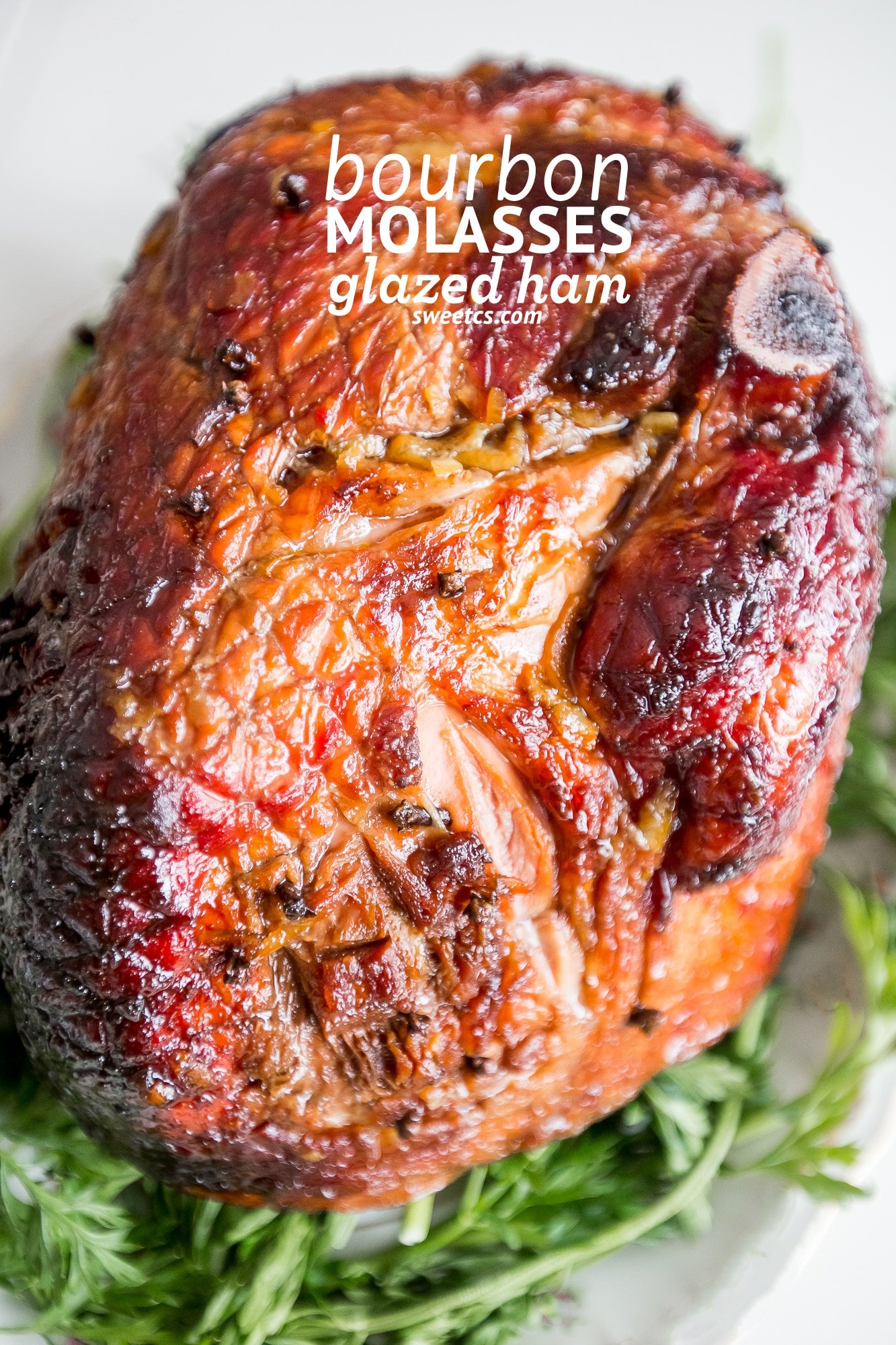 Around this time last year, my husband's friend asked if we'd like to purchase a hog from him. He has a small family farm, and was going to be raising some all-natural, hormone-free pigs for friends- and we jumped at the chance.
A few weeks before Christmas, we got to chose our cuts from a small, local butcher- and we picked up all of our cuts just before Christmas.
When we went through our haul, we noticed four beautiful pre-smoked hams that were neatly frozen and ready for special holidays.
My husband looked far and wide for ideas on how he wanted to cook the ham- and as I have a mild allergy to mustard seed (mustard makes my eyes and lips swell- it's comical but annoying and I'm always afraid of a severe reaction), most of the recipes he found were out.
This easy glazed Christmas Ham recipe is bursting with flavor – you'll see why we love it so much!
It is simple, delicious, and delivers knockout flavor – this dish is perfect for an elegant Christmas dinner, and one of the most addictive ham recipes I've ever made!
We did find a few tips and tricks to make this recipe perfect for us- we also made it with a much, much bigger ham.
Tips For Perfect Glazed Ham:
-Make sure you use a disposable foil pan- we lost a cookie sheet to this ham – the molasses dripped through our foil coating and was so thick and sludge-like, it was impossible to scrape off!
-Score the whole ham, not just the fat- this way you get a delicious glaze all the way through!
-If you don't have a roasting rack with a wire insert, use a cookie cooling sheet! It really helps to have the ham up off the glaze, and setting a cookie rack inside the pan is a perfect solution!
-Cut diamond shapes into the top of your ham, even if cooked, to place cloves in. This also helps to add more flavor and surface area to crisp up!
-To skip the bourbon, use apple cider vinegar.
-For an extra sweet and sticky glaze, sprinkle some brown sugar on the top of the ham while baking and let it caramelize over the ham!
Bourbon Molasses Glazed Ham Recipe
If you love this easy bourbon molasses glazed ham recipe as much as I do, please give it a five star review and help me share on facebook and pinterest!
Click to watch the recipe being made below:

Bourbon Molasses Glazed Ham
Total Time:
3 hours
5 minutes
Recipe for the most delicious Bourbon Molasses Glazed Ham - sweet, crunchy, salty, and completely addictive with a subtle smoky flavor!
Ingredients
2/3 cup bourbon , or whiskey
1 cup clover honey
1/3 cup molasses
1/2 cup 100 percent fruit orange marmalade
Nonstick cooking spray
1 11-pound whole bone-in smoked ham, fully cooked, unsliced
1/8 cup whole cloves
Instructions
Preheat oven to 350 degrees F.
In a medium saucepan, heat bourbon, honey, molasses, and marmalade over low heat for 15 minutes- stirring a bit to prevent burning.
Set aside.
With a sharp knife, cut a diamond pattern across the whole ham.
Stud whole cloves across the whole ham.
Spread half of the bourbon glaze over the ham and roast for 2 1/2 - 3 hours, uncovered, until ham reaches an internal temperature of 130 degrees.
Baste occasionally with additional glaze as ham cooks.
Tent ham with foil and let ham stand for 20 minutes before slicing.
Nutrition Information
Amount Per Serving
Calories

72
Sodium

5mg
Carbohydrates

10g
Sugar

10g