Cheesy Keto Pizza Casserole
Dec 28, 2019, Updated Oct 12, 2020
Cheesy Keto Pizza Casserole – easy low carb cheesy pizza casserole that is totally crave-able and so simple to make! Layers of meaty, cheesy pizza flavors you can't get enough of – with very few carbs!
If you're sticking to a low carb or keto diet, you're likely missing pizza.
My husband and I often crave a meaty slice with tons of cheese – so he tried tons of different ideas to get a hearty flavor from a supreme pizza – and this cheesy keto pizza casserole has been one of our favorite recipes since!
This casserole is bursting with sausage, marinara, cheese, and tons of vegetable flavor – assembled like a lasagna, with the flavor of a supreme pizza – just without the carbs!
This casserole is easy to assemble and baked to ooey, gooey, cheesy perfection – making it an easy-to-make (and make ahead!) dinner the whole family loves.
Just Take Me To The Cheesy Pizza Casserole Recipe Already!
I get lots of questions and comments on my recipes and posts, so I try to provide a lot of information on how to cook my recipes in my posts.
If you'd like to skip that information and get straight to the Cheesy Pizza Casserole Recipe, please scroll to the bottom of the page just above the comments where you will find the easy printable recipe.
How To Make Low Carb Cheesy Pizza Casserole
There are a few tips and tricks that will help make this cheesy pizza casserole amazing, every time.
-Brown vegetables well.
Browning your vegetables well before assembling this pizza casserole will help give them much more flavor.
-Drain off moisture.
This casserole lets off a LOT of moisture – so it is important to cook your vegetables thoroughly before making, so you can avoid some of the excess liquid.
-Layer cheese.
I love tons of delicious cheesy layers
-Keep meat at bottom of pan.
Having the meat on the bottom of the pan will help to reduce the casserole from sticking to the bottom of the pan.
-Bake with foil first.
To get this casserole the perfect amount of browned on top and melty in the middle, I bake it for half of the time covered, half uncovered – so the cheese on top doesn't over brown.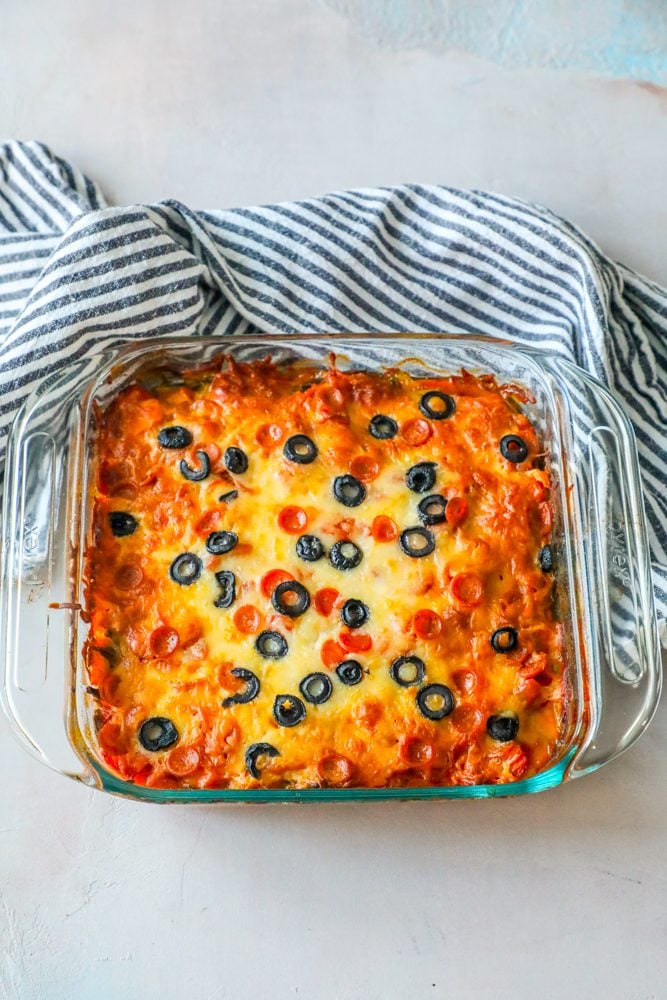 Make Ahead Cheesy Pizza Casserole
If you'd like to prep this dinner to be ready in less than 15 minutes, it is super easy to make this dish ahead of time – and you can even pre-bake it and then freeze or store in the fridge until you're ready to eat!
This recipe was designed to be just as delicious for leftovers – the high fat content helps to keep this cheesy goodness great even the second time out of the oven.
-Assemble casserole as listed in instructions, up to the point of baking.
-Once assembled, casserole can be wrapped tightly in plastic wrap and stored in the fridge to cook within 3 days.
-If you want to pre-bake, bake at 350 degrees until cheesy slightly browns on top, about 20 minutes.
-Remove casserole from oven and let cool completely.
-Wrap tightly in plastic wrap and refrigerate for up to 3 days, or freeze for up to 3 months.
-When you go to bake the casserole to serve, bake at 350 degrees to piping hot (about 20 minutes) and enjoy!
Other Easy Keto Dishes You'll Love:
If you love this easy keto pizza casserole, you'll love some of my other favorite easy keto dinners.
Click each link to find the easy printable recipe!
What to Serve With Pizza Casserole
If you're looking for the perfect side dishes to go along with this cheesy pizza casserole, check out some of my favorites:
Cheesy Keto Pizza Casserole Recipe
If you love this easy cheesy keto pizza casserole recipe as much as I do, please give it a five star review and help me share on facebook and pinterest!
CONNECT WITH SWEET C'S!
Be sure to follow me on social media, so you never miss a post!
Only have 30 minutes to get dinner on the table? Sign up for my 30 minute dinner plans direct to your inbox!
Find and shop my favorite products in my Amazon storefront here!
Easy Keto Cheesy Pizza Casserole Recipe
Cheesy Keto Pizza Casserole - easy low carb cheesy pizza casserole that is totally crave-able and so simple to make! Layers of meaty, cheesy pizza flavors you can't get enough of - with very few carbs!
Ingredients
1lb ground italian sausage (hot or mild, depending on your personal preference)
1/2 onion, diced finely
6 cloves garlic, diced finely
8 oz cremini mushrooms, cleaned and sliced thin
2 tbsp italian herbs blend
1 bell pepper, seeded and diced
1 cup sliced pepperonis (whatever thin-sliced pepperoni brand you love)
1/2 cup sliced black olives
2 cups shredded mozzarella
1 cup ricotta cheese
1 cup grated parmesan cheese
1 can diced tomatoes - do not drain
Instructions
Preheat oven to 350 degrees Fahrenheit.
In a large pan, cook and crumble ground italian sausage on medium high heat.
When Italian sausage is browned, remove from pan and set aside. Do not drain or clean out pan.
Add onions to pan and let soften and brown, about 5 minutes.
Add garlic to pan and cook down until fragrant and lightly browned, another 3-4 minutes on medium-low. Do not let garlic burn.
Add peppers and mushrooms to pan and cook to softened and lightly browned.
Drain off any excess moisture from vegetables (very important!! I often will squeeze them to get any excess water out of the vegetables.)
Prep a 9x9 casserole dish with coconut oil cooking spray (or your favorite way to prep pans - foil, parchment, butter, lard, cooking spray all work just fine.)
Layer 1/2 the sausage crumbles onto the bottom of the pan.
Add a layer of ricotta, parmesan, and mozzarella (use about 1/3 of each, there will be 3 layers of cheese overall.)
Add a layer of 1/2 the vegetables.
Layer some (about 1/2) the pepperonis across the casserole.
Add a layer of diced tomatoes (and the water they are packed in.)
Layer the rest of the meat, then another cheese layer, followed by the rest of the vegetables and tomatoes.
Finish the casserole with a top layer of cheese and pepperonis, garnish with olives.
Cover casserole with foil and bake for 20 minutes, until casserole is hot and bubbly.
Remove foil and cook until cheese is browned, about another 10 minutes.
Serve immediately and enjoy.
Notes
To further reduce carbs, you can eliminate the onion and reduce the garlic - as well as adding only 1/2 a diced bell pepper.
I personally think the flavor the vegetables brings is worth the extra carbs, but if you are closely watching macros, reducing the bell pepper, onion, and garlic can eliminate up to 6 carbs per serving.
Recommended Products
As an Amazon Associate and member of other affiliate programs, I earn from qualifying purchases at no extra expense to you.
Nutrition Information
Yield

8
Serving Size

1
Amount Per Serving
Calories

475
Total Fat

35g
Saturated Fat

15g
Trans Fat

1g
Unsaturated Fat

20g
Cholesterol

84mg
Sodium

1194mg
Carbohydrates

13g
Fiber

1g
Sugar

4g
Protein

28g
Nutrition data is provided as an estimate only. All information is calculated automatically through Nutritionix software - I am not a doctor, a nutritionist, or a dietician. All information should be calculated independently for accuracy and consulted with a medical professional.