Bring the flavors of Christmas to the classic Chex Mix Muddy Buddies, and keep your family and friends snacking at your next holiday party.
Don't want all the extras in a recipe post? We provide a skip to recipe button in the top left corner, as well as a clickable table of contents, just below, to help make this page easier to navigate.
Table of contents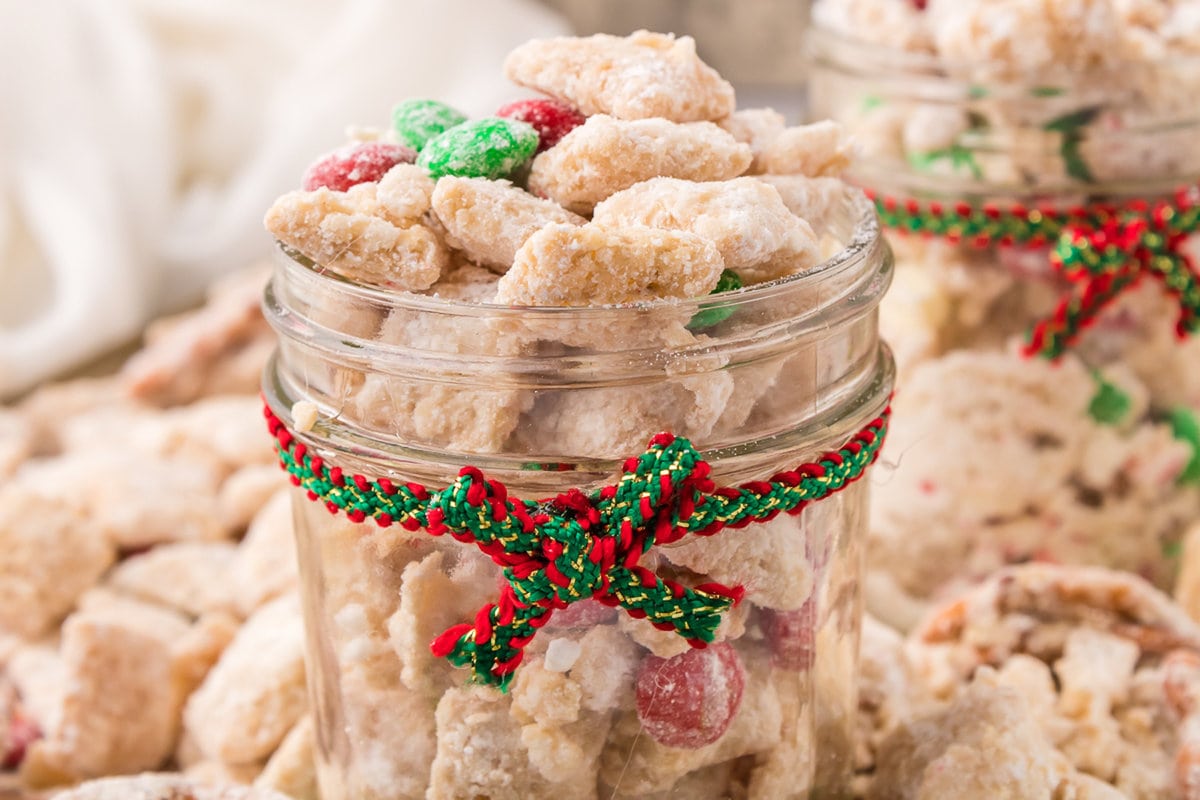 Easy Festive Holiday Chex Mix
Christmas Chex Mix is an incredibly easy and delicious snack that will compliment your box of Christmas treats for the neighbors as well as compliment your mulled wine or hot chocolate during the Christmas season.
The recipe for savory Chex mix first appeared on boxes of Chex cereal in the 1950s, and official and unofficial recipes have spanned the divide between sweet and savory ever since. While there are thirteen officially produced Chex mix variations sold commercially, there are many, many more home variations developed by snack lovers across the country.
Sweet Chex mix, like this Christmas-themed recipe, with melted peanut butter and chocolate is often called puppy chow, muddy buddies, or reindeer chow.
I love to serve this recipe when we're putting up Christmas decorations, wrapping presents or any time we have friends over during the holiday season. It's so quick and easy, though, you don't really need an excuse to whip up a batch of the sweet and crunchy Christmas snack!
How to Make Christmas Chex Mix
To make this recipe, you'll need:
Chex Cereal - Chex Cereal dates back to the 1950s and is a rice or wheat cereal named after the checkerboard squares in the original producer Ralston-Purina's logo. I used Rice Chex for a lovely crunchy and mild flavor, but you could use corn or wheat flavor. Make a couple of batches of this recipe and try them all out!
Pretzels - Select pretzels that are a similar size to your Chex mix. I used small, twist pretzels for this. When the ingredients are a similar size, they will stay mixed better and provide a more balanced flavor in each handful.
Butter - Butter is what brings all the dry ingredients together, and adds the delicious, nutty flavor to the Chex mix flavoring sauce.
Peanut Butter - Peanut butter acts as a binder for this flavor mix, so it's important to use creamy peanut butter, as crunchy peanut butter will have a different texture.
White Chocolate Chips - White chocolate chips hold the whole recipe together, quite literally. Because white chocolate is solid at room temperature (77oF), it creates the outer flavoring shell for this mix, without melting in your hand when you eat it. White chocolate was first developed by the Nestle company in 1935.
Powdered Sugar - sometimes called confectioners' sugar, or icing sugar, powder sugar is granulated sugar milled into a powdered state. Commercially available powdered sugar usually contains around 5-10%, anti-caking agents. You can make your own powdered sugar by milling caster sugar in a clean coffee grinder or by hand with a mortar and pestle.
Red and Green M&M's - These classic Christmas-colored candies and a perfect crunch texture, and an additionally colorful element to this Christmas Chex mix. I used the regular-sized chocolate candies for this, but you could also use the festive mini-sized M&Ms.
Candy Canes - The tradition of twisted peppermint stick candy dates back to the 1840s, and has been ubiquitous with Christmas ever since. The laborious process of twisting and bending the canes was done by hand until 1957, when Fr. Gregory Harding Keller, a Roman Catholic priest, invented and patented the Keller machine for his family's candy business.
Once you've gathered your ingredients, we will use the following method:
Prepare your dry ingredients. In a zip-top bag, crush the candy canes into pieces, but not into powder, and set aside. In a large mixing bowl combine the Chex mix and pretzels.
Prepare your sauce. In a heavy bottom saucepan, or double boiler, melt your butter and add the peanut butter and one cup of white chocolate chips. Whisk together as they melt, being sure not to let the mixture burn if you are not using a double boiler.
Mix together. Pour the melted white chocolate mixture over the Chex and pretzels, and stir to mix well. Then add the powdered sugar, and stir to mix. Add the crushed candy canes, M&Ms, and the remaining white chocolate chips and mix well. Serve in a bowl for all to enjoy!
Tips and Tricks to Perfect Christmas Muddy Buddies:
Christmas Chex mix is SUPER easy to make, but these tips will make it, even more, hassle-free.
For less mess, mix in a zip-top bag. For less of a mess, and to make mixing easier, you can combine the Chex and pretzels with the melted chocolate mixture and eventually the remaining ingredients in a zip-top bag. The bag also doubles as a storage container for the Christmas Chex mix, so this is a win-win.
Use a double boiler method to avoid burning. It can be easy to burn chocolate when you're melting it. To avoid that, use a double boiler method to melt the ingredients. Take a saucepan, and fill it half way with water. Place a metal or glass bowl over the pan so it fits neatly as a lid. The steam from the saucepan will provide gentle heat to melt the butter, peanut butter, and white chocolate which will prevent burning.
FAQ:
Can I make this recipe gluten-free?
Yes! Chex makes a variety of products that are gluten-free including this Rice Chex. Substitute regular pretzels for your favorite gluten-free variety (like these). Most commercially available peanut butter and powdered sugar is gluten-free, but you'll want to check the labels if you're gluten sensitive. 
How long can I keep Christmas Chex Mix?
You can keep this Christmas Chex mix in an airtight container at room temperature for up to two weeks.
My Chex mix seems to have lost the strong white color after the first couple of days, how do I fix this?
This usually happens when you use the lesser amount of powdered sugar, the simple fix is to add in more powdered sugar.
Can I use regular chocolate chips in place of the white chocolate chips?
For the chocolate chips you melt with the butter and peanut butter, replacing white with regular chocolate chips is fine. However, replacing the white chocolate chips with regular chocolate chips for the ones that get stirred into the mixture, might make the Chex mix look off because of the color.
Can I melt the chocolate chips, butter, and peanut butter in the microwave rather than on the stove?
Yes, you can! Just put them in the microwave for 20-30 second increments, stirring well after each time. This way may take more time and effort than melting it on the stove because of the amount of ingredients that needs melting; which is why using a saucepan on the stove was recommended in the directions.
Should I use Corn Chex, Rice Chex, or another kind?
The type of Chex cereal you choose is up to you, just make sure it's a neutral one and not an already flavored one like cinnamon.
Is it easier to make this Chex mix in a bag or in a bowl?
If you have a large 4 quart bowl, then it is easiest to make in the bowl and to make sure all ingredients are stirred in well. If you do not have a large enough bowl, then a gallon sized bag works fine, just make sure you shake it well enough every time the directions say to stir or shake.
What to serve with Christmas Chex Mix:
This Christmas Chex Mix will complete any Christmas cookie plate or provide that sweet crunch for an afternoon snack.
I enjoy this Christmas Chex Mix with a nice mug of mulled wine or mulled beer, eggnog, spiked eggnog mocha, or hot chocolate.
A few of my favorite Christmas cookies include gingerbread truffles and candy cookie dough fudge.
Check out other favorite Christmas recipes!
Christmas Muddy Buddies Recipe
If you love this easy recipe please click the stars below to give it a five star rating and leave a comment! Please also help me share on facebook and pinterest!
CONNECT WITH SWEET C'S!
Be sure to follow me on social media, so you never miss a post!
Facebook | Twitter | Youtube | Pinterest | Instagram
Only have 30 minutes to get dinner on the table? Sign up for my 30 minute dinner plans direct to your inbox!
Find and shop my favorite products in my Amazon storefront here!
Yield:

12 cups
Christmas Muddy Buddies
Bring the flavors of Christmas to the classic Chex Mix, and keep your family and friends snacking at your next holiday party.
Ingredients
 6 cups Chex Cereal
 2 cups Pretzels, small, twisted
 ½ cup Butter
⅓ cup Peanut Butter, creamy
 1 ½ cups White Chocolate Chips
 2 - 2 ½ cups Powdered Sugar
1 cup Red & Green M&M's
4 Candy Canes
Instructions
Slightly crush the candy canes in the zip lock bag with a rolling pin, and make small chunks not anywhere close to a powder.
In the large bowl (or ziplock bag once you remove the candy canes or a separate bag) mix together the Chex and pretzels.
Melt the butter, peanut butter, and 1 cup of white chocolate chips on the stove, stirring constantly over medium to low heat.
Pour the butter mixture over the Chex mixture and stir (or shake) well.
Add in the powdered sugar and stir (shake) well again.
Once all of the Chex and pretzels are covered well, stir (or shake) in the M&M's, the rest of the white chocolate chips, and crushed candy canes.
Share and enjoy!
Notes
If using a ziplock bag to make the Chex mix, be sure the butter mixture is not too hot when pouring it in.
If possible, don't re use the ziplock bag you crushed the candy canes in.
This Chex mix tastes the freshest when enjoyed within the first 2-3 days after it's made, but it will last up to two weeks in an airtight container at room temperature without tasting stale.
Recommended Products
As an Amazon Associate and member of other affiliate programs, I earn from qualifying purchases at no extra expense to you.
Nutrition Information
Yield
12
Serving Size
1
Amount Per Serving
Calories

589
Total Fat

23g
Saturated Fat

12g
Trans Fat

0g
Unsaturated Fat

9g
Cholesterol

27mg
Sodium

300mg
Carbohydrates

94g
Fiber

3g
Sugar

72g
Protein

6g
Nutrition is automatically calculated by Nutritionix - please verify all nutrition information independently and consult with a doctor or nutritionist for any and all medical and diet advice.