Easy Baked Salmon Milanese Recipe
Sep 12, 2019, Updated Aug 12, 2021
Easy Baked Salmon Milanese Recipe – delicious baked salmon with a lemon dill butter flavor oven baked in a foil pouch for an easy healthy baked salmon dinner everyone loves!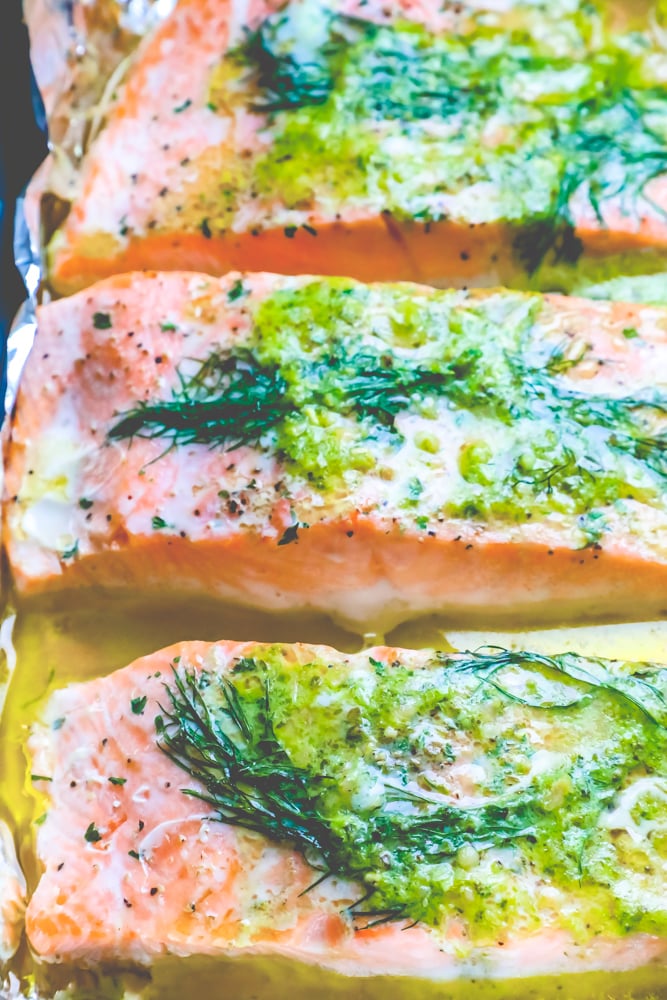 This easy Baked Salmon Milanese is simple but delicious- the flavor of butter, dill, garlic, and salmon is out of this world delicious.
I'm actually re-creating my favorite Costco dish with this recipe – their Salmon Milano is out of this world good (and so pretty!), and I HAD to come up with a perfect copycat (I'm even showing you how to make a knockout compound butter you can scoop on top of a sprig of dill so yours can look exactly like theirs).
This recipe tastes even more delicious than their prepared version (and can be made for a fraction of the price… score!) and you'll even have some compound butter leftover for bread, pasta, and sauces later!
The light flavor of salmon, paired with a rich buttery sauce and tanginess of white pepper and dill make this dish a well-loved classic even for picky eaters!
This recipe is a huge hit with our family – and I just know you're going to love it.
Baked Salmon Milanese is a great recipe for beginner home cooks looking to learn to cook fish more regularly, and doesn't rely on any expensive or hard to use equipment – if you have a baking sheet and an oven, you can make this dish!
I'm sharing a ton of information about cooking salmon, so you might want to bookmark this post for future recipes – I'm talking all about how to tell if salmon is done, how to tell what salmon to buy, how to pick sustainable salmon… and more helpful tips to make every salmon recipe – not just this Baked Salmon Milanese – turn out perfectly, every time.
Finally… if you're looking for other knockout salmon dishes that are perfect for even beginner cooks, please check out my Easy Air Fried Lemon Salmon Recipe, my Whiskey Baked Salmon, Sweet Chili Asian Salmon Burgers, and my baked Everything Salmon – each one is a regular at my home every month! (And if you're looking for a knockout keto smoked salmon dish, be sure to check out my husband's recipe for keto smoked salmon avocado toast!)
Just Take Me To The Easy Baked Salmon Milanese Recipe Already!
Since I have readers of all levels of comfort in the kitchen, and I get a lot of questions and requests for additional information, I put a lot of time into adding useful information, tips, tricks, and notes in my posts.
If you'd rather skip over this, please scroll to the bottom of the page where you will find the easy printable recipe.
How To Tell When Baked Salmon is Done
One of the most popular questions I get is how to tell when salmon has finished cooking.
As it cooks in the oven, salmon will change from translucent (dark red, sometimes almost purple, or a bit grey-silver depending on the variety of salmon) to a bright pinkish white and turn opaque.
After about 6-8 minutes of baking in the oven, check your salmon for doneness by taking a sharp knife to peek into the thickest part – if it is still deep red and raw looking, keep cooking until the middle is only just red.
If the salmon meat is beginning to flake, but still has a little translucency in the middle of the deepest part of the filet, your salmon is done. It shouldn't look very red and raw though, and it should be hot to the touch, not cold.
Once you cook salmon more and more, you'll know how done it is by the look of the salmon, and won't need to check the middle.
What Temperature to Cook Salmon To
The FDA guideline says salmon should be cooked to 145 degrees Fahrenheit to prevent the spread of food-borne illness.
As salmon is frequently used in sushi and cooked similarly to a steak (some love rare, some love well done), the temperature you cook salmon to is a bit of a personal choice.
Some people will prefer a more-rare salmon – but as I live in a very landlocked Northern Colorado and often rely on seafood flown in or fresh-frozen, I prefer to cook my salmon to be fully cooked in the middle.
If I was closer to off-the-boat-fresh fish, I would cook to more medium rare.
The easiest way to tell if salmon is overdone? Simply look for spotted white globs all over the salmon – that is the albumin, or fat, from the fish which has released.
This will cause your fish's lovely texture to seize up a bit – and dry the meat out since the fat has cooked out.
While it might sound ideal to cook the fat out of a fish, remember that the omega 3 fatty acids found in high concentration in salmon are extremely healthy, and contribute to salmon's great texture and flavor.
The easiest way to avoid overcooking salmon is to watch for when your salmon turns pinkish-white – but remove before the white dots begin to appear.
What Types of Salmon are There
Salmon can be tricky for home cooks just starting to get used to the fatty fish, because it can vary wildly in color, thickness, and appearance.
There are also considerable differences in wild vs farmed, coho vs sockeye salmon – making it even more confusing!
The handy guide below will help you pick a type of salmon that will fit your budget and flavor preferences:
King/Chinook Salmon
Opens the Alaskan fishing season
Shortest season of all wild-caught salmon, making demand high
Largest at 11-18 pounds
Most Omega 3 fatty acids
Buttery flavor and texture
Sockeye Salmon
More abundant
More available in grocery stores across the United States
Deep bright red orange color
High fat and omega 3 content
Coho Salmon
Smaller, less colorful salmon
Later salmon season than King and Sockeye salmon
Milder flavor
Chum Salmon
Less oily
Can vary wildly in quality and flavor
Often used for canned salmon
Pink Salmon
Most widely available
Small – only 2-3 pounds
Lighter color
Less fat
Often smoked or canned
While any type of salmon would work for this recipe, I reccomend Sockeye salmon or Coho salmon filets – sockeye and coho have a good flavor, and are a little less expensive than a Chinook salmon.
Since this salmon does use a sauce with a strong flavor, you can get away with a less expensive filet – sockeye or coho salmon will be fabulous.
If choosing a coho salmon filet, you might want to reduce cook-time slightly as they tend to be smaller and thinner filets that cook a bit faster than Chinook or Sockeye salmon filets.
Watch to see how your salmon cooks, and pull from the oven when it turns opaque and pinkish-white, rather than going off a cook time.
Is Salmon a Sustainable Seafood
If you're very passionate about finding sustainable seafood, check this guide for options on specific sources worldwide – including information on how the fish is caught, and the region's salmon population health, etc.
While there are a lot of considerations to take into account (as noted in the link I provided above), generally, farmed salmon that has been raised in an indoor circulating tank is a responsible and delicious choice that has little environmental impact.
To Make This Baked Salmon Milanese, You'll Need:
When making any salmon dish, it's important to have the right tools on hand to create your recipe.
This baked salmon Milanese recipe is fabulous because it uses only a few essential tools – a baking sheet, nonstick foil, cooking spray, and a spatula – item's you're almost certain to already have on hand.
This baked salmon recipe is great for home cooks who don't have a ton of gadgets and gear for the kitchen, or for cooks just starting to try cooking fish at home.
What to Serve With Baked Salmon Milanese
Since salmon Milanese is a great, easy, naturally low-carb and low-calorie dish, it pairs with a number of delicious dishes like pasta salads, fresh roasted asparagus, over cauliflower rice, and more.
What to Serve with Baked Salmon
How to Store and Reheat Baked Salmon
If you'd like to store, freeze, or reheat your baked salmon – without it drying out, getting a gummy texture, or smelling/tasting fishy – please read my tips below!
How to Store Salmon
To store salmon, keep in an airtight container in the refrigerator for 2-3 days.
To freeze, wrap each filet separately and tightly in plastic wrap. Place in plastic bag and keep in freezer for up to three months.
Let thaw fully overnight in the refrigerator before reheating.
How to Reheat Salmon
Reheating salmon is all about keeping it from drying out – and thankfully, the Milanese butter sauce we've made will help it from entirely drying out.
For the best results, fish should be reheated at a lower temperature for a longer amount of time (the opposite of how fish is ideally cooked the first time), to prevent the fat from cooking off and toughening up the meat, as well as drying it out and giving it a fishy flavor.
Follow these tips to keep your fish perfect after reheating:
Place the fish on a rimmed baking sheet.
Warm salmon at 275°F in the oven for about 15 minutes.
Check for an internal temperature of 125°F to 130°F – then you will know your salmon is done (but not dried out!) and ready to eat.
Easy Baked Salmon Milanese Recipe
If you love this easy baked Salmon Milanese recipe as much as I do, please give it a five star review (simply click the stars below) and help me share on facebook and pinterest!
CONNECT WITH SWEET C'S!
Be sure to follow me on social media, so you never miss a post!
Only have 30 minutes to get dinner on the table? Sign up for my 30 minute dinner plans direct to your inbox!
Find and shop my favorite products in my Amazon storefront here!
*Important Nutritional Note: all caloric information is automatically calculated by software and should be independently verified.
This recipe's nutritional information looks higher per serving than it will be per person, because it is calculating the entire butter sauce, not the amount used in this recipe, as there will be some compound butter leftover after making this dish (it's lovely on pasta, bread, and vegetables!). Count on about 200-300 less calories if made as called for below – or the entire calorie count if you'd like to really load up on the butter sauce.
Easy Baked Salmon Milanese
Easy Baked Salmon Milanese Recipe - delicious baked salmon with a lemon dill butter flavor oven baked in a foil pouch for an easy healthy baked salmon dinner everyone loves!
Ingredients
3-4 salmon filets
4-5 sprigs fresh dill, separated
2 tsp italian seasoning, divided
1 tsp garlic powder
1 tsp white pepper, divided
1 tbsp white wine
8oz salted butter, room temperature
Instructions
In a large bowl, mix soft butter with garlic powder, 1 sprig dill finely diced, 1/2 the Italian herbs, 1/2 the white pepper, white wine and mix well to form a compound butter.
Work into a large ball shape.
Scoop onto plastic wrap and tightly wrap butter into a ball or log shape and refrigerate for at least four hours, up to two days.
Preheat oven to 350 degrees.
Line baking sheet with nonstick foil or spray with cooking spray (I personally do both to ensure perfect nonstick fish filets.)
Place salmon filets on foil.
Sprinkle remaining 1/2 Italian herbs and the remaining 1/2 of white pepper over salmon.
Lay a sprig of dill over each piece of salmon.
Remove Milanese compound butter from fridge, and scoop into golf ball sized balls.
Place on top of dill sprig on salmon.
Bake at 350 degrees Fahrenheit for 8-10 minutes, until fish flakes slightly and is lightly transparent in the middle when checked with a sharp knife into the middle of a filet.
Serve immediately.
Store leftovers in the refrigerator for up to three days, or three months when well wrapped and stored in a freezer.
Recommended Products
As an Amazon Associate and member of other affiliate programs, I earn from qualifying purchases at no extra expense to you.
Nutrition Information
Yield

6
Serving Size

1
Amount Per Serving
Calories

589
Total Fat

49g
Saturated Fat

23g
Trans Fat

1g
Unsaturated Fat

22g
Cholesterol

177mg
Sodium

336mg
Carbohydrates

1g
Net Carbohydrates

0g
Fiber

0g
Sugar

0g
Sugar Alcohols

0g
Protein

34g
Nutrition is automatically calculated by Nutritionix - please verify all nutrition information independently and consult with a doctor or nutritionist for any and all medical and diet advice.