Easy British Sausage Rolls
These easy British sausage rolls are a tasty and quick treat that makes a portable breakfast or lunch, or a wonderful game day treat – just like the British-style sausage rolls from shops across the UK and Australia!
Don't want all the extras in a recipe post? We provide a skip to recipe button in the top left corner, as well as a clickable table of contents, just below, to help make this page easier to navigate.
Easy British Sausage Rolls
Sausage rolls are a beloved staple in Britain. The flaky crust and the moist, meaty sausage will have everyone in your house craving them
Over the pond, they're eaten hot or cold, for breakfast, lunch, or dinner. One well-known grocery chain sells 2.5 million sausage rolls per week! That's over a 140 million sausage rolls consumed every year. They were originally made with shortcrust pastry, but it's common for them to be made with puff pastry now.
This recipe is super fast and super easy to make. My son and husband love to eat them while watching British soccer on Saturday morning, but even my picky daughter will grab one for a snack or a portable breakfast.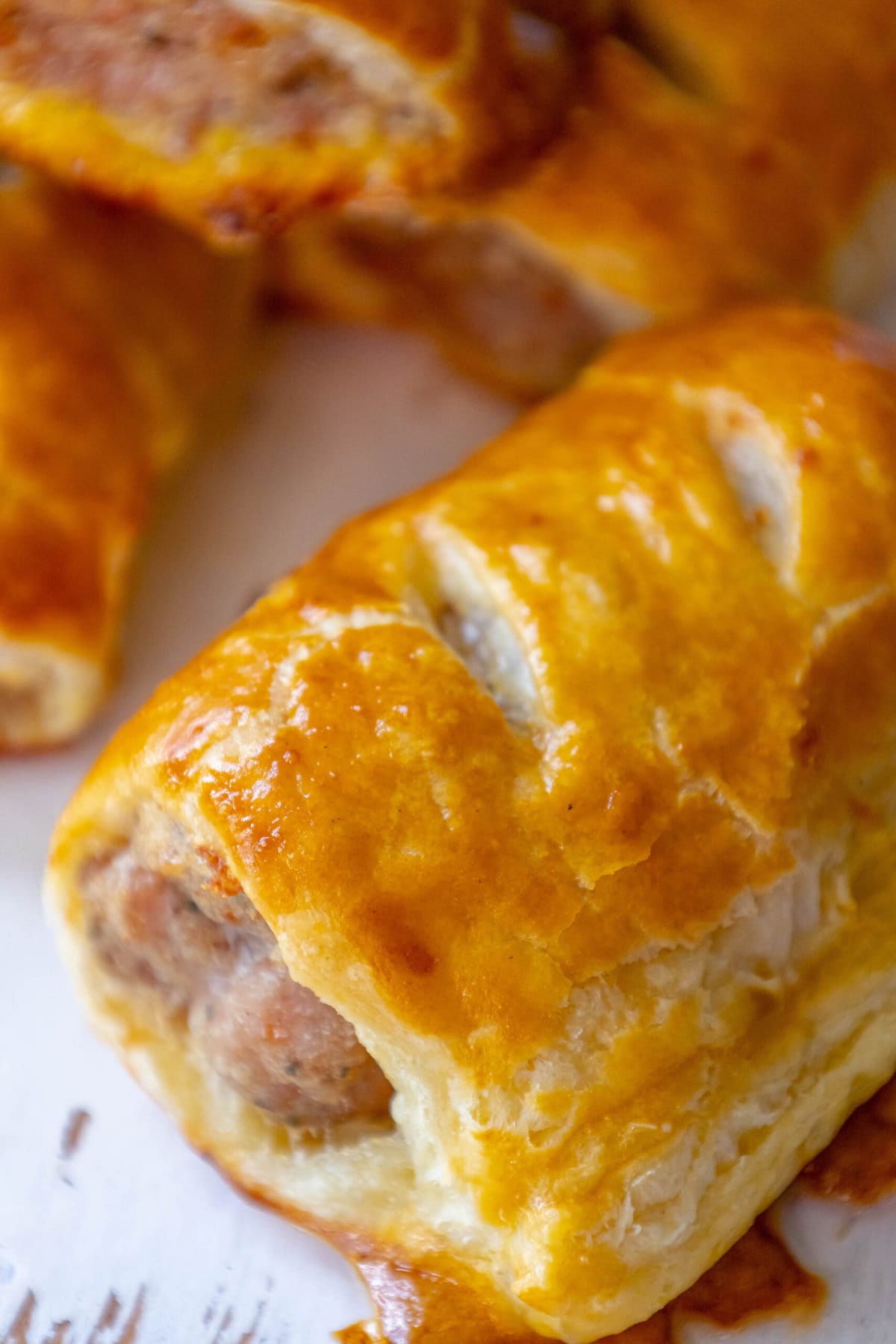 How to make Easy British Sausage Rolls
To make this recipe, you'll need:
Puff Pastry – Puff pastry is a laminated dough that is made from folding butter into flour, rolled thin, folded over, and re-rolled. This process creates an incredibly delicious and flaky pastry crust. I used pre-made sheets, but if you're adventurous try making it yourself.
Ground Pork – Pork sausage is traditional in a good British sausage roll. Since I was going for a particularly authentic British flavor, I opted to make my own sausage. If you're in a hurry use pre-made pork breakfast sausage. I find the ground pork at my local market to be on the lean side, so I added a couple of pats of butter to increase the fat content of the sausage.
Bread Crumbs – Breadcrumbs are essential in meatloaves, meatballs, and loose sausage because they keep the meat's texture light and not too dense. They absorb the cooking juices and fats that are released by the cooking process to keep your sausage flavorful and juicy.
Salt and Pepper – Salt and pepper are vital to the seasoning of the sausage. I always use freshly cracked black pepper and French sea salt.
Sage – Sage is a wonderfully aromatic herb that brings a mild earthy flavor to the sausage.
Nutmeg – Nutmeg is a slightly sweet, earthy tang to the sausage, and is just right for the authentic British sausage flavor profile I'm looking for.
Mace – Mace, and nutmeg are commonly used together in European cooking. Nutmeg is the seed, and mace is the ground husk of the same fruit. Mace has a subtle, slightly spicy flavor.
Egg – The beautiful shiny lacquered brown finish on cooked puff pastry comes from the use of an eggwash on the outside of the pastry.
One you've gathered your ingredients, we will use the following method:
Step 1 – Prepared your sausage. In a food processor combine the sausage, breadcrumbs, spices, and water. Pulse together for 20-30 seconds to combine well. If your pork is lean (90%+) consider adding 1-2 tablespoons of butter. You want a well-mixed sausage but try not to overwork the meat. I would recommend cooking a spoonful in a pan or the microwave to taste for consistency and appropriate seasoning levels. Flavor to taste
Step 2 – Prepare the pastry. On a floured surface, roll out one sheet of puff pastry to a rectangle that's approximately 10" X 14". Move the pastry onto your parchment paper-lined baking sheet, and then cut lengthwise down the middle, so you have two long strips of pastry.
Step 3 – Assemble the sausage rolls. Roll the sausage out in a long 1"-1 ¼" tube the length of each sheet of pastry, closer to one edge. Fold the pastry over the sausage and then crimp the edges together with a fork to create a seam. Cut the rolls into roughly even, 2"-3" sections, and use your knife to slice the top to release the steam. Brush with your egg wash before baking.
Step 4 – Bake and enjoy. Bake the sausage rolls in a 425oF oven for 25-30 minutes depending on your oven. You want the pastry to be deep golden brown and glossy and the pork to have reached an internal temperature of 165oF. Remove from the oven and let cool before you enjoy!
Tips and Tricks to Perfect Easy Sausage Rolls:
Add butter if your pork is lean. Add 1-2 tablespoons of butter to your sausage mixture if your ground pork is more than 85% lean to add more fat/flavor to your sausage.
Use pre-made breakfast sausage if you're in a hurry. If you're in a hurry or don't want to bother making your own sausage, use a pound of your favorite breakfast sausage. If you want to get really wild and adventurous you could try using different types of sausage like German sausage or Hot Italian Sausage.
Keep your pastry and your sausage cold. Try not to let your sausage or pastry get too warm, as the butter and fat will start to soften and it will be more difficult to work with. If your kitchen gets warm, keep your sausage in your fridge while you're rolling out your dough, and vice versa. Your hands can also melt the butter and fat, so I recommend using food-safe gloves when you handle the sausage or pastry. I like this kind.
FAQs:
How long can I keep the sausage rolls in the refrigerator?
You can keep your cooked sausage rolls for up to four days in the refrigerator and freeze them for up to 3 months. 
How do I re-heat the sausage rolls?
Place the sausage rolls on a baking sheet and heat in a 350oF oven for 10-15 minutes until the sausage is warm. 
How do I make these ahead of time?
You can prepare the sausage rolls ahead of time, and then freeze them uncooked. Simply bake them from frozen at 425oF. Add 5-6 minutes to the cooking time if cooking from frozen.
What to Serve With Sausage Rolls
These easy British sausage rolls are a delicious snack or portable breakfast. My son and husband love to eat them while they watch English soccer on Saturday mornings with a hot cup of cardamom coffee or a dalgona coffee!
These are a great addition to any bunch or holiday breakfast table. They're great with huevos rancheros, fig and honey fruit salad or cheesy chorizo egg skillet.

These easy British sausage rolls are so versatile they're also a great addition to your game day menu. These are delicious with my instant pot chicken wings and homemade blue cheese dip or my best easy spinach and artichoke dip recipe.
Easy British Sausage Rolls Recipe
If you love this easy recipe please click the stars below to give it a five star rating and leave a comment! Pease also help me share on facebook and pinterest!
CONNECT WITH SWEET C'S!
Be sure to follow me on social media, so you never miss a post!
Only have 30 minutes to get dinner on the table? Sign up for my 30 minute dinner plans direct to your inbox!
Find and shop my favorite products in my Amazon storefront here!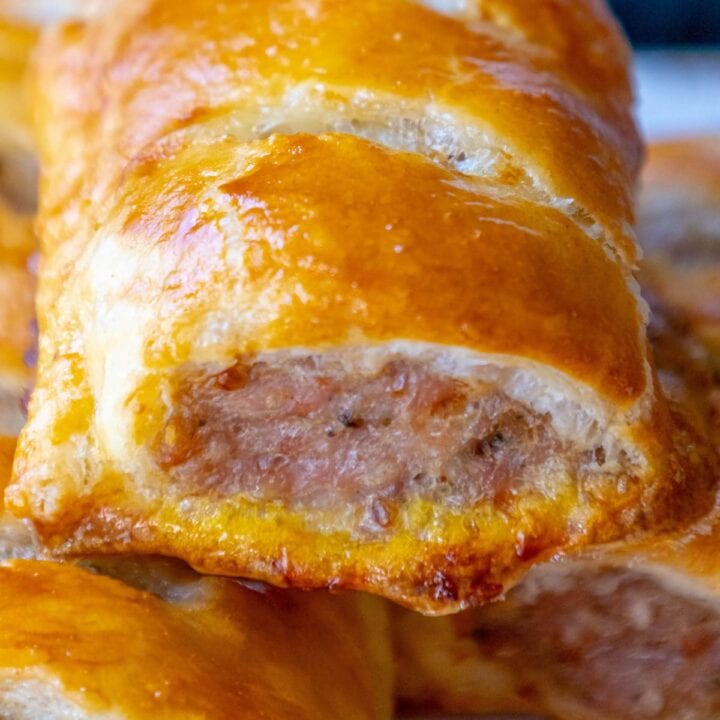 Easy British Sausage Rolls
Sausage rolls are a tasty and easy treat that makes a portable breakfast or lunch, or a wonderful game day treat. 
Ingredients
1 sheet puff pastry thawed
1 pound (16 ounces) ground pork
½ cup (2.65 ounces) dry bread crumbs
1 teaspoon Kosher salt
1 teaspoon dried sage
½ teaspoon freshly ground black pepper
Dash of ground nutmeg
Dash of mace
⅓ cup (2.65 ounces) water
1 egg for egg wash
Instructions
Preheat the oven to 425° F.
Combine the ground pork, breadcrumbs, water, and seasonings in a food processor and pulse together until well combined.
Cook a small amount of the sausage to check your seasons, adjust as necessary. Refrigerate after mixing.
On a floured surface roll out the sheet of puff pastry sheet. Work into a 10" x 14" or 15" rectangle. Place it on a parchment-lined baking sheet, and then cut in half lengthwise.
Place a 1" - 1.5" roll of half of the sausage on each strip of pastry.
Fold the pastry over the sausage and use a fork to seal the edges together.
Cut each roll into 2"-3" sections, or your preferred size. Cut 2 to 3 diagonal slits in each piece to release the steam.
Brush the pastry with egg wash.
Bake at 425° F for 25 to 30 minutes. The sausage rolls are done when the pastry is deep golden brown and the sausage has reached an internal temperature of 165℉. Allow to rest for 10 minutes before serving.
Recommended Products
As an Amazon Associate and member of other affiliate programs, I earn from qualifying purchases at no extra expense to you.
Nutrition Information
Yield

6
Serving Size

1
Amount Per Serving
Calories

94
Total Fat

6g
Saturated Fat

2g
Trans Fat

0g
Unsaturated Fat

4g
Cholesterol

74mg
Sodium

271mg
Carbohydrates

4g
Fiber

0g
Sugar

0g
Protein

7g
Nutrition is automatically calculated by Nutritionix - please verify all nutrition information independently and consult with a doctor or nutritionist for any and all medical and diet advice.