Garlic parmesan air fried shrimp recipe – delicious crunchy air fried shrimp that are full of garlic parmesan flavor, with very little oil!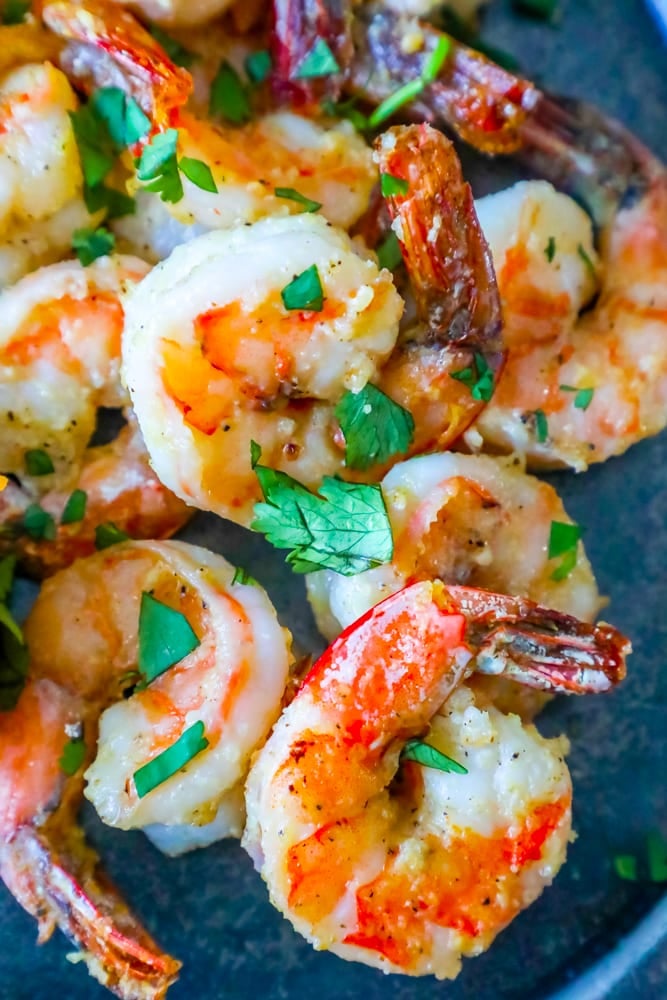 These shrimp are easy, crunchy, and bursting with garlic parmesan flavor – they are a great appetizer and lighter alternative to popcorn shrimp.
These garlic parmesan shrimp have a breading-like flavor – with just garlic, parmesan, and oil – for a perfect easy keto garlic parmesan shrimp recipe everyone will love.
These shrimp make a perfect appetizer, are great in salad, wonderful in sandwiches – or just as-is straight from the fryer!
We love this easy and delicious air fryer shrimp recipe – it is so simple, requires no cooking experience, and is naturally low carb and keto complaint – for an easy to make gluten free shrimp.
I hope you love this air fried shrimp as much as I do!
Here at Sweet C's, we have lots of types of readers – those who like to get straight to the recipe, and those who would like more information, including tips and tricks to feeling more comfortable in the kitchen.
We provide a skip to recipe button in the top left corner, as well as a clickable table of contents, just below, to help make this page easier to navigate.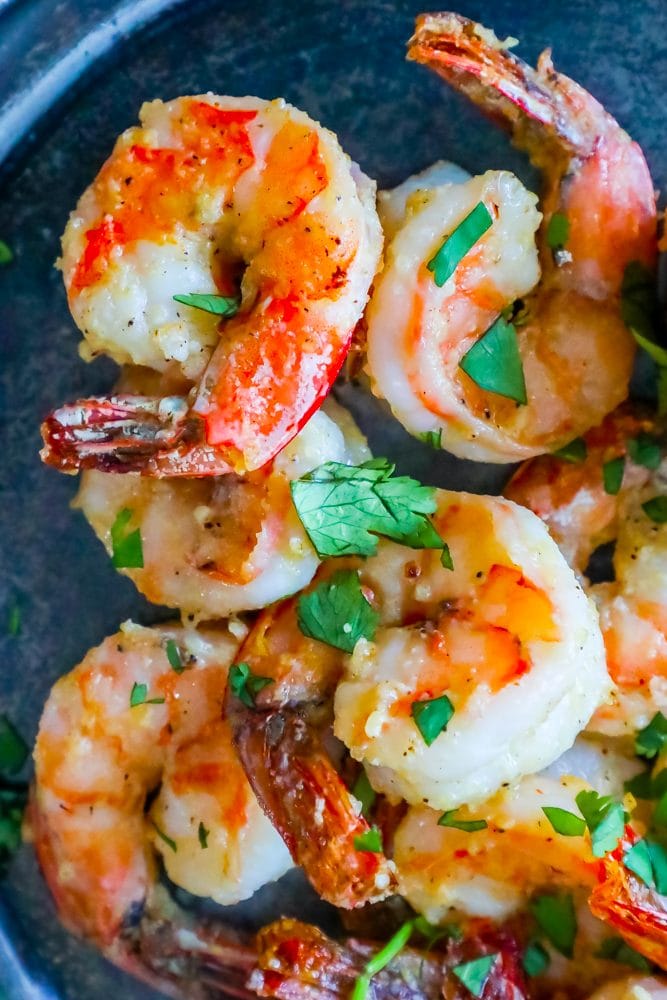 Keto Crunchy Fried Shrimp
It is hard to get a crunchy, crispy, fried shrimp texture without adding breading to the shrimp – but we're using simple grated parmesan cheese and high heat to get a crunch that won't break your macros.
This isn't just for keto eaters – it's a super simple gluten free trick you can use with pretty much any food for an extra crunchy bite!
Using grated parmesan is essential to this recipe – it will help to give a crunchy, crispy, "breaded" texture without adding any bread or carbs.
I personally prefer drier, less expensive grated cheese for this – since it will have a more breadcrumb like texture. Look for brands that are shelf-stable for this (I use Kraft, but any are good.)
Air frying shrimp is easy – simply toss in parmesan cheese and spices to coat, place in air fryer basket, and cook – but there are a couple of tips and tricks to make sure its fabulous, every time.
-Don't overcook.
Shrimp when overcooked are gummy, fishy, and chewy – no fun! Cook shrimp until just pink and no longer translucent.
-Remove tails or keep on – it's up to you.
Other Easy Seafood Dinners You'll Love
If you love this easy air fried shrimp recipe, please check out some of my other easy seafood recipes that you will love even more!
Other Air Fryer Recipes You'll Love
If you're looking for other easy air fried recipes, please visit my favorites below: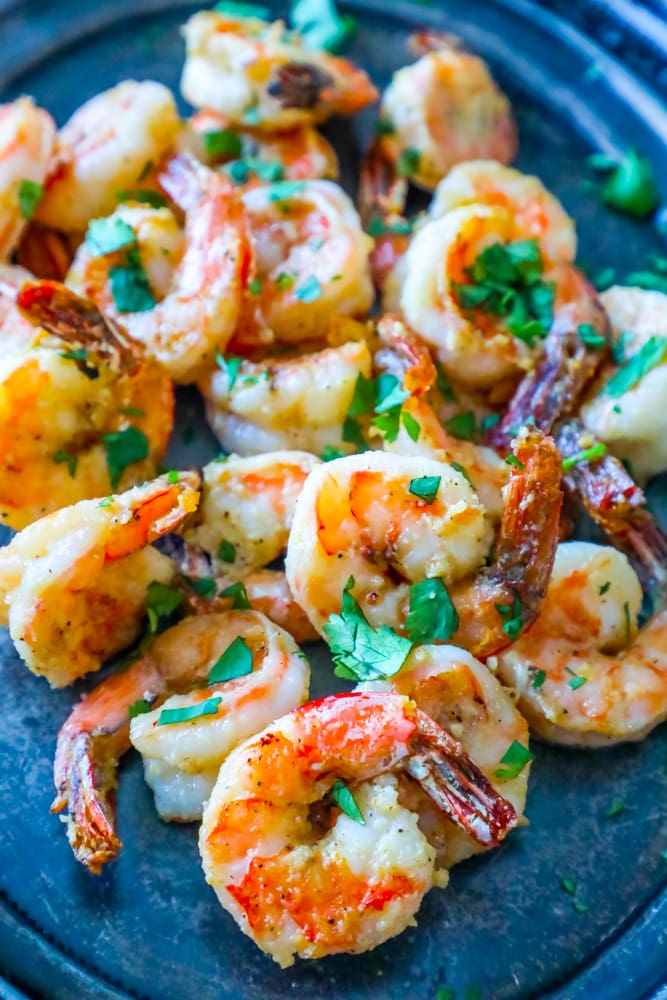 Can I use frozen shrimp?
Thaw shrimp in the refrigerator or in a cold water bath before air frying shrimp. Pat dry to remove any water for best texture.
Should I leave tails on or take them off?
You can take the shrimp tails off, or leave them on – totally up to you!
Some people like to eat the crunchy part of the shrimp tail (similar to soft shell crab), some people like to present shrimp tails on, and some people prefer it off when cooking for easy eating – do what works for you!
Garlic Parmesan Air Fried Shrimp Recipe
If you love this easy garlic parmesan air fried shrimp recipe as much as I do, please give it a five star review and help me share on facebook and pinterest!
CONNECT WITH SWEET C'S!
Be sure to follow me on social media, so you never miss a post!
Facebook | Twitter | Youtube | Pinterest | Instagram
Only have 30 minutes to get dinner on the table? Sign up for my 30 minute dinner plans direct to your inbox!
Find and shop my favorite products in my Amazon storefront here!
Yield:

6
Garlic Parmesan Air Fried Shrimp Recipe
Garlic parmesan air fried shrimp recipe - delicious crunchy air fried shrimp that are full of garlic parmesan flavor, with very little oil!
Ingredients
1lb shrimp, deveined and peeled (you can leave tails on if desired)
1 tbsp olive oil
1 tsp salt
1 tsp fresh cracked pepper
1 tbsp lemon juice
6 cloves garlic, diced
1/2 cup grated parmesan cheese
1/4 cup diced cilantro or parsley, to garnish (optional)
Instructions
In a large bowl, add shrimp and coat in olive oil and lemon juice, season with salt and pepper, and garlic.
Cover with plastic wrap and refrigerate for 1-3 hours. (Optional, for more lemon flavor.)
Toss parmesan cheese into bowl with shrimp, creating a "breading" for the shrimp.
Preheat air fryer.
Set air fryer to 350 for 10 minutes, add shrimp to basket, and cook.
Shrimp is done when it is opaque white and pink.
Serve immediately.
Recommended Products
As an Amazon Associate and member of other affiliate programs, I earn from qualifying purchases at no extra expense to you.
Nutrition Information
Yield
6
Serving Size
1
Amount Per Serving
Calories

151
Total Fat

6g
Saturated Fat

2g
Trans Fat

0g
Unsaturated Fat

3g
Cholesterol

167mg
Sodium

1256mg
Carbohydrates

4g
Fiber

0g
Sugar

0g
Protein

20g