One Pot Creamy Lemon Salmon Florentine Recipe - perfect pan seared salmon in a delicious lemon spinach cream sauce - an easy keto salmon families love.
I love delicious, easy, and totally creamy meals that are packed with flavors like roasted garlic, lemon, and butter.
My husband and I have been on a major creamy-anything kick lately - and have been losing weight following a really low carb diet - even though we've been eating really rich, delicious and comforting food!
This creamy lemon garlic salmon florentine is a huge hit - its great on it's own, but also makes a killer pasta or creamy rice dish.
It's packed with flavor, and so easy to make in under a half an hour!
And if you love this deliciously easy keto salmon and spinach dinner as much as I do, be sure to check out my creamy shrimp Florentine dish - with all the flavor of this salmon, just with large prawns instead!
Just Take Me To The One Pot Creamy Lemon Salmon Florentine Already!
I have readers from all skill levels and comfort in the kitchen on my site, and readers have asked me for more information when posting recipes.
As a commitment to loyal Sweet C's readers, we post a lot of information in recipe posts.
If you would rather skip over these tips and tricks to make your creamy salmon dinner turn out fabulously - please click the "skip to recipe" button in the top left corner, or scroll to the bottom of the page where you will find the easy printable recipe.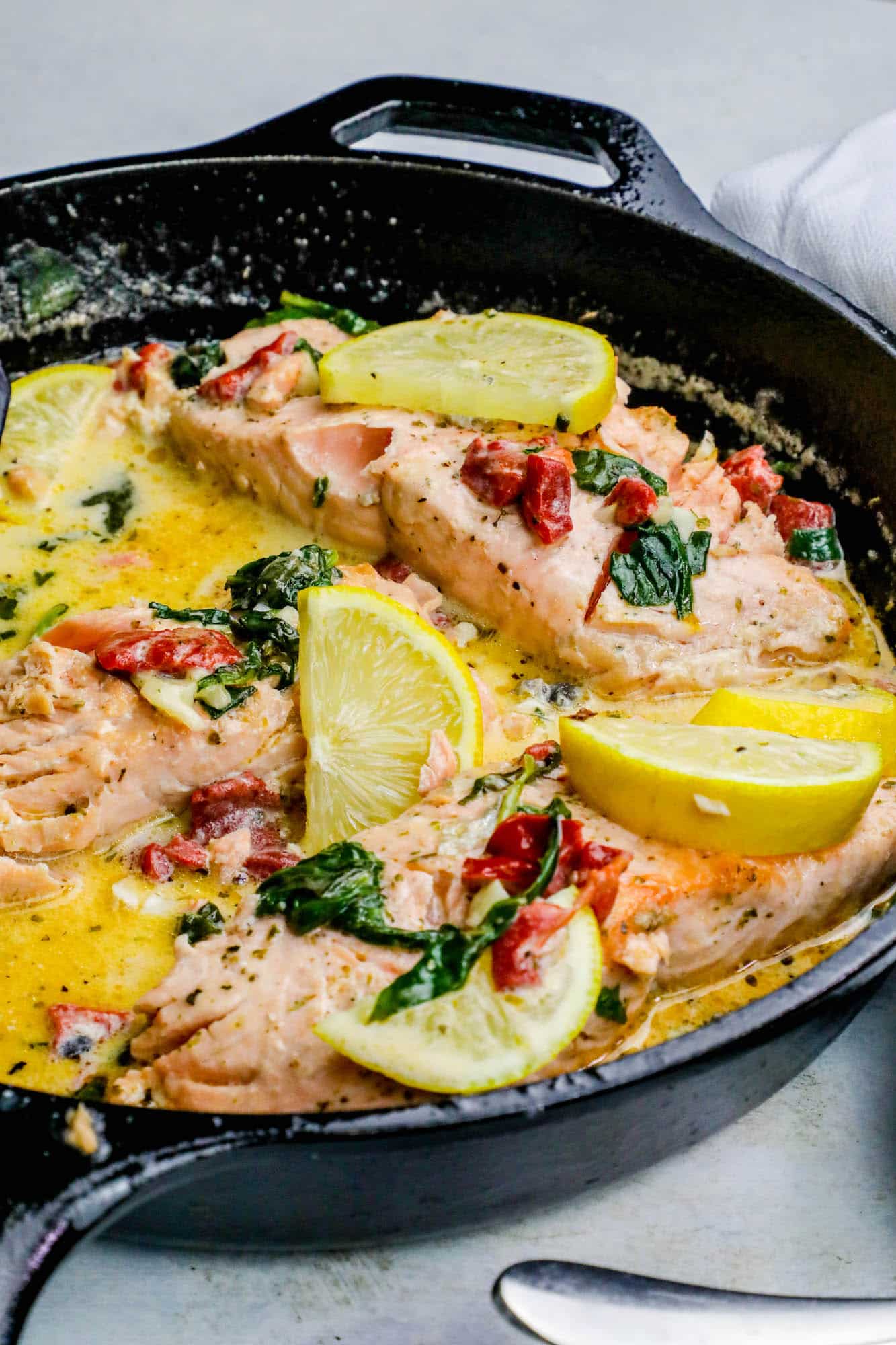 What is a Florentine Dish
While I'm calling this dish a florentine, it could also definitely be considered a creamy garlic tuscan dinner - with rich tuscan flavors of lemon and garlic - but I'm calling it a Florentine because it contains spinach - even though it has nothing to do with Florence Italy, as the name would suggest.
Using "Florentine" as a cooking method is a bit of a misnomer - since it refers to cooking dishes with spinach, and not actually food that originates in Florence, Italy.
Dishes made "a la Florentine" literally just mean dishes made with spinach.
The method is actually French, not Italian, but the result is the same - and many "Florentine" dishes contain Italian flavors that were widely popularized by Catherine de' Medici, whose Florentine chefs made meals with Italian ingredients, catapulting their popularity in France.
Dishes made with spinach - Catherine de' Medici's favorite vegetable - became known as Florentine, probably because of her love for the dish.
If you're a history nerd like me, it's actually a fascinating story, and one I loved learning more about!
Tips To Make Perfect Creamy Salmon
While this dish is simple enough for beginner cooks to try, there are a couple steps where special attention should be paid - especially when it comes to perfecting your cream sauce.
Creams can "break" if heated too quickly or unevenly, and while this won't impact the flavor, it can be somewhat unsatisfying too look down and see a broken cream sauce.
Following these steps will help you get a creamy, velvety smooth sauce that you'll wish you could drink with a straw on it's own!
-Use full fat butter
Using clarified butter, olive oil, ghee, or other butter substitutes can help encourage your sauce to break. Reach for the good stuff here - go for full fat butter.
-Turn off heat to add cream
When adding cream, completely turn off heat to your dish, and whisk VIGOROUSLY to combine before returning to heat. This is essential for incorporating the cream into your dish without separating from the oil in the pan.
-Use a nonstick pan to sear salmon.
If using a cast iron skillet, be sure it is very clean, well seasoned, and very hot.
Salmon can be hard to flip, especially for beginners, so I reccomend a good nonstick pan.
You can find my favorite nonstick pan picks here in my Amazon affiliate storefront.
-Get pan scorching hot before adding salmon to pan.
Salmon hitting the pan when it is cold, and then waiting for the pan to heat up, will NEVER release easily!
Creamy Salmon with Spinach Serving Ideas
This easy creamy salmon with spinach is bursting with flavor - and great over rice or pasta!
Here's a couple of my favorite ways to serve a Tuscan Salmon with cream sauce:
-Serve over a bed of wild rice for a rich, creamy rice that soaks up all of the delicious lemon cream sauce flavor!
-Serve with fettuccine for a creamy, florentine pasta that is full of vibrant color.
-Ladle over zoodles (zucchini noodles) or other veggie noodles (sweet potato, yellow squash, beet, or carrot would all work well) for a healthy, low carb pasta that will crush your carb cravings.
-Serve with cauliflower rice as a creamy power bowl that is full of nutrients and won't slow you down.
-Serve with roasted vegetables (asparagus and broccoli are amazing with this sauce), and dip them in the extra sauce.
How To Store and Reheat Salmon
I personally do not reccomend making more of this dish than you will eat when serving - because I don't love how fish and cream can reheat - especially a dish with both cream and fish.
To get the best results, use my tips below:
-Refrigerate immediately.
Place leftovers in an airtight container in the refrigerator or freezer right away.

-If making for meal prep, slightly undercook fish.
When I make this dish as meal prep for the week, and I know I won't be eating it all in one sitting ahead of time, I will slice the salmon into filets and sear them all, but remove filets I will be eating later in the week before they are fully cooked through the middle (they will look "done" on the outside, but the very middle will still be red).
This will allow your salmon better texture when reheating, so fish doesn't dry out.

-Freeze in servings.
If freezing, separate out individual servings and freeze in smaller plastic bags. This helps fish freeze and thaw faster and more evenly for the best texture.


How To Reheat Leftover Salmon
To reheat your salmon and get the best results, use these tips:
-Let thaw naturally.
If reheating from frozen, let salmon thaw naturally in fridge the night before.
-Make more cream sauce.
I find the cream can sink into your salmon when reheating, so if you didn't freeze them separately for meal prep, I always plan on making more cream sauce to add to my dish for best results.
If you're in a pinch and don't want to whip up a whole new sauce, try ½ cup cream cheese + ½ cup heavy cream or milk + 1 tablespoon garlic powder, whisked over medium high heat until velvety smooth.
-Don't microwave in your office.
Don't be that guy (or girl).
Microwaving fish is strictly a no-no on the etiquette scale - but if you absolutely can't be stopped from committing olfactory crimes against nature, use 2-4 slices of lemon to squeeze fresh lemon juice all over salmon before microwaving.
Place lemon slices that you squeezed IN the microwave with the salmon. Citrus cuts through fishy smells - leave the lemon slices in your dish when microwaving, then discard before eating to help cut down on fishy smells.
But really... reheat in a toaster oven in a foil pouch if at all possible for best results both flavor and smell-wise.
-Reheat in oven or toaster oven for best results.
Place fish in a foil pouch and bake at 350 until piping hot.
Serve immediately and do not save any leftovers after being reheated once.
Other One Pot Salmon Dinners You'll Love
If you love this delicious creamy salmon with spinach, you're going to love my other simple, easy salmon dinners that are loaded with flavor, not carbs!
Check out some of my favorite salmon disshes here:
And be sure to click through and bookmark some of my all time favorite easy seafood recipes!

They are all insanely easy and packed with flavor!
One Pot Spicy Lemon Garlic Chicken Strips
Spicy Tequila Lime Chicken Fettuccine

I hope you love this deliciously easy creamy lemon salmon and spinach recipe as much as my family does.

We love this dish with my easy cauliflower rice recipe, or some pan fried broccolini - and air fryer french fries for the kids.

One Pot Creamy Lemon Salmon Florentine Recipe
If you love this delicious creamy lemon salmon recipe, please give it a five star rating and help me share on facebook and pinterest!
CONNECT WITH SWEET C'S!
Be sure to follow me on social media, so you never miss a post!
Facebook | Twitter | Youtube | Pinterest | Instagram
Only have 30 minutes to get dinner on the table? Sign up for my 30 minute dinner plans direct to your inbox!
Find and shop my favorite products in my Amazon storefront here!
Yield:

4
One Pot Creamy Lemon Salmon Florentine
One Pot Creamy Lemon Salmon Florentine Author: Courtney O'Dell One Pot Creamy Lemon Salmon Florentine Skillet is a simple, delicious meal your whole family will love!
Ingredients
4 tablespoon butter
4 salmon , Fillets about 6-8 oz each
¼ cup garlic, diced
2 tablespoon italian spices
¼ cup roasted red peppers
1 cup spinach
¼ cup lemon juice
½ cup stock or white wine
½ cup cream
½ lemon, sliced into wedges
Instructions
In a large nonstick pan, heat butter.
Add salmon, skin up.
Let skin brown, about 3-4 minutes.
Flip and let salmon skin crisp, another 3-4 minutes.
When salmon has browned on each side, remove from pan.
Add garlic to pan, let brown and soften.
Add roasted red peppers and italian spices.
Stir to mix.
Add in stock or wine, and lemon juice, and let come to a boil, stirring often.
Turn heat off, and slowly add in cream, whisking vigorously to combine.
Slowly return heat to medium high and add salmon back to pan, top with spinach and lemon wedges.
Let spinach wilt, and salmon fully cook, ladling sauce over fish to help them cook.
When sauce is thickened and salmon is cooked through, remove from heat and serve - with vegetables, over pasta, or with rice!
Nutrition Information
Yield
6
Serving Size
1
Amount Per Serving
Calories

502
Total Fat

34g
Saturated Fat

13g
Trans Fat

1g
Unsaturated Fat

18g
Cholesterol

139mg
Sodium

214mg
Carbohydrates

8g
Fiber

2g
Sugar

2g
Protein

36g
Nutrition is automatically calculated by Nutritionix - please verify all nutrition information independently and consult with a doctor or nutritionist for any and all medical and diet advice.