Iced peppermint chocolate cookies - delicious easy chocolate cookies topped with a peppermint buttercream icing and crushed bits of candy cane.
These chocolate cookies are super simple to whip up, and taste delicious with our peppermint buttercream, all topped off with peppermint candy for a crunchy, sweet treat!
These cookies, like our German Chocolate Cookies, get a hand from a boxed cake mix - making them super simple to whip up last minute.
These cookies are great for Christmas - but are tasty any time you want a chocolate peppermint kick.
We love these cookies with mulled cider, a caramel espresso martini, or boozy rumchata hot cocoa.
I hope you love these delicious iced cookies as much as we do!
At Sweet C's we have lots of types of readers - those who would like lots of information with their recipe, some who need a few extra tips and tricks, and some who'd like to get straight to cooking.
We've included a clickable table of contents below that will take you directly to the section you'd like to read, and a skip to recipe button in the top left corner to help you navigate this information quickly.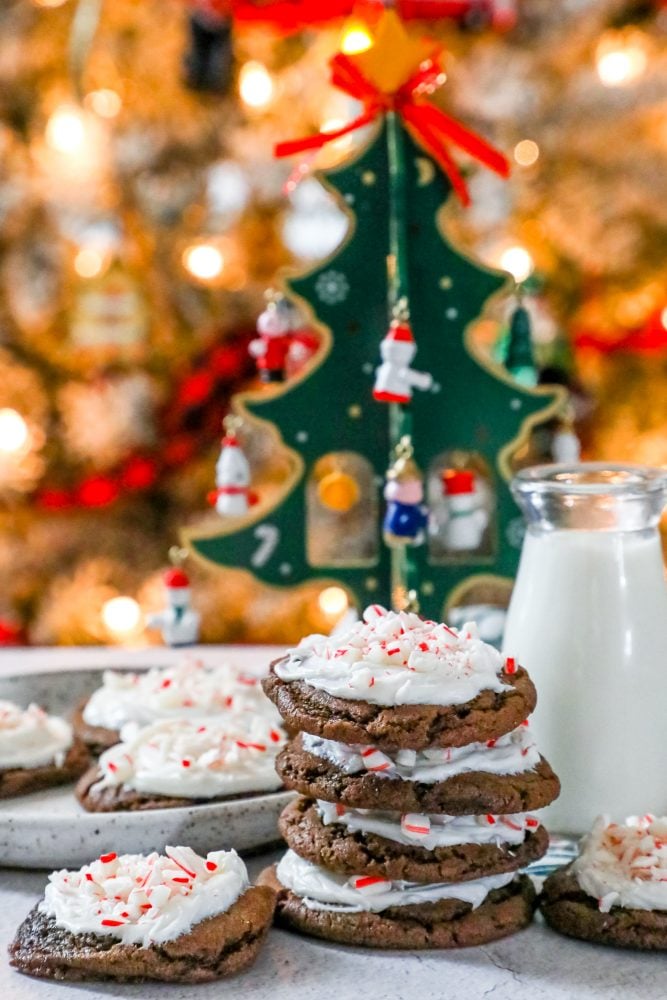 These chocolate cookies are simple, delicious, and can be whipped up in a few minutes!
Since we're using a boxed cake mix to get us ahead, it is really as easy as just mix, bake, and cool!
No worry separating wet and dry ingredients, just toss the cookie ingredients in the bowl, mix, and add to a well prepped baking sheet to bake about 10-12 minutes at 350 degrees.
To Make Easy Chocolate Cookies You'll Need:
1 box German Chocolate Cake Mix
¼ cup butter (softened)
2 large eggs
These cookies rely on a simple, delicious buttercream with lots of peppermint flavor from peppermint extract and crushed candy canes!
This i in is designed to be super simple - it works best when mixed in a stand mixer or with a hand mixer - but simply toss in a bowl, mix, and you're ready to go!
To Make Easy Peppermint Icing, You'll Need:
½ cup butter, at room temperature
3?½ cups confectioners' sugar
3 tablespoons milk
½ teaspoon peppermint extract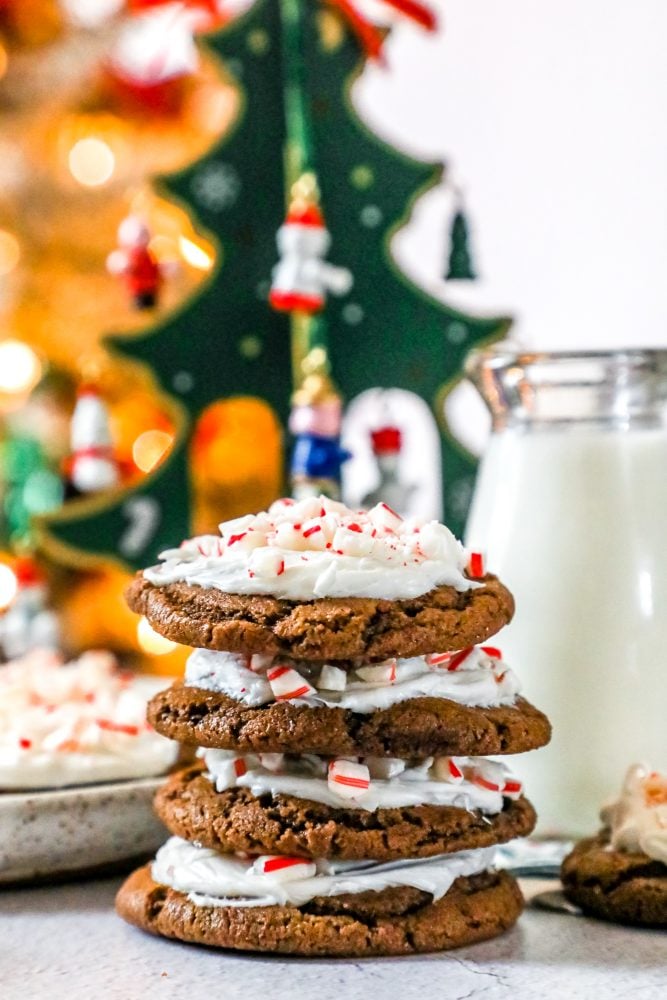 Other Christmas Cookies You'll Love
We love Christmas here at Sweet C's - and are so excited to share some of our favorite easy cookie and sweets ideas!
These Christmas cookies and treats are easy to make and loaded with flavor - they are perfect for giving to friends and family.
When should I ice cookies?
Wait to add icing to cookies until cookies are completely cool - or the icing will go everywhere and melt.
How long to these cookies last?
Cookies can be kept in the refrigerator in an airtight container for up to five days.
Iced Peppermint Chocolate Cookies Recipe
If you love this easy recipe please click the stars below to give it a five star rating and leave a comment! Please also help me share on facebook and pinterest!
CONNECT WITH SWEET C'S!
Be sure to follow me on social media, so you never miss a post!
Facebook | Twitter | Youtube | Pinterest | Instagram
Only have 30 minutes to get dinner on the table? Sign up for my 30 minute dinner plans direct to your inbox!
Find and shop my favorite products in my Amazon storefront here!
Iced Peppermint Cookies Recipe
Ingredients
For the Cookies:
1 box German Chocolate Cake Mix
¼ cup butter (softened)
2 large eggs
For the Icing:
½ cup butter, at room temperature
3 ½ cups confectioners' sugar
3 tablespoons milk
½ teaspoon peppermint extract
2-3 candy canes, crushed, to garnish
Instructions
Preheat oven to 350 degrees.
Prepare a baking sheet with nonstick cooking spray or parchment paper.
In a larger bowl, mix cake mix, butter, and eggs.
Using a cookie scoop or spoon, shape into 20-22 balls.
Bake 10-15 minutes, until edges are lightly browned.
Remove from oven and let cool on baking rack until completely Cool.
In a large bowl, or bowl of a stant mixer, add butter, confectioners sugar, milk, and peppermint extract.
Beat with hand mixer or stand mixer until light and fluffy.
Spread over cooled cookies.
Garnish with crushed candy canes to top.
Enjoy!