Tender and juicy tri tip steak with a perfect crunchy crust, air fried to medium rare perfection in less than 25 minutes from the fridge to your dinner table!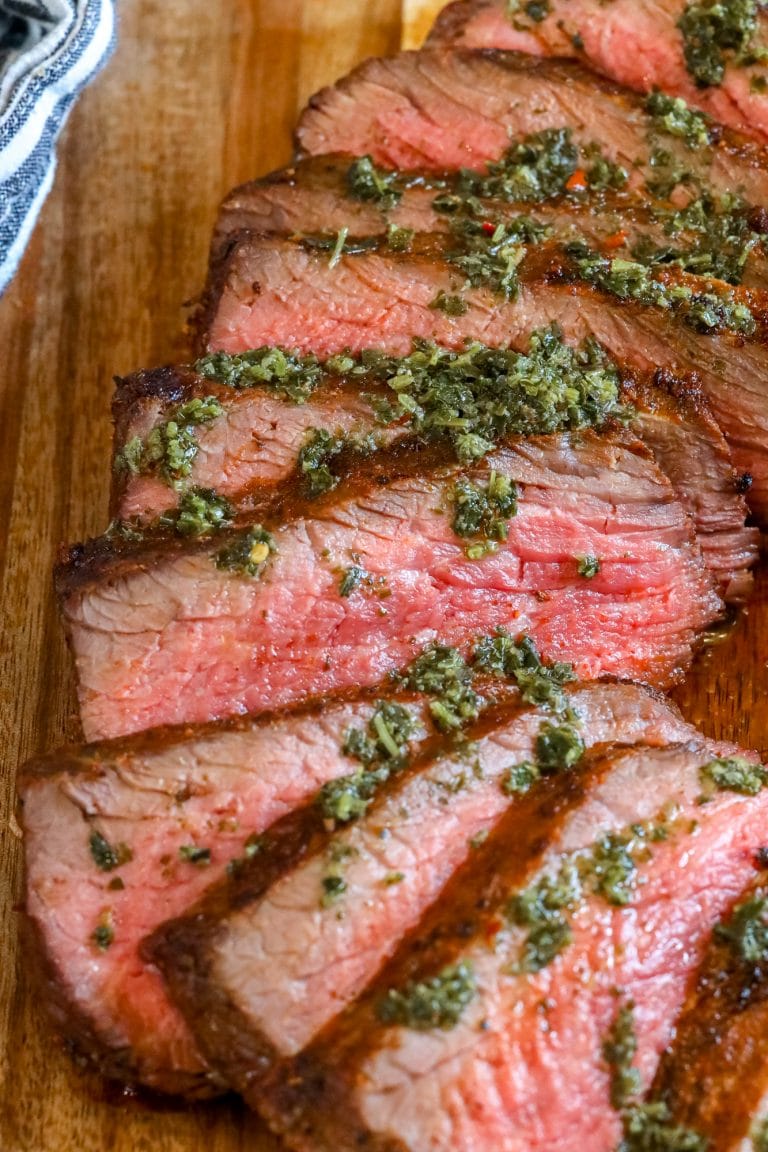 Don't want all the extras in a recipe post? We provide a skip to recipe button in the top left corner, as well as a clickable table of contents, just below, to help make this page easier to navigate.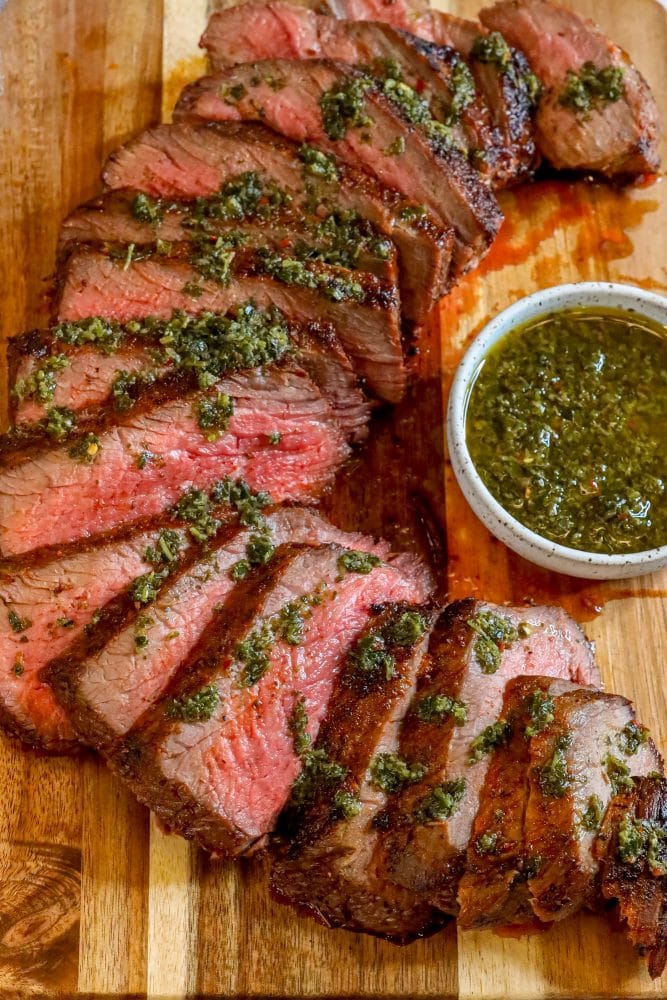 Air Fried Tri-Tip
This tri tip steak is incredibly tender and juicy – I love grilled churrasco style steak, but when we can't get outside over the grill, the air fryer is the BEST way to make steak!
We love air fryer New York strip steaks, and decided to try tri tip in our air fryer – what a game changer!
Air fryers are like mini convection ovens that broil at high temps (and because they are small, they direct heat more efficiently than many ovens, allowing you to get a lovely sear and crunch without overcooking the meat) – giving you perfect delicious steak.
We love to serve this steak with chimichurri sauce – it's simple, clean, and crazy delicious!
Check out my web story about air frying this tri tip, it includes video!
How to Air Fry Tri Tip Steak
This recipe was designed to work with any air fryer model or pressure cooker (Ninja Foodi or Instant Pot) with broiler lid and basket.
We've made it in a Phillips air fryer (standard air fryer with basket), a Ninja Foodi with broiler lid, and an Instant Pot with crisping lid and broiler function.
This steak is delicious with a super simple steak rub – we're going to show you our favorite rub with a little kick from Aleppo pepper (one of my all time favorite seasonings), but if you have a steak rub you love, go ahead and use that as you wish (use 2 tablespoons)!
1 tablespoon paprika
1 tablespoon aleppo pepper (less if you don't want it too spicy)
1 tablespoon garlic powder
1 teaspoon salt
1 teaspoon pepper
Method: You'll flip the tri tip after about 8 minutes, and aim for 16-20 minutes air fry time – but then leave the tri tip in the air fryer until it hits your target temperature to carryover cook in the ambient heat.
Since cuts of meat can vary in size, and different air fryers hit different temperatures, we strongly recommend on going off the temperature of your tri tip, not the time on your air fryer for absolutely perfect results.
Tips to Perfect Air Fried Steak & FAQs
This recipe is incredibly easy to get perfect air fried tri tip with a crunchy crust and juicy, tender center – but there are a few things you can do to make sure your tri tip is a knockout every time.
Bring to room temperature. For the crunchy crust and rich meaty flavor you get from a steakhouse, you want to cook steak as hot and fast as possible. Steak that has come to room temperature before cooking can crisp on the outside faster, and allows the fat to render more. Simply let tri tip rest on the counter for 20-30 minutes before cooking while you prep the rest of your meal.
Pat dry. Steak with excess moisture or water will not crisp and risk boiling instead of broiling – giving you tougher, chewier, gray meat. Simply pat dry with a paper towel to make sure your steak is completely dry before rubbing with oil.
Drizzle in oil. Before air frying, we will be adding a little oil to help seasoning stick and crisp the outside of the steak a bit more when air frying. Think of this as just a drizzle for your steaks – they should just glisten from the oil, they don't need to be soaked in oil.
Season well. Before air frying, be sure to season steak well. Use your favorite steak seasoning, herbs de provence, Montreal steak seasoning, or rub.
Give steak space. It is absolutely essential to have lots of airflow for your air fryer to properly cook steaks – don't cram into the basket and don't let steaks crowd the basket or touch.
Let steak carryover cook in air fryer. If you remove your steaks from the air fryer/broiler basket right when the machine's timer shuts off, your steak will be crispy outside, but very much raw in the middle. The broiler/air fry function is great for crisping the outside of the steak, but a good deal of the cooking is done after your air fryer fan shuts off and the steaks cook in the heat of the machine. Keep machine closed (you can quickly pop in a digital thermometer to monitor doneness) for at least 5 minutes for medium rare, and up to 10 minutes for medium well to well done.
Let it rest. All steak need to rest for 5 minutes after cooking before serving and slicing (after removed from machine) to let juices set and prevent steak from drying out.)
Know what temperature to cook steak to. Since we're cooking this steak to an ideal doneness – and less for time – it is critical to know the temperature you'd like to cook your tri tip to. I personally go for "Pittsburg Rare" – charred on the outside, and fairly rare in the middle – it's my absolute favorite way to eat steaks, including tri tip! Air fryers are great at getting the perfect crunchy crust on the outside of steak, without overcooking the middle, so you get a delicious juicy steak at perfect medium rare (its great even done more, I just love rare-medium rare.)
Rare – 120 degrees
Medium Rare – 130 degrees
Medium – 140 degrees
Medium Well – 150 degrees
Well – 160+ degrees
Recipe FAQs
Can I Air Fry Tri Tip?
Tri tip steak is great for an air fryer – it comes out with a perfect crunchy crust and tender, juicy meat!
The hot air circulation in an air fryer helps steak cook hot and fast, so you're left with tons of rich meaty flavor, without all the butter, oil, or splattery, smoky mess from pan frying steak at home.
What model air fryer should I use?
This recipe was designed to work with any air fryer model or pressure cooker (Ninja Foodi or Instant Pot) with broiler lid and basket.
How hot should I air fry tri tip?
Air fryer/pressure cookers with broiler functions should be set at 450 degrees.
How long to air fry tri tip?
For medium rare, broil for 12 minutes and let steak sit in machine for another 5 minutes to carryover cook until steak is 130-135 degrees Fahrenheit.
What temperature should I cook steak to?
Rare – 120 degrees
Medium Rare – 130 degrees
Medium – 140 degrees
Medium Well – 150 degrees
Well – 160+ degrees
What To Serve With Tri Tip Steak
Tri tip is delicious for fajitas and tacos, but it's also great on its own, served with delicious hearty sides.
We're rounding up our favorites below:
For our complete side dish recipe archives, click here.
For our steak recipe archives, click here.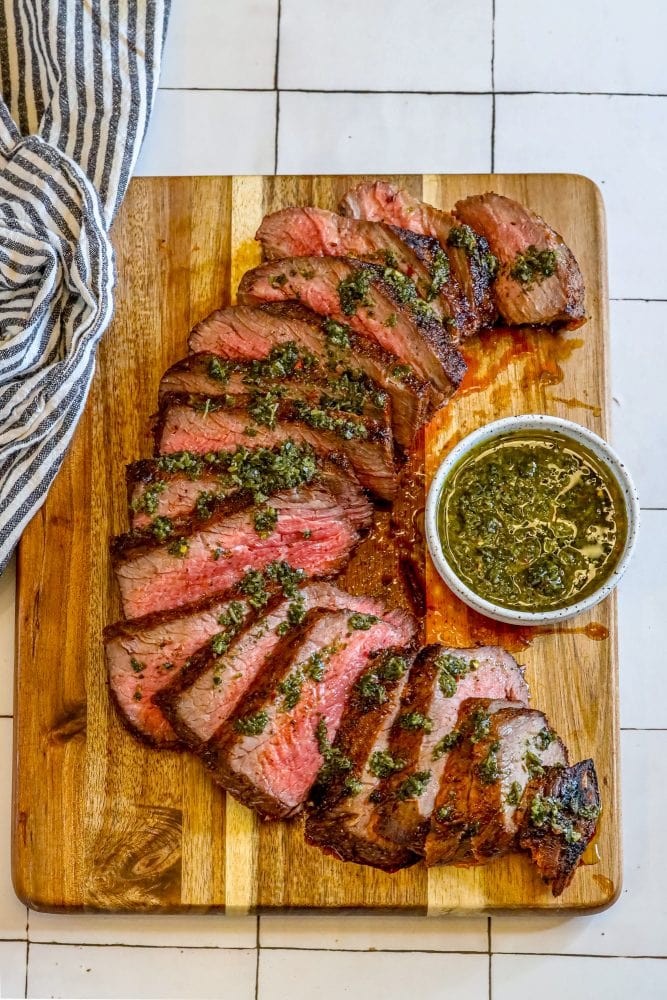 The Best Air Fried Tri Tip Steak Recipe
If you love this easy recipe please click the stars below to give it a five star rating and leave a comment! Please also help me share on facebook and pinterest!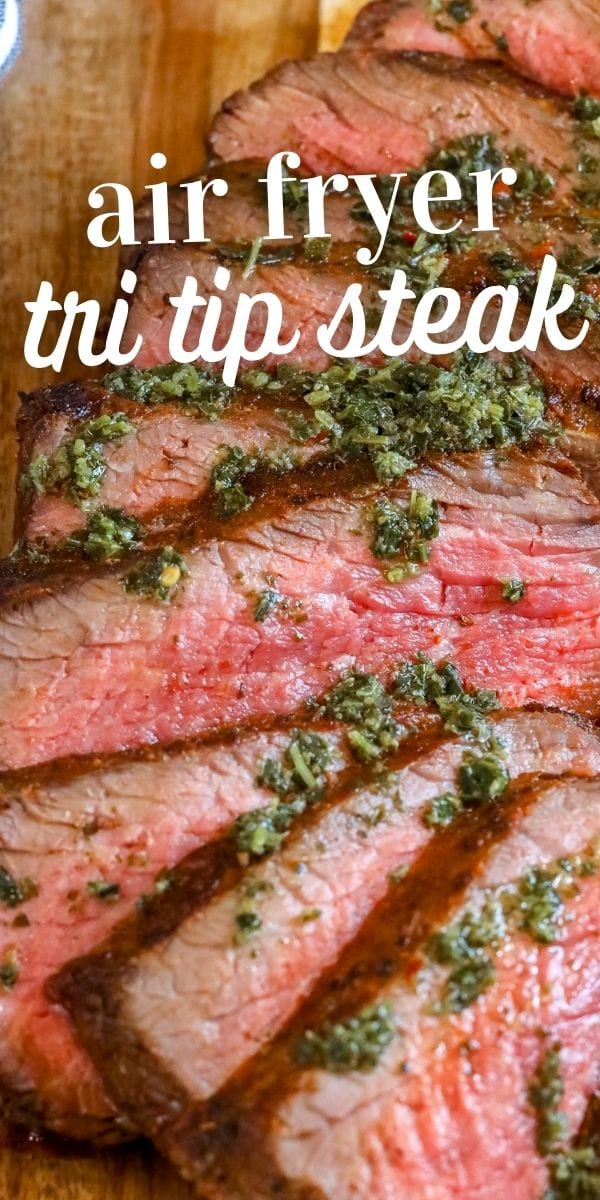 CONNECT WITH SWEET C'S!
Be sure to follow me on social media, so you never miss a post!
Facebook | Twitter | Youtube | Pinterest | Instagram
Only have 30 minutes to get dinner on the table? Sign up for my 30 minute dinner plans direct to your inbox!
Find and shop my favorite products in my Amazon storefront here!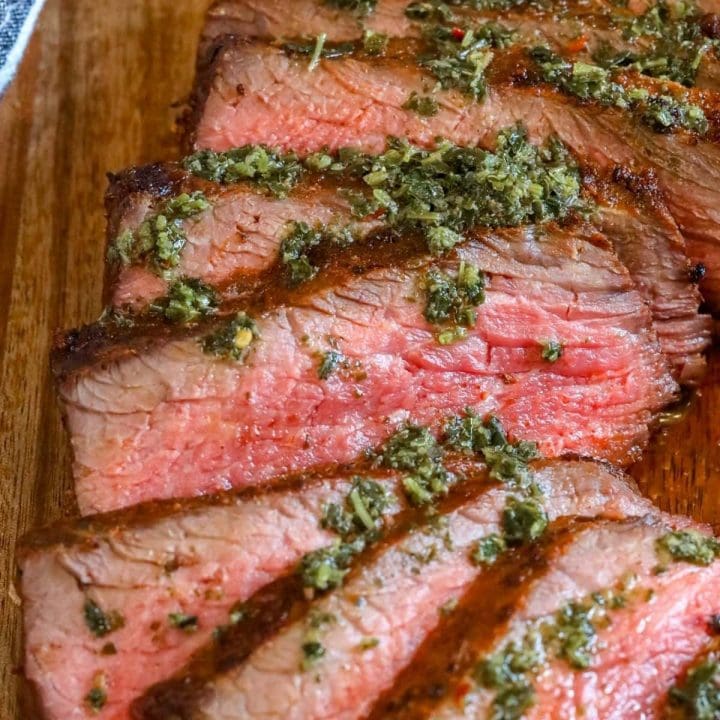 Yield:

4
Air Fryer Tri Tip Recipe
Air fryer tri tip steak recipe - the most delicious tender and juicy tri tip steak with a perfect crunchy crust!
Ingredients
1 tri tip steak, about 4 lbs
2 tablespoons olive oil
1 tablespoon paprika*
1 tablespoon aleppo pepper* (less if you don't want it too spicy)
1 tablespoon garlic powder*
1 teaspoon salt*
1 teaspoon pepper*
*or two tablespoons of your favorite steak rub
1/2 cup chimichurri sauce, to garnish, optional
Instructions
Remove steak from refrigerator and let come to room temperature.
In a small bowl, mix together herbs, spices, and seasonings.
Pat steak dry with paper towels.
Rub olive oil into steak.
Add spice rub to steak.
Preheat air fryer at max heat for 5-10 minutes.
Add steak to air fryer basket, set to maximum heat, and fry 8 minutes.
Flip tri tip and cook again 8 minutes.
Check the tri tip temperature - if you are within 10-15 degrees of your target, close the lid and let the tri tip continue cooking in the air fryer (it will stay very hot after air frying, don't let all the heat escape when measuring temp.)
If tri tip is more than 20 degrees from your target temperature, cook additional 5-10 minutes.
Nutrition Information
Yield
4
Serving Size
1
Amount Per Serving
Calories

388
Total Fat

24g
Saturated Fat

1g
Trans Fat

0g
Unsaturated Fat

6g
Cholesterol

122mg
Sodium

609mg
Carbohydrates

4g
Fiber

1g
Sugar

0g
Protein

39g
Nutrition is automatically calculated by Nutritionix - please verify all nutrition information independently and consult with a doctor or nutritionist for any and all medical and diet advice.