Everything you love about a salty tangy baked feta marries spinach and moist crispy chicken in this one pot wonder!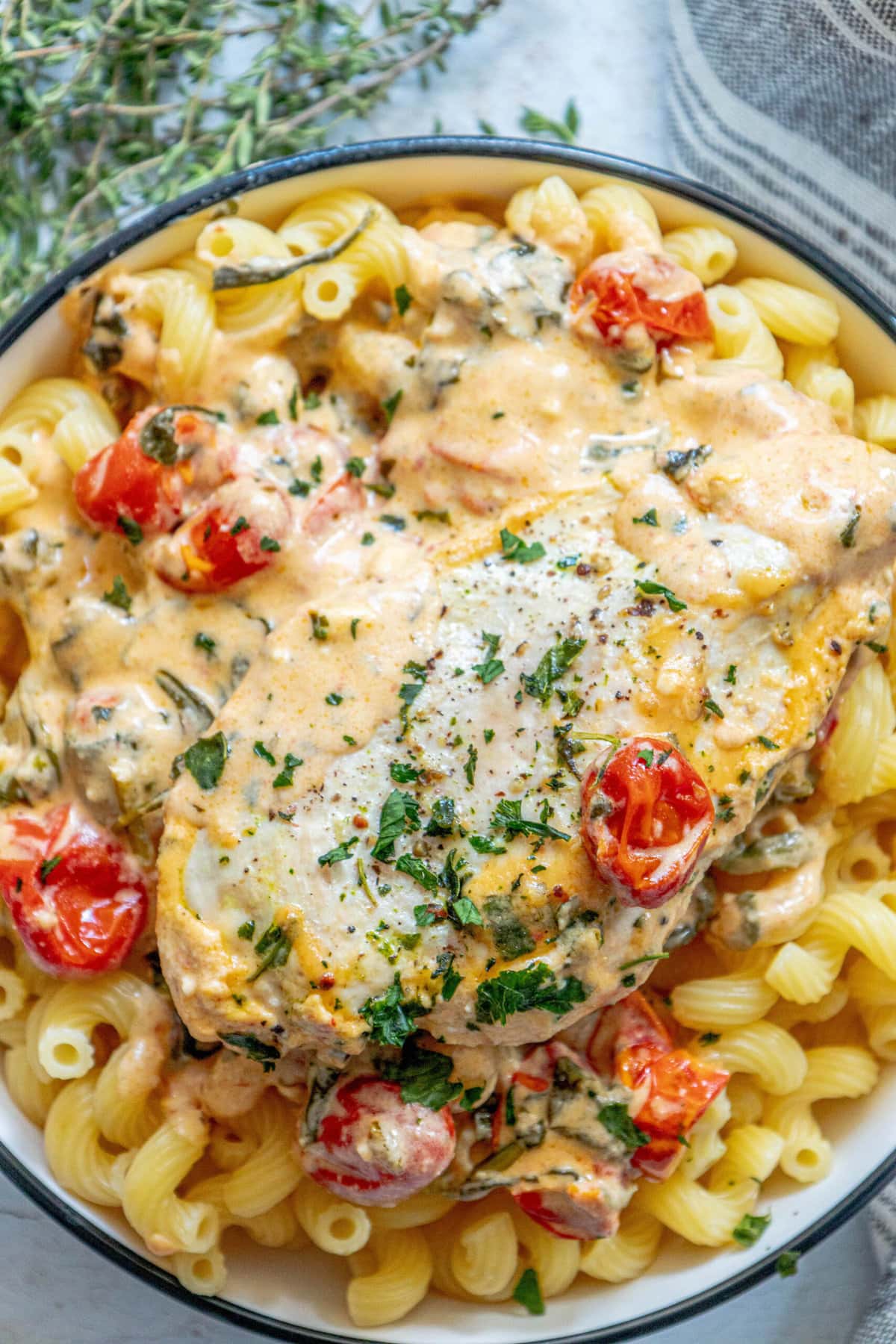 We provide a skip to recipe button in the top left corner, as well as a clickable table of contents, just below, to help make this page easier to navigate.
One Pot Baked Feta and Spinach Chicken
I love a good baked feta. Most of the baked feta recipes I come across are great side dishes or dips, but I wanted to make a baked feta that could be the star of dinner. This feta bake has the added protein from chicken and vitamin A from the spinach.
Being a mom of small children means our life is incredibly busy. I love a good one pot dinner, after dinner you only have one pot to hand wash. The faster the dishes are done, the faster I can get to my evening glass of red wine. Check out the recipe and my tips to make it perfectly below.
How to Make Feta and Spinach Chicken
To make this recipe, you'll need:
Chicken breast – chicken breast is a great protein and will pair really well with this rich feta tomato based sauce. If you would like to use chicken thighs instead see tip #2 below in the Tips and Tricks section.
Italian seasoning – this is a classic blend of basil, thyme, oregano and parsley that will give the chicken a herbaceous coating. See tip #3 below for more info about mixing your own italian seasoning mix
Salt and Black pepper – salt and pepper will help draw the moisture and flavor out of the chicken and the sauce. Use a high quality small grain sea salt for best results.
Olive oil – olive oil is used here to sear the chicken since it has a high smoke point and to give the tomatoes and feta a little extra moisture before baking. Use a dark high quality olive oil or an oil of your choice.
Grape tomatoes – you can use classic red or multicolor grape tomatoes for this sauce. Use high quality tomatoes for the best tasting sauce to accompany your chicken. If you don't have grape tomatoes just chop whatever tomatoes you have into a grape tomato size before substituting.
Feta cheese – feta is a favorite of mine because of its salty intense flavor. I use a whole block of feta but if all you can find is crumbled feta that will work just as well.
Garlic cloves – garlic has a potent intense flavor that defines this baked feta and spinach chicken dish. I like to use pressed garlic here since pressing releases the flavor the best and distributes the garlic evenly throughout.
Heavy cream – the heavy cream effectively thickens the sauce, adds flavorful fat, and creates a creamy texture.
Spinach – spinach gives a nice color and freshness to the sauce that will smother your chicken.
Red pepper – red pepper gives a much needed bite that will cut the richness of the heavy cream and saltiness of the feta cheese.
Once you've gathered your ingredients, we will use the following method:
Season and Sear – Season the chicken breast on both sides with the italian seasoning, salt, and pepper. Heat 1 tbsp of the oil in an oven safe skillet over high heat on the stovetop. Once it's nice and hot, sear the chicken on both sides until golden brown.
Add the veg and cheese – Add the tomatoes, garlic, spinach, and feta to the pan and drizzle the rest of the olive oil on top.
Bake – Place the skillet in the oven and bake at 400 degrees for 15-20 minutes or till the chicken reaches 165 degrees internally.
Mix up the sauce – Remove the skillet from the oven, set the chicken aside on a plate and add the remaining ingredients. Smash the baked feta and tomatoes to combine the sauce.
Finish – Return the chicken to the pan (I like to slice it before returning it) and cover with the sauce. Serve hot with pasta, zoodles, spinach, or garlic bread, enjoy!
Tips and Tricks to Perfect Baked Spinach Feta Chicken:
See my tips and tricks for a perfect one pot baked feta and spinach chicken.
Don't overcrowd the pan. If you are using a smaller skillet or the chicken breasts are especially large be sure to remember to not overcrowd the pan when searing the chicken. If you overcrowd the pan the oil will drop quickly in temperature and the chicken won't get a nice brown sear. You can always sear the chicken one at a time.
Try chicken thigh. If you frequently struggle with overcooking chicken breast try its more forgiving neighbor chicken thigh. Use boneless skinless chicken thighs, I would use 4 in place of the 2 chicken breasts since they are smaller. They will also need to reach 165 degrees internally but will cook faster and if you overcook them they are more likely to retain their moisture and texture.
Make your own Italian Seasoning – If you don't have the premixed Italian seasoning or just prefer to make your own feel free to mix any/all of the following to make your own italian seasoning: basil, thyme, oregano, parsley, rosemary, marjoram.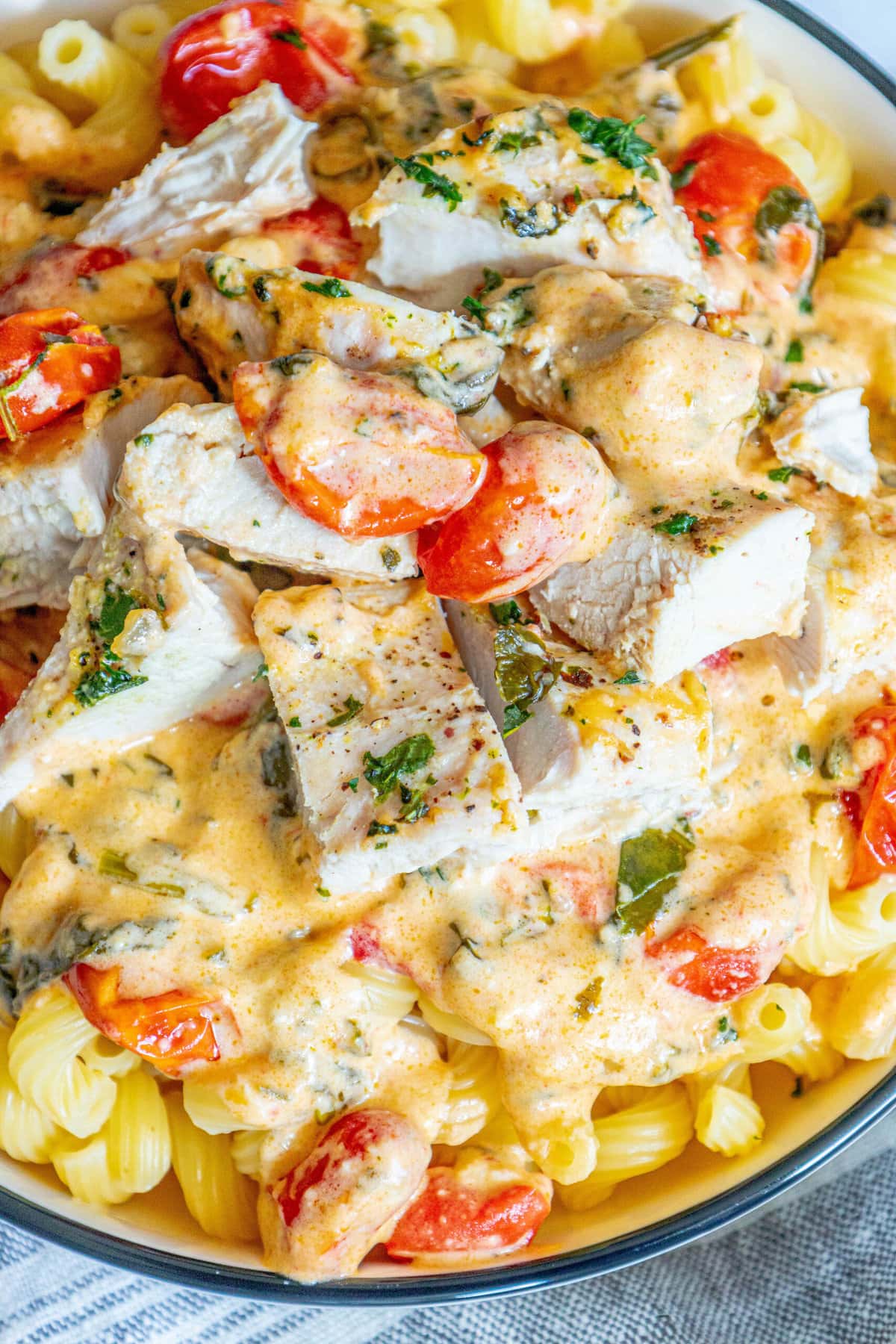 FAQ's:
Can I use crumbled feta or do I need to use a block of it?
Feel free to use pre-crumbled feta, there won't be any flavor difference, it's just aesthetically fun to melt a big block of feta. Crumbled feta will make mixing the sauce after baking easier. 
What's the best way to keep leftovers?
Leftovers will keep in the refrigerator in an airtight container for 3-4 days. 
Does this freeze well?
Yes, as a matter of fact this is a favorite of mine to make and freeze since the texture isn't badly affected by freezing. Cook the dish in its entirety and let cool completely before freezing. After defrosting you will simply need to warm it up. It will keep in the freezer for 3-4 months. 
What to serve with Baked Feta and Spinach Chicken?
My family love enjoying this chicken alongside, garlic butter roasted potatoes, garlic bread homemade no knead bread, orzo pasta salad, instant pot spinach dip, garden greek salad, or crunchy lemon parmesan salad.
If you enjoyed this baked feta and spinach chicken you will want to try, baked Greek pork chops with creamy feta sauce, baked ranch chicken thighs, garlic baked pork tenderloin, one pot cheesy taco skillet, or ribeye roast.
Also, if you are looking for a great non-stick ovenproof skillet, I love this one.
What to Serve with Baked Feta Spinach Chicken:
For more delicious chicken dinners click here!
Baked Feta Spinach Chicken Recipe
If you love this easy recipe please click the stars below to give it a five star rating and leave a comment! Please also help me share on facebook and pinterest!
CONNECT WITH SWEET C'S!
Be sure to follow me on social media, so you never miss a post!
Facebook | Twitter | Youtube | Pinterest | Instagram
Only have 30 minutes to get dinner on the table? Sign up for my 30 minute dinner plans direct to your inbox!
Find and shop my favorite products in my Amazon storefront here!
Yield:

4
Baked Feta and Spinach Chicken
Everything you love about a salty tangy baked feta marries spinach and moist crispy chicken in this one pot wonder!
Ingredients
2 lbs boneless, skinless chicken breast, about 4 chicken breasts
1/2 tsp Italian seasoning
1/2 tsp salt
1/2 tsp black pepper
2 tbsp olive oil, divided
16 oz grape tomatoes
1 cup chopped spinach
6 cloves garlic pressed
8 oz feta cheese
2 tbsp heavy cream
1/2 tsp crushed red pepper (optional)
Instructions
Preheat the oven to 400˚F.
Season both sides of the chicken breast with Italian seasoning, salt and pepper.
Heat half (1 tbsp) of oil in a large skillet over high heat. Once it is hot, place the chicken breast in. Cook for 1-2 min on each side until golden brown.
Add tomatoes, garlic, spinach, and feta into the pan and drizzle the remaining olive oil over top.
Bake for 15-20 minutes or until the chicken is cooked through (165˚F internal temp)
Once done, remove the chicken from the pan and stir the sauce smashing the feta and tomatoes together. Mix in the heavy cream, red pepper, and additional salt and pepper to taste, then place the chicken back into the pan and cover it with sauce.
Garnish with fresh basil if desired and serve hot with pasta, zoodles, spinach, garlic bread, or however you like it!
Recommended Products
As an Amazon Associate and member of other affiliate programs, I earn from qualifying purchases at no extra expense to you.
Nutrition Information
Yield
6
Serving Size
1
Amount Per Serving
Calories

564
Total Fat

23g
Saturated Fat

10g
Trans Fat

0g
Unsaturated Fat

11g
Cholesterol

236mg
Sodium

738mg
Carbohydrates

7g
Fiber

2g
Sugar

4g
Protein

79g
Nutrition is automatically calculated by Nutritionix - please verify all nutrition information independently and consult with a doctor or nutritionist for any and all medical and diet advice.