Earl Grey Sparkling Tea and Tonic Drink Recipe
Mar 13, 2021, Updated Feb 19, 2022
Earl Grey Sparkling Tea and Tonic Mocktail – light and refreshing hibiscus earl grey tea on ice with tonic and a hint of lemon.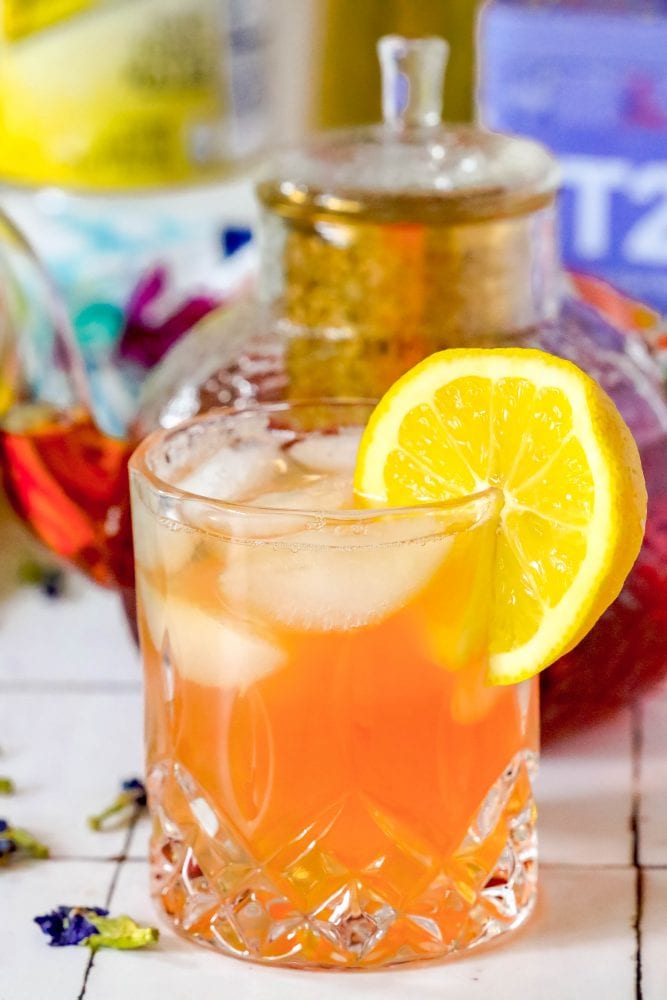 This drink is cool and refreshing, perfect for a light pick-me-up during the day, and a not too caffeinated drink at night.
It's a great replacement for a cocktail when you want something that feels fancy, but is super simple to make – and is a great non-alcoholic drink to serve at brunch alongside boozy sangria mimosas and peach bellinis – or our delicious cardamom coffee.
You can use any black or herbal tea you love, but we really love this with a blend of hibiscus earl grey we're suggesting below from an Australian shop that now ships on Amazon (trust us, the tea we're recommending is 100% worth buying because the flavor is amazing!)
We're partial to floral or fruity black teas for this mocktail, as a stronger tea flavor is best to keep it from tasting watered down or weak when mixed with tonic and ice.
We hope you love this drink as much as we do!
Don't want all the extras in a recipe post? We provide a skip to recipe button in the top left corner, as well as a clickable table of contents, just below, to help make this page easier to navigate.
We recommend buying French Earl Grey tea from T2 (a company I am absolutely obsessed with that I found when visiting my brother and sister in law who live in Australia. They used to not be as easy to find/available in the US, but they now ship with Amazon!) – they have the cutest teapots (click here for the hammered glass teapot pictured here) and bone china mugs with tea infusers built in, and have the most unreal delicious teas – the Irish Breakfast, English Breakfast, Lemongrass and Ginger, Sticky Chai, and Sleep Tight teas are all to die for.
While you can buy tea in teabags (so you don't have to worry about straining) but I prefer loose leaf tea so I can control the flavor more.
We prefer diet tonic to make this drink almost calorie free – but you can use any type of tonic you love.
If you don't mind a tonic water with sugar, this drink is out of this world with Fever Tree Elderberry Tonic.
If you're going for something easy to find and drink without added calories, we recommend Schweppes Diet Tonic.
Since this drink is so simple, we're relying on well-extracted tea flavor – not burnt or too-cool water that won't extract enough flavor as the tea leaves steep.
If you've ever wondered what temperature water to use, how much water to brew tea with, or how long to let tea steep, this handy guide will help you get the perfect cuppa, everytime!
How Much Water To Use For Tea
A good rule of thumb is one tablespoon loose leaf tea per cup of water, though this will be different for every person, depending on how dark you like tea.
What Temperature Water to Use For Tea
For the best tea, you'll want to use certain water temperature ranges to be sure you don't burn or under-extract your tea.
If you're a fan of perfect tea (like my very picky husband who grew up outside of London and takes such matters very, very seriously), you will want to find the right temperature for water to steep tea leaves in.
For an easy electric water kettle that allows you to set the water temperature, click here.
Dark teas like Pu'er and fruit tisanes should be made with boiling hot water – around 212°F.
Black tea (like Earl Grey), should be around 200°F. Bring the water to a boil, then take it off the heat and let it sit for 30 to 60 seconds if you don't have a temperature-read kettle.
Green tea, white tea, and oolong teas should be in the 158°F to 185°F range – boil water and let it sit for two minutes to aim for this range.
Delicate teas like white tea or very subtle green teas should be brewed around 140°F. You'll want to wait 3-5 minutes after boiling water for this temperature.
You'll want to let tea steep for between 3-7 minutes – which varies depending on how dark you like your tea to brew.
Brewing Tea For Iced Mocktails
For this recipe, we are very intentionally over-extracting tea, so there is a more concentrated flavor to stand up to tonic water's earthy bitterness and so it doesn't taste watered down when served over lots of ice.
For this recipe, you're going to let the tea leaves steep for 30 minutes – until a rich amber color.
This is why we strongly recommend making this drink with T2's French Earl Grey or another earl gray tea you love (if you can snag some hibiscus tea to blend in as well, the flavor is out of this world!)
The sweet floral notes from hibiscus help to counteract the bitter bergamot flavor when over-extracted, so your tea tastes stronger over ice, without tasting too bitter.
If you're looking for a great pitcher with tea strainer built-in, perfect for making iced teas, please click here.
Other Non Alcoholic Drinks You'll Love
How long can I store brewed tea?
Remove tea leaves from your tea after steeping, and store any unused tea in a pitcher with a lid or jar with lid for up to for 2-5 days.
Don't add tonic to drink until you're ready to drink it – or you will lose all of the carbonation.
Earl Grey Sparkling Tea and Tonic Recipe
If you love this easy recipe please click the stars below to give it a five star rating and leave a comment! Pease also help me share on facebook and pinterest!
CONNECT WITH SWEET C'S!
Be sure to follow me on social media, so you never miss a post!
Only have 30 minutes to get dinner on the table? Sign up for my 30 minute dinner plans direct to your inbox!
Find and shop my favorite products in my Amazon storefront here!
Earl Grey Sparkling Tea and Tonic
Steeping Time:
30 minutes
Earl Grey Sparkling Tea and Tonic Mocktail - light and refreshing hibiscus earl grey tea on ice with tonic and a hint of lemon.
Ingredients
2 tablespoons earl grey tea
2 cups boiling water
1 cup diet tonic water
1 cup ice
2 tsp fresh lemon juice
lemon slices, to garnish, optional
Instructions
Pour boiling water over loose leaf tea leaves, let steep for 30 minutes.
When tea has cooled, stir in lemon juice.
Strain tea into a tall glass filled with ice, filling glass 1/2-3/4 way with tea.
Top with tonic, stir. (You can make a half and half mix, or have more tea than tonic for this recipe, depending on your liking.)
Enjoy!
Recommended Products
As an Amazon Associate and member of other affiliate programs, I earn from qualifying purchases at no extra expense to you.
Nutrition Information
Yield

2
Serving Size

1
Amount Per Serving
Calories

2
Total Fat

0g
Saturated Fat

0g
Trans Fat

0g
Unsaturated Fat

0g
Cholesterol

0mg
Sodium

18mg
Carbohydrates

1g
Fiber

0g
Sugar

0g
Protein

0g
Nutrition is automatically calculated by Nutritionix - please verify all nutrition information independently and consult with a doctor or nutritionist for any and all medical and diet advice.