Easy Baked Greek Chicken Thighs
Aug 01, 2020, Updated Jul 23, 2022
You're going to love this Baked Greek Chicken Thighs Recipe – with tons of fresh lemon and oregano flavor for a keto Greek chicken dinner the whole family will ask for again and again!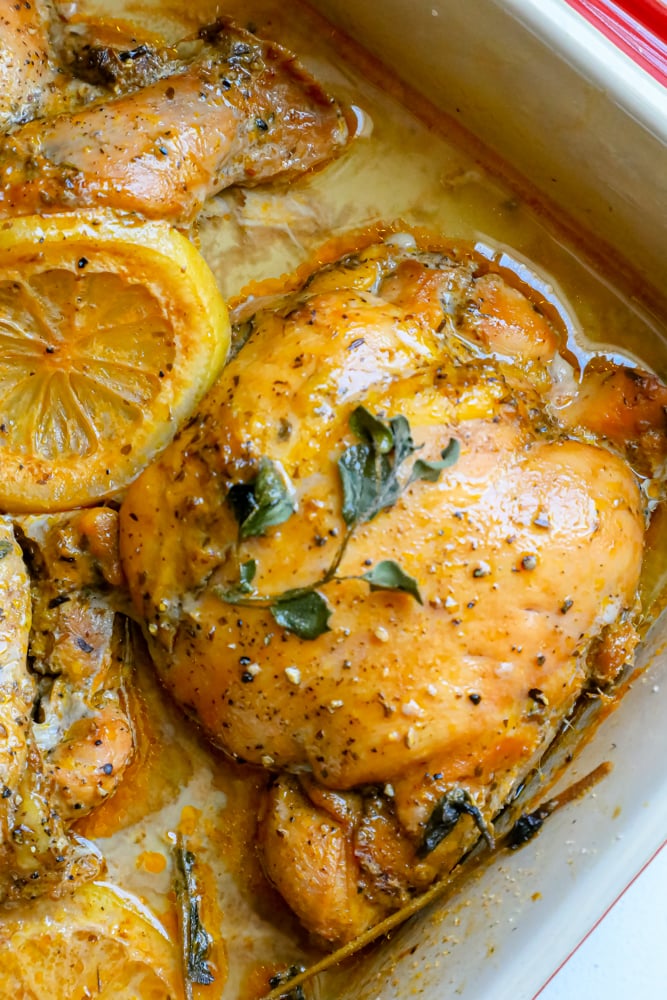 Chicken thighs are one of my favorite things to cook.
They are delicious, often budget friendly, don't dry out, and are great for low carb or keto diets.
These Greek chicken thighs are baked to perfection with simple ingredients you probably already have on hand – but the flavor is amazing and unforgettable – you won't even realize it's low carb and keto approved.
You can make this recipe as-is – or add a vegetable to cook in the dish with chicken and Greek marinade for an all in one meal, like my viral Chicken Thighs and Mushrooms in Garlic Butter Sauce recipe and this out-of-this-world delicious Maple Dijon Chicken and Potatoes Skillet.
Try it with potatoes, broccoli, or asparagus (with asparagus, add vegetable partway through cooking to prevent overly soft vegetables.)
Chicken thighs are amazing with rice pilaf, pan fried broccolini, cauliflower rice, or fresh baked bread – they are a delicious addition to sandwiches, wraps, and salads as meal prep, too!
I love Greek flavors – they are clean, simple, hearty, and so delicious. If you love this oregano and lemon chicken dinner, be sure to visit my Greek chicken power bowls, Greek chicken souvlaki, or my absolute favorite Tzatziki recipes, too!
Don't want all the extras in a recipe post? We provide a skip to recipe button in the top left corner, as well as a clickable table of contents, just below, to help make this page easier to navigate.
How To Bake Chicken Thighs
If you're bored with baked chicken thighs, and looking for a way to make them crunchier, juicier, and with more flavor – these tips will help you to bake perfect chicken thighs every time right in your oven!
Extra liquid and moisture on the chicken will keep the thighs from crisping – pat chicken thighs dry with paper towels before cooking to remove any excess liquid.
This will help the fat to stick to the chicken better, and help the Greek flavors sink into chicken for flavor.
If your chicken thighs are wet, the oil won't have a chance to really sink in, so remove any excess packaging liquid/water with paper towels.
Fat is good on chicken thighs, even if you don't usually like chicken fat.
We're cooking these chicken thighs long enough for the fat to render out and help make a crispy, crunchy outer crust – so don't over-trim your chicken thighs.
This will allow the chicken to naturally crisp and add to the flavor of your chicken, so don't trim too much away.
If you're looking for additional crunchy chicken (especially important since we're using skinless, boneless chicken thighs), you can pop the chicken thighs under the broiler for 2-4 minutes – be careful and watch the chicken closely to make sure it doesn't burn.
I always crisp mine a bit at the end for extra crunch – it makes this baked chicken thigh recipe crave worthy!
If you're loving the crunch, be sure to also check out my fried keto chicken thighs recipe – it tastes deep fried, with absolutely NO breading whatsoever – just pan fried chicken thighs with an amazing crunch!
If you're often not a fan of chicken thigh texture, unroll the chicken thighs so they lay flat.
This will cook the chicken thighs more evenly, and ensure a crunchy surface on the entire thigh – which makes it completely irresistible, and a bit easier for people who usually shy away from dark meat chicken.
This makes your chicken thighs look a little weird – I have one friend who says they look like aliens – but chicken thighs taste SO much better unrolled, so consider trying it yourself!
When you add to the surface area of the baked chicken thighs, more of it can get a lovely brown crisp, and the chicken cooks faster, to prevent drying out.
Adjust cooktime a bit if unrolling thigh, since it will cook faster.
My Blacked Chicken Thighs recipe is based on unrolling chicken thighs, if you'd like to see a recipe that unrolls them to cook in a cast iron pan (a method you can use with this recipe if you'd rather not turn on the oven.)
Use Bone-in or Skin-on Thighs
If you'd like to use thighs that are bone-in, or have skin, this recipe still works fabulously!
Skin-on and bone-in thighs will take 5-10 minutes longer to bake, depending on their size.
Watch the temperature of the thighs and make sure to measure the thickest part of the thigh, without hitting the bone, to tell when chicken is done and has met 165 degrees internal temperature.
For skin-on thighs, I prefer to cook to 155 degrees and then pop the chicken under the broiler for the final 10 degrees so the skin can crisp and get crunchy.
Flabby chicken skin is gross – but crisping just before removing can make it amazing!
How To Remove Chicken Thigh Bones
Removing chicken thigh bones is no necessary in this recipe – you can instead increase cook time by 5-10 minutes to cook thighs through completely – but if you'd like to remove bones, you can do so with the simple steps below.
You can trim bones out of chicken thighs for easier eating by unrolling thigh.
Gently pull at the bone to separate it from surrounding meat and using sharp kitchen scissors, cut it out and discard.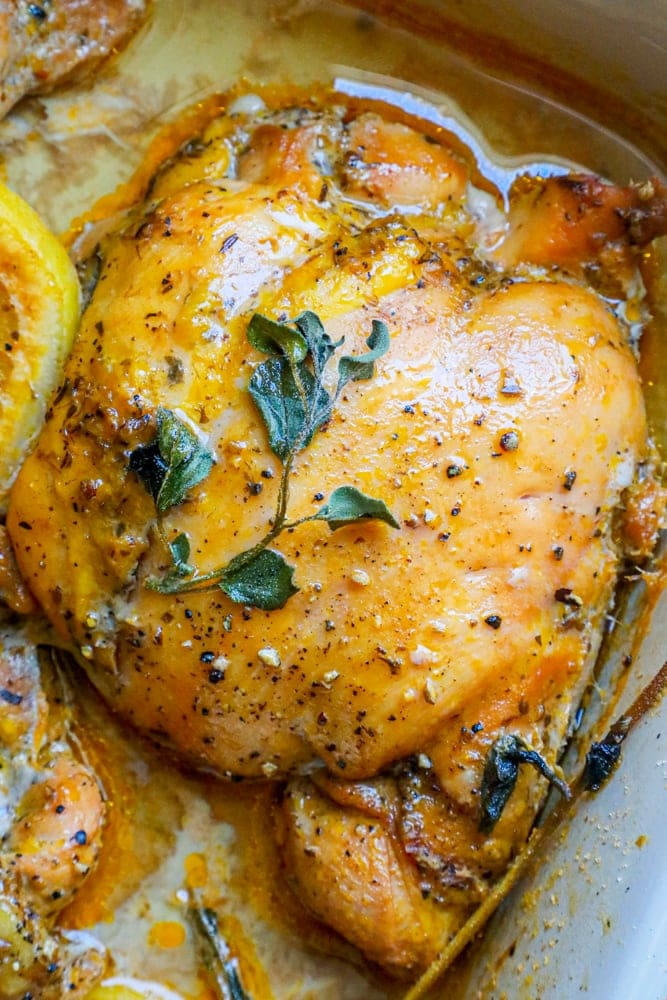 How To Tell When Chicken Thighs Are Done
If you're looking for the absolute best baked chicken thighs, you need to go off the chicken's temperature – NOT the time listed in this recipe.
Chicken thigh sizes can vary wildly, and differences in oven effectiveness, altitude, humidity in the air – they can all impact your cooking time, making it shorter or longer.
Chicken is safe to eat at 165 degrees internal temperature.
Check your chicken thighs regularly as they cook to monitor temperature.
When chicken is cooked to 160-165, it is done in the oven -since it will carryover cook the final five degrees.
Do let chicken rest for 5-10 minutes before cutting or serving to continue carryover cooking and help chicken rest so juices don't all rush out.
To measure, be sure to insert thermometer in fattest part of meat – without getting too close to bone as it will throw off temperature.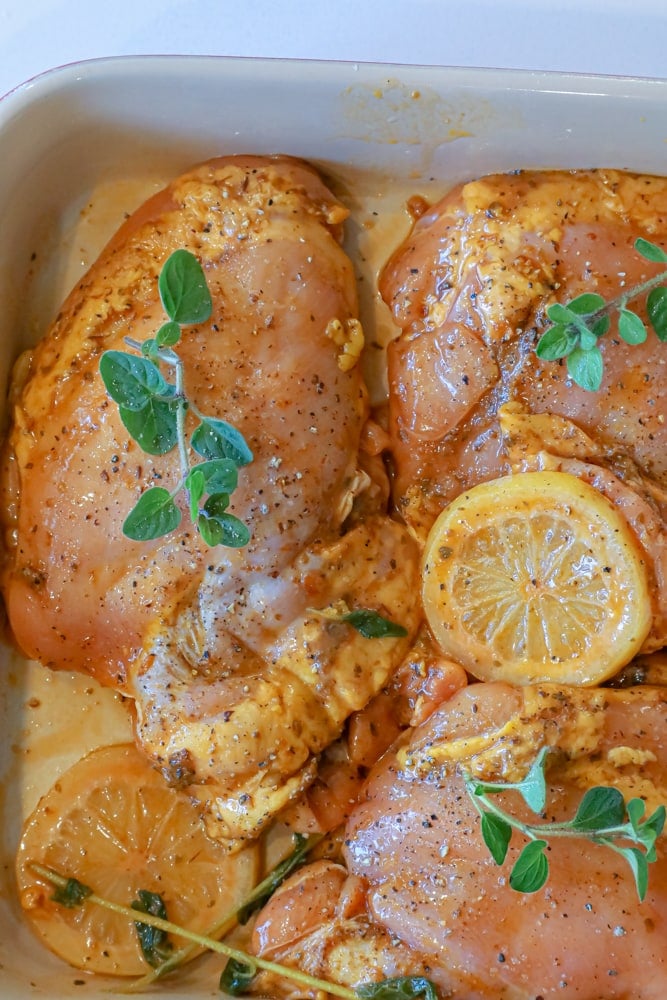 This chicken gets its rich flavor and perfect tender juiciness from marinating ahead of time.
Marinating the chicken helps to lock in the flavor and keep chicken from drying out – and lets your herbs fully absorb into the chicken's flavor.
You can also pre-marinate big batches of chicken thighs and then freeze them (in a bag or vacuum packed for even more flavor – which is our favorite method) so you have freezer meals ready to go for later!
Greek Chicken Marinade Recipe
This Greek chicken marinade is fabulous on chicken, pork, and even beef!
4 tablespoons olive oil
6 cloves garlic, crushed
2 tablespoons lemon juice
1 teaspoon dried oregano (I will often toss in a few sprigs of fresh oregano)
1/2 teaspoon turmeric
1/2 teaspoon dried basil
1 teaspoon paprika
2 teaspoons onion powder
The Best Chicken Thigh Recipes
If you love these Greek Chicken thighs, be sure to check out our other favorite chicken thigh recipes – most are keto approved and low carb (the keto fried chicken thighs are my personal favorite can't miss recipe!)
The Best Easy Greek Baked Chicken Thighs Recipe
If you love this easy recipe, please give it a five star review and help me share on facebook and pinterest!
CONNECT WITH SWEET C'S!
Be sure to follow me on social media, so you never miss a post!
Only have 30 minutes to get dinner on the table? Sign up for my 30 minute dinner plans direct to your inbox!
Find and shop my favorite products in my Amazon storefront here!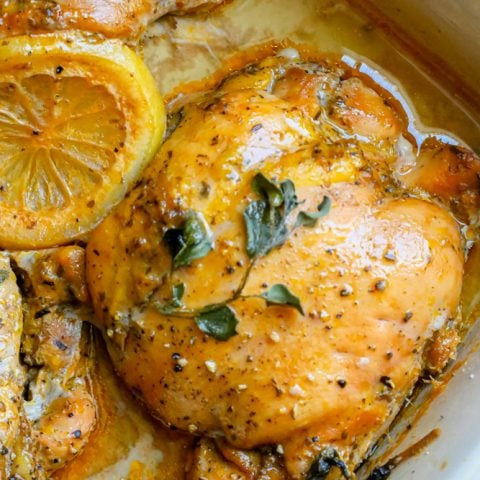 The Best Easy Greek Baked Chicken Thighs Recipe
Marinating Time:
30 minutes
Total Time:
1 hour
10 minutes
Baked Greek Chicken Thighs with tons of fresh lemon and oregano flavor for a keto Greek chicken dinner the whole family will love!
Ingredients
3 tablespoons olive oil
6 cloves garlic, crushed
2 tablespoons lemon juice
1 teaspoon dried oregano (I will often toss in a few sprigs of fresh oregano)
1 lemon, sliced
1/2 teaspoon turmeric
1/2 teaspoon dried basil
1 teaspoon paprika
2 teaspoons onion powder
6 boneless skinless chicken thighs (bone in or skin on ok - please see cooking time notes)
Instructions
Remove chicken from packaging and pat dry. Set aside.
In a gallon plastic bag or large bowl, add all ingredients except for chicken and mix well to combine.
Add chicken to bag or bowl and cover to make airtight.
Refrigerate and let chicken marinate at least 30 minutes up to overnight.
Preheat oven to 350.
Add chicken, lemons, garlic, and oregano to nonstick baking dish (I use an enamel baking dish since it is so easy to clean) with some marinade (about 2-3 tablespoons of marinade, not all of it).
If adding more fresh oregano sprigs, place in dish.
Bake, uncovered, for about 35 minutes - until chicken thighs are golden browned and 175 degrees F when a digital thermometer is inserted into the thickest part of chicken thigh.
Remove from oven and let rest 5 minutes.
Serve and enjoy!
Nutrition Information
Yield

6
Serving Size

1
Amount Per Serving
Calories

254
Total Fat

16g
Saturated Fat

4g
Trans Fat

0g
Unsaturated Fat

12g
Cholesterol

137mg
Sodium

201mg
Carbohydrates

2g
Fiber

1g
Sugar

0g
Protein

28g
Nutrition is automatically calculated by Nutritionix - please verify all nutrition information independently and consult with a doctor or nutritionist for any and all medical and diet advice.
If you love this recipe be sure to find our reader favorites – all are easy and quick, many are low carb!
Sweet C's Favorite Recipes
Favorite recipes from Sweet Cs Designs