Easy Loaded Leftover Mashed Potato Soup
Nov 29, 2020, Updated Nov 20, 2023
Easy Loaded Leftover Mashed Potato Soup is a delicious way to use up mashed potatoes from Christmas or Thanksgiving – stovetop or slow cooker recipes included!
Don't want all the extras in a recipe post? We provide a skip to recipe button in the top left corner, as well as a clickable table of contents, just below, to help make this page easier to navigate.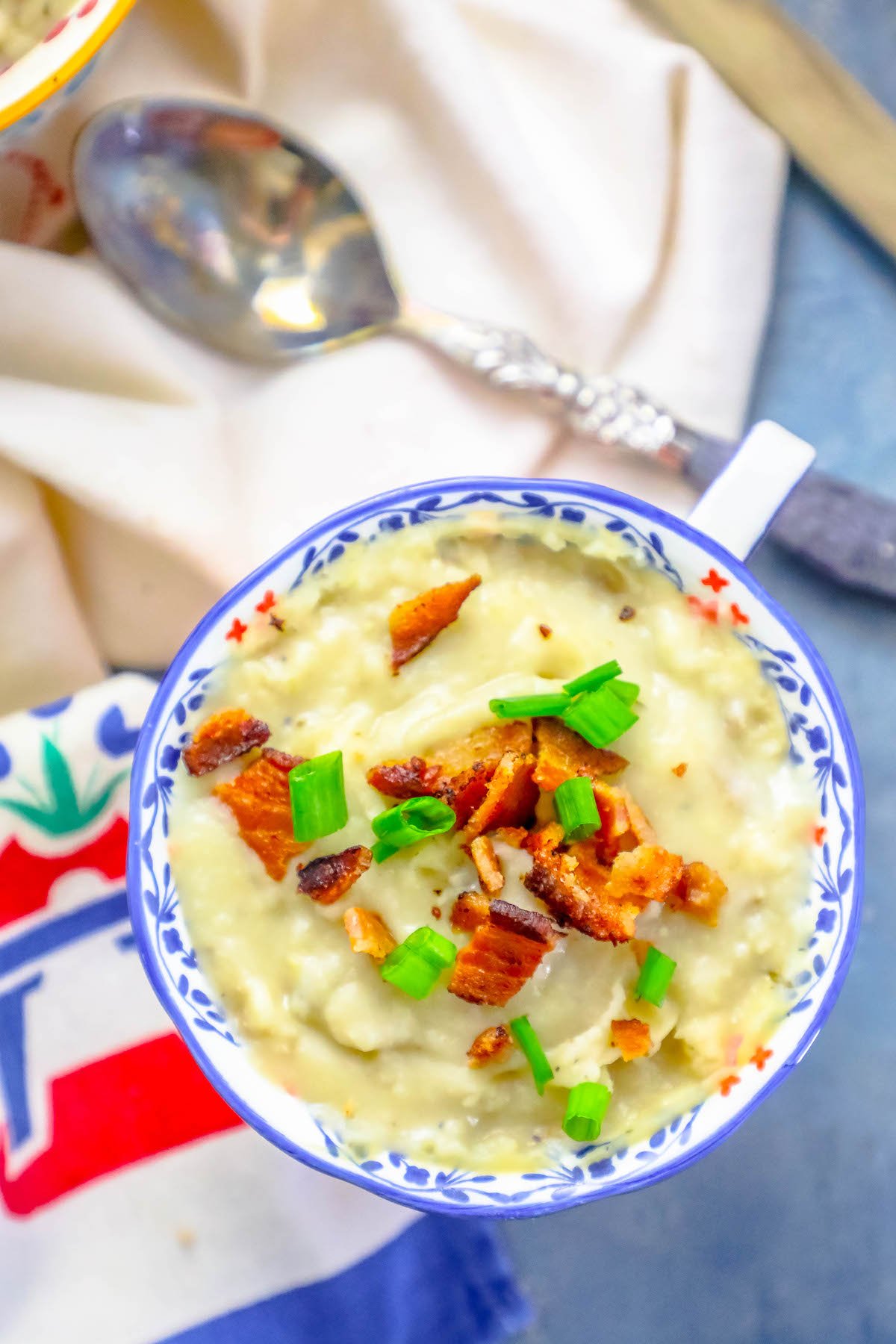 Easy Mashed Potato Soup
With Thanksgiving coming up, it's time to start thinking of ways to use up all those leftovers.
We always have a lot of meat leftover, but somehow it seems like our mashed potatoes have a mind of their own and reproduce like a ton of bunnies.
Seriously- how is it we always end up with a metric ton of spuds?
We make SO many, and have SO many mashed potato leftovers – I needed to come up with a delicious recipe to use up mashed potatoes.
There's only so many times you can eat the same thing- so this Easy Slow Cooker Leftover Mashed Potato Soup recipe is one of my favorite ways to make a new meal out of leftover mashed potatoes.
This recipe is so great because there is virtually no prep and doesn't involve any fancy equipment- making this a great hearty soup you can make without feeling drained the day after a big meal.
I just toss everything in the slow cooker and then use an immersion blender to smooth the soup out when it is ready to serve, if needed (which is rare, I like chunks of potatoes in my soup).
If you'd like an extra smooth mashed potato soup, you can toss it in a blender – and with some blenders, you can just keep whirring it until piping hot.
10 Minute Leftover Mashed Potato Soup Recipe
Who wants to slave away in the kitchen after all the work of Thanksgiving?
Not me! This is a super easy soup that will keep you out of the kitchen, but give you something hearty and warm to share with your family.
If you try this recipe and like it- and want to try a variation- try cream of mushroom soup or cream of chicken soup instead of the cream!
This recipe can be made in under 10 minutes with these easy tips and tricks:
-If soup is too thick, add in more heavy cream or whole milk.
-Add more flavor with bacon crumbles or up to 1/2 cup of grated parmesan cheese.
-Add garlic powder for a savory kick nobody can resist.
-Lay out toppings – like shredded turkey, crispy bacon bits, flash fried onions, fritos, chives, or shredded cheddar cheese to top soup with.
You would also sub out some broth and add more mashed potatoes if you'd like a soup that isnt as thick.
Or add in some carrots and celery and then blend the soup before serving to sneak in some veggies!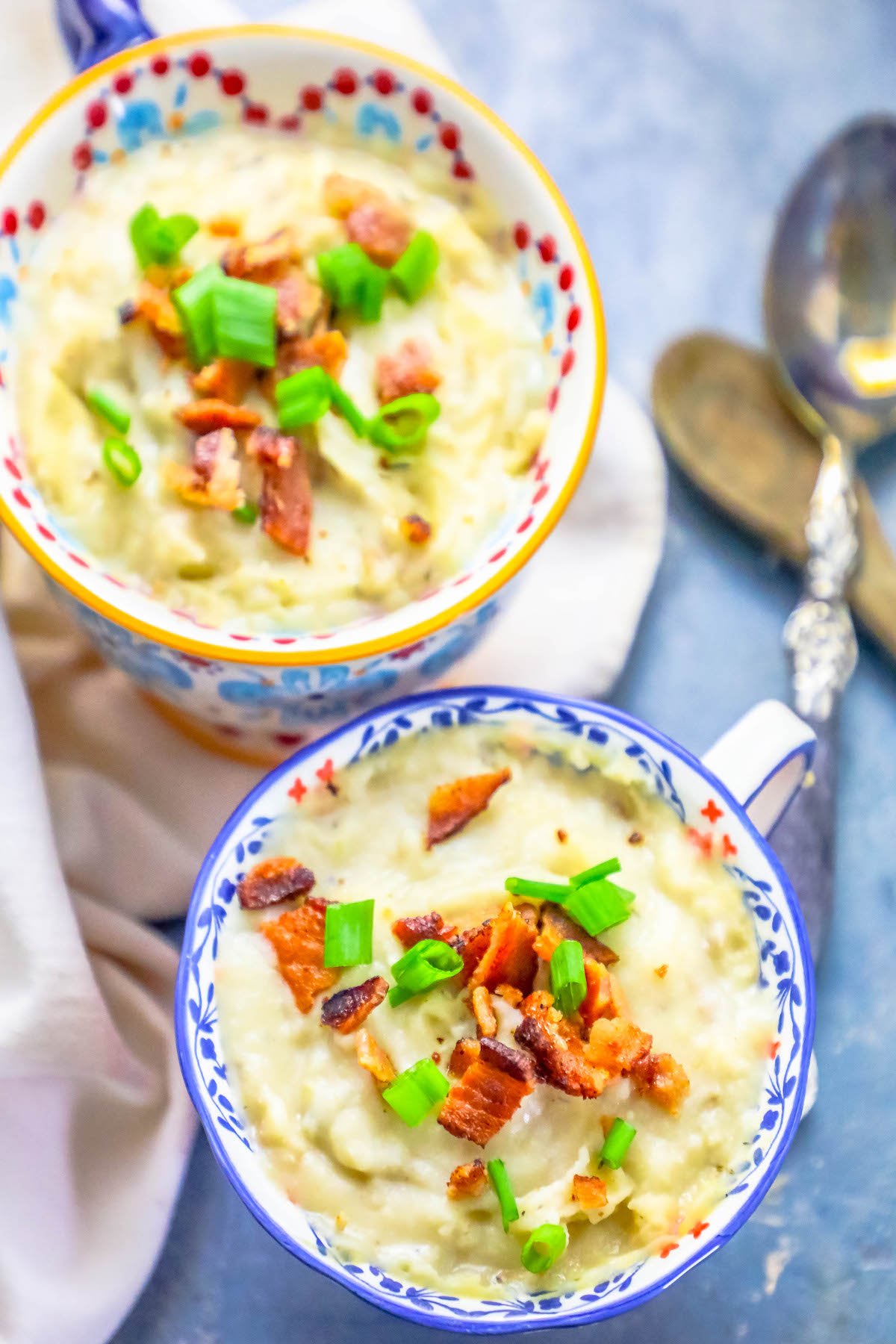 Other One Pot Soups You'll Love:
If you love this easy one pot potato soup, please check out some of my other deliciously easy one pot soup recipes!
Creamy Keto Tuscan Soup Recipe
Spicy Sausage Vegetable Soup Recipe
The Best French Onion Soup Ever
Easy One Pot Cheeseburger Soup Recipe
Easy Cabbage and Sausage Soup Recipe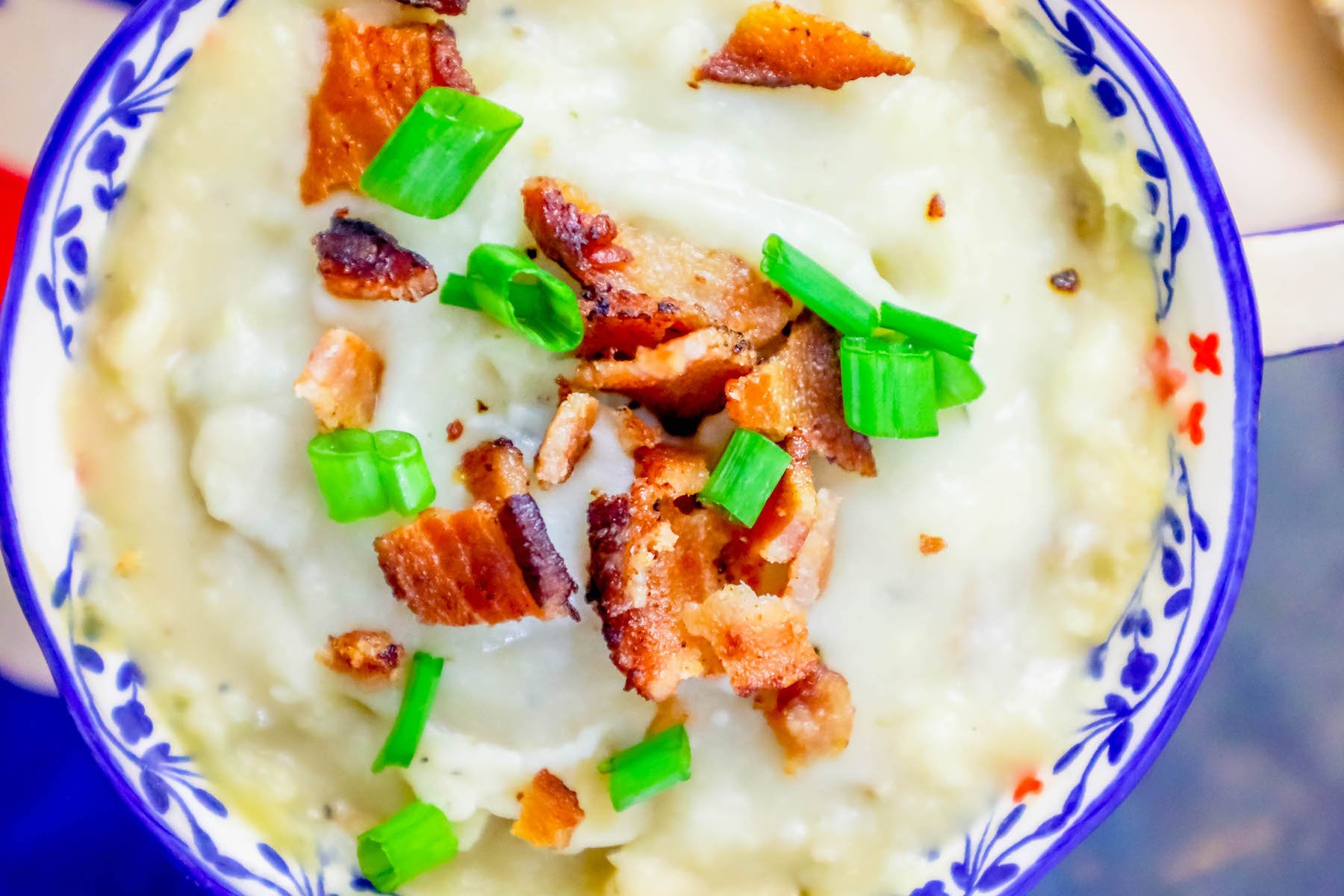 Other Delicious Potato Dishes You'll Love:
If you love this leftover mashed potato soup recipe, please be sure to check out some of my other favorite potato recipes!
Blue Cheese Steak Bites and Potatoes Skillet Dinner Recipe
Perfect Creamy Mashed Potatoes Recipe
Cheesy Ham and Mashed Potato Casserole
Cheesy Sausage Potatoes and Cabbage
One Pot Garlic Lemon Roasted Chicken and Potatoes
The Best Irish Potato Pancakes Ever
Try these other Favorites:
And, for the easiest Mashed Potatoes ever- check out my Slow Cooker Mashed Potatoes!
This soup is even tastier topped with chives, cilantro or TONS of crumbled bacon. You can never have too much bacon with potato soup, can you?
Easy Loaded Leftover Mashed Potato Soup Recipe
If you love this easy loaded leftover mashed potato soup recipe, please give this recipe a five star review and help me share on facebook and pinterest!
CONNECT WITH SWEET C'S!
Be sure to follow me on social media, so you never miss a post!
Only have 30 minutes to get dinner on the table? Sign up for my 30 minute dinner plans direct to your inbox!
Find and shop my favorite products in my Amazon storefront here!
Leftover Mashed Potato Soup
Easy Loaded Leftover Mashed Potato Soup is a delicious way to use up mashed potatoes from Christmas or Thanksgiving - stovetop or slow cooker recipes included!
Ingredients
4 tbsp butter
1/4 cup garlic, diced
12 oz chicken, vegetable, or beef stock
1/2 pound potatoes, Leftover mashed
1 cup heavy cream
green onions, to garnish
bacon, to garnish
Instructions
Stovetop:
Add butter to stock pot and heat on medium high until melted and foamy.
Add garlic to pan, sautee until lightly browned.
Add in potatoes, stock, cream, mix well and bring to a boil.
Let stock cook down slightly, until soup is a thick stew about 10 minutes (reduce less for a thinner soup - make to your personal preference.)
If needed/desired, use an immersion blender or pour into a blender to make a smooth, even consistency.
Spoon into bowls and top with chives, green onion, and crumbled bacon.
Slow cooker:
Lightly brown butter and garlic in a small pan - cook on medium heat for about 2 minutes, stirring to prevent burning.
Remove butter and lightly browned garlic and add to slow cooker.
Add mashed potatoes, cream, and stock to slow cooker.
Stir to mix well.
Stir well and cook on high for 2 hours.
Before serving, use an immersion blender to make more smooth.
You can also pour soup into a blender if needed.
Serve with bacon, chives and any other favorite potato soup topping!
This recipe also freezes well.
Recommended Products
As an Amazon Associate and member of other affiliate programs, I earn from qualifying purchases at no extra expense to you.
Nutrition Information
Yield

8
Serving Size

1
Amount Per Serving
Calories

310
Total Fat

24g
Saturated Fat

13g
Trans Fat

1g
Unsaturated Fat

9g
Cholesterol

93mg
Sodium

224mg
Carbohydrates

10g
Fiber

1g
Sugar

2g
Protein

14g
Nutrition is automatically calculated by Nutritionix - please verify all nutrition information independently and consult with a doctor or nutritionist for any and all medical and diet advice.