Slow Cooker Mashed Potatoes
Nov 21, 2019, Updated Dec 15, 2022
Slow Cooker Mashed Potatoes are the most delicious easy mashed potatoes you have ever made! They cook right in your slow cooker to save space on busy Holiday dinners!
Don't want all the extras in a recipe post? We provide a skip to recipe button in the top left corner, as well as a clickable table of contents, just below, to help make this page easier to navigate.
Simple Easy Slow Cooker Mashed Potatoes
One of the hardest things to manage on Thanksgiving or other food-centric holidays is finding room on your stovetop to make everything. The kitchen is crowded, hot and crazy- but it doesn't need to be.Using your slow cooker, you can make these Slow Cooker Mashed Potatoes without using up any precious stovetop space!
This slow cooker mashed potato recipe is fabulous because you can cook, mash, keep warm and serve straight out of your crockpot. These also create less dirty dishes and leave plenty of space for you to prep your other holiday favorites. Its a win-win-win.
How to make Slow Cooker Mashed Potatoes
First you want to assemble the following ingredients:
Red potatoes – I halve these but  leave the peel on. One reason I love red potatoes is that they don't need to be peeled which makes this recipe ever more simple. They also have a really creamy texture. 
Water – you need water to cook the potatoes in to soften them. For super rich mashed potatoes you can use half milk half water to soak the potatoes. 
Sea Salt – salt will bring the flavor of the potatoes forward so don't be shy. If you oversalt just add some more heavy cream to balance it out. 
Pepper – I like to use fresh ground pepper for a hit of heat. 
Heavy cream or Greek Yogurt – you want to use these to add a rich creaminess to the potatoes. If you use greek yogurt you will get thicker potatoes than heavy cream. 
Butter – use salted butter to add some fat to the potatoes that will make them smooth and creamy. 
Milk – you will need to use milk as necessary to thin the potatoes to get the texture you want. 
Garlic – you want a hit of this pungent spice. You can get that through using garlic powder or fresh garlic that has been sauteed in butter, I prefer the latter.
Once you have assembled the ingredients use the following method
Cook potatoes. Add the potatoes and water to the slow cooker and cook on high for about 2 hours or until they are soft to the touch. If you have a lot of water leftover drain it, leaving about 1/2 cup. Mash the potatoes or use a potato ricer for a smoother result.
Add the dairy. Stir in the heavy cream, butter, garlic, and milk to thin. Add the salt and pepper tasting while adding till you get the flavor you are looking for.
Keep warm. Keep the potatoes warm on low for up to 2 hours or until you are ready to serve. Adjust the consistency with milk as needed and stir occasionally.
Tips and Tricks for perfect Slow Cooker Mashed Potatoes
This recipe was my favorite after testing out other crockpot methods.
Use a liner. I like to use a liner when making these potatoes in the slow cooker. It makes cleanup super easy.
Try one of these variations
Stir in heavy cream, cheddar cheese, and chives for a rich and cheesy mashed potato side nobody will be able to resist.
Roasted garlic, rosemary, and sea salt give a lovely earthy kick to mashed potatoes.
Bacon and cheddar stirred into mashed potatoes are absolutely heavenly!
Horseradish and a dash of Worcestershire sauce give mashed potatoes a zesty kick.
 FAQs
How do I keep leftovers?
Leftovers will keep in the refrigerator in an airtight container for 3-4 days. Alternatively, you can freeze some leftovers, see below.
Can you freeze leftovers?
Yes! I freeze leftover potatoes in a gallon size bag. Don't forget to label them with the date and lay them flat in the freezer so they don't get frozen around something else. Reheat in a pot on the stovetop stirring continuously.
Can I use a different type of potato?
Yes, if you want to use Russet though be sure to peel them before adding them to the slow cooker.

Other Delicious Holiday Dishes You'll Love:
If you love this easy slow cooker mashed potatoes recipe, check out some of my other holiday dinner favorites including these favorite sides:
You might also love, Brown Bag Herb Roasted Turkey, Pan Fried Brussels Sprouts with Ghee, Pan Roasted Butter Carrots, Garlic Chinese Style Green Beans, The Best Oven Roasted Garlic Parmesan Asparagus, Slow Cooker Turkey in Gravy, Slow Cooker Orange Cranberry Ginger Glazed Ham, Khachapuri Georgian Cheese Bread, Easy No Knead Bread and Easy Pumpkin Cupcakes.
And finally, to clear up even more space in your kitchen, check out my Smoked Turkey and take it outside. It is the best way to make turkey, ever. It stays super moist and juicy and the smoked flavor is a fantastic twist on traditional turkey.
Click here to see all my mouthwatering slow cooker recipes!
Slow Cooker Mashed Potatoes Recipe
If you love this slow cooker mashed potato recipe as much as I do, please give it a five star review and help me share on facebook and pinterest!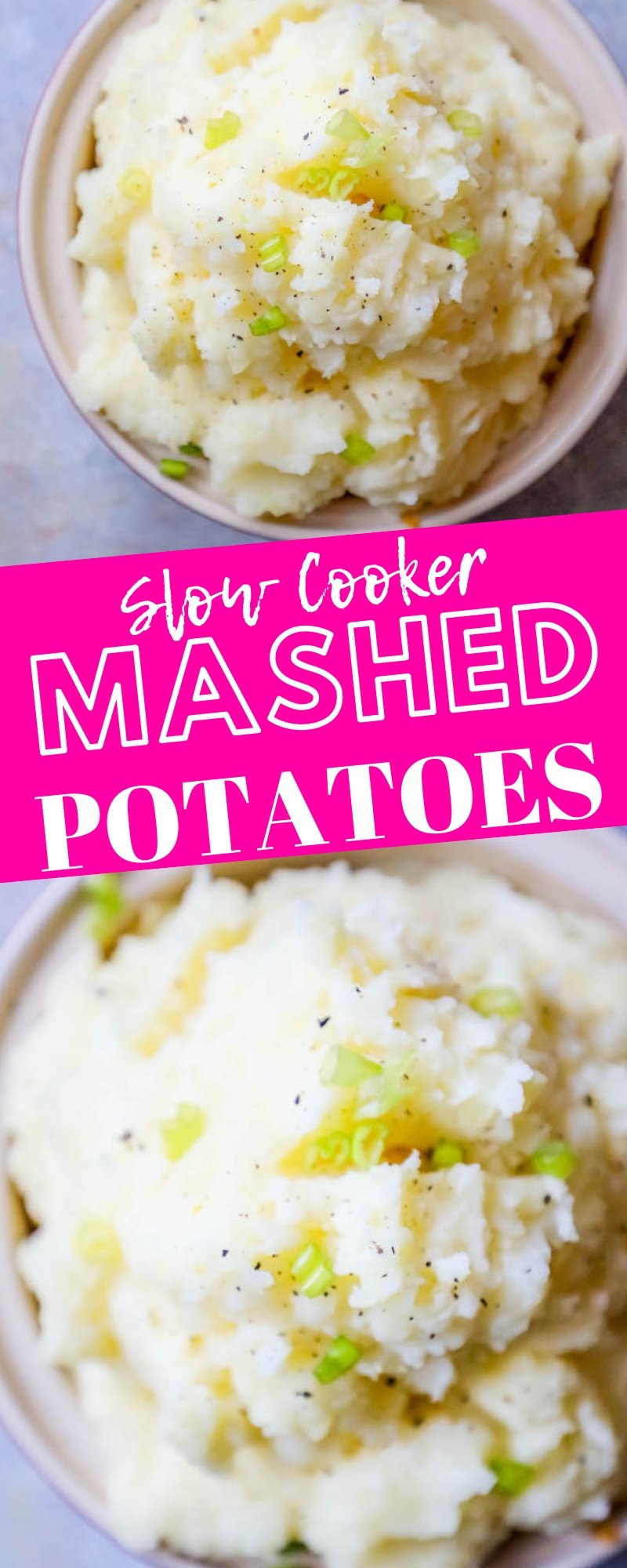 CONNECT WITH SWEET C'S!
Be sure to follow me on social media, so you never miss a post!
Only have 30 minutes to get dinner on the table? Sign up for my 30 minute dinner plans direct to your inbox!
Find and shop my favorite products in my Amazon storefront here!
Slow Cooker Mashed Potatoes
Total Time:
2 hours
5 minutes
Ingredients
2 pounds red potatoes, halved (I leave the peel on, but feel free to remove if you prefer)
2 cups water
1 teaspoon sea salt (plus more to taste)
1/2 fresh ground pepper
1/2 cup Tbsp heavy cream or Greek yogurt
4 Tbsp butter
2 Tbsp milk
2 tbsp garlic powder or 5 garlic cloves diced and sauteed
Instructions
In crockpot, add 2 cups of water and potatoes.
Cook on high for 1-2 hours or until potatoes are very soft to touch.
Water should be almost evaporated, and potatoes will mash when gently touched. If you have a lot of water leftover, drain it off. If you have under 1/2 cup, go ahead and leave it. This will help keep your potatoes from over drying while waiting for dinner to be done- so you can make them ahead of time. For perfectly creamy potatoes use a potato ricer to cream the potatoes.
Add cream, butter, garlic and mash well using hand mixer or mashing utensil, right there in the crockpot.
Add salt and pepper to taste.
Keep potatoes on low for up to 2 hours, or until ready to serve.
Recommended Products
As an Amazon Associate and member of other affiliate programs, I earn from qualifying purchases at no extra expense to you.
Nutrition Information
Yield

8
Serving Size

1
Amount Per Serving
Calories

228
Total Fat

11g
Saturated Fat

7g
Trans Fat

0g
Unsaturated Fat

3g
Cholesterol

33mg
Sodium

341mg
Carbohydrates

26g
Fiber

2g
Sugar

3g
Protein

6g
Nutrition is automatically calculated by Nutritionix - please verify all nutrition information independently and consult with a doctor or nutritionist for any and all medical and diet advice.
Sweet C's Favorites
If you love this recipe, please check out some of our top posts!
These tried and true reader favorites are well loved for their family friendly flavor that everyone loves!
Sweet C's Favorite Recipes
Favorite recipes from Sweet Cs Designs